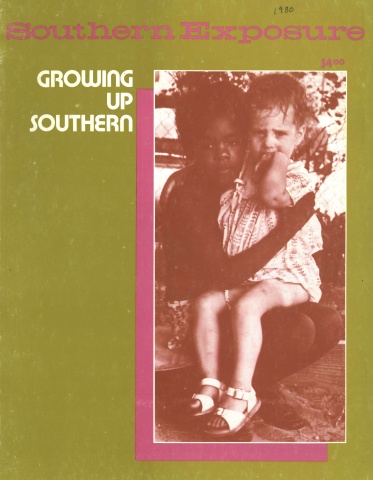 This article originally appeared in Southern Exposure Vol. 8 No. 3, "Growing Up Southern." Find more from that issue here.
Times change. Grandmothers and aunts – and for thousands of white youngsters, black domestics – provided the first day-care services in the South. The urbanization of the region and the gradual unraveling of the extended family network have drastically altered traditional systems of day care. Now more women are working than ever before. More women than ever are single-parent heads of households. The one constant is the children, who must be looked after elsewhere when their homes are empty of adults. These factors, emerging in the mid and late '60s and accelerating into the '70s, created the conditions for a new industry: child care. 
When times change there is usually money to be made. No one saw this opportunity in child care more clearly than Perry Mendel, an amiable Montgomery, Alabama, real-estate developer who founded Kinder-Care Learning Centers, Incorporated, in 1969. 
Mendel says he was inspired by observing an acquaintance who lived well without an obvious job. He found that the man's wife ran a couple of day-care centers. Mendel read up on the situation and learned that more than 40 percent of American women with pre-school children are now in the labor force, compared to 14 percent in 1950; more than five million children under the age of 13 now spend 30 hours or more per week in the care of someone other than their parents or school teachers. 
After doing some preliminary calculations, he concluded that the techniques of standardization which helped sell everything from motel rooms to hamburgers could yield handsome profits in child care. With $15,000 of his own money and $185,000 from other investors, Mendel opened the first Kinder-Care center in Montgomery in 1969. Today, the company operates more than 600 centers in at least 35 states throughout the nation and in two Canadian provinces. Growth has been especially rapid in the last two years with the acquisition of several competitive child-care chains, most recently American Pre-School (Arizona and California); Creative Day (the Carolinas); Living and Learning (the Northeast); and, in a $16.4 million deal, Mini- Schools, Ltd. (the U.S. and Canada). Mendel is now a millionaire several times over, and each of the 14 initial Montgomery investors has also made more than one million dollars. Kinder-Care is more than three times larger than its closest competitor. 
Mendel believes the key to his prosperity is offering a service that is safe, uniform and reasonably priced. And like other corporations that have built their fortunes on such principles as convenience and uniformity — Coca-Cola and Holiday Inn are two of the largest to come out of the South — Kinder-Care has succeeded in direct proportion to the decline in regionally distinctive family habits. Kinder-Care was made feasible by the changing social conditions which spawned the suburbs of Atlanta and Birmingham and Chattanooga, but the concept would not have thrived so well had suburbs not existed around Baltimore, Philadelphia, St. Louis and Seattle, too. Except that it sprang from the shrewd brain of a Montgomery entrepreneur and is based in Alabama, Kinder-Care can lay no claim to being a particularly Southern entity. 
The truth is that once a child passes beneath the standard gleaming red-tiled roof with its imitation schoolhouse steeple and hanging plastic bell, that child could be in any city in the United States. In Kinder-Cares from Mobile to Minneapolis, children are dropped off each morning to spend their day splashing in identical swimming pools, playing in identical "Discovery Areas," reading and drawing in identical learning packages called "Kinder Kits." 
Kinder-Care's first educational program was developed by Colonel A.E. Boudreau, vice president of operations. A former suburban Boston school superintendent and ex-deputy chief of staff for education at the Air University at Maxwell Air Force Base in Montgomery, Boudreau wrote an operations manual which, among other things, guided the Kinder-Care staffers in the basics of teaching pre-reading, pre-math and pre-science. Montgomery's own Bart Starr, the legendary former quarterback of the Green Bay Packers, was "physical fitness director" — a plus for public relations if not for education. Today, managerial tasks occupy Boudreau, and education is a separate department headed by National Education Director Rusty Armstrong and her assistant, Saralynn Rush. Armstrong has a bachelor's degree in early childhood education from the University of Alabama. Rush, who first worked in a Kinder-Care center (the company likes to promote from within), is working towards a master's degree in education. Mendel's recent acquisitions have brought in other education personnel such as Fannie Sue Holland, formerly curriculum coordinator for Mini-Schools. The acquisition of other child-care chains necessitated some curriculum changes. "We are now blending all the programs," says Rush. "Several of the acquisitions had good ones and what we are doing now will be easier for them during the transition period because it is somewhat like what they are used to. The program we send out from here (the Montgomery office) — all the centers get teacher guides. We send one out for each week. These are developed around a theme for the week, which we always had and we still do that. The guides provide suggestions for ways they can enrich their classrooms." 
Beginning this year, the program for five-year-olds at Kinder-Care includes mandatory participation in a kindergarten program developed by the publishing house J.B. Lippincott. The course, entitled "Beginning to Read, Write and Listen," is described as a comprehensive reading readiness and language arts program. Tested on an optional basis in Kinder-Cares last year, it was so highly regarded by staff that one director said she had previously planned to withdraw her own five-year-old from Kinder-Care and put him in a public kindergarten, but changed her mind because of "Beginning." The program costs parents an extra $30 curriculum fee at the beginning of the year, but this includes the cost of a standardized achievement test to determine the child's readiness for first grade, subscriptions to a child's weekly newspaper and a supply of specially lined alphabet writing paper. 
The cultural slant of Kinder-Care's curriculum is predictably toward mainstream Americana. For instance, July of 1980 was "Travels into Yesteryear" month at all Kinder-Cares, and the theme of the fourth week was "Tom Sawyer." On Monday, the children went barefoot all day, engaged in "Tom Sawyer water play," made "Becky's mud pies and cakes," had a "paint the fence" session, and took "Aunt Polly's 'Your Manners Are Showing' Course." Other activities during the week included a watermelon feast with rind-carving and seed-spitting contests, button art, Tom Sawyer story hour, a picnic prepared by the children, and, on Tom and Becky day, a frog-jumping contest. 
Calls to several randomly selected centers elicited this list of recent field trips: Pizza Hut, the zoo, Carowinds Amusement Park, a putt-putt golf course, the airport, a local Civil War battleground, and McDonalds — one center took groups of its kids to McDonalds every Monday morning during the summer. 
Kinder-Care uses a device called "discovery areas" (not unique to the company) to teach children new concepts and to increase their confidence and curiosity. By dividing classrooms into distinct areas, the technique also helps teachers cope with the short attention spans of small children. Ideally, Kinder-Care's areas include construction, with blocks and other fit-together toys; science, which may include animals, batteries and magnifying glasses; the sound table, where items for naming help the child progress to letter recognition and formation; and math, where dominoes, beads, scales and other articles invite counting and questions of "how many, how big or how small." Other "discovery areas" may include music, creative art, wood working, homeliving. The quality of these areas apparently varies. "Discovery areas" in one Kinder-Care seemed to mean simply that toys were stored in different corners of the classroom; no painting, music, story-telling or animals were in evidence. Very little children's artwork hung on the walls of this center, and — although the visitor arrived in the middle of the morning program — little organized activity of any kind appeared to be in progress. 
Teacher interaction in the discovery areas is discouraged, the company says, because of its belief that an adult presence dominates children's play. (Might not this belief also, conveniently, circumvent the need for intensive staff training?) Instead, the children are allowed to move at will from area to area. They may play alone or in groups, and are required to return materials to their place and to clean up the areas when play-time is over. 
Kinder-Care's Assistant National Education Specialist, Saralynn Rush, insists that though the facilities and the program are standardized, there is room for variation depending on the creativity of the teacher. "Teachers make a great difference. Some are creative and some are not so. They do have the weekly theme to go by, but teachers are more than welcome to supplement this." But while an El Paso Kinder-Care, with a high percentage of Hispanic children and teachers, might not be precisely like a Kinder- Care in Baltimore, the broad range of materials, facilities and activities remains the same. Similarly, the directors of Kinder-Cares everywhere complete a weekly array of identical forms which deal mostly with finances and record very little about the children themselves. These forms are all sent to corporate headquarters in a lush office park in Montgomery. 
The surroundings of most Kinder-Care centers demonstrate other mass merchandising techniques which further explain why Mendel has been dubbed the Colonel Sanders of child care. Kinder-Care typically nestles alongside a Kentucky Fried Chicken outlet, with McDonalds, Wendy's, A&P, K-Mart and J.C. Penney's somewhere close by. In successful chain merchandising, site location is a key factor. (It's obviously not the only factor, though; one mother says she passes by a Kinder-Care only a mile from her home as she drives her children each morning to another Kinder-Care several more miles down the road. The first, she explains, has no swimming pool and she has heard it is "run poorly.") Naturally, Kinder-Care doesn't locate in ghettos or other low-income areas, although National Public Relations Director Ann Muscari points out that, "We've been in business 10 years. Some of our centers are in transitional neighborhoods now." But Kinder-Care centers do exist in predominantly black middle-class neighborhoods. Says Muscari, "I think in general we tend to attract professionals, the more concerned person, irrespective of sex or race." Mendel builds near main arteries of major cities. He likes suburbs with good schools and a high concentration of middle-class, well-educated citizens. These are the families which can afford Kinder-Care and in which both Mom and Dad are likely to be hurrying off with their briefcases each morning to their respective careers. A surprisingly large number of the children coming to Kinder- Care are in the custody of divorced fathers, and the company focuses on one-parent households as a prime market. 
The children, of course, are hurrying off too, and one wonders whether children who grow up on "workday" schedules fall more readily as adults into the nine-to-five routine than do children who spend their days meandering from room to room, from house to yard. Some children spend up to 11 hours a day in Kinder-Care learning centers. Since it is what happens with the children during those 11 hours that matters to most parents, Kinder-Care puts much effort into reassuring them that their children will be safe and well entertained. "We took the guilt [of leaving her child] away from the working mother," says Mendel. Having all supplies and furnishings (approximately $10,000 to furnish each center) sent out from Montgomery headquarters thus serves two purposes: it saves money and it makes Kinder-Care centers, like Holiday Inn motels, appear free from surprises. Even Forbes magazine describes the standard plastic toddler-scale cots as "the nadir of modern packaging." Mendel's merchandising scheme succeeds as a business largely because it appeals to consumer-oriented middleclass parents. Debbie Cripps of Chattanooga is an accountant and the mother of two Kinder-Care children: Dusty, four, and Missy, nine; in the summers, both children attend a full day. Mrs. Cripps returned to work when Dusty was two: 
First, let me say I'm very ticky on who keeps my kids. I didn 't want to go back to work. I tried everything to keep from doing it. I kept other kids and the whole works. Finally, a woman across the street kept Dusty for a year. She would come into my house and clean up and watch after my kids. But then I began to find out she wasn't spending the time she needed to with them. I felt for his safety I had to put Dusty in day care and I love it. I don't have any complaints. When she was smaller Missy went to four different day cares. I think Kinder-Care is one of the nicest Chattanooga has and I'm not talking about facilities because they 're great too. They have the bus and the pool and everything is clean and in good order. But they do so many activities. They're constantly going places and doing things. They have good menus and and at Kinder-Care they serve breakfast, lunch and snacks. Most day cares don't have breakfast. Some mornings that means a lot, especially when it's cold and they want to sleep longer. It's so much help to a mother to know that when she has to rush out in a hurry her child will still get a good meal. The difference between Kinder-Care and the others I've tried is just unreal. It took Dusty a long time to get used to my working. He would ask, ''Mommy, can you stay home tomorrow?" But now when he goes through that door into the center in the morning, he has a smile on that face. He doesn't cry and that means a lot. Now he's happy and when he's happy I am. No, it's been a long time since I've felt guilty. 
"We're not Just a Day Care Center. . . . We're a Child Care Center." So proclaims a Kinder-Care brochure, but Mendel himself admits that he is a businessman, not an educator. Some early attempts at chain-operated day care failed, he says, because money was wasted on educators and psychologists who "don't know the value of a dollar." 
Linda Harris operates a typical Kinder-Care Learning Center, located in suburban Chattanooga. The parents of the children in her charge cannot say enough good things about her. (Shortly after the interviews for this article were completed, she accompanied her husband on a job transfer to Florida.) The facility is clean and bright, attractively furnished with modern appliances and other school-type apparatus, all in good repair and scaled to child size — the toilets are scarcely a foot high. Harris' charges include 75 to 90 children, ranging in age from two to 12. (As one of the few day-care establishments which will take two-year-olds, that class is almost always filled to capacity at Kinder-Care.) 
In its early days, Kinder-Care took only kindergarten-age children, but Mendel quickly realized that many mothers either can not or do not want to wait that long to return to work. So facilities for toddlers and infants were added to the concept. Saralynn Rush said infant care is usually added to a Kinder-Care center after it has been in operation for a while. "Usually we want to wait to see what the need is in that area for infant care. Most times there is a need," she says. But infant care is more costly, since infant licensing regulations are very strict and the infant-to-staff ratio is lower than with older children. 
Kinder-Care also caters to school children whose parents must work before and after school hours. Kinder-Care feeds these children breakfast, buses them to their schools and picks them up in the afternoon to play at the center until their parents arrive. As summer approaches, the Kinder- Care promotional machinery starts spitting out brochures and letters advising parents that if they can't afford a 13-week summer vacation, they should consider Kinder- Camp, a summer program for school-age children. 
Nor are these services the limit to Mendel's commercial vision. He is not bashful about diversification. Through the Kinder-Care centers, parents can buy insurance, toys/ dancing lessons and T-shirts; Mendel told a New York Times reporter in 1977 that the day would come when he could sell manufacturers the right to test their products in Kinder-Care centers. With more than 70,000 children enrolled in 1980, that day may have arrived. 
The cost for Kinder-Care varies widely depending on the age of the child, the location of the center and the number of hours he or she will spend there. For a single child, the lowest cost anywhere is approximately $24 per week, the highest approximately $65. "I don't even think you can beat Kinder-Care's price range," said Debbie Cripps. "I even checked into church day care, but they cost more than Kinder-Care and they don't serve breakfast. It costs us $52 a week in the summer and $49 a week in the winter. That includes a $4-per-week transportation fee for taking Missy to school in the Kinder-Care bus. Then there is a registration fee in September. Then there are the extra costs for when they go to McDonald's or the water slide. That gets expensive, but it's good for your kids and I want them to go. Otherwise it gets boring, especially for the older kids. All that adds up to a lot of money. It kills us. But it's worth it." 
Even at $24 per week per child, Kinder-Care would absorb at least a quarter of the income of anyone earning close to the minimum wage. This fact, as much as the location, explains why the customers are almost always middleclass or professional — and why Kinder-Care doesn't answer this country's most urgent needs for quality day care. 
Perry Mendel's road to financial heights has not been arrow-straight. In 1970, the year Kinder-Care offered its stock publicly, the market suffered a brief but serious collapse which forced into liquidation the firm Mendel had chosen to underwrite his stock. As a result, available mortgage funds to Kinder-Care dried up to a point where revenues were meeting only about half of overhead. To save the company, Mendel sold out for $1.5 million in stock to Warner National Corporation, a Cincinnati real-estate developer whose president was an old college roommate of Mendel's brother-in-law. It cost Mendel six years and $4.5 million in cash plus the Warner stock to regain control of Kinder-Care. To clean up the balance sheet — and to protect himself against future unfriendly takeovers — Mendel then sold a 20 percent minority position to Taft Broadcasting. 
Mendel backed off from his initial forays into franchising his idea because, he says, it was too hard to keep tabs on quality, but it seems equally likely that he based his decision on profits. He told an interviewer, "The people who thought they would love to be in the day-care business — an ex-teacher or an ex-minister who loves to take care of children — knew nothing about getting a building into existence, or finance. If we were going to have to arrange for all the financing, which is no mean trick, and get just five percent of gross revenues for all this effort, it didn't make sense." Today, only 12 of the centers are franchises. 
Both profits and growth are somewhat controlled by government regulation of the child-care industry. State and federal agencies monitor day-care centers to attempt to ensure reasonable standards of safety, sanitation, nutrition and child-teacher ratios. The ratios are determined by the states and vary widely. Thus, when Kinder-Care officials claim a staff-child ratio of one to 10, they are speaking of an average which may include classrooms ranging from five infants in one state to 25 five-year-olds in another. The younger the children, the fewer allowed per teacher (and the higher the weekly costs). One Kinder-Care we visited had eight infants in the charge of one (very capable) woman; this meant, she explained, that she was rarely able to take the babies outside. While this arrangement was (barely) within the state's licensing laws, it was far below the federally recommended staff-child ratio (one adult to three babies). The center's other classrooms were sparsely staffed also, with one teacher to 18 to 20 four-year-olds. 
With 335 centers at the end of fiscal 1979, Kinder-Care's revenues were $28 million. By mid-1980, Mendel had 600 centers in operations and profits running at $3.45 million per year. Earnings have grown for nine straight years. No wonder a recent Forbes article was headlined, "Perry Mendel's Golden Diapers." Nor would Mendel deny or feel insulted by this description. "I look upon Kinder-Care eventually as a great mail-order business," he says, "where by Kinder-Care will publish a unique catalogue for parents to take home and browse through at their leisure. It has tremendous potential. I envision it as a big, big business someday."  
Tags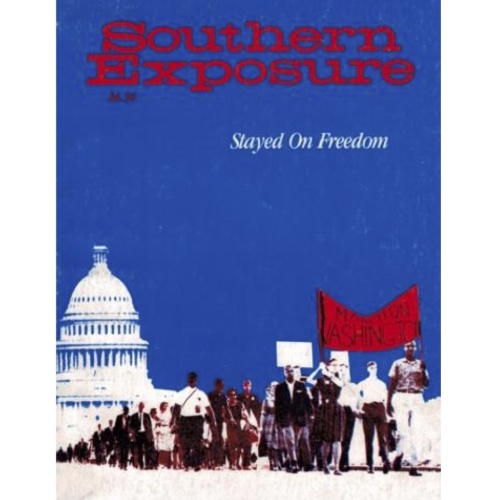 Southern Exposure is a journal that was produced by the Institute for Southern Studies, publisher of Facing South, from 1973 until 2011. It covered a broad range of political and cultural issues in the region, with a special emphasis on investigative journalism and oral history.