Growing Up Southern: An Introduction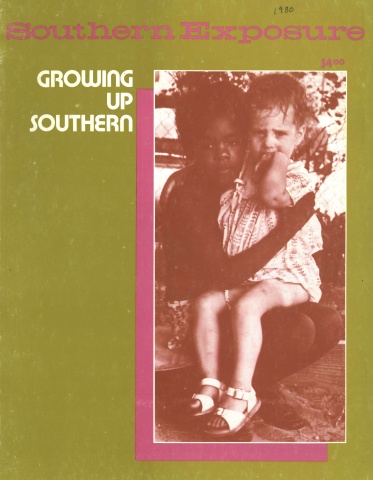 This article originally appeared in Southern Exposure Vol. 8 No. 3, "Growing Up Southern." Find more from that issue here.
"Growing Up Southern" . . . The words evoke a tide of images, both bitter and sweet: overalls and organdy, hot green fields, cool brown creeks, Grandma's front porch, lengthy and complicated family connections, Mama's fried chicken and biscuits and Grand-daddy's cane syrup, "colored" water fountains and "white" ones, church, chores, Dixie, and hot dark dangerous summer nights. Today's Southern children get their biscuits as often from Hardee's as from Mama. On Saturday afternoons they're as likely to cool off in the local shopping mall as in a shady spring-fed swimming hole. But Grandma and grandpa and Uncle Joe and Cudn Elaine still loom large in the lives of many Southern kids, just as they did in ours. The hard work many children still do isn't likely to be acknowledged by their elders; "colored" and "white" labels are less blatant, but they still constrict the futures of the generation's Southern children. "Growing Up Southern" explores the continuities and the chasms between the lives of Southern children today and in the past. 
As is our tradition at Southern Exposure, we've chosen whenever possible to let our subjects speak for themselves. The rising interest in oral history has served us well here. Mrs. Mamie Garvin Fields — at 92, our oldest living narrator — tells of a proud tradition of self-education and resistance to the Jim Crow laws in a black Charleston family around the turn of the century. In "Mill Village Memories," we hear of the security and the home-made backyard fun which small children enjoyed in a pre-World War I mill town; we see also how these same youngsters knocked their heads against the ceiling of constricted opportunity as they entered the 12-hour-a-day world of mill work, as young as six or eight years old. "We all worked, and we got what we could," says Sara Brooks, the daughter of a black Alabama free-holder, speaking of her childhood on the farm during the 1920s. "Everything that we ate mostly we raised it ourselves." Again and again, our older narrators (black and white) talk about their hard work, the close family ties, the importance of church and community, the treasured simple pleasures, the limitations and the self-sufficiency which they remember as part of Southern childhood the way it used to be. 
We had to work harder to find ways to let today's Southern youngsters speak for themselves. Few kids write lengthy memoirs; few have oral historians standing at their elbows with tape recorders and eager questions. In "Our Town," however, elementary school children talk to their interviewer/friend/teacher Nathalie Andrews about the places and people of their close-knit urban-Appalachian neighborhood in Louisville, Kentucky. Alma Blount photographed and interviewed a gang of teenagers at their late-night hangout in back of a large shopping mall, revealing a stereotypical alienation, but also a strong and collective culture. The students in Sea Chest — a cultural journalism project of the Cape Hatteras School on North Carolina's Outer Banks — usually do the interviewing themselves; here, along with an interview of an old fisherman, the students turn their lenses on their own lives. Their stories demonstrate that although life has changed in many ways for young people on the Outer Banks (getting stoned on the beach now takes precedence over the hay rides the old fisherman remembers), hard work on fishing boats is an experience many kids there still share with their elders. 
As our statistical profile of Southern children shows, poverty also links all too many contemporary Southern kids and their grandparents. Adapted from a study by the Southern Growth Policies Board, "Childhood in Numbers" demonstrates how relatively low overall family incomes and high poverty rates in the region affect the education and health of children. 
Traditionally, Southerners have — for good reasons and bad — resisted government control over their lives, and especially over their children's lives. Public schools took hold in many parts of the South later than in other regions of the country; desegregation of public schools has been the bitterest battle in the South since the Civil War. Mainly because of their poverty, more children in the South are ironically caught up in the most extreme example of direct government control over families and children which exists in the United States: the gigantic and inefficient foster-care system which Lanier Rand Holt and Jennifer Miller describe in "How Permanency Planning Came to North Carolina." Besides the horror stories of thousands of children lost in foster-care "drift," the article shows the system's inherent biases against poor families, and how these biases reappear in new forms among the middle-class reformers now seeking to ensure a permanent home for each child in state custody. 
Day care is another way in which Southern families are surrendering their children to the care of others, and the options here are depressingly bleak. Although most working parents in the region still make informal arrangements for child care with their relatives or friends, the world of day-care centers is growing rapidly. Kinder-Care Learning Centers, Inc. — a multi-million-dollar day-care business that Randall Williams investigates in this issue — adds approximately one new center to its chain every weekday. In several articles, we examine from the inside what it's like to grow up and to work in day care; we look at the good and bad ways in which day care, as it currently exists, differs from growing up at home. Finally, we offer some suggestions for how day care could work, if we — as communities, as a region, and as a nation — gave it the attention that it so urgently deserves. 
It's easy to romanticize the beauties of the past and denigrate the realities of the present. The many photographs we present of today's Southern children — poignant, funny, sad, joyous and above all beautiful — are evidence enough that we don't believe the latest generation of Southerners has gone to the dogs. In addition, we've gathered a variety of the children's own writings, drawings and photographs, through which they speak eloquently — if sometimes cryptically, or through a wry corner of the mouth — of their lives and of the multiplicity of experience which still marks growing up Southern. Though kids may watch hours of TV and hang out in plastic food franchises, for many of them deep roots in family, community and landscape remain central and shaping forces. The children in Beaufort County, South Carolina, reveal imaginations as gothic as that of any Southern novelist as they describe the "ghost trees and swishing winds" of their coastal lowcountry. Robert Cooper's young photography students in West Virginia share with us their beautiful, impoverished mountain community: one self-portrait shows an 11-yearold girl with a round face and long thick pig-tails posed before her family's TV, sheltering a brood of younger chldren with her arms. In another, someone's grandfather stands as thin and erect as the skinny apple tree he's pruning. We see animals, work-boots, clotheslines, pictures of Jesus; and in all the photos we appreciate what teacher Robert Cooper describes as the "moods of quiet contemplation and youthful exuberance" in which the children used their cameras. 
Racism, and race consciousness, are two themes which run throughout this volume, as they do throughout Southern life. Nowhere do the changes, and the grounds for hope, come through clearer than in the short stories by eight-year-old Dorothy Williams and 12-year-old Honoree Jeffers. Separated in time by 42 years and an era's changes in circumstance, these two girls share an unusual narrative gift and an hilarious delight in exaggeration and melodrama. Dorothy Williams wrote during the Depression years in south Georgia, and her story describes a "white little girl's" nightmare of being "snatched into a strange house by a strange woman" and made to wash endless piles of other people's dirty dishes — a task reserved for little black girls. Finally the heroine is rescued by a "blessed man," who tells her tormentor that "she shouldn't have white little girls for maids." 
Dorothy Williams had little opportunity to think otherwise than in these racist terms. But four decades later, Honoree Jeffers gleefully rewrites history, freed from those constraints. Her historical fiction — a slavery-times soap opera from a 1980s black perspective — emphasizes the gullibility of the white owners and the cleverness and bravery of the slaves: "White folks never saw through the armor of the blacks. . . . Martha hated and scorned blacks who really meant all that nonsense about bowing and scraping." 
We hope you'll laugh, snicker, cuss, think, worry, recoil, exclaim and remember as you turn the pages of "Growing Up Southern." And we hope you'll look with new respect and higher expectations at the growing-up Southerners around you. 
Tags
/*-->*/ /*-->*/ Chris Mayfield is a freelance editor who lives in Durham and is copy editor of Southern Exposure. (1986)
/*-->*/ /*-->*/ Chris Mayfield is the special editor of this issue and a staff member of the Institute for Southern Studies. (1980)