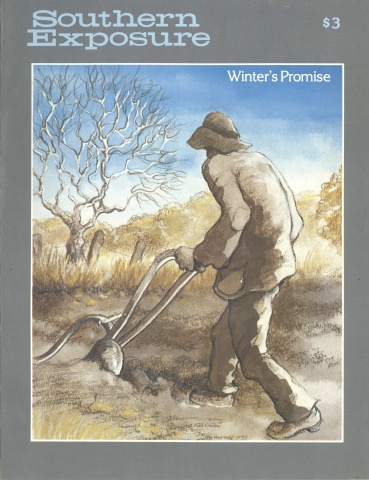 This article originally appeared in Southern Exposure Vol. 8 No. 4, "Winter's Promise." Find more from that issue here.
When Connie didn't come home at five o'clock like she said she would, Mrs. Kyles started worrying. Somehow, she didn't trust that boy Connie was with, the one who said he was tired of people running over him when she and Mr. Kyles refused to let him spend the night earlier in the week. Connie had seemed less than comfortable lately about talking to her boyfriend Jackie on the phone, or going with him to see his father in the hospital. 
"I get these — I don't know if you call them vibes or not — when something's going on with my kids," said Mrs. Kyles, who waited out much of that night alone since her husband works second shift for R.J. Reynolds Tobacco Company. As the night wore on, Mrs. Kyles got more and more worried, finally calling the sheriffs department. Jackie had been in trouble with the law before and had served some prison time. 
"I don't remember what time it was but I finally called the sheriffs department and I told them how worried I was about my daughter. But they told me she would have to be gone 24 hours before I could report her missing," Mrs. Kyles said. "I was for some reason in fear of her life." 
Connie did come home the next day, after her father spotted Jackie's car on the road and told him to bring Connie home right away. But she wasn't there long. Later that day she was booked for first-degree murder. 
Connie Lynn Kyles, now 20, is currently in her third year of a 40- to 50-year sentence for second-degree murder. 
About nine pm. on the night of June 23,1977, while Mrs. Kyles was worrying, Connie and Jackie Ray Brewer were pulling up to the house of Agnes Crater, a 53-year-old widow whose previous testimony had sent Jackie to prison. Connie wasn't aware that Jackie knew Mrs. Crater or that he planned to kill her for sending him off to jail. She just knew they were going to rob her. 
Mrs. Crater, who lived alone, let the two in and for a while Jackie and Mrs. Crater talked about how mean people are. Suddenly Jackie turned to Connie and asked her to hit the woman. Connie refused. Then he told Connie to turn off the lights, which she did. 
The next wild moments while Jackie beat Mrs. Crater and then slashed her throat, Connie ran back and forth to the door, wanting to run for help but afraid to. When they left in the darkness, Connie knew that Mrs. Crater had been hurt but not that she'd been killed. 
It wasn't until they had driven to Virginia that Connie found out what happened. Jackie kept saying, "We're just like Bonnie and Clyde," until Connie finally asked why. Jackie then threw his knife up on the dashboard to show Connie the blood on it and told her he'd cut the woman's throat. 
Connie made him stop the car so she could throw up. 
Although Jackie Brewer's confession accused Connie of having held down Mrs. Crater's legs while he cut her throat, Connie maintains she never participated in the murder. Polygraph tests and the testimony of the investigating officer, Charles Reavis, back her up. Reavis also testified that Connie was afraid of Brewer — the reason, she and her parents say, that she didn't run for help. According to Connie, Jackie became madly possessive after they had sex, and when she wanted to break up, he threatened to hit her face so no one would ever look at her and to kill her family. 
"He was always talking about he wanted to cut someone's throat," Mr. Kyles said later. "It could have been Connie." 
Even though Connie didn't participate in the murder, under North Carolina law Connie was as guilty as Jackie because she knew they were going to rob the woman. Under the state's felony-murder rule, a participant in a robbery where a murder takes place is guilty of murder even if he or she didn't physically participate in it. 
Under her lawyer's advice, Connie entered a guilty plea to second-degree murder in order to avoid a first-degree murder trial which might have sent her to the gas chamber. Although she pled guilty, her plea was entered with a stipulation — agreed to by the prosecution — that Connie was not aware that Jackie was going to kill Agnes Crater and that she didn't know Mrs. Crater had in fact been killed until after she left the house. 
With this stipulation, her lawyer felt, Connie would probably get a probationary sentence or a very light active sentence. But to further convince the court of her innocence, her lawyer had her sent to N.C. Correctional Center for Women, where a group of psychologists would examine her for two months and recommend a sentence. 
The committee reported back that Connie's involvement in the crime was due to emotional deficiencies that made her "vulnerable to negative peer influence." Her parents had separated several times during her childhood because of drinking and marital infidelity, creating a "chaotic home life," the psychologists said. Connie was also greatly overweight and had a bad self-image, which led her to resort to alcohol and drugs in her early teens. 
While she was in high school, her parents turned around and became more religious, exerting a new brand of discipline which made Connie rebellious. The psychologists pinned her emotional age at about 10. 
"Connie's immaturity, her intense need for acceptance, and her lack of judgment are seen as significant factors related to her involvement in the current offense," the committee reported. "From all indications it appears that she was willing to engage in robbery but that she had no knowledge of her co-defendant's apparent intentions to kill the victim because of a grudge.. . . "The committee did not see Connie as an assaultive or aggressive person, nor was she seen as being imminently dangerous or significantly anti-social or as having true criminal tendencies. However, the need for acceptance and the ease with which she is influenced to gain acceptance and approval made her vulnerable to negative peer influence." 
The committee did not see imprisonment as necessary to protect society from Connie: she was neither assaultive nor aggressive. It also noted that the 11 months she'd already spent in jail was probably enough to keep her out of trouble in the future, and that sending her to prison would surround her with bad influences: what got her into trouble in the first place. 
The psychologists were split as exactly what to do with Connie. Two of the four committee members recommended that she be given a sentence of less than 10 years as a Committed Youthful Offender and that a firm contract be worked out requiring her to pass a high school equivalency test and set psychological and vocational counseling. Completion of the three requirements would entitle her to conditional release. 
The other half of the committee felt that the 11 months Connie had already spent in jail was enough. They recommended probation. 
On June 1, 1978, Connie went before Superior Court Judge Julius A. Rousseau for sentencing. In light of the psychologists' report, Connie, her parents and her lawyer were hopeful that she would get a light or nonactive sentence. 
Then Judge Rousseau announced his 40- to 50-year sentence on Connie. She was said to have left the courtroom screaming, "Where's Jesus? Where's Jesus?" 
"The trial, the whole thing, he [Judge Rousseau] would sit there like this," Connie said, resting her chin in her palm and closing her eyes. "He was not listening. He had his mind made up." 
Judge Rousseau, asked later why his sentence was so much longer than the psychologists had recommended, replied, "They don't ever recommend anybody to go to prison." He added that although he couldn't remember the details of the case, he recalled evidence that Connie did participate in the murder. 
"I felt that she was there and I can't remember all the details about it," Rousseau said. "And you know, murder's murder. It's a human life that's been taken." 
Connie Lynn Kyleswil be eligible for parole in seven years, after having completed one-fourth of her sentence. But to her and her parents, any prison time is unfair for a crime she didn't commit. 
"It's a shame this woman was killed. But it's a shame to crucify someone over this without the truth being told," said Mr. Kyles, who with his wife has been trying to set Connie free since she was sentenced two years ago. 
The Kyles have tried, unsuccessfully, to get their daughter's story told and to get her sentence commuted. They have typed a five-page single-spaced version of their story and circulated a petition. The tattered petition has yellowed with time, but more than 250 signatures remain as part of an effort to free Connie Lynn Kyles. 
So far the news has not been encouraging. Martha Cobb, who is in charge of commutations for the governor's office, said that Connie's name didn't ring a bell. Her file was sitting dormant with more than 100 similar requests. 
"They do take a long time to investigate and put it all together," she said. "And then there's the question of putting it to the governor. The chances are of course not very good for any particular individual." 
Statistics on commutations are not very encouraging either. In 1977, 29 of 50 commutation requests were granted in North Carolina, and in 1978 48 of 65 were granted. But in 1979, only 19 of 125 commutation requests were granted by the governor. 
Mrs. Cobb said the latest entry in Connie's file was a letter sent to her parents last summer suggesting that they file a Motion for Appropriate Relief in the courts, and which gave the Kyles the toll-free number of the state's lawyer referral service. 
But an attorney for Prison Legal Services in Durham, which is considering Connie's case, said that entering a Motion for Appropriate Relief would take thousands of dollars and several years. "You would almost have to take it to the Supreme Court" before the governor would consider legal remedies exhausted — and therefore consider a commutation — said the attorney, Richard Giroux. 
He also said that Connie's case would be difficult to appeal because of the guilty plea. The sentence could be attacked for being cruel and unusual punishment and thus violating the eighth amendment, Giroux said, but that would be a "long shot" in view of the Supreme Court's March decision in Rummel v. Esstelle, which upheld a sentence of life imprisonment for a Texas man who had been convicted three times on forgery charges. 
Connie Lynn Kyles is not just a statistic, and yet her story is repeated over and over again. A victim of circumstances and a judicial system which pays to hear psychologists and then ignores what they say, Connie is just one of many prisoners with sentences far exceeding their crimes. Connie's crime, as her parents keep repeating, was just being at the wrong place at the wrong time. 
"Stories like Connie's are much more common than any of us would like to think," says Lao Rubert of the Prison and Jail Project of North Carolina. "We frequently hear about people who have received unnecessarily long sentences for their involvement in a crime. Usually they are poor and have been represented by court appointed lawyers who haven't had much time to give to their cases. Once a harsh sentence has been handed down, it is difficult for a prisoner to successfully appeal the case even when money is available to hire a lawyer." 
Connie, meanwhile, is patiently waiting it out. She's lost weight, passed her high school equivalency test, received a degree in secretarial science, and is now studying upholstery. Mr. Kyles is also studying upholstery, and the two — who could barely speak without yelling when Connie was in high school — plan to go into business together when she gets out. 
Day to day, Connie tries to pretend she's not in prison, but every morning when she wakes up it comes as a jolt again. "The first thing, I wake up and I tell myself I'm in here for something I didn't do. 
"I just think about being at home, doing things I used to. I miss my puppy. I miss being with little kids. I miss riding around by myself sometimes. I miss being loved on. And I miss my goodnight kisses." 
Tears roll quietly down Connie's face. She's learned the art of crying silently. 
"I'm just thinking about my family and how it used to be. And when I get out of here I'm going to be so old. I can't sit on their laps anymore. I can't be their little girl. I'm supposed to be a murderer."
Tags
Debbie Galant is a reporter for the Burlington, North Carolina, Daily Times-News. She has also written for the Winston-Salem Journal and Environmental Action magazine. (1980)