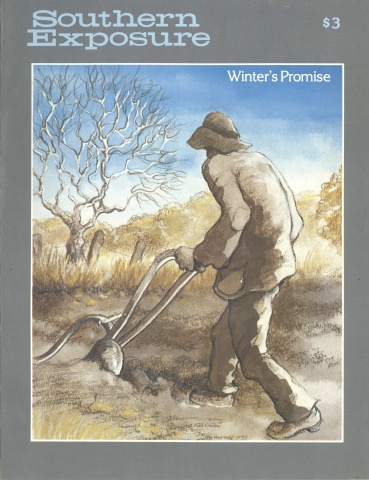 This article originally appeared in Southern Exposure Vol. 8 No. 4, "Winter's Promise." Find more from that issue here.
A few years ago, I happened to meet fellow I had known from my hometown of Cleburne, Texas. He asked me why, when we were in high school together, I had never told him that my father had played piano with Bob Wills. On second thought, he admitted, it might not have made any difference to him back then. 
There was a time — from the late '50s to the early '70s — when people in Texas had pretty well forgotten about Bob Wills and his music and what it meant to them. Those who remembered carried a deep feeling for this spunky fiddler and his improbable band, the Texas Playboys, with its hybrid of country and western and big band swing. The old-timers shared a legend passed around by word of mouth about the Bob Wills dance and Wills' magnetic effect on a crowd and the hard-driving way his musicians worked to entertain people beaten down by the Great Depression. But by the 1960s many people had forgotten. 
Then in the early '70s came the rise of the music style called by many "progressive country." Some called it "redneck rock," because it more or less joined elements of rock music with those of country and western. Bob Wills never considered himself a country-and-western performer, but he was a hero to many of the leaders of the progressive "revolt" against the predictability and overproduction of Nashville's industrial approach to music. Merle Haggard foreshadowed this trend in 1970 when he cut his tribute album to Bob Wills, "The Best Damn Fiddle Player in the World." In the process, he brought together for the first time those members of the original Playboys he knew of — but mistakenly presumed that several musicians were dead; these same musicians later became important to the band as it regrouped. Haggard's effectiveness in spreading the word about Wills' music was also limited somewhat by his "Okie From Muskogee/Fightin' Side of Me" image, which kept many of the progressive country patrons on the rock side of the border from taking him seriously. 
Eventually, though, younger performers, especially in Texas, in bands such as Alvin Crow's Pleasant Valley Boys and Asleep at the Wheel, as well as innovators like Waylon Jennings and Willie Nelson, showed strong Wills influences and began acknowledging Wills as a seminal figure. 
By the mid-'70s the long-hairs and rednecks had made peace in the larger cause of music. They represented a new market to the record companies, but they meant something more to the aging musicians who had played for Wills during his heyday. A core group of Texas Playboy members from the '30s and some who had joined Wills later began performing together occasionally to satisfy the clamoring of their new audience. 
The revitalized Texas Playboys were led by steel guitar player Leon McAuliffe, probably the best-known — except for vocalist Tommy Duncan — of the hundreds of musicians who worked for Wills. In September, 1975, a Public Broadcasting System series, "Austin City Limits," videotaped a program featuring most of the surviving musicians who helped Wills pioneer Western swing music: C.G. "Sleepy" Johnson, who had played guitar in Wills' first string bands in Fort Worth; fiddler Jesse Ashlock, who also started out with Wills in the early Fort Worth days; bass player Joe Ferguson, who along with McAuliffe, Johnson and Ashlock had been a member of the Light Crust Doughboys before going to Oklahoma to work for Wills; Smokey Dacus, the drummer who joined Wills in early 1935; and my father, Al Stricklin, who began playing piano for Wills 40 years and a couple of weeks before the videotaping. 
The wildly enthusiastic reception the Playboys got from the TV studio audience — students at the University of Texas — was followed the next night by equal acclaim at a south Austin dance hall called the Broken Spoke. It was the first dance some of the Playboys had worked together in 35 years. Remarkably, before that mixture of old and young, the musicians discovered that they were still a band. Here were men nearly 70 years old having the time of their lives, responding to each other's improvisations, playing tricks on each other that no one off stage would notice — and, most of all, entertaining their audience with the classic Bob Wills smooth and upbeat rhythm, giving them a lot more than just music. 
Bob Wills was born and spent the first several years of his life in the eastern part of central Texas. On the edges of where Texas is more Southern than Western. He learned old-time fiddling from members of both sides of his family in the strong folk tradition of Southern and mountain music. The Wills' plight as tenant farmers in the depressed cotton economy of the 1920s gave Bob a bond with neighboring blacks, with whom he played and worked, and who taught him much music. His father, it is said, fiddled just enough to keep from farming but too little to earn a living playing at house dances on Texas farms. 
While Bob was still a boy, his family moved to West Texas, where he soon developed an intense desire to escape farming and get to the city. After barbering, selling cars, shining shoes, "rough-necking" in the oil fields and passing through a variety of other jobs, he moved to Fort Worth in 1929 to organize a string band. With two to four men doing old-time, popular, novelty and blues songs, Wills' group eventually won the sponsorship of the Burrus Mill and Elevator Company and began advertising Burrus' Light Crust Flour on the radio. Their boss was W. Lee O'Daniel, a smooth-talking executive who later became a highly successful Texas politician. The Light Crust Doughboys, as the band was called, became embroiled in various squabbles with O'Daniel, often having to do with Wills' problems with alcohol and the possible effects on the Burrus (and O'Daniel) reputations. 
Finally, in 1933, Wills left Fort Worth to form another independent band. By that time, the Light Crust Doughboys and their rather unusual music had established a loyal audience on a fledgling radio network in Texas and Oklahoma. O'Daniel had cultivated a following of his own as the group's announcer, reading poetry and singing tear-jerky songs of his own composition, and dispensing a brand of folk wisdom over the radio that later won him the governorship and a place in the U.S. Senate (he defeated Lyndon Johnson and 11 other Democratic primary opponents without a runoff). O'Daniel eventually used his growing influence to hound Wills' band out of Texas by bullying their potential sponsors. So Wills ended up in Tulsa, Oklahoma, where he and his band, now known as the Texas Playboys, found a secure spot on a radio station unafraid of O'Daniel, and a public that appreciated the developing Wills style. 
Pleasing the public became an obsession with Wills, but the shape of his music grew strictly from his own taste. To the original string band instruments — fiddle, guitar, bass, an occasional banjo and steel guitar — he added horns, of all things, then drums and piano. While the Light Crust Doughboys had used more or less traditionally rural instruments for both their country and urban-style music, the Texas Playboys played all sorts of music with a variety of instruments. In a single song Wills might call for solos on the steel guitar, the saxophone or trombone, one of the other fiddles, the piano or the trumpet, even a drum solo, with no sense of contradiction. At times the Texas Playboys sounded like a Salvation Army band — except they would play a song such as "Mexicali Rose," then a Jimmie Rodgers or Bessie Smith blues tune, then a primitive sort of jazz rendition of "Old-Fashioned Love," and finally follow Wills through an old fiddle tune handed down through generations of Anglo-American folk musicians. 
It took the band many months to polish their sound, so Wills compensated by dancing around on stage, calling out lines from comedy routines in the popular medicine shows, yelling to band members or to no one in particular, and generally clowning to cover the musicians' mistakes. Band members found this unorthodox style liberating, if sometimes frantic. 
Smokey Dacus, now 72, recalls when he joined Bob Wills in 1935 as his first drummer and what it was like playing in Wills' bands. 
At that time a set of drums was unheard of, it destroyed the atmosphere, it wasn't country. There was no place for it except in big bands, the hotel bands with a stage full of musicians. Bob was just out of his mind. Nobody — I didn't agree with it. I thought he was crazy. It just magnifies his vision. He was the only man in 1935 in the music world that would tolerate the idea that modern popular music and country music could be molded together into a music of its own. He approached me and I said, "What do you need with a drummer in a string band? What would a drummer play?" Course, at that time in '35, you could eat all you wanted in the best places in Tulsa for 15 cents. Bob wanted to pay me $55 a week. "There ain't nobody that makes that much money." The boys in the hotel band I played with were skeptical. Most of them made fun of me: "You're gonna play drums in a fiddle band?" And that was my biggest problem: what sounds good? So I tried to develop a sound that would fit. For $55 a week, you'd work at it! It was his vision that you could put the two styles together into a style of music that represented everybody. 
To tell the truth, my feeling at first was that I had condescended for money, to play this kind of music. But it wasn't long before I found the freedom in this kind of music that wasn't in the other music. See, the big bands that sat up there with the music in front of them, they played as if they were mummies. Their only concern was with the notes that were in front of them. You could dance by in front of them and they wouldn't even see you. But in Bob's band — music is communication. I know a lot of musicians that you could take an ink well and throw it against that wall and bust it. And they can pick up a trumpet and play it. Wouldn't make any kind of difference what kind of mess it made, they could play it. But you put them at the end of a hundred foot rope and they couldn't swing. No feeling. 
Bob Wills music is different. Bob had no concern about — you know — the way it was supposed to be done. There were no rules for what any individual did or the whole band played. He didn't care about how it was supposed to be done, but if it's right it'll do something to you. All that expression that was written into the music was in Bob's stomach. 
You also have a certain feeling about all these guys you're playing with. Strick and I were always damned close and knew it, because we were working like that every night and we played to each other's feelings every night. Strick was the only one that I was conscious of that I was close to, yet years later you find out you were close to all of them. You build bonds that you didn't realize you were building.
The Playboys soon developed a schedule of playing dances throughout Oklahoma, and in parts of Arkansas, Missouri and Kansas, adding occasional trips back to Texas. A number of people became regulars at Wills' performances and let him know in various ways that they appreciated the diversion his music gave them from the cares of the Depression. Some fans tried to get him to run for governor of Oklahoma. By the late 1930s, Wills had added fairly sophisticated big-band arrangements to his fiddle tunes and blues songs, so his audiences heard live many of the songs the Dorsey, Miller and Whiteman bands were playing over the radio. 
The exuberance and mischief were still there, however, and the "Bob Wills dance" became legendary — a four-hour affair during which the band never took intermissions. Actually, most people did not dance, but stood in a ring around the bandstand to watch Wills and the band. Some reached up to shake his hand or wave to members of the band. Wills kept up some sort of communication with practically everybody, his black eyes exerting an almost hypnotic effect — all the while directing the band, arranging songs as he went along, keeping the musicians wondering what might happen next. 
People brought babies in cribs to the dances; many invited Wills and the band to their homes for meals. Country music authority Bill C. Malone once said that Wills, the Playboys and their fans constituted a large family. Wills' first drummer, W.E. "Smokey" Dacus, observed that Wills' genius was in knowing that "there wasn't any difference in the people that came to the hotel in a tuxedo to dance to the big band music and the people that came to the string band dance in overalls." 
When the war came, most of the Playboys who had gone through the Depression with Wills left for service or for defense work; Wills also went into the Army for a time. When he got out, he re-formed the band and left Oklahoma for the West Coast; there he continued to lead a band for another 25 years, sometimes with great success. But by the late '50s his music was slipping. He had outlasted his contemporaries from the swing era, but financial problems kept him working long after he probably should have retired. 
During the '60s he was forced to sell the rights to the name "Texas Playboys" and resort to hiring local musicians in towns where he made appearances. He still drew people who remembered his heyday or had heard about him from others, but the quality of his music suffered terribly. His health worsened steadily, and many Bob Wills fans had the misfortune of witnessing his physical and professional decline. He stopped performing in 1969, only after he had the first of a series of crippling strokes. He lived long enough to see his music become popular again, and before his condition left him virtually comatose, he may have realized that a whole new generation of fans was discovering his music and claiming him as one of their heroes. 
The appearance of the reassembled Playboys on television in 1975 led to a number of other performances attended mostly by new converts to the Wills-Texas Playboys music. The music's magnetic appeal was definitely there. Then came the surprise: the band began booking dances at some of the stops on their old dance circuit and found that the enthusiasm of the older people matched that of the young. The people who had been part of the Bob Wills movement of the Great Depression era were now responding to the Texas Playboys without Bob Wills. Their enthusiasm and the band's dedication to their audience in the Bob Wills tradition was perhaps best illustrated during an eight-hour period I observed one Saturday in April, 1976. 
Bob Wills Day is an annual celebration in the Texas Panhandle town of Turkey, near where Wills' family lived after they left East Texas. It is a pretty typical small-town salute to a famous native — with music of course dominating things. In 1976 the full re-grouped Texas Playboys appeared for the first time since Wills' death the year before. Emotions were high and a lot was expected of the band. They were booked for a concert in the afternoon on an old football field taken over by the festivities, then a dance that night in an even older high school gym. That represented a full schedule for some old guys, even ones in the habit of working hard on stage. 
The concert began in the bright sunlight and merciless winds of the high plains. The audience seemed to enjoy the music and the band worked well under less-than-ideal conditions on a flatbed trailer. I was in the audience that day and spent most of the time watching my father and the others in the rhythm section, especially the way my father works with Smokey Dacus, the drummer. Their never spoken communication on the bandstand is one of the pure delights in their lives, and in mine. The way they anticipate subtle suggestions of changes in rhythm back and forth between the piano and the drums, it's almost as if they send messages to each other through the vibrations in the stage. Sometimes barely aware of the audience or the rest of the band, they still manage to keep up with the song, in fact laying down the one thing no Bob Wills song can do without: the beat. 
During the last couple of songs in the afternoon concert, I noticed a terribly pained expression on Smokey's face. He would often put on a look of mock disgust to get my father going, but nothing like this. Usually he laughed and smirked like a kid. The look got worse as they neared the end of the last number the "Texas Playboy Theme." They hit the last beat and all stood to accept the applause — then Sleepy Johnson collapsed. He dropped his banjo and lay sprawled near the back of the trailer. Some of the other Playboys left the stage before they realized anything was wrong, others tried to help Sleepy. Meanwhile, people from the audience rushed to the stage, seeking autographs. Finally, someone called an ambulance, and Sleepy was taken to the nearest hospital, a half-hour away. 
By the time things calmed down and the band and their families and friends all got word of what had happened, Sleepy was dead. He had had a heart attack, stood up after the last note of the song and died. Then came the classic question for any performer: what about the dance that night? I don't recall any discussion of whether the crowd of Bob Wills faithful would understand the band's not wanting to play, or statements such as, "Sleepy would want it this way." They just seemed to know that they would play the job and make the best of it. 
As the time for the dance drew near, the gym filled with many more people than had been at the concert. Acoustics were terrible, especially on the floor, and it appeared as if no one heard the first thing that came over the microphone: "We would like to dedicate this dance to our old friend and fellow Texas Playboy, Sleepy Johnson, who died here this afternoon at the conclusion of our concert." A roar went up from the crowd, which must have thought the unintelligible statement was some sort of battle cry to get the proceedings under way. 
Things were rough at the start but evened out pretty quickly. From my seat on the back corner of the bandstand, I could feel the stage begin pulsating. It wasn't just the way a floor feels when something is dropped on it or the way you can sense the vibration from music being played in another room. The stage became an instrument itself, transmitting a beat as purely conceived as any I can imagine. Al Stricklin and W.E. Dacus played to each other's feelings and gave each other looks, as my mother often joked, they had never given their wives. When time came for a piano solo, Smokey would put down a special heightened rhythm he always used when my father took a break, delighting, he said, "in making Strick play over his head." 
The band took a break, and Smokey explained he had realized something was wrong with Sleepy, a fine rhythm man, when Sleepy began to lose the beat during the last few songs of the concert. Sleepy was dying, but the only thing he had known to do was finish the performance. 
Many of the younger men and women who helped make this music popular again have now gone on to other interests. In a sense, they have given the music back to the older people, who are a little more free now to relive their younger days without quite so many college-types crowding them for the good places up close to the bandstand. It may be that the young people never fully understood what Wills and his music meant to the people who were young during the Depression, or to the members of the Texas Playboys. It is certain, though, that in knowing something of Wills and his band, they got a glimpse of why, when a musician gives completely, it can be a time when the air is filled with more than just music.
Tags
David Stricklin was born and raised in Texas; his father played piano with Bob Wills from 1935 to 1942. This article is drawn from extensive interviews and a Master's thesis in which Stricklin traces the Playboys' history. (1980)