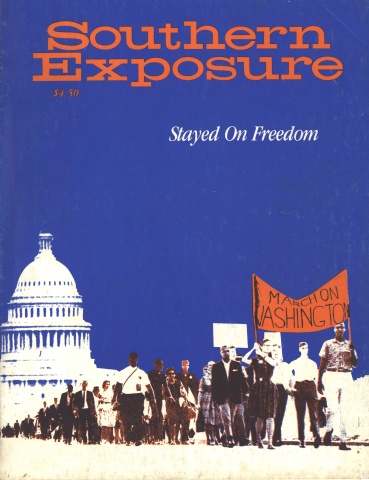 This article originally appeared in Southern Exposure Vol. 9 No. 1, "Stayed on Freedom." Find more from that issue here.
1619: Colonial governor of Jamestown, Va., purchased 20 blacks, commencing the slave trade in North America. 
1663: First major slave rebellion in colonial America took place in Gloucester, Va. 
1664: Maryland passed a law preventing marriages between English women and blacks; several colonies soon followed suit. 
1672: The king of England chartered the Royal African Company which came to dominate the world slave trade. 
1704: A school for blacks, one of the first in the colonies to enroll slaves, was opened by Elias Nau in New York City. 
1712: Early slave revolt in New York City resulted in the hanging of 18 blacks. 
1772: Lord Mansfield handed down his decision in the Somerset case against the existence of slavery on English soil. This case stimulated requests for legislative action against slavery in New England. 
1775: Continental Congress passed a resolution barring blacks from the American Revolutionary Army. The royal governor of Virginia offered freedom to all male slaves who joined the British forces. Alarmed by the response, General George Washington ordered recruitment officers to accept free blacks. 
1777: Vermont became the first state to abolish slavery. 
1787: Richard Allen and Absalom Jones organized the Free African Society, a black self-help group in Philadelphia which became an "African church" affiliated with the Protestant Episcopal church. 
1793: Congress passed the first fugitive slave act, making it a crime to harbor an escaped slave or to interfere with his or her arrest. 
1800: Gabriel Prosser, a Virginia slave, was betrayed in his plot to lead thousands of slaves in an attack on Richmond. Dozens of slaves were imprisoned or hanged on the spot, and Prosser was publicly hanged. 
1808: Federal law barring African slave trade went into effect. 
1816: The American Colonization Society was organized under John C. Calhoun and Henry Clay to transport free blacks to Africa. Free blacks protested the efforts to "exile us from the land of our nativity." 
1820: Missouri Compromise enacted, prohibiting slavery north of Missouri. 
1827: Freedom's Journal, the first black newspaper, was published in New York by John Russworm and Samuel Cornish. 
1829: David Walker's Appeal, a militant antislavery pamphlet distributed throughout the country, aroused blacks and was banned in most Southern states. 
1831: Nat Turner led the greatest slave rebellion in the U.S. in Virginia; the whole South panicked and more than 160 whites and blacks were killed. Turner was hanged. 
1833: Frederick Douglass, later to become a prominent black abolitionist, escaped from his master and fled to New York. 
1834: Black preachers began to be outlawed in many Southern states, and slaves were required to attend the church of their masters. 
1836: Congress introduced the infamous "gag rule" — anti-slavery petitions should not be read, printed, committed or in any way acted upon by the House, but be laid upon the table without debate or discussion. 
1838: A "formal organization" of workers of the Underground Railroad was set up in Philadelphia under the presidency of Robert Purvis, a wealthy black. 
1839: The Liberty Party, first antislavery political party, organized in Philadelphia. 
1841: A revolt occurred on the slave trader "Creole." Slaves sailed to the Bahamas, where they were given asylum and freedom. 
1850: Congress passed the Fugitive Slave Law as part of the Compromise of 1850. 
1857: The Dred Scott decision by U.S. Supreme Court opened federal territory to slavery and denied citizenship to blacks. 
1859: John Brown raided the federal arsenal at Harper's Ferry, Va., to seize arms with which to free the slaves. He and two other surviving participants were hanged. 
1860: Abraham Lincoln elected president. South Carolina later seceded from the Union. Loyal black volunteers were not accepted when the first call for troops was made. 
1863: Emancipation Proclamation signed on January 1. 
1864: First public school system for blacks opened in the District of Columbia. 
1865: Congress established the Freedman's Bureau to help newly emancipated slaves. Congress passed the Thirteenth Amendment which, on ratification, abolished slavery. All-white legislatures began enacting Black Codes to restrict the rights and freedom of movement of blacks. Fisk University, later one of the most prestigious black colleges in the nation, opened in Nashville. More black colleges were opened to educate the newly freed slaves. The Ku Klux Klan began in Tennessee. 
1867: William Still led a successful campaign against segregated streetcars in Philadelphia. Congress enacted a law giving suffrage to blacks in the District of Columbia. 
1868: Oscar Dunn, an ex-slave, became lieutenant governor of Louisiana, the highest elective office then held by a black American. 
1869: At the fourth annual conference of the National Labor Union, it was decided that blacks should form their own unions. 
1870: Fifteenth Amendment, giving black males the right to vote, was enacted. 1875: A civil-rights bill was passed by Congress which prohibited discrimination in places of public accommodation. 
1877: Rutherford B. Hayes' representatives made a deal with Southern delegates to remove federal troops and leave states alone in return for support from Democratic Southern congressmen when the House voted for president. This deal turned Reconstruction over to white planters, a setback for blacks and poor whites. 
1881: Tennessee enacted the first Jim Crow law segregating railroad coaches. 
Booker T. Washington opened Tuskegee Institute in Alabama. It became the leading Afro-American agricultural-industrial school. 
1883: The U.S. Supreme Court ruled that the Civil Rights Act of 1875 was unconstitutional. 
1890: A constitutional convention in Mississippi adopted the literacy and "understanding" tests as devices to disfranchise blacks. 
The Colored Farmers' Alliance, a socio-economic-political organization dedicated to improving the lot of the black farmer, reached a membership of one million. 
1895. W.E.B. DuBois became the first black to receive a doctorate degree from Harvard. 
1896: The Supreme Court, in Plessy v. Ferguson, upheld the "separate but equal" doctrine. 
1900. Booker T. Washington organized the National Negro Business League. In 1903, The Souls of Black Folk by DuBois, which crystallized black opposition to Washington's policies, was published. 
1909: The NAACP was founded on Lincoln's birthday after a savage Springfield, Ill., lynching and rebellion. 
1910: W.E.B. DuBois started Crisis as the official organ of the NAACP. 
National Urban League began in New York. 
1918: The First Pan-African Congress, led by DuBois, met in Paris at the same time as the conference which ended World War I. 
1920: The national convention of the Universal Negro Improvement Association met in New York City; Marcus Garvey, the founder, advocated his ideas of racial pride and return to Africa. In 1927, Marcus Garvey was deported as an undesirable alien. 
1925: The Brotherhood of Sleeping Car Porters, an important black labor union, was organized by A. Philip Randolph. 
1930: When President Herbert Hoover appointed a known racist judge from North Carolina to the Supreme Court, the NAACP launched a successful campaign against his confirmation. 
1931: Nine black youths accused of raping two white women were convicted in Scottsboro, Ala. The case became a cause celebre with Afro-American organizations, liberal whites and the Communist Party. 
1933: The NAACP opened its attack on segregation and discrimination in schools. On behalf of Thomas Hocutt, the NAACP sued the University of North Carolina. 
1936: Jesse Owens won four gold medals at the Berlin Olympics. 
1939: Opera singer Marion Anderson was barred from singing in Constitution Hall in Washington by the Daughters of the American Revolution. Mrs. Franklin Roosevelt resigned in protest from the organization. 
1941: President Roosevelt held an urgent meeting with A. Philip Randolph, head of the Brotherhood of Sleeping Car Porters, and other black spokespersons and urged them to call off a march against discrimination and segregation in the national defense program. When Randolph refused, Roosevelt issued an executive order forbidding discrimination in defense industries and government training programs. Randolph then called off the march. 
1942: Blacks and whites committed to direct nonviolent action organized the Congress of Racial Equality in Chicago. 
1944: The Supreme Court, in Smith v. Allwright, banned the "white primary," which had effectively prevented blacks in the South from voting. 
1947: The Congress of Racial Equality sent Freedom Riders into the South to test the Supreme Court's June, 1946, ban against segregation in interstate bus travel. 
1948: Some Southern delegates walked out of the Democratic Convention after a strong civil-rights plank was adopted. South Carolinians and Mississippians led the movement which formed the Dixiecrat Party with Strom Thurmond as the presidential candidate. 
President Truman issued an Executive Order declaring equality of treatment and opportunity for all Americans in the armed forces. 
1950: The Supreme Court in McLaurin v. Oklahoma said once a black student is admitted to a previously all-white school, no distinctions can be made on the basis of race. 
1951: A new era of repression began with the bomb-death of Harry T. Moore, a Florida NAACP leader in Mims, Fla. 
1953: Blacks protesting discriminatory treatment began a bus boycott in Baton Rouge, La. 
1954: The Supreme Court, in Brown v. Board of Education, ruled unanimously that racial segregation in public schools was unconstitutional. The historic decision overruled the findings in Plessy v. Ferguson (1896) and declared that separate educational facilities were inherently unequal. 
1955: Rosa Parks, a black seamstress in Montgomery, Ala., refused to surrender her seat when ordered by a local bus driver. Her arrest for violating Jim Crow ordinances led to a city-wide bus boycott by blacks which began on December 5. Despite terrorist attacks, including the bombing of boycott leaders' homes, and legal harassment, massive arrests and civil suits, the boycott continued. On December 13, 1956, the Supreme Court ruled that segregation on public buses in Montgomery was illegal. Martin Luther King emerged as a national leader. 
1956: The home of black minister and civil-rights activist Fred L. Shuttlesworth was bombed in Birmingham, Ala. Local blacks responded with a massive defiance of bus segregation regulations. 
1957: The Southern Christian Leadership Conference was organized. Martin Luther King, Jr. was elected president. 
Blacks in Tuskegee, Ala., began a boycott of white merchants to protest an act of the state legislature which crushed their incipient political power by gerrymandering them out of the city. The Supreme Court later ruled, in Gomillion v. Lightfoot (1960), the gerrymander illegal, and blacks subsequently took political control of the town and Macon Co. 
President Eisenhower ordered federal troops into Little Rock to halt interference with court-ordered desegregation. 
1959: "Raisin in the Sun," a play depicting a part of black life in the ghetto, by Afro-American playwright Lorraine Hansberry, became a Broadway hit. 
The Second "Youth March for Integrated Schools" drew 30,000 students to Washington. Mack Parker was lynched in Poplarville, Miss. 
1960: A wave of sit-ins at segregated lunch counters, led by black college students, began in Greensboro, N.C. 
The Student Nonviolent Coordinating Committee (SNCC) was founded. 
Elijah Muhammad, leader of the Black Muslims, called for the establishment of an all-black state. Such a state, or group of states, later became a rallying cry for supporters of black nationalism. 
1961: A group of white and black youths, sponsored by CORE, set out for a bus trip through the South to test desegregation practices. The Freedom Riders were subjected to beatings, arson and legal harassment. 
Violence erupted in Monroe, N.C., when organizers demonstrated against discrimination and for negotiations of a list of community demands. Robert Williams fled the white mob and trumped-up kidnapping charges. 
1962: Supreme Court Justice Hugo Black ordered the admission of James Meredith to the University of Mississippi. Riots occurred; federalized national guard troops restored order. 
Mass arrests brought the Albany, Ga., struggle against segregation to the world's attention. The following achievements in social relations resulted: (1) agreement by local authorities to form a bi-racial committee on racial problems; (2) desegregation of the city's bus terminal and cafe; (3) release from jail of demonstrators and an end to mass arrests; and (4) the substitution of "Mr. and Mrs." for derogatory terms used by officials. 
Racial discrimination in federally financed housing was prohibited by President Kennedy. 
1963: Civil-rights forces led by Martin Luther King, Jr., and Fred Shuttlesworth launched a drive against racism in Birmingham. Police, led by Commissioner Eugene "Bull" Connor, used high-powered water hoses and dogs against demonstrators. The brutality of the repression aroused, public opinion, especially in the North. The protests continued until an agreement was signed calling for the gradual desegregation of public accommodations. 
Medgar Evers, NAACP field secretary in Mississippi, was assassinated. His assailant was released when his trial ended with a hung jury. 
At the largest demonstration in U.S. history, 250,000 blacks and whites gathered in DC to lobby for sweeping civil-rights measures. 
Four small black girls were killed when a church was bombed in Birmingham. It was later revealed FBI agents were involved in bombing. 
1964: Supreme Court set aside contempt conviction of a black, Mary Hamilton, who did not answer in Alabama court when called "Mary." 
The Civil Rights Act of 1964, the most far-reaching civil-rights legislation since Reconstruction, was passed. 
Civil-rights workers focused on Mississippi in the Freedom Summer project. Shortly after it began, the bodies of Chaney, Goodman and Schwerner were found in a newly built earthen dam near Philadelphia, Miss. 
Mississippi Freedom Democratic Party challenged the right of the regular state Democratic Party to represent Mississippi at the Democratic National Convention. 
1965: Alabama's voter, registration drive developed into a nationwide protest movement. More than 700 protestors were arrested on Feb. 1. On Feb. 26, Jimmy Lee Jackson died of wounds received from state troopers in Marion, Ala. The 50-mile Selma-to-Montgomery march occurred from March 21 to 25. About 50,000 appeared before the Alabama state capitol to denounce state leaders for interfering with voting rights. Viola Liuzzo, a white civil-rights worker from Michigan, was killed on that same night. Three Ku Klux Klansmen were convicted of conspiracy to violate her civil rights. 
Malcom X was assassinated. 
The 1965 Voting Rights Act was enacted. 
The most serious single racial disturbance in American history erupted in the "Watts" section of Los Angeles, Cal., following a clash between blacks and white police. 
1966: Julian Bond, son of a college president and a leader of SNCC, was denied his seat in the Georgia legislature for opposing U.S. involvement in Vietnam. He was seated in 1967 following a Supreme Court decision. 
Stokely Carmichael was elected SNCC chairperson, reflecting SNCC's move to de-emphasize whites' role in civil-rights activities. 
James Meredith, the student who integrated the University of Mississippi in 1962, was shot in the back shortly after starting his one-man pilgrimage "against fear" from Memphis to Jackson. The march was resumed with Martin Luther King and Stokely Carmichael taking the lead. The demonstration ended with a rally of 15,000 at the state capitol in Jackson. Carmichael and others began to employ the phrase "black power." 
Martin Luther King addressed a crowd of 45,000 in Chicago, and launched a drive to rid the nation's third largest city of discrimination. 
The Black Panther Party was founded in Oakland, Cal. Their 10-point program called for full employment, restitution for past exploitation, education relevant to black needs and aspirations, release of all black prisoners, decent housing, exemptions from military service for blacks, trial of blacks only by black juries, an end to police brutality, and black political and economic power. 
Edward Brooke was elected U.S. senator from Massachusetts, becoming the first black since Reconstruction to sit in the Senate. 
1967: Martin Luther King announced unalterable opposition to the Vietnam War. He suggested the avoidance of military service "to all those who find the American course in Vietnam a dishonorable one." 
1968: Louis Amerson took over as sheriff of Macon County, Ala., the first black sheriff in the South since Reconstruction. 
Three black students died, and several others were wounded, from bullets fired by law enforcement officers during a disturbance on the campus of S.C. State College at Orangeburg. 
The Fair Housing Act, prohibiting racial discrimination in the sale and rental of most housing units in the country, was enacted. 
Martin Luther King, Jr., addressed a rally of striking garbage workers in Memphis. His assassination on April 4 was followed by a week of rebellion in at least 125 localities. 
Ralph Abernathy, successor to King as head of SCLC, led the Poor People's march on Washington, including lobbying and erection of a campsite known as Resurrection City. 
While police attacked anti-war protesters outside the Democratic Party Convention in Chicago boasted 337 black delegates — 189 voting, 148 alternates. Rev. Channing E. Phillips and Julian Bond became the first blacks placed in nomination for the presidency and vice-presidency, respectively, of the U.S. 
Nine blacks, all Democrats, were elected to the House of Representatives. Shirley Chisholm defeated James Farmer, ex-head of CORE, in the congressional race in Brooklyn to become first black woman elected to the House. 
1969: A strike of hospital workers, mostly black women, started in Charleston, S.C., and turned into a major civil-rights movement. 
The Dept, of Justice filed its first discrimination suit against a major Southern textile company, charging Cannon Mills with bias in both employment and rental of its housing. 
Police killed Fred Hampton, the Illinois chairman of the Black Panther Party, and another Panther leader during a Chicago raid. 
1970: The Supreme Court ruled that integration of school districts in six Deep South states must take place by February 1. 
School buses bringing black children to a newly integrated school in Lamar, S.C. were attacked by a mob of raging whites. State police used tear gas and clubs to drive the whites back. Several children were injured. 
The National Education Association told a Senate committee that 5,000 black teachers and principals in Southern schools had either been dismissed or demoted after desegregation. 
1971: White racists attacked the black ghetto in Wilmington, N.C., following school protests. 
The Supreme Court reversed Muhammad Ali's conviction for defying the draft. 
Seven blacks were fired from the Columbus, Ga., police force after protests about the slaying of a black youth by a white police officer. Remaining black officers vowed to defend the black community from attacks by white cops. When the city refused to reinstate the black cops, a boycott ensued. 
Dr. Leon Sullivan was elected to the board of General Motors, the first black to serve as a director of one of the world's largest firms. 
1972: The National Black Political Convention in Gary, Ind., refused to back Shirley Chisholm for the presidency, but the convention, attended by nearly 4,000 delegates and thousands of observers, developed a program for black political and economic development. 
Black dock workers in Burnside, La., refused to unload a shipload of Rhodesian chrome, enforcing UN sanctions against Rhodesia's illegal white minority regime. 
Nine young blacks and one white woman were convicted of firebombing a grocery store in Wilmington, N.C. 
1973: 200 Native Americans, joined by SCLC, marched from Robeson Co. to Raleigh, N.C., to demand reservation status for Tuscaroras. 
African Liberation Day march and rally attracted more than 40,000 to Washington to demand an end to U.S. corporate exploitation in Southern Africa. 
The National Black Network, the nation's first black-owned and -operated news network, began operations. 
1974: About 1,700 delegates to the second National Black Political Convention met in Little Rock amid conflict between black nationalist leaders, advocating a separatist approach, and others who favored operating within traditional political structure. 
Gov. George Wallace won 25% of the black vote in his victorious bid for a fourth term in Alabama. He stressed "opportunities for all." 
The National Alliance Against Racist and Political Repression led a demonstration of nearly 4,000 in Raleigh, N.C., to demand release of the Wilmington 10. 
A thousand demonstrators marched through downtown Atlanta demanding the ousting of white police chief, John Inman, whom many blacks considered racist. 
1975: Jackson, Miss., opened nine new racially integrated public swimming pools, 12 years after it had drained its old pools and closed them rather than desegregate them. 
Violence erupted on the second day of the first court-ordered busing of school children between a major city, Louisville, and its suburb, Jefferson Co. Progress in Education led a march and rally of 1,000 people to break the fear developed by anti-busing forces. 
5,000 protested South Carolina police killings of blacks during Bloody Summer. 
1976: Jimmy Carter was elected president with a victory margin provided by black votes. 
1978: Reports revealed the CIA recruited black Americans in the late '60s and early '70s to spy on members of the Black Panther Party, both in the U.S. and Africa. 
A Lowndes County, Ala., grand jury indicted former FBI informant Gary Thomas Rowe for the murder of civil-rights worker Viola Liuzzo during the '65 Selma-to-Montgomery march. 
1979: The Ku Klux Klan attacked an SCLC march in Decatur, Ala. Two whites and two blacks were wounded in gunfire exchange. 3,000 responded to SCLC's call for another march despite Klan threats of violence. 
Five members of the Communist Workers Party were killed by members of the Nazi Party and KKK in Greensboro, N.C. Demonstrations occurred throughout the nation when the Klan and Nazi defendants were acquitted in 1980. 
The National Anti-Klan Network brought together 200 organizations in Atlanta to develop strategies to combat escalation of KKK activities, especially KKK-government collusion evidenced by the November 3 massacre in Greensboro. 
1980: A rally of 10,000 in Greensboro commemorated the 1960 sit-ins and the killing of five CWP members in Nov. 1979. 
Violent protests erupted in Miami after four police officers were acquitted of the December, 1979, beating death of black insurance agent Arthur McDuffie. At least 15 persons were killed, 300 injured and 700 arrested. 
Racial tensions occurred in Chattanooga, Tenn., following the acquittal by an all-white jury of two Klansmen and the conviction of three other Klansmen on reduced charges in the shotgun shootings of four black women. 
The Court of Appeals in Richmond overturned the Wilmington 10 conviction, saying the 1972 convictions were prejudiced with testimony of state informants whose incentives to testify had not been made known to the jury and the defense lawyers.