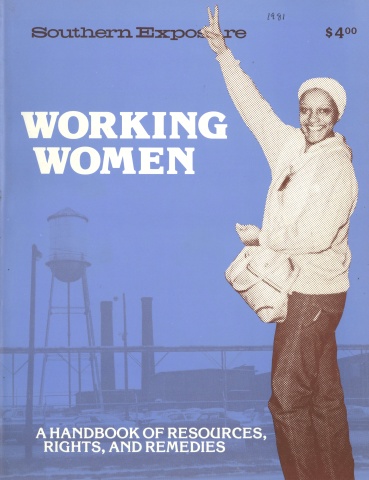 This article originally appeared in Southern Exposure Vol. 9 No. 4, "Working Women: A Handbook of Resources, Rights, and Remedies." Find more from that issue here.
Three million women work in 16,000 restaurants of all types across the U.S.  
The ads feature a young, conventionally good looking race car driver called "Runner. ''He catches a date by phoning a young lady to ask if she'd like to join him for "some homemade biscuits'' at Hardee's — after they've danced the night away. In another episode, Runner and a friend charm their dates into believing they have grilled their own fabulous burgers when in fact their "secret recipe is four blocks down the road'' and they're really serving Hardee's Big Deluxe charbroiled hamburgers with "that special Hardee's sauce. " 
Biscuits made "from scratch'' and chicken fillet sandwiches "good as Sunday morning at Grandma's" — the accent and appeal of the ads aim to be distinctively Southern. "And we consider ourselves a Southern operation although you'll find us in 34 states," a spokesperson from Hardee's headquarters said. "Because North Carolina is our heartland. That's where we began. " 
It started over 20 years ago when Wilbur Hardee ran a restaurant in Greenville, North Carolina, that was known for its hamburgers. 
Jim Gardner and Leonard Rawls, two business entrepreneurs, purchased the first franchise from Hardee in the late 1950s and built a Hardee's Restaurant in Rocky Mount, North Carolina. 
There were five restaurants in Hardee's Food Systems (HFS) by 1961. Today there are about 1,300 Hardee's Restaurants throughout the Southeast and Midwest, and several in Japan, the Philippines and Europe. 
Hardee's is the fourth largest food chain in the U.S. after McDonald's, Burger King and Wendy's (in number of units and volume of annual sales). In January, 1981, Hardee's Food Systems became a subsidiary of Imasco, Ltd., a Canadian investment organization. Among the ranks of the employees, no one seems to be particularly concerned about any changes in business practice or image the new ownership might bring in the future. One regional supervisor thought the new owner's name was Tabasco. 
Hardee's Food Systems still maintains its corporate headquarters in Rocky Mount. There it coordinates the management of 500 company units and keeps tabs on 800 units owned by several franchises. (Company units are owned and operated by HFS, whereas franchises are managed by individuals or private companies who pay royalties to HFS for the Hardee's name and logo, sell Hardee's products and agree to adhere to Hardee's food preparation and business procedure guidelines.) 
The restaurant where these interviews were conducted is owned by Boddie-Noell Enterprises, the largest privately owned company in the HFS chain, with 160 franchises in North and South Carolina and Virginia. The manager stated openly that he didn't have women working the grill because he likes to have them up front. There are at least twice as many female as male employees, and most are 17 to 22 years old. All benefits such as health insurance, sick leave, life insurance and paid vacation become effective only after one year of full-time employment, but most employees work part-time and usually don't stay for longer than six to eight months. 
A number of middle-aged homemakers work for Hardee's, a spokesperson from the company's public relations department claimed. "Many housewives find the part-time hours, especially the 11:00 a.m. to 12:00 noon peak business hours, to be ideal for their schedules, and the split is really about 50-50 between the number of middle-aged and the number of teenaged workers among the approximately 20,000 Hardee's [Food Systems] employees nationwide, '' he added. 
Wouldn't these thousands of adult, mostly female fast-food workers be the first ones displaced if a subminimum wage measure for youth 16 to 21 years old, sponsored by Senator Orrin Hatch (Republican — Utah) were approved by Congress? 
According to Hardee's public relations person — no. The homemakers' hours and the teenagers' hours vary anyway, he asserted, and the older people usually opt for working during the business day while the teenagers are more interested in the after-school hours. 
But according to AFL-CIO economist Clara Schloss: "I have yet to meet anyone who can prove that lower wages will generate additional jobs and won't result in the substitution of younger for older workers. Women moving into the work force — single heads offamilies — would be especially vulnerable." 
If Clara Schloss is proven right and the assurances of Hardee's proven wrong, what recourse will Hardee's employees have? Very little at this point: the Hardee's chain, like other fast-food chains across the country, has no unions. 
(Editor's note: The names of the two women interviewed here have been changed at their request. They feared they might lose their jobs. The public relations person who spoke with us also requested anonymity.) 
"Mary Smith" 
I'm 17. I go to high school. I've worked here a year. This was my first job. I wanted to work so I just came up here and started working. 
I usually work about 30 hours a week, in the summer and the school year too. 
What I do here is take the customer's order, bag it, take their money, make sure things are stocked up for the next order and keep the store kind of looking nice from the customer's viewpoint, right? 
The girls usually cashier, but the guys don't. We have one guy here who cashiers some, but they don't have girls work the back line. You know like we might go back there if it's slow or if they need help, but they don't put us on the schedule for work like that. 
Most of the time the girls batter the chicken and stuff like that and the guys clean the grill — we don't do stuff like that.* 
They don't know, much, how it is being a cashier, and we don't know, much, how it is working that back line. Like they don't know some of the stuff we get from the customers, the pressure and all. I think we should switch off sometimes so they'd know how hard it is. 
Everybody gets paid the same at first and then we get raises by how long we've worked here. 
I still get minimum wage but they say I'll get a raise in September. 
There's more women here than there is men. There's seven guys in all and there's about 20- something women. The two assistant managers are women, one day and night shift, and the manager is a man. 
There's more black women than white. Three white women and the rest black. The white women just don't apply here. We've talked about it and there've been several to come here, but they end up getting fired or they quit or they think the work is too hard — most of the time that's what it is. They get fed up with it or something and say it's not worth the money. 
I'd say most of the white women who worked here are high school dropouts, but like I'm still in school and some of the black women are in college. Most of the rest of the black women are in their 20s and they got another job plus this one. 
You meet a lot of people here. That's one thing I like about the job. 
It might be slow here sometimes, but we always have to keep doing something. 
Drive-thru is hard. Cause you know you got to get all the people their orders, right, and you run over there for something and you got to get back cause your beeper is going and then somebody else is at the window. You got to really keep your pace up. 
Like between 12:00 and 1:00 — lunchtime — it's packed. Daytime probably thinks that nighttime doesn't work as hard but at nighttime you have to really clean. And I think we should get more money for as hard as we work, not less! 
I know about the subminimum wage thing and I mean it doesn't even make any sense, as much as we clean. There's too much work in here to be getting paid a minimum wage. 
If I could do whatever I wanted, probably I'd do my own business somewhere. No food involved! If I can help it, I'm never working in another fast-food. When I first got the job doing this, people that have worked in it before told me I wasn't going to like it. And they were right. It is hard. You know, you get fussed at and chewed out by the customers and you can't say nothing to em. 
"Jane Brown" 
I started working here because I got fired from McDonald's. I talked to the manager here. I told him I wanted to be a crew chief or a manager. He said, "Would you mind working your way up?" I said no, and I started. 
The women are cashiers because when people come into a fast-food place they want to see feminine qualities. They don't want some husky man with big voices waiting on them. They want something pleasing. And most people think the feminine is the most pleasing. 
What's it like here? Let's say you come in early in the morning. You get people who want to order this. So you order it and all of a sudden, often you've totaled the machine and you can't change it and they say, "Wait a minute! I want to change my order!" And the people expect you to be smiling all the time they're doing this. But I don't smile all the time. I have this very bad habit of cutting people short. I show my anger sometimes by the way I speak. I get in trouble for it. I've been writ up once or twice for it. 
But I'm very open about my feelings. Except when it comes to the managers, and then I shut up real quick. Cause I don't want to lose this job. Not yet. 
The black girls have mostly lived in one area all their life, and I've been a few places — like I've lived in Europe. I freak em out sometimes because of my straightforwardness. But, in fact, I get along with the black girls better than the white girls. 
It does pose a problem that I'm one of only three white girls here. There aren't many white women who live in this area. But I think there's more black women working in fast foods anyway. I really don't know why. 
I think people who work in fast foods ought to get at least $4 an hour because we're the ones who keep everyone else going. I mean, if people had to take an hour off for lunch and go to some restaurant, then they wouldn't get the work done at their job. But here they can come in and get waited on, and get back to their job. We're practically the backbone. 
If I had my choice to work at any fast-food, I'd work at Hardee's. Even though they have a lot of pressure here because there's so much food preparation like with the biscuits and the chicken sandwich and the roast beef, people seem like they're more down to earth here than anywhere else. You know, like at McDonald's they have the rank structure. And if I'd a wanted to go into the military, I would have gone. 
And at McDonald's, you've got all this machinery around you. Here, you've got a little bit of humanism. You don't see a lot of people talking good about Hardee's sometimes, but that's because you've got to wait for good material and people don't like to wait. 
I plan to work here until I either get higher status or a better job. But I plan to keep this job because it will be hard to find a job.
Tags
Alma Blount is a free-lance writer and photographer living in North Carolina. (1981)