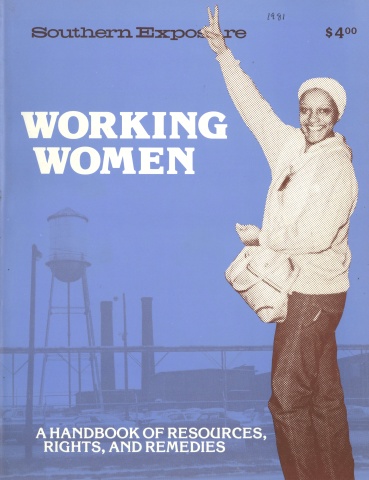 This article originally appeared in Southern Exposure Vol. 9 No. 4, "Working Women: A Handbook of Resources, Rights, and Remedies." Find more from that issue here.
"If you didn't know where you were going you would never find these people." 
— Bessie Bourgeois,  Southern Mutual Help Association 
In south Louisiana hundreds of small communities of black farm workers are located far back in the sugar cane fields. These communities remain invisible to most people, even to those who live in nearby communities. Often located on the same land where once stood the slave quarters of antebellum sugar cane plantations, the houses the workers live in are still owned by the "bossman," whose paternalistic attitude toward his employees blurs the fact that he does not own the workers as well. The plantation system as it existed in the mid-1800s has not gone completely out of style in Louisiana. With poor housing, health problems and income at about $5,000 per year for a family of six, it is thinly veiled behind what writer Patsy Sims aptly described as a "cane curtain." When asked, "Isn't this just like slavery?" one plantation owner responded, "Yes, but it works!" 
The Southern Mutual Help Association (SMHA) is a small but vigorous group of ex-farmworkers and others working out of Jeanerette, Louisiana. Created by community organizers and farm workers, SMHA works on local, regional, state and national levels to fight the huge and powerful plantation system which is entrenched in Louisiana's economy. 
SMHA strives to help the workers become "empowered persons." An "empowered person," explained assistant director Lorna Bourg, is one who knows the plantation system — and knows how to change it. Since SMHA was first organized in 1969, the emphasis has been on getting the workers involved in helping themselves. 
"We wanted [SMHA] to serve as a catalyst so that the farmworkers would begin to learn how to work together, and not just side-by-side under the direction of a bossman," explained Sister Anne Catherine Bizalion, SMHA director. Since its inception, SMHA has helped 700 to 800 farmworkers find jobs outside the plantation system. 
A majority of the SMHA staff and volunteers are those farmworkers considered most expendable in the sugar cane plantation system: women workers. There are three main reasons why women are more involved in SMHA than men. Two-thirds of all sugar cane workers are women, but because there is less year-round work for women, they are more likely to seek work off the plantations. Few women can find work more than 14 weeks out of the year, hand-planting cane in the spring and hand-cutting it at harvest time. This work is the most physically taxing, brings the least pay and provides absolutely no job security. As mechanization brings cutbacks in work to the cane fields, women workers are the first to be replaced. As one ex-farmworker commented, "There isn't much you can do because even if a woman works as hard as a man at planting and harvesting times, the bossman is still not likely to let the woman drive a tractor or other machinery." 
A second reason why women workers are more likely to become involved in working to change the plantation system also has to do with the "rules" of the system. A woman worker is never considered head of the household. The house she lives in on the plantation must be held by her husband, her son or her father — even though she works on the plantation. Women workers, therefore, can leave the plantation to work while still being able to live in plantation housing; if a man leaves to find work off of the plantation, the family must move. On the other hand, when a woman farmworker finds a job in one of the nearby towns, this is the first step toward financial independence for the family. SMHA realizes this and offers several programs designed to attract women workers to the association and to encourage them to move into the world beyond the cane brakes. 
A third reason was given by Sister Anne: "Women seem to have the need to make changes more often than men," she said. "Maybe it's because they are closer to the changes of the earth. Probably it's because they are not as close to the bossman. They are not as fearful of him. They have nothing to lose anyway. The women are at the bottom of the plantation system which is at the bottom of the [overall economic] system." 
The Southern Mutual Help Association began when most poverty programs in Louisiana were ending: the late 1960s. Sister Anne and Lorna Bourg had both worked in War on Poverty programs. Sister Anne, a Dominican Rural Missionary from France, directed a Headstart Program and had worked for years with Father A.J. McKnight to establish educational and cooperative programs. It was Father McKnight, a black Catholic priest very active in the Civil Rights Movement, who brought Sister Anne and Bourg together. Bourg met Father McKnight while teaching at a Catholic junior high school. She took her civics class to one of his speeches and the class invited him to speak to them at the school. 
"The students were interested in knowing why a Catholic priest was involved in community problems, like civil rights, and not saying mass," Bourg recalled. When the school principal and pastor learned of the invitation they informed Bourg that he could not speak at the school. He was too controversial, Bourg explained, and he was black. Two days later Bourg resigned a teaching position that she had come to enjoy very much. 
"That was my introduction to the War on Poverty," she said. 
The local Catholic Church and SMHA have had other clashes through the years. Many of the plantation owners are Catholic and are among the influential members of the Church. Besides being critical of SMHA, the Catholic Church in general has shown very little interest or concerh in the problems of black farmworkers. Although the sugar cane plantations are located in the heart of one of the most Catholic areas of the country, very few Catholic parish priests have become involved in SMHA. One who did was transferred to another community in another state. In the early days of the association, one Catholic bishop did request that Sister Anne be asked to return to France or be relocated elsewhere. The Mother Superior of the Dominican Rural Missionaries instead praised her work and refused to recall her. Another bishop, who came from a family of sugar cane growers, was quoted in the Saturday Review as saying: "There is no suffering among sugar cane workers. . . . The USDA sees to that." 
The only other church of prominence in the area is Baptist. Each plantation community has its own Baptist church. But as Bessie Bourgeois pointed out during a tour of the plantations, these churches are built on land given to the church by the growers; the growers contribute and support the churches, and, in some instances, the minister is paid by the grower and works as an overseer in the cane fields. These churches have not made any efforts to work with SMHA or with the farm workers to bring change to the plantations. 
When Lorna Bourg resigned her teaching position, she went to work under Sister Anne at the Vermillion Parish Headstart Program. The State Legislature then passed an amendment giving local police juries direct charge over all community action programs: charters were revoked and Sister Anne and Bourg were among the first to be fired. Responding to a request from veteran union and community organizer H.L. Mitchell to survey the health needs of the cane workers, Bourg and Sister Anne began the work that has filled the last 12 years of their lives. By 1969 SMHA was organized; its members were farmworkers, community organizers and other people from the black and white communities in the 19-parish area of the Louisiana sugar cane belt. 
Members of SMHA work with other farmworkers to change the plantation system. They give testimony before state, local and national governing bodies about unfair wages, company stores, unhealthy living and working conditions, pesticide poisoning and discrimination. Some of SMHA's efforts and victories have included:
·      Conducting the first professional and comprehensive health survey of farm workers living on two plantations in Terrebonne Parish. Of 107 people examined, 89 had medical problems but only 12 were seeing a doctor. The survey, conducted by workers with assistance from doctors and medical students, was used to secure grants to create the first farmworkers' health clinic in the state. "It was a survey plus a whole education, a whole basic organizing effort," Sister Anne said of the 1970 survey.
·      In 1971 Huet Freeman, a sugar cane farmworker, won a class action suit against then- Secretary of Agriculture Earl Butz, who had illegally frozen farm workers' wages. SMHA was appointed inspector of all growers' books in 19 parishes to confirm payment of three-quartersof- a-million dollars in back wages. "That's how we got the first statistics on how many workers there were in the state at that harvest." There were 16,000 workers.
·      One of SMHA's earliest and most important victories clarified the right of free association for the workers. Officials of the Southdown Plantation in Terrebonne Parish, the district attorney and the parish sheriff had arrested volunteers gathering information about plantation life. "It took a three-judge federal panel to finally guarantee the right of egress and ingress to the workers' homes under the constitutional right of free association," Bourg explained. That victory gave the volunteers the freedom to make contact with the workers. It also, legally, gave the workers the freedom to meet, talk and organize. (But today, 10 years after that victory, SMHA workers are constantly harassed when they venture onto the plantations.)
·      SMHA staff and volunteers have been successful in closing company stores on the plantations and in assuring minimum wage for the workers. They have not yet been able to stop growers from deducting health-care expenses, loan payments and housing expenses from workers' checks.
·      Between 85,000 and 200,000 acres of sugar cane are treated with Silvex every year. Silvex contains dioxin or TCDD, known as Agent Orange. Silvex and the pesticide 2,4-D are suspected of causing illness, miscarriages and birth defects. SMHA staff and other farmworkers are gathering data and testifying against the indiscriminate spraying of these and other pesticides on the fields and on the farmworkers, their homes and children.
In organizing SMHA, Sister Anne said, "We knew we did not want the band-aid approach. We wanted to get at the roots of the problem to really change it because it involved the total lives of people, not only their individual lives. Because it was a problem affecting the whole community, of people, not only their individual lives. Because it was a problem affecting the whole community, we decided the approach to a solution was to take in the whole community and to be a bi-racial group. We're not a black civil-rights organization. We were always meant to be a mixed group." 
Encouraging women farmworkers to find nontraditional types of work is a main focus of SMHA's programs for women. The goal here, said Bessie Bourgeois, is to get women farmworkers into the high-paying jobs of the booming oil industry of south Louisiana. On the periphery of the dense fields of cane, the oil companies have located their headquarters, shipyards and boarding docks for offshore work. And the support industries to these companies — the fabricating plants, the tool companies, the catering services and the tugboat companies — have clustered in nearby towns like Houma and Morgan City. 
But SMHA has encountered some problems in getting both women and men to take jobs in the oil industry. The work environment is the main problem, according to Bourgeois. "Most people who have worked on the plantation are happiest when working with the earth," she commented. "The main things that I have found [that keeps workers away from the] oil industry are that they are afraid of heights and of working over water." 
A self-help housing project coordinated by the association trains women farm workers to be carpenters. Ethel Gray came to SMHA expecting to complete her high school degree — which she did — and to learn a job skill like typing — which she did not. Instead, somewhat to Gray's surprise, she learned carpentry. She apprenticed with a local carpenter involved in the project and in four years rose to construction supervisor. Gray had not only learned the trade, but she gained confidence in her ability to handle a nontraditional job and she now trains other women to build their own homes. 
To date the self-help housing program has facilitated the building of 49 homes and 108 apartments. 
"The self-help housing project, where people are learning to work together to build their own homes, is a good example of how a program can be a tool for organizing," said Lorna Bourg. "It is an excellent tool for organizing as well as a way for the farm workers to obtain for themselves that very essential freedom of being able to choose where to live." 
The hallmark of SMHA has been to provide training and organizing around issues. During 1980 a paid staff of 38 operated the organization's offices and directed several programs designed to encourage farmworkers to complete their high school degrees and participate in job training programs. These programs were funded through U.S. Department of Labor grants, CETA positions and, in the self-help housing program, the U.S. Department of Housing and Urban Development (HUD) and the Farmers Home Administration (FmHA). 
When the Reagan administration came into power in 1981, however, SMHA realized a cut in funding was inevitable. Two Labor Department grants that had been approved and signed in the closing days of the Carter administration never reached SMHA. These loans were to continue Southern Mutual's work in basic education skills, job hunting, money management and an intensive women's training program called Plantation Women in Development. 
Farmworkers have also had difficulty receiving assistance from HUD and FmHA since the Reagan takeover. According to Sister Anne, the FmHA continues to find reasons not to provide loans to farmworkers who want to build their own homes through the SMHA self-help housing program. 
"The FmHA is bending toward giving loans to middle-income people who use contractors," she said, "even though the cost of building a home with a contractor can be over one-third more expensive than building it yourself." 
No new homes have been built through the self-help housing program since October, 1980, because FmHA loans have not been approved. 
Because of the loss of all government funding, SMHA is now operating on contributions and loans from private individuals. The Marist Fathers Missioned of Washington, D.C., recently gave SMHA $ 10,000 to continue its work. During September, 1981, a staff of 10 unpaid workers kept the association going. A fundraising bingo game held at the end of the month brought in money to pay some salaries. 
"But we remain very encouraged in spite of all of this," Sister Anne said. "When you are clear in your objectives you find you just keep going. Actually we have come quite a ways in the past eight months. In this kind of work you learn fast that when one tool is out you quickly find another one." 
SMHA is now devoting much of its efforts to assisting farmworkers in developing their own small businesses. These include small-scale farming, greenhouse operations, industrial janitorial and industrial catering services. 
Using funds awarded to SMHA in a suit against HEW (for not honoring a training contract), the association purchased one acre of land a year ago. It recently sold that acre as commercial property and with that money bought three acres in the countryside near Olivier, two miles from their present offices in New Iberia. With some of the money given and lent to SMHA by the Marist Fathers, the group purchased an old plantation home and moved it to the three-acre site. By spring this site will be the headquarters of a still vital, more independent Southern Mutual Help Association, and it will be the location of the first farmworker center in Louisiana. 
Staff members plan to operate a greenhouse at the farmworker center as well as offer ongoing workshops in farm-oriented and other types of small businesses. SMHA has already sponsored two workshops on setting up mini-farms and greenhouses for farmworkers in the area. This spring staff members of the Graham Center in North Carolina will be training SMHA staff and other farm workers in greenhouse and small farm operations. 
SMHA's goal here is to develop cooperative communities of mini-farms owned by former cane workers. SMHA would purchase or hold the option on 21-acre tracts of undeveloped land and then divide each tract into seven three-acre farms, which would then be sold to cane workers. A very minimal fee would be tacked onto each sale. The fee would go into a special fund used by SMHA to purchase more land. 
Eventually the mini-farms owned by exfarmworkers would be self-sufficient, growing intensive-care crops like produce or fruit. The overall plan involves securing additional income through jobs for women farmworkers, assisting families with that income to move off the plantation, helping them finance their own land and build their own homes, training them in farming and marketing techniques, and organizing to form cooperative communities interested in helping themselves and other farm workers. 
"Our staff members are now learning about greenhouse operations, land-trust funds and the technical skills it will take to carry this off," Bourg commented. "We're working toward this direction because many of the cane workers do naturally prefer being in the country. They like farming. It should be one of their alternatives." 
The farmworker center will also be used to demonstrate ways to make old houses more efficient and it will house a farmworker museum. 
"We want the museum to record the contributions farmworkers have made to the state and we want it to be a place where farm workers can come together to celebrate their culture," Sister Anne said. 
SMHA staff members are now working on the old plantation home, which, ironically, is a pre- Civil War mansion (circa 1820) that housed several generations of sugar cane growers. Southern Mutual is receiving assistance in renovating the home from individuals and groups in the area. The Electrical Workers of America's New Orleans local, for example, has volunteered to do all the electrical wiring at the farmworker center on weekends. 
In discussing the future efforts of SMHA, Sister Anne pointed out that although the association favors workers' rights, it does not do union organizing and does not consider itself a union. She said SMHA is working so that "the skills of leadership will emerge from within, so that decisions like forming a labor union or a cooperative will come from the inside and not from the outside." She added that because of SMHA, if the workers ever do form or join a union, women will be among its leaders. 
"In other unions, the leadership of women is often bypassed," Bourg commented. "At SMHA, if it happens, women won't be left behind."
Tags
Carolyn Portier is a free-lance writer from south Louisiana. For the past three years she has lived in the North Carolina mountains, where she managed and edited her own farm paper. (1981)