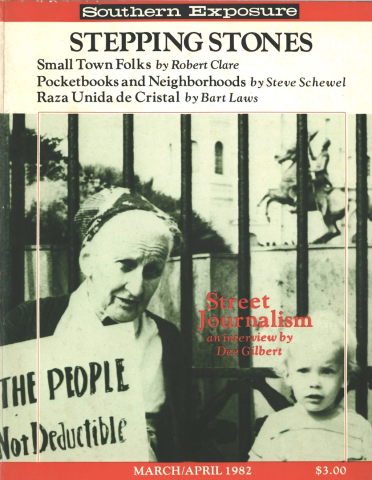 This article originally appeared in Southern Exposure Vol. 10 No. 2, "Stepping Stones." Find more from that issue here.
For anyone who has ever traveled "south of the border" or in the Caribbean, a visit to New Orleans is bound to trigger memories and half-lost impressions. The wide, live-oak-lined boulevards of South Claiborne or Canal Boulevard would not be out of place in the wealthy residential sections of Merida, Mexico, or Lima, Peru. The poorer neighborhoods' whitewashed wood-frame shotguns, doubles and four-plexes — often built only three to five feet apart and opening directly onto the sidewalk — could easily be in Belize or Panama. The French Quarter more closely resembles Cartegena, Colombia, than any other city in this country.
Not only is its creole ambience more Latin and Caribbean than American and Southern; for centuries, much of the city's political orientation has also focused southward. New Orleans has figured in Latin American intrigues since the original French and Spanish settlers connected the Northern and Southern continents through commerce, slave trading, intermarriage, religion and military muscle.
It was from a base in New Orleans that William Walker, the 1850s pro-slavery filibusterer, launched his invasion of Nicaragua in 1855. Central American nationalists overthrew him in 1857, and the Hondurans executed him in 1860 after his second unsuccessful invasion.
Attempting to liberate their homeland from Spain, Cuban exiles staged their own expedition from here in 1868. Nearly a century later, a different sort of Cuban "exile" was recruited here for the Bay of Pigs invasion. Most recently, terrorists linked to the Klan and Nazis attempted to launch an attack against the independent black nation of Grenada.
Today the affinity between New Orleans and Central America and the Caribbean creates a natural climate for education programs and organizing in support of liberation struggles in those countries. Among the regulars who volunteer their time for these activities is Cathy Watson, a public school math teacher who became an anti-Vietnam War activist while attending Louisiana State University in Baton Rouge. "First, we were five people sitting in a room forming a Moratorium Committee," she recalls. "Then we had 500 people marching in a month."
As the lack of structural change in the U.S. began to grind down her spirit, she shipped out with the Peace Corps. "I thought, 'I'm either going to stick around here and blow somebody away or I'm going to leave the country.'"
She then went to Jamaica. "When I went to Jamaica, I had a total indoctrination to imperialism without anyone ever using the word."
In Jamaica and later with the United Farmworkers in California, she began to see a need to transcend what she calls "borderitis — a border mentality." But she also decided that "My work should not be there in Jamaica but here with the problem. . . . The most efficient way to be useful is to work in the culture you know. Solidarity work internationalizes local work, brings political work outside its borders, puts it all in perspective. I realized that to struggle for the Haitians was not very far from struggling against police brutality here in New Orleans."
Gita and Marty Lefstein met while studying in Costa Rica and later taught English in Colombia. Their first-hand observations of life in those countries led them to help open the Libreria del Pueblo (People's Bookstore) soon after they moved to New Orleans. Gita says operating the store is based on an analysis that "The U.S. government's financial and military backing for dictators in Central America is the main obstacle to progress for people living in those countries. It's important for us to do what we can to change our government's policies and to build understanding and alliances between people here and people there."
The Libreria provides bilingual literature and a broad range of progressive materials on Central and South America, African liberation movements, political theory and labor history, as well as translation dictionaries and the daily newspapers from Nicaragua and Honduras. Its customers can also receive assistance in tasks like filling out immigration forms and in lining up low-cost English lessons.
In addition, Libreria del Pueblo is a frequent meeting place of the New Orleans Nicaragua Solidarity Organization (NONSO) and the New Orleans chapter of the Committee in Solidarity with the People of El Salvador (CISPES). While the organizations remain distinct, their prime movers are drawn from the ranks of what one pessimistic pundit has called the "New Orleans 40." Actually, the figure is closer to 200 regulars.
Most of them are active in local issues as well. The police brutality that Cathy Watson mentions is a case in point. In the past year, intense local organizing has focused on police violence directed primarily at the black community. In November of 1980, New Orleans Police Department squads killed three young blacks in a supposed attempt to arrest two of them for allegedly shooting a police officer. Physical evidence and reports of neighbors strongly suggested that they were executed. Community groups have accused the local district attorney of blocking any effective investigation. Federal attempts to pursue the case have been sporadic and ineffective.
These killings are only the most notorious of at least five other deaths caused over a six-month period by what residents call an "unaccountable, racist police force." Huge demonstrations, a sit-in at City Hall, marches, exposes of "killer cops," the resignation of the police chief and a barrage of publicity has made police violence an issue this winter and kept the pressure on officials to reign in their troops. Marty Lefstein served as the Libreria collective's liaison with the umbrella Police Brutality Committee, and others in the collective have supported one or another of the groups organizing around the issue.
Similarly, bookstore and NONSO members have worked with the Survival Coalition, a broad-based, racially integrated group that mobilized the local response to the Reagan budget cuts. The Coalition pulled 250 people for a Sunday afternoon "fight-back" rally and another 300 the next morning to picket Reagan's speech before the National Association of Police Chiefs. Representing NONSO, Ed Lampman was one of 35 speakers at the fight-back rally. His remarks emphasized the connection between domestic cuts and increased military spending.
Lampman is a serious, carefully spoken carpenter who served in the Air Force in Vietnam. "My experiences in Vietnam gave me a basic anti-imperialist perspective," he says. "Vietnam was a very powerful experience for me. The strength of the Vietnamese people is really amazing."
He moved to New Orleans to use his GI Bill benefits. "I had had four years of high school Spanish. My solidarity work began at the bookstore. Marty and Gita jerked me into it!"
The bookstore traces its origins to an ad hoc group that organized a forum in 1976 for a woman from the M.I.R. (Movimiento Izquierdo Revolucionario), one of the most militant parties in Chile during the optimistic years when Salvador Allende was president. The turnout of over 200 people encouraged the organizers to establish the Latin American Support Committee (LASC).
"It was the Latin American Liberation Support Committee," reports Marty, "but someone thought it was too 'ultra left' so 'liberation' was dropped."
The energy and personnel of LASC were eventually absorbed into other projects, but its lasting offspring is the bookstore. Libreria del Pueblo is operated by a collective with only one three-quarter-time paid staff person. It is the visible symbol of solidarity work in New Orleans and has sometimes suffered accordingly. It has been set afire by arsonists five times in a little over two years. The three most recent attacks happened within a week — two within about three hours of each other.
"The firemen cut the padlock off the first time, so I took one down to Marty," remembers one collective member. "We had just gotten back to sleep when he called to say they had come back and started another fire. I said I was all out of locks but would come down anyway. What a way to spend a Saturday night!"
Every attack on the bookstore has followed close on the heels of an effective public event or demonstration dealing with Nicaragua. The torch job last February occurred after the first evening of a series of films from and about Nicaragua and El Salvador. The day before the film showing, an anonymous male who said he was with Alpha 66 phoned the bookstore to say that "the program would not happen." Alpha 66 is a rightwing Cuban terrorist organization that has taken credit for carrying out 30 armed actions within Cuba during the six months from October, 1980, to March, 1981.
The attack on the bookstore late the night of the first films panicked Loyola University into trying to cancel the film series. Deprived of university facilities, NONSO, CISPES and the Tulane University Center for Latin American Studies representatives moved the screening to a Catholic community center half a block from the mostly black St. Thomas housing project. Prevailing wisdom in New Orleans is that right-wing Cubans will not venture into poor black neighborhoods. The room was packed to overflowing with an interested audience, and no disruptions took place.
Security for public events, which are often disrupted or at least picketed, has always been part of the local organizers' planning. Now, beefed-up security for the bookstore is also a part of planning for any pro-Nicaragua event anywhere in town.
The past year's activities have emphasized informing the public about the ongoing conflict in El Salvador, where the violent death rate is now up to 1,200 a month in a country of only five million people. The U.S. government has defended its policies toward El Salvador by trying to center the right-wing military junta between two supposedly warring factions of leftist guerrillas and rightist extremists. Solidarity organizations have assailed the credibility of that junta and exposed its intimate links with "Orden" and other paramilitary death squads.
The buildup in U.S. military aid to El Salvador, the presence of military advisors, the inability of this administration to visualize political solutions that will include the Democratic Revolutionary Front (FDR) and the saber-rattling inherent in discussions of reinstituting the draft all are reminiscent of the Vietnam War.
The other thrust of solidarity work has stressed defending the Nicaraguan revolution against repeated assaults from the Reagan administration that include economic warfare — cancelling food credits, interfering with Export-Import Bank loans — as well as Secretary of State Alexander Haig's overt bellicose posturing. These acts bring to mind the U.S.'s successful campaign to destabilize the Chilean economy under Allende and its less successful efforts to wreck the Cuban economy.
In mid-October of 1981, NONSO and CISPES sponsored a local speaking tour for Father Roy Bourgeois, the Maryknoll priest originally from Louisiana who disappeared last May for nearly two weeks with guerrilla forces in El Salvador. His talk at Xavier University drew nearly 300 people. A CISPES member who teaches civics at a public school on the West Bank arranged an assembly where Bourgeois was so well received that a number of students there are organizing their own version of CISPES called SAVE (Students Against Violence in El Salvador).
Last November, Haig and presidential advisor Edwin Meese refused to rule out military aggression against Nicaragua and Cuba as a policy option for American "diplomacy." As part of a joint national effort of groups working in solidarity with Nicaragua, El Salvador and Guatemala, a NONSO-CISPES telegram campaign targeted Haig and the chairs of the Senate Foreign Relations Committee (Illinois Senator Charles Percy) and the House Foreign Affairs Committee (Wisconsin Representative Clement Zablocki). The campaign demanded a repudiation of the administration's "Speak loudly and carry a bigger stick" foreign policy.
Zablocki responded, "I share your basic concerns in this matter," and pledged that his committee would "continue to exercise its oversight responsibilities in this regard."
The New Orleans groups remained unimpressed and have continued to make anti-intervention work a top priority. In early December, 1981, they sponsored a Saturday mid-day march of 100 concerned New Orleanians through throngs of Christmas shoppers in the busy Canal Street retail district. Meanwhile, a handful of counter-demonstrators stood across the street from the closing rally with a large "God Bless President Reagan" sign and shouted "communists" and "liars."
Last summer, an "action faction," concerned that solidarity groups in the city needed to reach a wider audience than the educational programs attracted, successfully argued for direct confrontation as a means of publicizing human-rights violations by military regimes supported by the Reagan and Carter administrations.
After finding the Salvadoran consulate locked tight during its regular business hours, the 20-person delegation from NONSO and CISPES ignored the highly agitated security guard at the International Trade Mart, where many Latin American consuls have their offices, and packed the tiny suite of the Guatemalan Consul General. They challenged him to pledge his opposition to human-rights violations in Guatemala and to reject U.S. military aid there. He, of course, refused, and police ushered the group from the building.
With reporters in tow, they next marched to the offices of Representative Lindy Boggs, where they delivered a thick stack of letters urging her to work toward cutting off military aid to the dictatorship of El Salvador. Boggs later answered every message with a non-committal, "personally" signed form letter.
The weekend before the invasion of the International Trade Mart, NONSO hosted a "kermesse" (Nicaraguan family-style party) for "the second birthday of the revolution." Almost 200 Nicaraguans, Anglos and blacks celebrated by consuming incredible amounts of nacatamales, arroz con polio and beer; by dancing to live salsa music; by viewing political films; and by visiting with the Sandinista representatives who work at the local Nicaraguan consulate.
Perhaps the most daring direct action attempted by any solidarity organization here was a move to take over the Nicaraguan consulate two years earlier after what the Sandinistas call "the Triumph of the Revolution" — July 19, 1979 — when Somoza fled and the palace was captured by the Frente Sandinista Liberacion National (FSLN). Reasoning that they were in support of the FSLN, that the FSLN now represented the people of Nicaragua and that the Somoza-appointed consul did not, NONSO supporters thought it was entirely reasonable to seize the consular offices. The FBI presumably used similar logic and had the place filled with their own troops by the time the NONSO contingent arrived.
The key question, of course, about any alternative political work is: what good does it do? Beyond that, it's probably reasonable to wonder: what do the people doing it get out of it?
Lampman believes that the El Salvador work, particularly the May 3 mass demonstration in Washington that drew over 100,000 people, has significantly delayed Reagan's plans for intervention in Central America. "They not only took up the struggle against intervention, they also took up the struggle against racism and domestic cutbacks. That was the way they got 100,000. It took years in the '60s to learn those lessons.
"The movement against intervention is much more strongly organized and based than at a similar point in the movement against the war in Vietnam."
Moncha Moreno, a Nicaraguan student active in New Orleans and Baton Rouge, points to grassroots results from local activities: "I've talked to Nicaraguans on the bus that I've seen at programs and I think the programs have helped people understand things better. Most people come with an open mind, except people who have grudges," such as the "gusanos" (rightwing Cubans, literally "worms") or former Somocista National Guard members.
Ramon Acevedo, another Nicaraguan student, adds, "Especially the Latins, because in this city they never get exposed to films and speeches except on Radio Mil (KGCA)." Radio Mil is a popular Spanish language station but has an openly rightwing editorial stance.
"I found people very interested and concerned. Older guys that don't change much from day to day are beginning to change their minds," adds Acevedo.
For Lampman, a person not given to overstatement, the effectiveness of the work is more sweeping. "The value of solidarity work has been tremendous. It's clear to everybody that the movement against the war in Vietnam played a significant role in shortening U.S. intervention there. The Nicaraguan solidarity work played a significant role in keeping the issues before the American public at a time when there were sharp recollections of the U.S. in Vietnam and put pressure on the government that prevented a unilateral intervention in the final days of the insurrection."
In an avocation that offers no financial benefits, activists also point to personal and political growth as one of the rewards of solidarity work. Asserts Marty Lefstein, "From doing solidarity work, my political understanding advanced to seeing the ties between liberation movements abroad and the struggles here."
Gita smiles, not knowing if she is about to go too far. "Let me give you a rough quote from Malcolm X: 'You'll never get Mississippi straightened out until you start worrying about the Congo.'"
Cathy Watson has traveled to post-Somoza Nicaragua twice and Cuba once. In Nicaragua, she designed and executed three large murals on the sides of the Managua power plant that generates electricity for much of the country. "I have been sustained by my contact with revolutionary people in the Third World. The things they have said are really humbling. It makes it impossible to belittle the validity of the work we do — no matter how small it may appear to us."
At a meeting she had last summer in Costa Rica with Salvadoran and Guatemalan exiles, she recalls being told, "We could never begin to tell you how important your work is . . . knowing that there are American people who understand and support our struggle."
She adds, "I had been going through sort of a political identity crisis. I was in Havana for the Carifesta in July of 1979. [The Carifesta is a Caribbean area cultural festival that was set up to bring together performing artists from all over the region.] We were in the stadium when the announcer came out and said, 'Companeros, I have a surprise for you,' and he brought out two members of the FSLN [Sandinista] Directorate. They said to us, 'Brothers and sisters, we have wonderful news. Today Nicaragua is free; Somoza has fled the country.'
"The place just went wild. Everyone was holding on to each other and singing. And then I knew that solidarity work was something I would always continue to do."
I am here today because in 1969 I had to look at photos of the bodies of women and children and old people piled high in a ditch in a place called My Lai. And I knew then that I could no longer support a government that directed and financed those killings. Right now, in places like Guatemala and El Salvador, men and women and children who want nothing more than to live their lives with dignity and independence are ending up dead in ditches and it is the same government that was responsible for My Lai that supports and finances these killings in these countries. – From anti-intervention rally speech, New Orleans, December 5, 1981
Tags
John Beam resides in New Orleans, where he is active with NONSO and CISPES. He teaches English as a second language and describes himself as an unemployed organizer. (1982)