Coastal Affair Introduction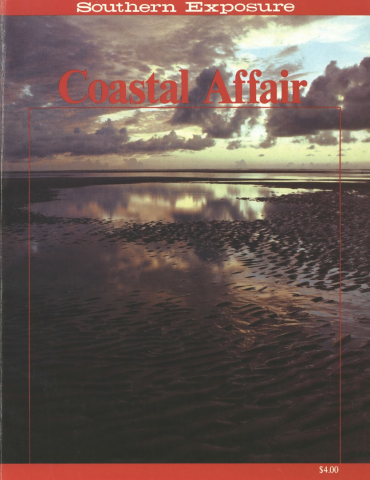 This article originally appeared in Southern Exposure Vol. 10 No. 3, "Coastal Affair." Find more from that issue here.
I used to think I was privileged, growing up near the water, sailing or riding the ferry to an island with miles of resilient green-brown marshes, exploring thick maritime forests - with their protective canopies sloping to meet the sand, keeping the salt spray out — and hiking down miles of unspoiled beaches. Access became easier when someone — a developer — ran a narrow asphalt road miles down the island, cutting through the forests and dunes all the way to the inlet. 

Change came slowly at first, and sharing a special place with other visitors and a few cottage owners didn't seem so bad; there was plenty of beauty, plenty of beaches and surf and dunes and sea oats. We came informally, on a whim, and parked or anchored casually. We came for the day and looked longingly at those who could stay the night, inside, protected from mosquitoes and the bite of windblown sand and thunderstorms. If we'd had the wherewithal, we might have bought our own place beside the sea or nestled amidst the fragrant junipers, salt cedars, wax myrtle and bayberry bushes. 

A new town grew up on our island, an island that was ours because it had been a public recreation spot — public, not because it was owned by the government but because generations of local mainlanders had enjoyed it. When the town incorporated and fell under the development leadership of its new mayor and commissioners — all realtors and tourism businesspeople — we watched its growth from island backside to ocean, down the beach all the way to the beautiful, fragile inlet where the surfing, fishing, beach combing and play were the best around. We watched subdivisions fill first with trailers side-by-side, then with cottages and then condominiums. We watched the tall dunes disappear, and then the forests. 
One day, when we came to walk the ever-changing beach and watch the inlet currents ripping past — churning, waves meeting crest to crest and smashing upward - we found No Parking signs. Intimidated, we turned around and drove back up the beach to a private parking lot, paid two dollars and walked on a beach without dunes, fringed instead by trailers and motels and miniature golf courses. 

But we were spoiled. We wanted our inlet back, we wanted to play in the warm tidal pools and watch the fishing boats zig-zag slowly through the shifting channel, diesel engines throbbing behind the booming waves. We went back, parked illegally, endured outraged looks from private property owners there. Parking tickets were ignored. The town threatened towing. We went in the winter, when all the cottages and condos were empty, and still we were harassed by the police. Yet the state built a bridge to the new town, replacing the ferry and making access quicker, easier, even though there was no public beach. 
Our state joined the federal coastal zone management program. The new island town received grants to do planning. Its own land-use plan concluded that the inlet was too migratory a place to be developed, that the only use compatible with its nature was public recreation. The town was offered more government money to purchase the inlet lands and hold them as public, and a temporary dirt parking lot was recommended — one that could wash away without causing financial loss to the town. 

That grant was refused. The mayor and several of the commissioners, instead, turned the inlet land into several large developments with names like Whispering Sands and Laughing Gull, providing second homes for some of the state's most powerful officials, among others. The island road they had built a decade back was now maintained by the state; the migrating inlet ate part of it — asphalt on the beach, in the surf — but it was repaired. The No Parking signs were duplicated every 10 feet along the road, in front of the new cottages. We parked there anyway. 

We had heard by then that the wet sand beach is public property by common law. We passed around petitions, collecting thousands of local names, demanding access to the inlet beach and other stretches along the island. We resented having to pay to park and even then being clustered – the great public masses – in the most undesirable beach areas, where children and fishing lines and surfboards and four-wheel-drive vehicles didn't mix safely, where dogs had to be walked on leashes. Some teenagers from the mainland, arrested for tearing down parking barricades near the best surfing areas, were told to cut their hair and pray for judgment. We were like irritating gnats in the face of the developmental forces, waved carelessly away. 

Our ire grew more fierce, more bitter, when we saw our tax dollars spent on sand bags and jetties to mitigate the acute erosion that threatened oceanfront residences. But over time we became resigned when we saw that the new motels and restaurants succeeded in drawing a new class of visitors, different from the people who had for years driven from a few hours inland to spend their weekends camping and fishing, fishing, fishing. Swimming, strolling, surfing. Now people came to the new golf courses, miniature and full-scale; they had drinks and cooled off in motel swimming pools before venturing down to the beach. A different sort of recreation, an expensive kind, and one that could take place anywhere. Why did they come to our island for that? 

It hurt most in the winter, when we'd have to sneak and park in forbidden places though there was not one other person in sight, only an occasional patrolling police car. And it hurt to see the development spread, once the prime island real estate was sold, to the low-lying marsh lands, drained and filled. Into mainland farmland and fishing communities. Into the water — the sewage and garbage and run-off from bulldozed soil. 
The local economy changed, became seasonal. High school kids worked for low wages in the tourism service jobs alongside older women and men. Restaurant and motel managers answered to bosses from other places. The larger developers took their profits up and down the coast, investing in other new towns and resorts. 

As our island town matured, it became more innovative in its pursuit of government money to maintain its precarious domination over the natural environment. Meanwhile, those of us privileged enough to have the time and physical strength - those who didn't have to carry heavy fishing gear, surfboards or young children — rode a people-ferry to a state park island an hour away, hiked along unspoiled marshes and across vast, glacier-like dune systems that covered forests and daily recorded the tracks of all visitors — including raccoons, deer, rabbits and snakes; we walked and ran and tumbled, beatifically perspiring, until we reached the Atlantic Ocean once again and enjoyed miles of beach that seemed so private, even when increasing numbers of others, like ourselves, sought it out. 

I traveled. I heard retired people in recreational vehicles — seasoned wanderers seeking the best of natural America — say they wouldn't go back to places like my island. Used to be nice there, they said. Used to be able to go there without being hassled. Used to have good beaches, good fishing. Now they had found another place, but it too was changing. They would keep looking. It's like being on an Easter egg hunt, they said. Only a limited number of eggs left, got to find them while we can. 

But the people back home, their egg was already found. Most of them wouldn't have the choice of wandering off in search of others. They are losing their community as well, and the kind of progress that has come to them hasn't meant improved anything — not better jobs, not a healthy environment. Instead their property taxes are rising; some lose their land through trickery. Some are being offered very tempting prices for their homes. Those who know that starting over again somewhere else is no alternative are caught in an ever-tightening steel trap. Sell out? Try to hold on? Will staying be worthwhile if the area keeps changing for the worse? 

It's a repetitious story, and one with many variations. Instead of coastal resorts, insert heavy industry which comes seeking abundant water supplies, cheap labor and transportation opportunities. Insert extractive industry seeking the South Coast's abundant, non-renewable wealth of minerals and fossil fuels. And then realize how much there is left still unspoiled: the South has more undeveloped islands than the rest of the nation, more productive wetlands by far than can be found in other regions of the Lower 48 states, more fish and wildlife, more self-sufficient communities, more recreational opportunities . . . and more potential for destructive resort and industrial development that will turn our coastal assets into a different kind of greenery, spent elsewhere. 

In this book we introduce you to a varied cast of Southern coastal characters (if you visit the coast, you're in here too) and invite you to listen to their concerns. Longtime residents, visitors, recent immigrants — all are vying for a place amidst a distinct geography, one with special needs of its own. 

The following stories suggest a simple truth, one founded in nature's lesson of ecologic balance so acutely apparent in the Tidewater South. The ideal public constituency for this affair of people, land and water must realize its fragility, must temper exploitation with conservative estimates of how much the system can endure. Most important, we must insist that our coastal, state and federal elected leaders get their economic development and environmental planning heads together. We must also strive to reverse the continuing tragedy of our segregated lives — the "us and them" syndrome that reduces potential public power to fractions and labels some communities anomalies, destined for extinction. 
Our literature and experience tell us that a grandparent and grandchild may learn from and enjoy each other more than those caught between the ages. So too our South Coast past and future might benefit from closer contact. We can look back, learn our lessons and attempt to live with the coast's delicate, changing nature. Or we can abandon the imperative of wise stewardship and watch our coastal resources succumb to urgent, greedy appetites. And then the next generation of coastal people may just wonder what our nostalgic memories are all about.
Tags
/*-->*/ /*-->*/ Jennifer Miller grew up on the North Carolina coast and wrote about the state's fishing industry in the Spring 1977 issue of Southern Exposure. (1982)
Jennifer Miller is an editor and writer and has worked with the Institute for Southern Studies for five years. (1980)