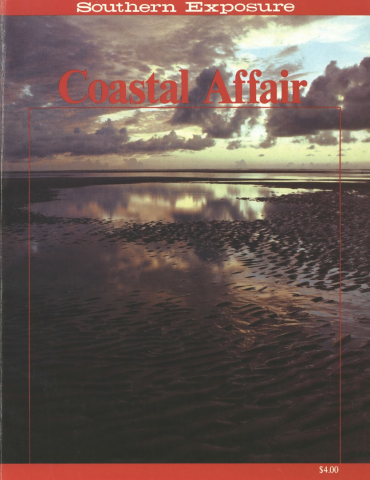 This article originally appeared in Southern Exposure Vol. 10 No. 3, "Coastal Affair." Find more from that issue here.
"We're receptive to any industry. . . . One attraction we have to heavy process industries which use large volumes of water is the Savannah River system, and then, of course, we have the aquifer. " - Sanford Ulmer, executive director Savannah Port Authority
Below the gray cobblestone streets of Savannah, the arching bridges of Brunswick and the verdant golf courses of Hilton Head Island lies one of the world's richest water supplies — the Principal Artesian Aquifer. Just as coal brought mines and miners to West Virginia, so this bountiful supply of fresh, clean, cool water has lured the pulp mills and chemical manufacturing plants that dot the map between Beaufort, South Carolina, and St. Marys near the Florida line.
"What you have down there is liquid gold," says Woodrow Sapp, a Brunswick well driller.
Containing trillions upon trillions of gallons of water, the aquifer lies beneath south Georgia, all of Florida and parts of South Carolina and Alabama. It varies in depth from 10 feet at places in Low Country South Carolina, to 150 feet at Savannah, to 600 feet and more in the areas of Darien and Brunswick, Georgia.
Most of the water beneath the Georgia coast comes not from local rainfall, as is commonly believed, but from rain in the sand hills region near Macon. Ground water is held and carried across layers of limestone, which act as a massive petrified sponge. Moving sometimes less than a foot a year, the water that finally reaches the aquifer basin below Savannah and Brunswick may be centuries old.
Now this valuable water resource is endangered and most experts believe if action is not taken soon it may be lost to the coast forever.
• Heavy pumping by the city of Savannah, Union Camp, American Cyanamid and other industries has created a 50-mile-wide cone of depression beneath the city. A cone of depression is an area inside an aquifer in which water levels are lowered due to pumping; the phenomenon resembles a giant whirlpool, drawing salt water slowly toward Savannah's underground water supply from the South Carolina coast, much as water is drawn toward an open bathtub drain. Geologists say Savannah could pump up to 45 million gallons of water a day from the Principal Artesian Aquifer without triggering saltwater encroachment, but that is less than one-third the 146 million gallons now consumed by industrial and residential use.
• Brunswick's Big Three — Brunswick Pulp and Paper, Hercules and Linden Chemicals (formerly Allied Chemical Company) — use 90 percent of the 111 million gallons of groundwater pumped in that city each day, an amount that exceeds the total water consumed daily in metropolitan Atlanta! Saltwater intrusion has forced Brunswick officials to shut five wells which served some of the city's 20,000 people. Other wells were drilled, but city officials fear for the future of Brunswick's water supply as the zone of salt water spreads like a giant ink stain beneath the downtown area.
Contaminated water has forced both Brunswick Pulp and Hercules to close some of their wells because salinity corrodes machinery used in their operations. But the state's industrial recruitment program is still channeling heavy water users to the coast, including such chemical firms as the SCM Company of Jacksonville, Florida, which recently purchased a site on Colonels Island near Brunswick.
"It's a question of prostitution," says Coastal Audubon Society member Herman Krauss. "They're willing to accept any damned thing, any kind of industry. The SCM Company will represent a $35 million investment and will employ only 35 people. The only people to benefit from that plant are the bankers."
SCM has already received permits to take up to 1.14 million gallons of ground water a day for the manufacturing of turpentine products. A Japanese pulp firm, also locating on Colonels Island, and a pesticide plant proposed by DuPont for north of Brunswick could soon consume another 11 million gallons daily.
• Residents of South Carolina's Low Country islands first noticed salt water in their wells in the late 1930s and early 1940s, and the problem has grown worse with new developments in the area. Hilton Head Island uses more than 37 percent of all ground water pumped in the Low Country, with up to 10 million gallons a day going to irrigate its manicured golf courses.
• When two large military installations near Beaufort suffered the worst saltwater intrusion in the Low Country area, a federal grant spurred the formation of the Beaufort-Jasper Water Authority and the construction in 1962 of an 18-mile canal which now carries water from the Savannah River to the city of 51,000. But now even that water source may be threatened. A plan by Milliken and Company to construct a $10.5 million textile plant on the Savannah River has drawn a howl of protest from residents downstream in South Carolina, who fear the company's waste effluent will pollute their fresh water supply.
Many South Carolina residents feel any measures taken in their state will have little effect without cooperation from Georgia. "We're buying a little bit more time by busting our butts and doing all these conservation measures," says Camille Ransom of the South Carolina Water Resources Commission. "Yet Savannah can still push the red button and pump a little more, so it doesn't mean much." Efforts by four South Carolina counties to participate in a water supply study initiated by the city of Savannah and the U.S. Army Corps of Engineers looked good until 1981 budget cuts 40 lopped the $200,000 needed to complete the study adequately.
Not much help can be expected from Georgia political leaders either. The state's Ground Water Use Act, passed in 1972, only establishes case-by-case permitting guidelines to restrict specific threats to the aquifer. "Georgia's elected officials do not support the concept of management of ground water, only management of misuse," says Leonard Ledbetter, director of the state's Environmental Protection Division. "We have no legal authority to preserve ground water for the future."
The solution to the coastal water crisis lies in comprehensive land-use planning, so states can channel aquifer-dependent industries to areas where ground water is assured and discourage location of major water-using industries in endangered areas. While most public officials are still in no mood to curb development, the absence of a master water-use plan could become a negative factor for recruiting new companies. One industrial site-selection firm representative says his company has already discouraged "at least two industries" from including the Georgia coast in expansion plans during recent years. "The Georgia coast is one of the most attractive areas in the nation for industrial development, but it's at a dangerous crossroad right now. Some decisions are going to have to be made about the water situation and until they are, I don't feel like subjecting our clients to the risk of being left out in the cold," the representative said.
"We have an excellent ground-water program now," says Georgia Governor Busbee, reflecting a popular notion that the aquifer's supply is unlimited. "Stronger regulations are unnecessary at this time and could have an adverse effect on industrial development."
In the final analysis the task of saving the aquifer probably will fall to coastal residents.
"A solution to the water problem is essential to the future of the whole region," says Edward Bee, a planner for Georgia's Coastal Area Planning and Development Commission. "But frankly, I don't see much happening until the public gets worried. I hope by then it won't be too late."