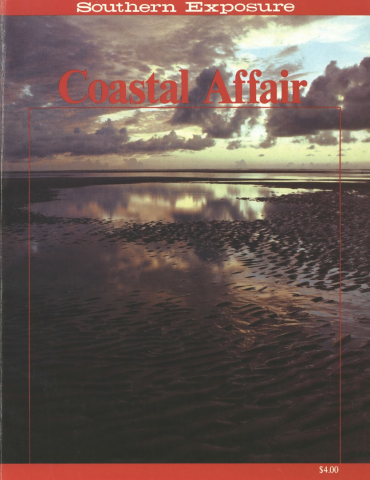 This article originally appeared in Southern Exposure Vol. 10 No. 3, "Coastal Affair." Find more from that issue here.
Walter Inglis Anderson, hermit and artist, was a man enthralled with nature. His 18-year love affair with Horn Island, Mississippi, produced thousands of drawings, paintings and journal entries chronicling its changing seasons and wildlife.
Every chance possible, from 1948 until his death in 1965, Anderson abandoned his Ocean Springs home and family and rowed his less-than-seaworthy skiff to the island some 12 miles out. Carrying only the essentials — canned goods, water colors, typing paper and notebooks, all packed in a trashcan — Anderson would cross the Mississippi Sound and set up housekeeping and studio under his overturned rowboat on the island.
During these stays, sometimes lasting as long as a month, Anderson confronted nature and art on their own terms — often on his hands and knees. A 1928 graduate of the Pennsylvania Academy of Fine Arts and trained also in New York and Paris, he found another sort of instruction among the mosquitoes, ducks, coons, copperheads and gnats of Horn Island.
Anderson's diaries reveal that he considered himself no more or less important than the island wildlife. Nature always came first, and he used art only as a way to digest its wonders. In fact, he often referred to the process of painting as "eating," as it restored the mental health he had lost in his earlier mainland life.
After his death, Anderson's family discovered his work scattered around the rooms of his Ocean Springs cottage: paintings on typing paper, journals tattered and blurred by salt water. Like nature's sweeping tides and sands, and the momentary formations of passing clouds, Anderson took little care to preserve his creations.
The family graciously released his work to traveling exhibits and documentary filmmakers, and to Redding S. Sugg, Jr., who edited and introduced the artist in three books: The Horn Island Logs of Walter Inglis Anderson and A Painter's Psalm: The Mural in Walter Anderson's Cottage (both Memphis State University Press, 1973 and 1978, respectively), and Walter Anderson's Illustrations of Epic and Voyage (Southern Illinois University Press, 1980).
I've been drawing Mallards. I caught two just as they would have flown — they knew I was there, but knew that they would be more exposed if they jumped. I made several drawings while I held them with the eye of the ancient mariner — then took it off for a little too long and up and away they went. Then I crawled first to no effect then in approaching about fifteen Mallard — bathing and tipping up — they suspected me and "froze" for a while, but I kept still and they went back to their playing and feeding.
This is a beautiful place and it is doing its stuff — the calm changed to a fog a wet white fog — suffused with light — the white beach giving a glow rising fifty feet in the air — the almost black tree trunks radiating light, and the tip of every grass blade with a tiny lantern hanging on it.
Before daylight just before the moon rose, I got up had coffee and walked west.
A silvery night with the sand saturated with phosphorous so that every foot step was illuminated and the little waves were outlined in a lost and found line of silver.
I've had a gay walk — I have raced little peeps — drawn willets — and waves — and aroused the curiosity of a little alligator — by crawling — like an alligator —
A flock of about a hundred Dogris [a kind of duck] were close into shore and I hid behind a tree, and drew them from the top of a dune — stationary — some playing — chasing each other — then suddenly all swimming in the same direction — a pause and all off in a different new direction.
There was a heavy rain squall . . . and I worked "chez moi" — that is sus le bateau — or "under cover" — doing fairly well I thought, but horrible dirty color when I brought it out into the light. I think I need an arbitrary scheme of color before I start.
. . . a tremendous cyclonic stupendous blue-black cataclysm of nature appeared in the NW. I got all the dramatic effects — electric green pine trees — dazzling White Herons — magnificent Fish Hawk — copper pink and black and white against the blue purple of rolling cloud — the green water with purple sheen like silk. It was a wonderful show.
I have just done a panorama — neither gnats nor mosquitos could disguise the paintability of this place — in spite of the destruction and disorder caused by wind and water there is a child-like — neatness and simplicity about it — but there are plagues — suddenly out of the clear white sand appeared ants — which bit and stung me where ever they could get at me —
Three kinds of biting flies —
Several kinds of mosquitos —
and I think at least two kinds of gnats — as well as something it may be sand fleas that gets you on the beach. There are also yellow jackets and possibly wasps.
I haven't had ticks yet but I think I've seen them on the rabbits' ears.
There are of course cotton mouth moccasins — and the shallow water at certain times of the year is alive with stingarees —
Still all these are bearable — and may in some negative way add to the charm of the place — but gnats still bother more than any of the others.
Yesterday after lunch, I walked east along the inside beach to the gap and around on the outside to the bullrush pool. I did a circuit of it drawing dragon flies. I heard a little green heron complaining and saw white guano beneath a pine branch. Then I looked up into a dead pine beyond, and saw a young heron climb up using feet, wings, and the point of its bill. Then it reached a branch and stood — and stretched and stretched, silhouetted against an enormous white cloud. It seemed that with very little it would climb the cloud and take the kingdom of heaven by force — God knows it needs taking.
I drew it in ecstasy. It was a concentrated image that nothing could take from me. This does not mean that I am going to be content with that one image for the rest of my life. It will generate power in me for a while, then I need another. One image succeeds another with surprising regularity on Horn Island. Whether they could be shared is another matter — people need different things.
Tags
Connie Toops is a writer and nature photographer who lived on Horn Island with her park ranger husband until the fall of 1981. She now lives in Jasper, Arkansas. (1982)