A Long Time Coming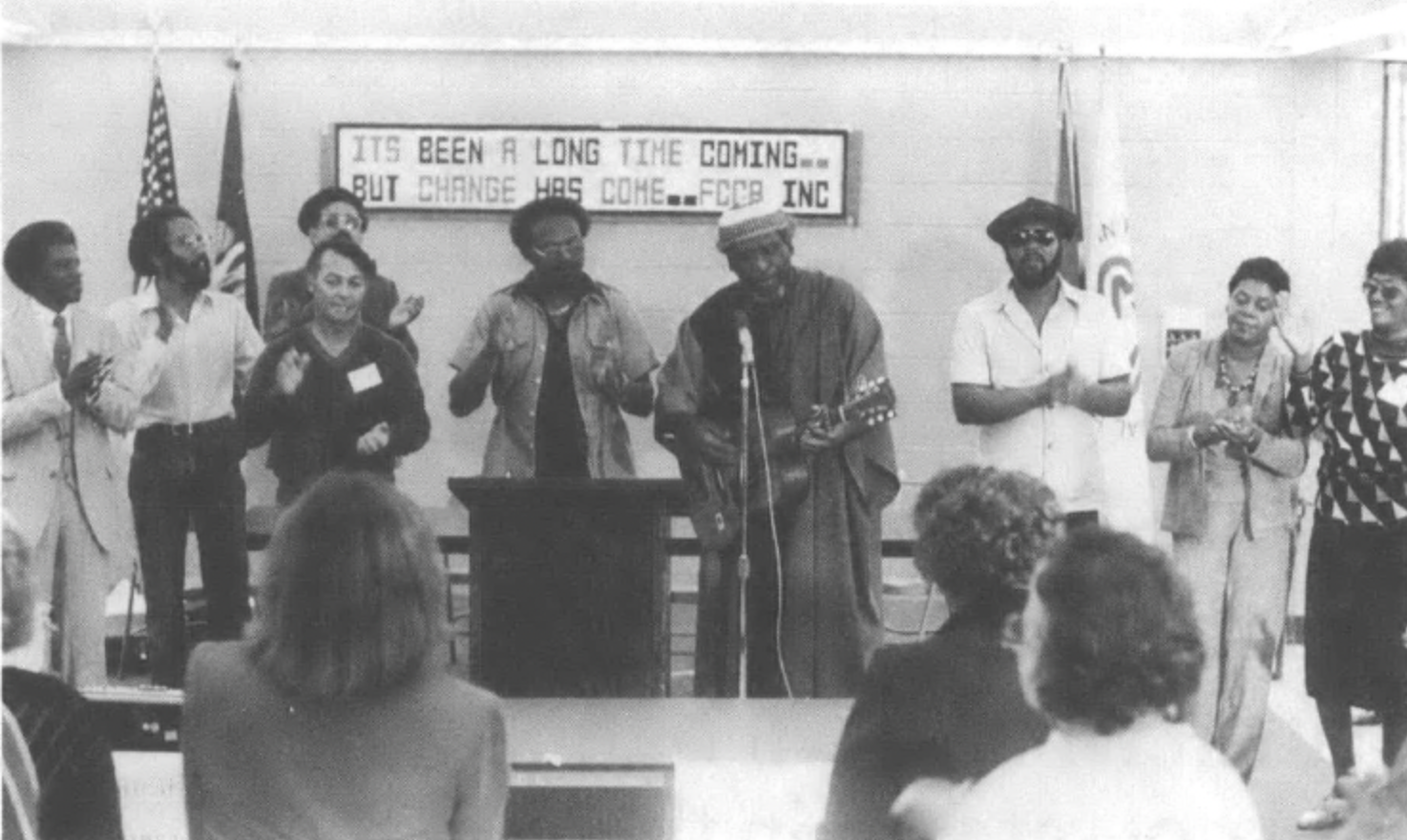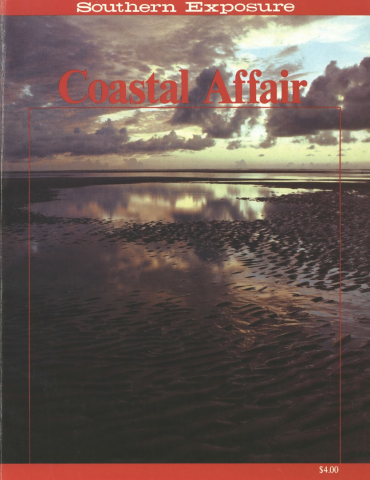 This article originally appeared in Southern Exposure Vol. 10 No. 3, "Coastal Affair." Find more from that issue here.
Plaquemines Parish is a fertile deltaic peninsula southeast of New Orleans, divided by the Mississippi River and stretching more than a hundred miles out into the muddy waters of the Gulf of Mexico. The humid, swampy parish gets its name from a traditional Native American bread — plaki or plakamine — made from the bittersweet fruit of local persimmon trees.
For its size, Plaquemines contains some of the richest mineral resources in the world. In just one year, 1980, leased lands in the parish provided $7 million in royalties from oil companies, and the parish's public coffers would have received even more had a substantial amount not gone into one controlling family's pockets.
Since the 1920s, Plaquemines Parish has existed as the private fiefdom of the Perez family, which dominated local politics and made a private fortune off the parish's natural wealth. As a result, despite its native riches, Plaquemines is home for some of the nation's most impoverished people, deprived of many of the basics and pleasures other Americans take for granted. Many of its nearly 30,000 people live in poverty, earning a small living off the river or in the service of the corporations and local bosses.
The foundation for the Perez family dynasty was laid back in 1919 when the notorious Leander Perez, Sr., now dead, was appointed district judge. Perez used his office to build a powerful political machine matched by few other rural parishes or counties in this country. Services, the fruit of government, were all tied to his patronage machine. Although Leander Perez boasted of achieving a republican government where nearly everybody voted (except blacks), Plaquemines elections were in fact blatantly undemocratic. Handpicked Perez candidates won landslide victories, often garnering 90 percent of the votes cast. On many occasions the number of votes cast exceeded the number of registered voters; even Donald Duck was among the fictional parish citizens supporting Perez-backed candidates. So corrupt was the system that in 1950 the FBI convicted five Plaquemines election commissioners of fraud.
Before his death, Perez became a multi-millionaire by founding or serving as attorney for corporations leasing state/parish lands; he did this even while serving as district attorney, a definite conflict of interest.
Glen Jeansonne, author of a biography of Leander Perez, Sr., Perez: Boss of the Delta, summed up this process in a recent interview: "Essentially what Perez would do would be to set up a corporation which would be in the business of leasing lands from the levee boards, primarily, and sometimes from the school boards. The best example of this is the [Perez's] Delta Development Corporation which still operates down there. These corporations would not intend to search for oil themselves. They might lease land from the levee board for a very small price, a few dollars an acre, and then turn around and lease it to an oil company — like Exxon, Mobil or Texaco — for hundreds of dollars an acre, plus royalties on the production of the oil that is produced.
"These kinds of corporations were siphoning off much of the wealth which, had it been leased directly by the people of the school board to the oil company, would have gone directly to the schools.
"Perez would usually not be a stockholder. He would not have his name on the incorporations; he would use his friends and relatives, but he would be attorney for the corporations. If you looked at some of the records of corporations you would find that some of these land development companies spent a large proportion of their income on attorney fees, and Perez was the attorney."
An unrelenting segregationist — who reportedly called blacks "animals right out of the jungle" — Leander Perez, Sr., dispersed some of his ill-gotten gains to the campaigns of racist politicians like Strom Thurmond, Ross Barnett, Lester Maddox, George Wallace and Orval Faubus. While his financial dealings periodically came under attack by Louisiana governors and legislatures, he always managed to avoid criminal prosecution, mainly by tying up cases against him until friendlier politicians were elected.
Before Judge Perez died in 1969, he passed along rule of the parish empire to his two sons. Chalin was boosted into the Parish Commission Council, where he served as president until 1982, and Leander, Jr., was appointed district attorney.
Between them, Chalin and Leander, Jr., held sway over all political and economic aspects of Plaquemines life until open feuding divided them. The brothers no longer speak to each other, and have used their public offices as a battlefield: Chalin denies funds to the district attorney's office, while Leander, Jr., hauls council members and local officials into court on charges of misconduct and unauthorized use of parish property.
Meanwhile, the council members have turned against both brothers. The council recently voted three to two (with Chalin voting for himself) to oust this Perez brother from the presiding position on the commission council. Hastening the demise of the Perez empire is a rising tide of organized resistance from oppressed citizens of the parish.
GETTING ON THE BALL
The Fishermen and Concerned Citizens Association of Plaquemines Parish grew out of a 1979 event that threatened to put independent black oysterers out of business and into the service of larger, white-owned fishing companies. That year, Plaquemines State Representative Frank Patti ushered a bill through the legislature which outlawed the use of two-foot hand dredges used by many Plaquemines fishers in this oyster-rich parish. Neighboring St. Bernard Parish and Plaquemines together supply some 90 percent of the state's annual oyster catch. The Louisiana Wildlife and Fisheries Department enforced the new law, denying oystering permits to those who lacked the more expensive – and ecologically harmful – hydraulic dredging equipment.
Three black oysterers – brothers Irving and Melvin Cross and Morris Harvey – took a ride to New Orleans in the summer of 1979 to talk with Ronald Chisom, a regionally respected community organizer active in the city, particularly in its strong black Treme community beside the prosperous French Quarter. Chisom's wife Jeralie is a native of Plaquemines, so Chisom was acutely familiar with the parish. He accepted the invitation to help the fishers and soon solicited legal help from Ron Pursell and Bill Quigley, staff attorneys in the Community Development unit of the New Orleans Legal Assistance Corporation.
Irving Cross:
We'd heard about the Treme Tenant Organization having their 10- year anniversary. We went to talk with Ron Chisom because we knew he was involved in the organization. We told him about the problems we had with the dredge law and he asked if we could get some fishermen together. We said yeah. He said, "I will be down there and try to get you guys organized."
We told the rest of the fellows and had a meeting at my brother's house. There were 19 fishermen present. At the meeting, Ron asked if we wanted to get an organization going. He asked if we did, would we want community leaders in it. We said yeah, the more people, the better it is. So we got community leaders in it, and after that it started growing.
Ronald Chisom:
We began to present some historical information about the parish, emphasizing to the fishermen that they are not powerless, but they had some serious work to do if they were going to get their livelihoods back. We gave them a basic plan for conducting meetings and acquainted them with the things they could expect to be involved with, such as talking and winning over people, projecting the positive as well as flexing the organization's muscles.
When they were ready the fishermen invited to their meeting State Representative Frank Patti, the legislator responsible for getting the dredge law enacted. Now keep in mind, these fishermen had never confronted an elected official before. Many had never been in a courthouse or had seen anything like what they were involved in. This was a hell of an experience that they were going through.
They told Patti they wanted the law changed and he said he would do it, claiming that he didn't mean any harm when the dredge law was enacted. We got the impression soon, though, that Patti was going to take his time. We dug in and really began to get more people. At one time, hundreds of people started coming to the meetings, mostly young blacks. Patti couldn't believe blacks were coming together in Plaquemines in some function other than a wake or wedding or that kind of thing. Then he made a firmer commitment to get this law changed.
Already, the fledgling organization had broken a spell that had hovered over Plaquemines since the 1920s. Even before the dredge law was repealed, the Fishermen and Concerned Citizens Association (FCCA) began to sense its power and resolved to tackle other problems in the parish. A multitude of long-lived injustices came to the surface, and at the top of the list was the lack of running water in the black community of Ironton. Like other hamlets in Plaquemines, Ironton is unincorporated and thus governed by the all-white parish council. The community's 241 people and their ancestors had for years tried to get the council to supply them with water, and the issue had caught the attention of citizens parish-wide. Ironton is on the Mississippi's west bank, and most of the FCCA members lived on the east bank, so this issue provided a way to cross the river and attract new members. Gary Barthelemy, a fisher and president of the FCCA, spoke about how the organization's membership expanded.
Gary Barthelemy:
When the FCCA was first formed there were a lot of people who didn't want to get involved because they really didn't know what the organization was about. A lot of people had been messed with in organizations before. So they were real careful about coming to it. After we started to deal with the water problem in Ironton, that is when everybody fell into the organization and were concerned about what we were doing. People joined the organization and helped support it.
Mary Trufant, a grandmother and active civic worker in Ironton:
I had two large containers [cisterns] and I had water running into the house from the containers by an electric pump. But it still wasn't like running water. Besides the rain, the parish had a truck that was supposed to come every week but sometimes it would skip us. When it came, the driver would back up and put a filthy hose that had drug the ground in our water containers. We didn't know what we were drinking out of this tank, how often they would clean it or what. One time we had two cases of diphtheria back in here. Parish officials claimed it wasn't from the water but, really, I thought it was from bad water.
I started trying to get water here when my children were small. The old people before me tried to get it but they are all dead now. Older people, my mother-in-law and friends went down to get water from the Parish Commission Council and got the same hassle.
Our situation was really bad. You would have to call behind the folk who brought the water, begging them and telling them we were out of water. The white people who didn't have water got treated better than us. They would get refilled before they ran out. All of this was complicated by some people thinking negative and saying we would never get running water in Ironton. After the Fishermen and Concerned Citizens Association came to help us organize a chapter to get water, things started getting on the ball. A lot of doubters got out of their attitudes and they had to join in.
The process of starting a parish-wide organization to fight for water was extremely confrontational. Chisom drove from New Orleans nightly, holding meetings in various hamlets. The parish council denied requests, saying that the area would eventually get water, but that Ironton was too far from already existing trunk lines and that the $500,000 price tag was prohibitive. However, at the same time officials managed to find money to build a $1 million marina and $400,000 golf course for corporation executives. FCCA members refused to accept the insufficient funds answer any longer. They got ready for the big fight.
Ron Chisom:
There wasn't any political power here and that was the basic problem. After we started meeting, a couple of blacks who worked for the parish came to their relatives and said, "You had better quit what you are doing. Those n—s are going to get you into trouble. Chisom ain't going to do nothing for you because he doesn't know what he is doing. You leave him alone and I will get water for you." Now, I don't mind struggling, but I need to know I have support. I asked them to think twice about what they were doing and asked them to tell me if they were hesitant about it. I told them I was not here to play games because I know what Perez will do. So the brothers and sisters gave me a firm commitment that they were behind me 100 percent.
At that point I felt very encouraged to go ahead and do what we had to do. Months passed. We taught basic organizing, and we set up meetings, but we made sure that the officers were involved and coordinated every detail. We showed them how to produce a leaflet and distribute it. We taught them how to get reaction from the people and feel them out. We instructed members not to be negative about the community because that's your strength. I don't care how bad they are, if you can't get them out to a meeting or whatever, it means that you don't have the skills, but you shouldn't fault the community. The community is always smarter than you. They know more than you, they see more than you, and they can hear more than you. You have a lot to learn, you have to stick that into your head.
We had training programs periodically. We talked to a lot of them on the phone long distance from New Orleans. I had to soothe them sometimes, the men and women. I would have to spank them sometimes, take a ride with them and walk with them. They were exposed to what was going on in New Orleans. We would criticize them when they didn't do the right things in their meetings. We taught them how to chew out the man and how to get off him. This was very intense.
After the elected officials would leave our meetings, I would let [the FCCA members] know exactly what they did wrong and right. Everybody would be critiqued. That went on for months and months. Each time it happened it blew my mind: folk who wouldn't speak up in the meetings were now raising their hands so that we had to almost sit them down. They were ready now to go the Parish Commission Council. I wanted them to shake their fingers in [Chalin] Perez's face. I wanted them to invite him to the meetings and jump on him.
They did all of that and finally planned a public demonstration, the first protest demonstration by blacks in the parish's history. Meanwhile the fishermen were traveling to the state capitol in Baton Rouge to get the dredge law amended and won a victory.
Mary Trufant:
We never had a march or anything like that until the Concerned Citizens came out. We just went down to Chalin Perez and got the same story every time. The white folks heard what we were going to do. Some thought we were crazy. It was getting next to them. They knew something was going to happen. They still tried to brainwash us like they do when we do something visible.
Before we marched, we went to the church, and the pastor, Reverend J.E. Brown, led us in prayer. Then we left from the church and boarded the bus and went down to the river and crossed on the ferry. When we got to the east bank, we knelt in prayer again and then marched to the courthouse.
GETTING FIRED UP
Ron Chisom: Think about the first time you demonstrated. Some of us do it all the time, so it is just a normal thing with us. I saw 75 people who for the first time in their lives — husbands, wives and children — were really excited. Then people started getting off work. In a little while there were 200 people marching around the courthouse chanting, "We're fired up! Ain't gonna take it no more!" You could see the emotions coming out of these people. After we had stayed the time that we had planned, I said, "Let's go now." They just looked at me and kept chanting, "We're fired up! Ain't gonna take it no more!" So I left them alone until they could get it off their chests.
The parish officials were frightened. All of the white women running the courthouse were hanging out of the windows, wanting to know what in the hell was going on. The officials were all flabbergasted. The New Orleans press came out, something they don't do normally because Plaquemines is about one-and-a-half hours away.
The next action was before the Parish Commission Council. The people knew exactly what to say. They knew when to listen. I could see and the officials of the parish could see that these people could take charge of their own lives and know what to do technically with their organization to achieve that.
After a brief recess, Chalin Perez came back to the meeting and announced water would be piped to Ironton and that almost $100,000 had been donated by private interests in the parish. The packed courthouse went wild. What a victory!
Tyronne Edwards, executive director of the FCCA:
The senior citizens were recognized at the Water Day Celebration. Several of the elders who had been struggling with the issue of water for years were honored. After marching from the church, there was a ribbon cutting. A ribbon stretched across the road and at one end was attached to a water hydrant. The oldest member of the community cut the ribbon. Then the water hydrant was opened.
The commission council wanted to have a celebration of their own after they found out that the FCCA had planned one. When invited to participate in ours, they said, "We can't participate in yours because we have the Orange Festival and we are committed to that." However, on the day before our Water Day, the commission council came out and set up a stand which was draped in red, white and blue. But people from the community ignored them and did not participate at all.
On Water Day all of the commissioners showed up except one. It was really strange to see these commissioners hanging on the outside wanting to be a part, but not knowing how. Finally, Chalin Perez, president of the commission council, came up to mingle right after the ribbon was cut. It was really like a wedding that day. People got together and ate a lot of food, and the kids played on the railroad tracks. The old and young were dancing.
BREAKING NEW GROUND
After the Ironton water victory, some of the members of the chapter thought the FCCA might heal another festering sore, a cancer which had sapped parish resources for more than five decades.
Spurred by an Army Corps of Engineers recommendation, the Louisiana legislature in 1924 gave land condemnation power to the Orleans Levee Board, to create spillways on the Mississippi River north and south of the low-lying metropolis. These spillways would relieve the city of periodic flooding, the Corps claimed, and even the Bohemia Spillway in Plaquemines – though downriver from New Orleans – would at least reduce flood levels by a few inches. Over the years, the 25-milelong strip along the river in Plaquemies Parish has been used as a spillway several times, the Corps and levee board maintain, but local people point out that much of the spillway itself is already protected from floods by levees, and that part is high ground upon which cattle graze and aged oak trees stand. Producing oil wells are located on the spillway as well.
The first oil lease in the Bohemia Spillway was let to Standard Oil by the Orleans Levee Board in 1928. Four years later, Leander Perez executed a scheme that resulted in the legislature's granting the parish police jury control over the liabilities and assets of the levee board. Between the police jury and the levee board, Perez had firm control over the immense oil, gas and sulfur resources beneath the 50,000 acres of spillway land in Plaquemines.
Several Plaquemines residents who lost farmland to the spillway unsuccessfully contested the forced land sale in court. Others have continued to hope for redress, and a 10-year-old court case is still pending. Phillip Simmons's family has been fighting to keep control of land which the Orleans Levee Board claims was taken by court action and paid for with a $900 check which has never been cashed.
Phillip Simmons, white fisher and vice president of the Boothville FCCA chapter:
They came in 1925 and said that they had to have a spillway to prevent flooding of New Orleans. About 1926 or 1927 they turned around and they leased that land they took away from the people to the oil companies for mineral rights and leased surface rights to cattlemen. I didn't think that it was right to take our land away if they were going to lease it off and make a big profit off it.
One particular piece of land that my family is fighting for is the Peter Johnson Estate, which was never sold, never expropriated, and never was paid for. We are still paying taxes today. The Orleans Levee Board says they own it. But my uncle lived on the land until 1965 and we still have a cemetery over there. I have buried kinsfolk over there up until 1976. There is no oil on that particular piece of land that I know of but they took away other people's land that got oil on it. Shell Oil Company paid to run a pipeline across our property. The Pan American Oil Company leased that property from the levee board in the '60s and paid a mineral lease.
For many years, many people in the parish have individually hired lawyers to get their land back, and they have gone down and have not been able to accomplish very much. Now we have an organization in Plaquemines which is fighting for us and we are getting some things done.
The Boothville chapter is unique among other FCCA chapters. The chapter's president is Elizabeth Taylor, a black woman, and until recently Kirk Sherman, a white man, served as vice president. Other offices are nearly evenly split between blacks and whites in the chapter.
Boothville's chapter began as a predominantly black group, but when the FCCA began attempting publicly to recover land and revenues from the Bohemia Spillway, whites flocked en masse to the meeting. Ron Chisom recalls with pride how one white woman came to him early in the organizing effort and said, "Will you help me get my land back?" and then, after becoming a member of the chapter, asked, "Will you help us get our land back?"
Elizabeth Taylor is a long-time fighter for civil rights, working mainly with the NAACP registering voters and supporting desegregation of schools in the parish.
Elizabeth Taylor:
When Ron Chisom and lawyers Pursell and Quigley came to Boothville, some of the whites came out to the meeting and told the others that didn't come they should join. They told their friends, "It's legal-aid lawyers and people dealing with the federal government, so they shouldn't be crooked." Everybody got involved. Before, they had gotten lawyers to help who would go away and stop and tell the people there was nothing that could be done about the land.
Due to FCCA pressure, the Bohemia Spillway land issue is now before the Louisiana legislature. After 60 years of citizen complaints and court cases, the legislature finally convened a study commission to hold public hearings and gather testimony in Plaquemines Parish. Plaquemines citizens have traveled to hearings in Baton Rouge, at which the Orleans Levee Board officials and Army Corps engineers were grilled. A March, 1982, hearing in Boothville drew 500 people. Predictions are that the area's legislators will introduce a bill soon to return the land to its rightful owners.
Frederick Encalade, an unsuccessful school board candidate in Plaquemines in 1981 and an FCCA officer:
You take the people who are involved in this land question, the people who own land down in the spillway. They are not only from Boothville, Buras or Pointe a la Hache. They are from all over. There are people from New Orleans, Jefferson Parish, New York and California, that have strayed all over. What it is now, instead of getting recognition just in Plaquemines Parish or in the state of Louisiana, people are talking about the FCCA all over the United States. We have people all over. Whenever they come back here they ask us what is happening with the land.
FCCA members are hoping that the legislative study commission will unravel webs of complicated financial dealings that the Perez family wove: the maze of leasing companies and the millions of dollars that have passed through the Delta Development Corporation and similar firms. While there is general optimism in the FCCA that the land or royalties will be recovered, members see it as a continuing political process, rather than a purely legal struggle. When members of the study commission recommended that individuals file suits in court, the FCCA immediately responded that the courts had not worked for them before, and that going into court would take the issue out of the hands of the people of Plaquemines, people who are now bent on building a strong organization for justice.
Dorothy Stone, FCCA officer and long-time activist in the parish:
This land problem will be solved by politicking. The person running for office who wants your votes will get on our side to play against the other person. We will be able to gain from that. Whenever the can of worms is opened, there will be no stopping because they will come falling out. To get to Baton Rouge or Washington, some politicians will sell Perez or anybody down the river.
Besides the repealed dredge law, the water-for-Ironton victory and the Bohemia Spillway land issue – which will next go before the full legislature – the FCCA has tackled discriminatory hiring practices in the parish government and inadequate allocation of parish resources to poor and black citizens. Bus service was recently approved for both banks of the river, and buses have been purchased. A new swimming pool has been built, the first one accessible to Plaquemines' black population. More blacks are on the parish payroll. And politicians are now asking for the FCCA's backing in electoral campaigns and are requesting their views on the issues. In a special election in October, 1981, Chalin Perez's wife ran for a judgeship and was defeated by a significant margin.
More importantly, the people of this parish now feel a new and liberating confidence that they can control their own lives.
Kirk Sherman, a former vice president of the Boothville FCCA chapter, is an office manager for an electrical company. This is the first time Kirk Sherman has been a community leader of any sort, and he says, "I'm not particularly adapted to this type of thing, but it is just a matter of doing it."
Kirk Sherman:
I am not a fisherman but I am a concerned citizen. I do think in all sincerity that we must turn this political situation around. It's going to be a struggle, it's going to be hard to do, and it's going to take a lot of work. Now is our best opportunity, and it can be done.
Tags
Pat Bryant is an editor of Southern Exposure and field organizer for the Southeast Project on Human Needs and Peace. (1982)