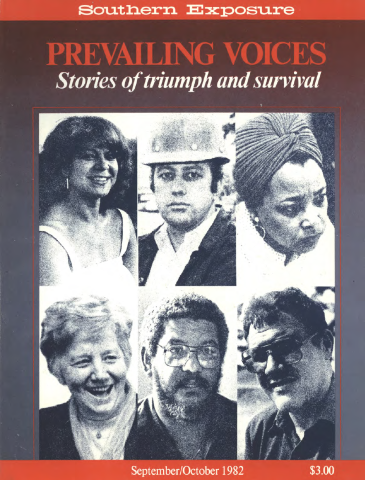 This article originally appeared in Southern Exposure Vol. 10 No. 5, "Prevailing Voices: Stories of Triumph and Survival." Find more from that issue here.
A few quotes in this article are from interviews conducted by Tony Schmitz of the Atlanta Weekly and are used with his permission.
Robeson County differs from North Carolina's other 99 counties in certain readily apparent ways. Its centuries-old Indian communities play a leading role in the county's political, cultural and business affairs, but tri-racial divisions remain a part of daily life, almost as if the six restrooms in the downtown theater were still in use. Residential patterns in the county seat (Lumberton), smaller towns and the vast farm lands owned chiefly by whites and Lumbee Indians follow a tradition of segregation.
Robeson also has five school districts — more than any other North Carolina county — for its population of 102,000 (25 percent black, 35 percent Indian and 40 percent white); there's one district for each of the four towns with sizable white populations and a fifth for the rest of the county. Until a court order in 1975, city voters could not only elect their own school board members but vote on those of the county as well, which gave Robeson County's Indian-and-black majority population a white-controlled school system.
The district attorney's passion for murder trials earns Robeson another distinction: three men and the lone woman of the 23 prisoners now condemned to die in North Carolina came from Joe Freeman Britt's court, a proportion that kept Britt in the 1982 Guinness Book of World Records as "the deadliest prosecutor" in the U.S. (He first made the record book in the late-1970s for putting 23 people on death row in 28 months — but North Carolina's capital punishment statute was later declared unconstitutional.) As in other parts of the state, the district attorney is elected; but Britt has never faced opposition in his 10 years in office. "Can you imagine what would happen to someone who ran against him and lost?" explains one local observer. "He runs this place with fear." Other Britts, all kinfolk, include judges, county politicians and substantial landowners. Land ownership is an especially fortuitous ticket to elected office in Robeson, the third largest tobacco-producing county in the state; the mayor of Lumberton, for example, is the county's largest individual landowner.
Politics in Robeson County is a three-ring circus. Factions within each race vie for various positions, but an alliance of the highest economic powers from each works to maintain control of the county, while at the same time trying to expand opportunities enough to satisfy a growing demand for better living conditions. Since Robeson also leads North Carolina counties in the proportion of its people who are classified as "underemployed," the demands are understandably getting louder. In the last decade, county officials have enticed a score of new industries into the county, but many still pay wages so low that employees' earnings don't lift their families above the poverty line — hence the term "underemployed."
Of course, low wages are not unique to Robeson County. In fact, North Carolina may accurately be described as the Southern state whose industrialized economy depends heaviest on abundant, cheap labor. Unorganized, nonunion labor. It ranks dead last in the nation in industrial wages paid (an average of $265 per week in 1980) and the percentage of nonagricultural workers in unions (six percent). In Robeson County, the figures are worse: the weekly wage hovered at $190 in 1980 and the only union members are those covered by national contracts (the telephone company, post office, a grocery store chain and a retail outlet).
None of the workers in the county's 80 industrial plants is protected by a union contract, but not because they haven't tried. The opposition has just been better organized and, some would say, more ruthless. "Management in this area has used every dirty trick in the book to frighten, run out or malign workers who get interested in unions," says Mike Krivosh, an organizer for the Industrial Union Department of the AFL-CIO who has spent years working in numerous organizing drives in Robeson and surrounding counties.
During the 17-year-long battle with J.P. Stevens, the union discovered that the Chamber of Commerce in neighboring Scotland County was publishing a tip sheet for area factories on the whereabouts of union organizers. The union successfully sued to stop the practice. Two years later, Krivosh learned that the Chamber of Commerce in the next county, Richmond, had the telephone operator at his motel monitor his calls for the names of workers asking for information on unions.
Against this backdrop, it is something of a miracle that workers at the Mueller Steam Specialty Company in Lumberton have persisted for three years in their effort to secure a union contract. "We've been stepped on, walked over, treated like dirt," says John Cook, one of the hardcore union supporters still at Mueller. "They've fired people, laid off whole groups and scared most of the rest up onto the fence where they won't say nothing.
"Everybody's sorta waiting to see what will happen with the hearing," Cook says, referring to the pending decision by the National Labor Relations Board (NLRB) on various charges the company and union have filed against each other. But with a string of appeals still possible, the final resolution of some 100 issues — including the unilateral cut of Cook's hourly wage by $2.05 — could be two or three years away.
"If it weren't for this union, I'd a been quit long ago," Cook says in a slow, steady voice. "But I'm going to stick it out to the end. Whether they fire me or whatever. I made a promise when I first got involved, and I'm going to see it through no matter what happens."
Spirits were a lot higher in the fall of 1979 when workers at Mueller Steam decided to fight a new disciplinary system initiated by the plant president. Mueller had moved into a vacated textile mill in 1973 and by mid-1979 employed 150 hourly workers on lathes, drill presses and milling machines, turning out precision valves for industrial pipes. Employees (45 percent white, 25 percent black and 30 percent Indian) say they were glad to get jobs at the relatively good wage of $4 to $8 an hour, but after a while complaints began mounting. Against decrepit, unsafe machinery that mechanic Cook says was World War II surplus; against a lack of ventilation and an exhaust system that blew hot air from the machines onto workers; against a pay-raise plan of 10 cents an hour per quarter that was arbitrarily awarded and never paid on time; against a lack of advancement opportunities and an environment where supervisors picked their friends for the good jobs and penalized others they didn't personally like; against little annoyances like inadequate parking, lunchroom facilities and bathroom breaks.
Then came a "point system" which plant president Bob Whritenour promised would "eliminate nonconsistency of enforcing rules" and ensure "equal rights with no regard for sex, race or national origin." Under the system, workers would get points for being late to work, being absent without a doctor's excuse, damaging equipment or spoiling parts. If you accumulated a fixed number of points, you would be fired. The plan reinforced the growing feeling that the employees were being "treated like kids." And when it went into effect on September 1, 1979, workers realized it would be used selectively by supervisors against those they didn't like.
"Favoritism, that's the way they run everything in here," says Lois Locklear, a Lumbee Indian and one of the relatively few women in the plant. "It was all this," she continued, touching her nose. "Brown-nosing. If you smiled and made them happy, they didn't care what kind of job you did."
One of the most outspoken critics of the point system, Donny Beck, had joined Mueller in 1976 and was valued as much for his skill on the company's softball team as on the forklift he wheeled around the plant. Impatient, ambitious and in debt, Beck felt hemmed in when he was shifted to a metal-working machine paying $5.05 an hour and holding no promise of advancement. Shortly after the point system commenced, he fell into a bitter argument with Bob Whritenour over an unexcused absence that cost him several points. He had sprained his ankle, he said, and he didn't need an expensive doctor to tell him to stay off his foot for a day. Whritenour would not budge; the points stayed on Beck's record.
In November, 1979, Beck joined Carl "C.W." McDonald and other Mueller workers at the Red Coach Inn to hear a union organizer McDonald had contacted. Estes Riffe, a Steelworker assigned by the AFL-CIO's Industrial Union Department (IUD) to an organizing campaign at a nearby glass factory, told the group how to begin organizing to get a union contract with a set of work rules that weren't handed down or arbitrarily applied by management. He gave them cards to pass out to their friends to authorize a union election. While workers gathered signatures by the dozen (with Beck as the most vocal, open union advocate), the AFL-CIO decided the Cincinnati-based International Molders and Allied Workers Union should have jurisdiction if the election were successful. Mike Black, a Molders organizer, coordinated the campaign and prepped the workers for the company's inevitable retaliation.
Friends of Bob Whritenour say he was shocked to hear the rumors of union cards circulating among his employees. He still won't talk to reporters about the dispute, but his brother Ray, the plant manager, admits they moved the company south partly to get away from a union contract at their Brooklyn factory and that Bob considered it a personal affront that workers would go behind his back for outside help.
The Whritenours quickly hired some outside help of their own, in the form of Elarbee, Clark and Paul, an Atlanta law firm specializing in fighting unions. Supervisors were instructed to interview workers for their attitudes about unions, and the lawyers kept a list with a running total of the pros and cons. Rumors spread that the plant might close if the union won. Bob Whritenour showed both shifts a movie which graphically portrays how a plant that voted in a union went through a violent strike. Workers charge they were repeatedly harassed about their union stance; several say that, as the election approached, they were offered promotions to supervisor positions "for their loyalty."
"Two supervisors came to talk to me the day before the election," recalls Lacy Chavis. "They said the plant will move if the union comes in. Then they said, 'You've got to think about your family's welfare.' I said, 'That's what I'm doing now, thinking about my family's welfare.'" A sheepish grin broke across his face. "Then I told them, 'I'm going to vote for myself, not for that man over there or for the company.'"
Spirits were soaring on election day, February 14, 1980. "We passed out caps with the union on them to people as they came in," C.W. McDonald remembers. "We ran out of them right away. The company was having fits." Late that afternoon, the votes were tallied. When the count reached 70 for the union, the company's personnel manager began crying and told the onlooking workers that Mueller "deserved better treatment." The final count was 89 to 46. Ray Whritenour says his brother was so heartsick he couldn't come to work the next day.
"We fooled them," laughs John Cook. "The supervisors was turning in numbers [of probable union supporters] to the lawyers, but they wasn't telling them how strong we really was. It might have cost them their jobs. We fooled them right up to the last day."
"They were so confident they had us beat they didn't run as mean a campaign as we expected," says McDonald.
Some of the local business leaders were more than a little perturbed that Mueller failed to prevent what Tony Smith, Robeson County's Industrial Development Commission director, calls the "cancer" of unionism from creeping into the area. About the time of the election, Lumberton mayor Furman Biggs and the head of Southern National Bank, Joseph Sandlin, secretly flew to Detroit to visit Bob Whritenour's boss, Harold Marko, the president of Core Indus-
tries, which owns Mueller Steam. The two men suggested that workers were turning to a union because Whritenour and his supervisors projected a Northern, impersonal management style that ignored employees' individual problems. "If they were going to be inflexible, then they might just as well pack their bags and go home," intones Sandlin. The union fight became such "an emotional thing," he explains, that Whritenour took everything personally and lost control of the plant. Now that the union had won, a shrewder approach was necessary.
Whritenour's landslide defeat and the advice from county business leaders apparently led him to design a more deliberate offensive against the union. The idea of accepting the two-to-one vote as an expresssion of the workers' true desires — and sitting down to bargain with them after NLRB certification of the election — seems never to have entered any management mind.
The day after the election, Mueller ran a quarter-page ad in the Robesonian, the county's daily newspaper, announcing that it was "accepting applications for first and second shifts" — a move which union supporters interpreted as a threat to replace them. They say supervisors harangued them that week with threats to shift them to more strenuous jobs, withhold their pay raises, close the plant and give their future employers poor job references. The next week, Whritenour fired another union activist and had his attorney (unsuccessfully) ask the NLRB to invalidate the election for various alleged abuses.
The controversial point system continued in full force. Supervisors began "riding us, watching everything we did for something to give us points on," complains Wanda Campbell, who is still on the job. "They'd follow me to the bathroom, or just stand there watching you do your job. You couldn't get upset, you had to out-think them."
The union began filing what became a long series of "unfair labor practice" charges against Mueller for the alleged threats and the targeted use of the point system against pro-union workers. Meanwhile, Mueller's attorneys filed "exceptions" to the NLRB's certification of the election results, hoping to forestall the day they would face the Molders at the bargaining table. Then on July 29, 1980, the company fired Donny Beck, the softball whiz who had sparked much of the union agitation, for another hotly disputed "unexcused absence."
"The fear definitely picked up in the plant," C.W. McDonald remembers. "A lot of those who had been with us stopped coming to union meetings." The weeks dragged on and despite new orders from the NLRB to stop, company personnel continued to peck away at selected workers.
When Beck made the rounds to find a new job, he ran into a wall of cold stares. Then he heard from a reporter for the Robesonian that his name was on a list being circulated by the Chamber of Commerce. The knowledge of what was happening only made him feel more helpless — and bitter. In September, 1980, in response to union charges, Mueller agreed to pay back wages to two workers it had fired. It also agreed to remove two warnings issued against Beck, but the status of his job remained in limbo. The deterrent value of the back-pay penalties seems minimal: in November, the company laid off 16 more pro-union workers.
In the late fall, three workers — with assistance from Chamber of Commerce personnel — drew up a petition to decertify the union and started collecting a growing list of signatures. "They were tired of waiting," says Beck. The point system, the lay-offs and firings, the endless delays in the NLRB hearing, the moving of workers from shift to shift, job to job — frustration was obviously mounting. "They saw what the company was doing to me and the others," Beck says. "They were scared of what might happen to them and their families."
Frustration was apparently taking its toll on Beck as well. Under circumstances still disputed, he went to see Whritenour and the company attorney and offered information that would give them grounds to challenge the election results. Beck later said he was trying to trick the company into offering him money to lie about the union; then that his claims against the union were true and that he expected and received nothing for his story. Mike Black, the Molders organizer, swears Beck privately apologized to him for betraying the union by giving the company false information. In any case, Beck signed an affidavit saying the union paid him to help organize the plant and also that he told workers if they didn't sign union cards they'd be fired after the union won the election. With that affidavit, the company filed more objections to void the union's victory.
"It's hard to imagine the judge will believe Beck's story," a union official said shortly after the new testimony was finally heard in July, 1982. "It's filled with contradictions. He just didn't come across as credible." At a recent meeting of union supporters, Beck's name brought uniform condemnation. "I never trusted his mouth anyway," said one worker. "He sold us out," another offered. "He just couldn't take the pressure."
In the final months of 1980, more workers signed the anti-union petition, to the delight of Bob Whritenour, who sent out an "employee newsletter" saying the people in "the anti-union movement . . . . adhere to management's wishes." The petition carried no legal authority since so many charges and countercharges were already pending before the NLRB. But workers say supervisors, and in some instances Whritenour himself, pressured them to get the total list of names above 90 percent of the work force. Those who refused to sign, like John Cook, paid a heavy price (see sidebar). Even those union supporters who eventually signed found they too were blacklisted from other jobs when Mueller laid them off.
While some Robesonians used the Chamber's list to snub union activists, others in the community offered their help. The area legal services office defended the fired and laid-off workers' right to receive unemployment compensation, despite company opposition. The staff of a local chapter of the Clergy and Laity Concerned (CALC), a national human-rights organization, interviewed workers and Whritenour, and then issued a report in June, 1981, concluding that "the court proceedings against the company have not stopped management personnel from intimidating employees who are openly pro-union and from creating an environment of fear in the workplace."
"If you look at what Mueller is doing," explains Reverend Mac Legerton, a staff member for Robeson County CALC, "you can see they are pursuing a slow and intentional plan to rid the plant of pro-union people." What's at stake, he believes, is the moral principle of people's right to have their own organization. "Business leaders have the Chamber of Commerce, doctors have their medical associations, lawyers their legal guilds, students their clubs — but laborers are denied their right to form labor organizations. That's the moral hypocrisy that we must challenge and change."
To boost spirits and capitalize on the blatant abuses of the company, the union assigned Bill Patterson to develop a strategy that could turn this moral issue into tangible help for the workers. Patterson discovered that the National Bank of Detroit was chief lender of capital to Core Industries (Mueller's parent company), and that a number of unions in that well-organized city held pension funds in the bank. Soon union officials were firing off letters to the bank, inquiring if their funds were being "used to subsidize Core Industries' illegal union-busting efforts in the South."
CALC and the union contacted national religious leaders previously active in the J.P. Stevens boycott, and soon more letters inundated Core Industries and its friendly banker. All the letter writers received in return a form letter from Core's vice president for finance declaring that "the allegations you refer to in your letter are being made by the union organizing group, not by our employees" and that Mueller "has done a great deal for its employees," especially since "a good number . . . came to the company with no skills and no training of any kind." Workers who saw copies of the form letter were outraged and insulted; the church leaders, unsatisfied and also insulted, began purchasing shares of Core's stock in preparation for its January, 1982, annual meeting.
Recharged and meeting regularly, union activists launched their own newsletter, called the Muellersonian, in the fall of 1981. "It was terrific," beams Ernest McDougald. "They just went wild when they saw our names in there. We'd write about a particular supervisor or the condition of the lunchroom, and a bunch of us would sign the article. That just freaked Bob [Whritenour] out." The paper was part of an upbeat, shop-floor agitation strategy, assisted by union staff, that included wearing stickers with various slogans, circulating petitions and holding rump meetings with supervisors; it successfully raised, and won, specific demands, ranging from replacing a broken microwave oven in the lunchroom to reinstating a fired worker.
The Muellersonian didn't last long, however. On November 26, two uniformed sheriffs deputies entered the plant and served papers on McDougald and several others notifying them that they were being sued for libel by two supervisors. "I have to give them credit," says McDougald. "They were smart to do that. It put fear in people's hearts. That was the beginning of tearing down the second shift. Up to that point, we were 80 percent strong union."
A few months later, Whritenour fired McDougald, supposedly for exceeding his quota of points. Several others from the shift went in rapid succession. And others, like Terry McEachern, were moved from machine to machine. "They wanted me to mess up so they could fire me," he says, "but I wouldn't." Eventually, Mueller laid off the entire shift, claiming that the recession had ruined the flow of new orders. "That wasn't it," McEachern sighs. "The ones they was firing were filing charges against the company, so instead of having any more pile up, they just decided to lay off the whole shift."
By January 12, 1982 — the day of Core's stockholders meeting — president Harold Marko had refused a request from Detroit Catholic Bishop Thomas Gumbleton for a meeting with a curt letter saying it would not "serve any good purpose." An order of nuns received similar treatment. The Detroit AFL-CIO listed 12 sizable funds its member unions had on deposit with the National Bank of Detroit — apparently enough clout to get them a meeting with the bankers. That meeting led to another between Marko, Detroit AFL-CIO president Tom Turner and Molders president Carl Studenroth. Marko had finally been personally drawn into the controversy, but the company's anti-union position held firm.
So when 75 stockholders gathered in an elegant room at the bank for Core's annual meeting, the bishop, the nuns and the AFL-CIO were all there, along with a squad of reporters. The church and union officials invoked the memory of what had happened to J.P. Stevens when it stubbornly refused to heed the wishes of its workers and the mandates of the courts. They nominated an assistant to the Lutheran bishop of Michigan to the board of directors and read a letter from John Cook's wife Ann, who recounted "the mental and emotional hardship our family has suffered at the hands of Mueller Steam."
When Core president Marko finally spoke, it was in a high, strained voice. "You know," he said, "these [employees] are our people, and I genuinely feel for these people. These are my people. We employ them." Despite the audible groans at his paternalistic statements, Marko continued, describing how the company had contracts with unions at some of its other plants and how the "relatively unsophisticated people" in Lumberton had been tricked by the union, as one of their paid agents now had confessed. He contended that Mueller, in contrast, had been consistently open and reasonable. "We have a dispute and what do we do? We go to the courts. We have told the people there, if you want a union there, let's have an honest election and if you certify the union, I swear to you that within five minutes we'll be at the bargaining table bargaining in good faith."
The months drone on in Robeson County. More workers have been laid off, and the pressure on those that remain escalates. "A woman walked off the job this morning at 9:30," John Cook said during a late July interview. "A man sent word back that he's not coming back here from his vacation. They weren't union. They were on the fence. But they were good workers. They couldn't take it. You just can't do your job in there with the obsolete equipment they have and how they watch you. They don't believe in improving nothing. They don't care how hard it is on the operator. As long as they can get something out of it, they don't worry."
At this writing in mid-August, the hourly workforce has dropped to about 85, and some speculate the plant will close before it signs a union contract. Publicly, the company says it won't close "unless it becomes impossible to do business here," and it reiterates Marko's claims about the bogus election and the union being outsiders unwelcome by "our people." Privately, Whritenour has told some pro-union workers and their community supporters that the Chamber of Commerce is pressuring him to take a hard line against signing with the union. He is willing, he says, to hire back those who were laid off, with a substantial portion of back pay, if they get the union to abandon its legal claim to representation.
Some union supporters say they should make no deals, that Whritenour knows he's on the losing end of a strong legal case, and that more pressure should be applied to get him to sign a contract. Whritenour is in a precarious position, adds Reverend Legerton of CALC, because even some business leaders are embarrassed about the mistreatment of Mueller workers. "I think if they see this case bringing negative national publicity to Robeson County or if they see it causing other kinds of organizing in the county, I believe they will do what they can to get Mueller Steam to settle somehow, to negotiate with the union. Already the union has brought together the three races more than any other institution in this county, including the church. They've helped people in this county overcome racism and shown how the three races have to come together from the same economic level and work for their common interest. All we need is a little more help."
The plea for help is a common theme expressed by workers interviewed. At a public hearing sponsored by CALC in June, they told their stories and asked others in the county to write the Chamber of Commerce and Whritenour's boss in Detroit. The local paper downplayed the event, but the Robeson County Black Caucus, embarrassed by complaints at the hearing that it hasn't spoken out on behalf of the Mueller workers, has stepped into the fray; its role rapidly escalated to fill the vacuum left by the absence over the past months of union staff on the scene. Composed of the established leadership in civic and religious affairs, business and politics, the Black Caucus moves with considerable caution; or, as one of the black workers, who compose about half of the remaining two dozen strong union activists, put it, "They've sure taken their good time in doing something for us. I'm still wondering whose side they are on."
After meeting with management and workers, the caucus is now pushing Whritenour's deal of jobs and back pay in exchange for no union. A number of laid-off workers, who face being "blacklisted" from jobs in the area while the company delays union recognition for another two-to-three years, are ready to hear more details of a settlement.
The Molders are reluctant to discuss their plans, but some observers feel if the company pledges in writing to sign a contract if the union wins a new election, everyone will be happy — for the moment at least. Mueller Steam would obviously pour more resources and better talent into fighting the union in a second election; whether the union can win an even rougher campaign is another question.
"If I go back in there, I'm going to go after it like I did before," vows C.W. McDonald, the soft-spoken leader who contacted the first organizer three years ago and who, like many others laid-off, can now only find seasonal work at the tobacco warehouses. "The company thinks they'll have people believing they won't need a union. But I think we can do it again."
Regardless of the next steps, an enthusiastic and stubborn group of Robesonians is obviously putting its mark on this unique county. McDonald, for example, worked on the winning primary election campaign of Reverend Sidney Locks, the minister at the church where the union held several meetings and a leader of the progressive wing of the Black Caucus. Locks' nomination for the North Carolina House of Representatives represents a triumph for what one Indian calls "a populist-oriented" coalition of the black and Lumbee communities that holds significant promise.
And then there's Ernest McDougald, who is applying his organizing skills — in between earning what he can as a house painter — to get better attention for his neighborhood from the city. "Change is going to come because of people like us," he says. "Getting the union elected shows others that you can organize, that you don't have to walk around with your head down. You don't have to let the man tell you how it is." The list goes on and on. Maybe it should end with John Cook. And Ann Cook. "John used to be the most prejudiced person I know," she says. "He'd treat blacks he worked with just rotten. But he's learned through this that they're as good as he is. We've learned a lot through this. We've been cheated and treated dirty. I don't think people around here really understand what's been going on. The rich man is up there, that's where he wants to stay and he wants to keep you down. He'll do it anyway he has to, to keep you obliged."
"They say we're poor and that's true," adds John. "They say we're uneducated and that's true, too. But we shouldn't be treated like dogs. I used to look up to other people, but then I came to the conclusion that they aren't any better than I am. And the ones I maybe looked down on, they're the ones who will stand up with me. I'm sticking with this union, I'm not giving in."
Tags
Bob Hall is the founding editor of Southern Exposure, a longtime editor of the magazine, and the former executive director of the Institute for Southern Studies.