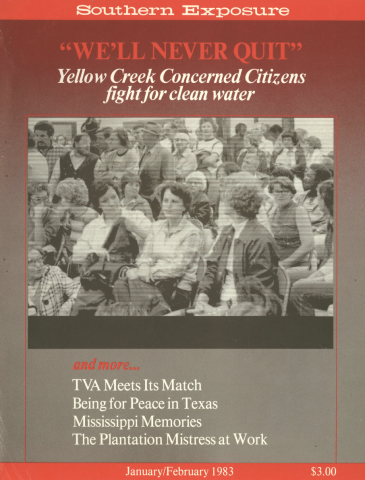 This article originally appeared in Southern Exposure Vol. 11 No. 1, "'We'll Never Quit:' Yellow Creek Concerned Citizens fight for clean water." Find more from that issue here.
Comer Robinson is a humble man who insists on understating his personal accomplishments. A lifetime resident of the Knoxville area, he retired from his job at a church in 1977 and "fished from April to August, sometimes twice a day." But, as he says, "I like to stay busy at all times doing something," so he got a job in the Senior Aides program of Knoxville's Community Action Committee, working with children in kindergartens. He also became active in the Knoxville chapter of the National Council of Senior Citizens.
In 1979, he recalls, "Bill Troy came to a meeting and started talking about the Tennessee Valley Energy Coalition. I got concerned about it right then because of my own electric bills." Robinson's combined light, gas and water and sewage bills often come to over $165 a month, a weighty sum he has to pay from Social Security and his small income from Senior Aides.
"I was already aware electric rates were a real problem for people," he says. "The way I saw it, they're building these new plants and the light bills keep going up. It was clear to me that construction was the problem."
So Robinson became a member of the Tennessee Valley Energy Coalition (TVEC), a broad-based ratepayer coalition fighting the soaring electric rates of the Tennessee Valley Authority (TVA). As he reflects, "I started doing what little bit I could, which wasn't much, but after all I was doing something" (to which Bill Troy responds, "You did a lot"). Robinson circulated petitions opposing the Construction Work in Progress charges TVA was tacking onto its rates to churches, to the schools he was working in and also to folks lined up at the courthouse to sign up for Christmas baskets — low- and fixed-income people like himself who could not pay their massive power bills. Soon Robinson had accounted for a hefty chunk of the signatures TVEC gathered.
Now a TVEC board member, Robinson feels the group gives the average consumer the chance to fight unfair power bills. "I used to hear people complaining, but it was just a small group, like you and I talking. We could complain about it, but there was no one to get a group together to do anything. As a group we can get someplace, and I think we have with TVEC."
Robinson smilingly adds: "United we stand, but otherwise we're in bad shape."
Comer Robinson is but one of many dedicated folks who have joined the Tennessee Valley Energy Coalition since its founding in 1979. TVEC defines itself as "the first areawide citizens' organization to stand up for the average consumer against the soaring price of energy." Based primarily in the Knoxville area but including folks from throughout the TVA region, the group weds both individuals and organizations in fighting TVA and its skyrocketing electric bills.
Taking on TVA is no easy effort. Founded in 1933, this massive federal agency supplies power to around seven million people through 160 municipal and cooperative electric systems in Alabama, Georgia, Kentucky, Mississippi, North Carolina, Tennessee and Virginia. Besides providing power, the agency runs an array of programs in recreation, flood control, industrial development and the like — all popular items of political pork for politicians in these seven states.
Since it is a federal agency, none of these states has any effective regulatory control over TVA; no public service commissions regulate its actions as they do in areas served by private utilities. Furthermore, since it supplies power through distributors rather than directly to ratepayers, the consumer does not deal with TVA directly. What little oversight of the agency does exist is parceled out among various congressional committees, many headed by politicians who have reaped the rewards of TVA pork-barrel projects. In essence, the operations of this $4-billion-a-year agency rest in the hands of a three-
member board of directors appointed by the president and approved by the Senate. The consumer's only effective weapon against TVA is to mobilize public opposition to its actions.
TVEC has tried to do just that by organizing several key constituencies — senior citizens, organized labor, environmentalists and community organizations. Members have testified before Congress and the TVA board, passed out petitions, marched through the streets of Knoxville — in short, taken every opportunity to publicize their complaints against TVA and gain support for their proposed reforms.
Their work has paid off: TVEC has produced a steady stream of ratepayer victories and opened up the traditionally secretive agency to unprecedented public scrutiny and pressure. "I think TVEC has done a wonderful job of speaking up for consumers," says newly elected president Lucille Thornburgh. "TVA knows we're watching them, and that's worth something."
The Origins of TVEC
At the center of much of TVEC's work has been Bill Troy, the group's director. A 41-year-old East Tennessee native, Troy has been fighting TVA for nearly 10 years. He recalls the slow path that led to TVEC's formation.
"In the early '70s, a group of us in Knoxville started surveying the most important local issues. There were a variety of energy and environmentally related matters going on — all focused on TVA. We found they were committed to the largest nuclear program in the country, which few people knew at that point. Because of our Appalachian contacts, we found out that TVA was almost singlehandedly responsible for strip mining in Appalachia. Many different issues focused on this giant agency headquartered here in town. And, aside from Jim Branscome of the Mountain Eagle, hardly anybody had ever really taken them on about anything. We decided to try it."
In 1974, they organized the East Tennessee Energy Group to deal with the impact of the energy crisis on low-income and working-class people. The group's major target was TVA — particularly its massive nuclear construction program. Convinced that nuclear power would be cheap and that energy demand would flourish in the valley as it had through the 1960s, the agency in the early 1970s planned a massive construction program of completing 17 nuclear reactors by the 1990s, at a cost of $6.8 billion.
The energy group enjoyed modest success, particularly in raising public awareness about the implications of this construction schedule. But, as early member Bob Allen laughingly recalls, the energy group was, for the most part, "a broad-based group of about 12 people." TVA rates had not started skyrocketing, and it was hard to sustain organizing efforts. After a few years, the energy group became dormant.
These conditions changed dramatically. Says Troy: "In 1979, what we had predicted all along began to happen: the interest costs on TVA's borrowing got so huge that TVA could no longer hide its rate increases." The increases quickly angered valley residents, who were unaccustomed to TVA rate hikes. They consumed half again as much electricity as the average American, and over 50 percent of them heated with electricity, so these constant rate increases gouged their pocketbooks, particularly in winter.
TVA was also facing immense public pressure. Journalist Jim Branscome had forced the TVA board to open its meetings to the public. Save Our Cumberland Mountains (SOCM) was challenging strip mining. Various anti-nuclear organizations were opposing the massive construction program. These and other efforts combined with ratepayer dissatisfaction to make TVA the hottest political issue in the valley.
The agency itself was in a period of transition. President Jimmy Carter appointed alternative energy enthusiast David Freeman and like-minded Richard Freeman (no relation) to the TVA board. The Freemans started promoting innovative alternative energy and conservation programs within the agency, but they received substantial opposition from the pro-growth, pro-power plant, pro-construction forces of the agency's power supply division and its allies amongst the cities and electric cooperatives to whom the agency supplied power.
Glaringly absent among the powerful influences on the board was the voice of the average ratepayer. In 1979, the first steps were taken to make that voice heard throughout the valley.
"The Citizen Labor Energy Coalition held a regional meeting on energy issues in Atlanta in December, 1978," recalls Troy, "and folks came back here determined to do something around TVA. We called a meeting at the University of Tennessee in January, 1979, and about 40 people showed up. It was a broader group of people than had ever gotten together around electric rates — anti-nuke and clean-energy activists, senior citizens, community organizers, SOCM and various church people.
"TVEC was created that day. We agreed we were all concerned about the impact of rising energy costs on moderate-, low- and fixed-income people in the Tennessee Valley. We decided to go after TVA rates as a broad-based coalition.
"There were three new things about this. First, we were going to focus on electric rates — not on environmental issues or the nuclear program, but on electric rates. Second, we were going to look at it strictly from a cost basis, as a pocketbook issue. Third, we were going to try to broaden our forces beyond the traditional energy community."
The central issue confronting TVEC remained getting TVA's construction program under control. By 1979, TVA had borrowed $11 billion to finance its reactors, and paying off its interest costs was the major cause of the soaring rates. "In a sense everything we did was aimed at stopping some of the construction," recalls Troy. "We tried to point out very clearly that expensive, centralized generating capacity was increasingly unnecessary and injurious to ratepayers and had to be stopped."
The group consciously avoided attacking nuclear power. "We've never been an anti-nuclear organization per se," says Troy. "We've always said that if they were burning sunflower seeds in those plants, people still couldn't afford it."
The group slowly started building support. Troy, then working for the Southern Appalachian Ministry, spearheaded these efforts. "I'd always been interested in this stuff," he recalls. "But I also saw it as a chance to build a progressive organization which could get people from various constituencies and both races — people as different as environmentalists and labor people — working together. That's been an interesting part of the whole experience. One board member will say, 'I never really knew any labor people.' And the black folks don't hang around anybody from the Sierra Club. It builds good experience."
Troy quickly found some sympathetic supporters. Oren Nichols, a 72-year-old retired teacher, was the president of the Knoxville chapter of the National Council of Senior Citizens when Troy first sought support for the newly formed coalition. He quickly became a TVEC activist.
"Bill and I would visit families and find out their problems," he says. "They told us how they'd made a living all the way back, and they hadn't had much difficulty, but now TVA had raised things too high. They had it planned how they would live, but now the living has just flown away from them and they were kinda disrupted."
Others hailed from totally different constituencies. Bob Allen, a 33-year-old University of Tennessee planning student, describes himself as "the environmental extremist at large" of the organization. He got involved with the energy group out of concern over environmental issues like the Tellico Dam and the Clinch River Breeder Reactor, but he strongly supported the grassroots approach of fighting around the issue of cost. In fact, he feels TVEC's efforts mesh with his interests well: "We see environmentally safe energy as being compatible with low-cost energy — particularly in conservation and alternative energy programs."
TVEC also garnered support from Knoxville's sizable labor movement and from community-based organizations in Knoxville and the surrounding rural area. SOCM played a valuable role in helping the organization get off the ground. With this diverse support lined up, the group was ready to tackle the mammoth TVA bureaucracy.
TVEC Begins
TVEC's first public exposure was testifying at a Senate subcommittee hearing on TVA chaired by Tennessee Senator Jim Sasser. In April, 1979, it hosted a conference on TVA rates and energy growth which attracted 75 people and focused increased attention on TVA's massive construction program. Still, TVEC needed a forum in which it could win some ratepayer victories. It soon found one.
In 1978, Congress passed the Public Utilities Review Practices Act (PURPA), which required state regulatory agencies to hold hearings on how their states' utilities were handling rate reforms like winter shutoff procedures and conservation-oriented rate structures. Under the bill, TVA was required to hold hearings in its service territory.
TVA's rates had not been significantly restructured since the agency's beginning. Under the influence of the valley's pro-construction forces, the agency had maintained a declining block rate pricing system in which the per-unit price of electricity declined as customers consumed more electricity, which encouraged wasteful consumption of electricity and the construction of more power plants. There were other inequities which consumers had never had the chance to challenge.
Sensitive to the mounting anger of valley ratepayers, the TVA board wanted the public to feel they could fully participate in the PURPA hearings and so designed an elaborate hearing process. They also hired a team of electricity rate experts to advise them on rate issues; among them was George Sterzinger, who had previously helped the energy group.
These moves played right into the coalition's hands. Troy — now working full-time for the coalition — worked with Sterzinger to lay out some basic consumer-oriented rate reforms. "We also tried to get large numbers of people behind our reforms," he says, "by emphasizing that the reforms would make rates more equal."
The coalition finally stressed three major reforms. One proposed changes in the existing cost-of-service methodology, which discriminated against residential ratepayers. A more important reform was eliminating the declining block rate system in favor of a conservation-oriented pricing scheme.
The third demand was especially innovative. The coalition recommended that the lower costs of TVA's hydroelectric plants be factored into the first 500 kilowatt-hours of consumption per month, except during the winter when they would apply to the first 2,000 kilowatt-hours, thus helping keep down mounting heating costs. The resulting lowered rate would serve as a "lifeline" rate — a reduced rate for the block of power essential to each customer, like lights and appliances.
Armed with these arguments, Troy talked to more than 25 groups between September, 1979, and March, 1980, encouraging them to participate in the Knoxville PURPA hearing planned for March 18, 1980. He found that people "were hot about electric rates" and received widespread support for the coalition's goals.
Still, TVA rate hearings were a new thing, and "We went down there on March 18 and waited to see if anybody would show up," says Troy. In fact, more than 200 people overflowed the tiny hearing room as 14 witnesses told TVA how hard it was to pay their electric bills. "It was a great success," says Troy. "It's really the way we built TVEC."
Though it took until April, 1981, most of TVEC's proposed reforms became TVA policy. TVA eliminated declining block rates, made its cost-of-service methodology more equitable to residential ratepayers and implemented a revised form of the lifeline rates TVEC advocated — the first substantive changes in TVA's rates in 50 years.
Until March, 1980, the coalition had been a loose-knit group. It now formalized its structure. Says Bill Troy: "One month after the hearing we invited everybody who had been there and a number of other people to come to an organizing meeting. We adopted a simple set of principles: people would join the coalition for $5 or less, and organizations would affiliate for particular actions. An elected board of directors would be in charge. In December, 1980, we had our first formal TVEC meeting. We elected a board representing all our active constituencies: senior citizens, community organizations, environmentalists and organized labor. I was made the director."
Soon the organization raised funds, expanded its staff and started spending more time on organizing. TVEC members became familiar faces around TVA board meetings, often testifying against the agency's ever-more-frequent rate hikes. Recalls Troy: "The issues were so hot you could come to the office planning to do one thing, and the phone would ring and you just had to drop everything for a week. It was such a roller coaster, it was unreal. We just tried to keep up with everything."
When Senator Howard Baker set up hearings on TVA in February, 1981, TVEC was eager to testify. But several days before the hearing, Baker's staff released a list of the scheduled witnesses — and TVEC wasn't on it.
"I was furious," says Troy. "I called Ed Gregory at the Nashville Tennessean and told him the story. The next day he reported that we'd been left out."
Baker's staff immediately back-tracked, and the next day's headline read: "Baker Says It's All A Mistake." Troy laughingly adds: "Jim Range, the Baker staffer who was setting the whole thing up and who I had been trying to reach for two months, called me up and talked for 45 minutes; 'It was all a big mistake, Mr. Troy.'"
Oren Nichols testified for TVEC: "In my little speech I told them that a lot of people didn't want to go live in high-rise apartments and whatnot, that they wanted to live on their own, and for that reason we wanted TVA's rates to be more reasonable." He attracted extensive press coverage because, Troy laughingly recalls, "He was the only real person there."
TVEC was able to air its demands that TVA back off on some of its proposed power plants. The hearing also allowed the group to raise another important issue: Construction Work in Progress (CWIP).
CWIP is an accounting technique whereby customers pay the interest on money borrowed for plant construction before the plant begins operation. Because customers pay for construction even if the plants aren't needed, CWIP generally removes a utility's incentive to keep from overbuilding. It is particularly inequitable for senior citizens, who pay for plants from which they never receive any benefit.
TVA had already charged its customers over $1 billion in CWIP the previous three years; TVEC's research showed the charges had raised bills about 10 percent. "It was enough to really get people mad," says Troy, "even though it was complicated to explain." To simplify matters, TVEC renamed CWIP; the campaign focused on "Unfair Interest Charges."
TVEC members like Comer Robinson netted over 16,000 signatures on petitions opposing CWIP charges. The group filed a lawsuit against TVA and, on March 17, about 75 TVEC members handed the petitions to the TVA board, then marched to the Federal Building, where they delivered copies to representatives of Senators Howard Baker and Jim Sasser and Representative John Duncan. At this writing, TVEC is waiting for Judge Tom Wiseman to decide if TVA can charge CWIP to its customers.
Power Plants Postponed
All these campaigns relate back to one central issue: construction. By January, 1982, five of TVA's 17 planned reactors were operating, but TVA had quietly deferred construction on four units in June, 1980, and costs were skyrocketing. From $7 billion in the early '70s, the price tag for all 17 plants had risen to $18 billion in 1981 and to $33 billion by January, 1982.
TVA already had 50 percent more generating capacity than it needed, and demand had slumped by five percent during 1981. Studies showed that TVA had enough capacity on hand to meet its needs without completing any more plants before 1990. TVEC had long questioned the need for the eight plants still being constructed; they were now joined by groups ranging from TVA's industrial customers to the League of Women Voters.
Heatedly opposing any further deferrals were the local and state politicians and TVA distributors who had traditionally supported the construction program. Building trades unions also vociferously backed completing the plants.
Despite this powerful opposition, TVA had no real choice: the indebtedness from the construction program was driving it towards bankruptcy. In February, 1982, by a two-to-one vote (Reagan appointee Chili Dean opposed the move), the board cancelled the four plants deferred in 1980, deferred four more under construction and left the remaining four on a slowed-down construction schedule.
Naturally, TVEC members claim a lot of the credit for this action. "I think we were instrumental in closing down the construction," says Lucille Thornburgh. But the decision left a bitter aftertaste: more than 11,000 TVA employees were laid off, worsening an already severe unemployment crisis in the region.
Bill Troy reflects, "We had a lot of discussion about pushing construction cancellations as a solution, but we finally did because there was no other way. We just tried to make people understand that it was TVA's poor planning that put the workers and the region in the bind they're in now.
"The analogy to Vietnam came back to me over and over. There was an instinctive reaction: if you've started something, you ought to finish it. But if we said it should never have been started in the first place, people would agree with us. It's difficult for people to see it as a victory, and in a lot of ways it's not. But it had to be done, or there would have been ruin right down the road."
The move will slow down rate increases, but the agency still predicts 4-to-l0-percent hikes for each of the next 10 years. The fate of the four reactors still being built remains unclear.
Bob Allen perhaps best summarizes TVEC's role in this crucial step: "If anything, we don't deserve the credit or the blame. It was something they had to do. But we raised some crucial questions. When it came to the point where they had to move towards cancellation, it was easier for them because of the political climate we had created through the rate issues."
TVEC Faces the Future
TVEC has grown steadily over the years. There are now several hundred members as well as a number of organizations which affiliate with the group for particular campaigns. The staff has now expanded to include a researcher, Paul DeLeon, organizers Eldora Parr and Mike Nolan, and office manager Melody Reeves. TVEC has also set up a canvassing operation which is both raising funds and broadening public support for TVEC's activities.
More importantly, TVEC's leadership is now well seasoned on often murky energy issues. "You have to be very conscious not to let people get overwhelmed," says Troy, "when the issues are so complicated that only people who are paid to do it can spend the time to master them. I think we've come along enough that the staff doesn't play the decisive role they used to." A fall retreat gave the board, staff and members a weekend to sit down and chart out some future courses. And in December, 1982, the board decided to concentrate on several major projects for the upcoming year: halting natural gas decontrol, monitoring TVA's distributors and continuing to be a watchdog over TVA's policies.
"We're very interested in gas control — not taking the price controls off natural gas," says Lucille Thornburgh. The group demonstrated its feelings with a mid-December rally opposing the city gas service's recent 30 percent rate hike. "Gas prices will be a problem for years to come," says Troy. Since many inner-city Tennesseans heat with gas, the issue is almost as important to consumers as electric rates, particularly in winter.
Halting gas increases would involve a different sort of work for TVEC, because the major arena for stopping gas decontrol is Congress. But, says Troy, "We could play an important role in the national stop-decontrol campaign because the Tennessee congressional delegation is so important to that effort."
TVEC has also launched a program aimed at TVA's distributors and their occasionally questionable practices. Says Troy, "We know of one Tennessee distributor which changed its late billing date in the middle of last winter so that everybody living on government checks automatically ended up paying the late fee."
TVEC is organizing local groups to monitor their distributors' practices, to democratize decision making in these publicly controlled institutions and to make sure the distributors offer their customers the multitude of energy-saving programs TVA makes available. "Nobody's ever really tackled that stuff before," says Troy.
"The distributors are the strongest interest group in TVA affairs," says Troy. "They see themselves as the representatives of the ratepayers, but on every major issue they've been on the other side." For instance, still angry over the plant cancellations, the distributors got the PURPA hearings reopened in May, 1982. Because the TVA board did not wish to rankle them further, the distributors got the agency to drop the modified lifeline program proposed by TVEC.
Of course, the main focus of TVEC remains TVA itself. Rate issues like CWIP will keep the group busy, but TVEC has a long-range concern about TVA: implementing some form of citizen oversight. "TVA doesn't have a boss," says Lucille Thornburgh. "When I worked at TVA 40 years ago, the board sat up in their ivory tower, and nobody ever knew what they were going to do. Now I think they listen, but we still need more public participation in the decision making up there."
Bob Allen is writing his thesis on public oversight of TVA. "TVA has become nothing more than a power company," he says. "The original vision of TVA was a lot broader than that. How do you make TVA the grassroots democracy it was supposed to be? We're trying to think of a way we can get TVA back to its original mission."
Bill Troy feels TVA has made some strides towards reclaiming their progressive mission. "They have signed the largest Clean Air Act settlement in history, they are at least making an attempt to clean up the water around here, and they have the largest energy conservation program in the country. There are criticisms you can make of these programs, but we think they deserve support." Still, he feels citizen oversight of TVA's action is necessary.
One turning point will be the appointment of a new TVA director to replace David Freeman in 1984. "We view Reagan's opportunity to appoint a second person to the three-member board as a real threat," says Allen, "so we're trying to figure out how to get a handle on that appointment."
However, the main focus for TVEC is building increased support. "After all, that 'C' is for coalition," stresses Thornburgh. Others feel there are still many folks who could benefit from TVEC's help. "It's not just elderly people like me," says Comer Robinson. "Some of these youngsters are in the same category I am: they got a limited income — some are trying to work and some are not working at all — but they still got to use electricity, gas or something, and they can't pay those rates like they are now."
In fact, if anything at all can characterize the interests of both TVEC staff and members, it is this deep sense of concern for the people of the region — and for each other. There is an unusual sense of respect and friendship between members and staff, as evidenced in this exchange between Comer Robinson and Bill Troy.
"It's an honor to spend time with you, Mr. Troy."
"It's an honor for me to spend time with you. Somebody with all the experience you've got in this community and somebody that cares about people as much as you do, you're the kind of people I want to hang around with."
Oren Nichols, an early TVEC member who's been forced to curtail some of his activities temporarily due to a recent heart operation, sums up what TVEC has meant for many of its members: "I'm still part of the coalition; I wouldn't be anything else. I've seen a lot of groups, but I've never found a better organization in all my doins. It's something for us older people to be part of, and I feel we're just investing in the future for young people."
Tags
Jim Overton, a board director and former staff member of the Institute for Southern Studies, is publisher of the North Carolina Independent. (1986)
Jim Overton is associate publisher of The North Carolina Independent, a progressive statewide newspaper — and a veteran of six-and- a-half-years with Southern Exposure. (1985)
Jim Overton is a staff member of the Institute for Southern Studies. (1983)
Jim Overton, a founding member of the Kudzu Alliance, directs the Energy Project of the Institute for Southern Studies. (1979)