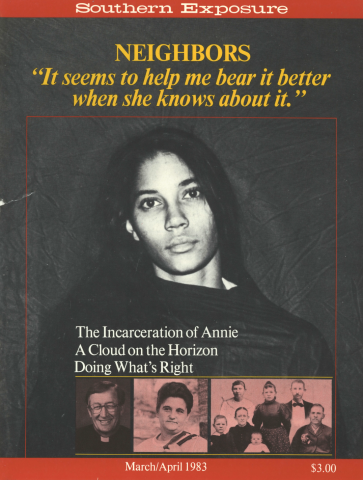 This article originally appeared in Southern Exposure Vol. 11 No. 2, "Neighbors." Find more from that issue here.
He's the kind of guy everyone knows by his nickname: Boomer. And for the past 10 years he's devoted his energy to an organization that's also known best by its nickname: SOCM (pronounced "sock em").
Together, Charles L. Winfrey (Boomer) and Save Our Cumberland Mountains (SOCM) have waged an impressive battle with an array of corporate giants that, if they had their way, would scalp the east Tennessee mountains for minerals and leave the mountain people with environmental disaster and nary a penny to compensate. (See box on page 36 for a list of SOCM victories.)
Tackling corporations is expensive work, and money is scarce in the hills and hollers of east Tennessee. So SOCM's 600 member-families have had to sustain an intensive fundraising program over the years.
Grassroots fundraising is the kind of work that can either make or break an organization. A lot of folks look on it as drudge work, a necessary evil — and that kind of attitude is usually reflected in the proceeds.
Not so with SOCM. Their enthusiasm puts the fun in fundraising. In the past year they've had five benefit concerts in Knoxville (it's kind of hard to get a crowd in SOCM's hometown, Jacksboro — population 1,620); a champagne party in Washington, DC; and who-knows-how-many raffles, auctions, bake sales and good old-fashioned passers of the hat — all with an infectious kind of cheer that makes you want to dig a little deeper each time.
SOCM's most recent extravaganza will surely go down in fundraising history as Most Creative, and probably Longest Running, as well. On September 15, 1982, Boomer set his canoe in the Clinch River and began paddling his way to the southern tip of Florida — a 1,900-mile, four-month odyssey to raise money for SOCM.
By the time Boomer pushed off, he had received pledges ranging from a few cents to a dollar per mile totaling over $10,000. When he made his final pullout at Flamingo, Florida, on January 24, another $1,600 had been pledged.
The trip, a life-long dream for Boomer, was his farewell gift to SOCM. He didn't have any Big Plan for the future; he just sensed it was time to paddle on.
And so he did, keeping a daily journal which he summarized from time to time and sent back to his friends at SOCM, who typed from his sometimes illegible handwriting and mailed copies to all the folks who made pledges to Boomer and SOCM.
Portions of Boomer's journal are excerpted here, with our hearty congratulations for a job well done.
Proceeds from this article — writers' and photographers' fees — are being donated to SOCM. If you'd like to make a contribution, send it to SOCM, PO Box 451, Jacksboro, TN 37757.
I would have enjoyed the sendoff if I hadn't been so embarrassed. As it is, I was glad to get away. I planned to stop at the river landing a mile downstream to repack, but a TV crew was set up on the bridge waiting on me so I had to push on down.
The fourth day I paddled down to the dam and my tiny canoe was allowed to pass through the Melton Hill locks. I had hoped to do this but wasn't sure they would let me. The lock-keeper was very friendly and said they would admit a bathtub to the locks if someone paddled one through.
After the dam, I entered an entirely different world, "The Land of Mordor." The Department of Energy property on the right bank became frightful rather than charming: creek mouths with gates across to keep boats out, an island with very sick-looking trees and rip-rap along both shores. More mysterious facilities began to pop up until past the Highway 58 bridge where suddenly a fence lined the right bank with "Hazardous Area No Trespassing" signs. There was also a "Contaminated Materials" sign at one spot. This in itself was bad enough, but popping out of the bank to the river every so often along that terrible shore were water discharge pipes. I thought to myself, "What are these fools doing? People downstream drink the water, bathe in it, cook with it!" I guess maybe there are advantages to dumping radioactive waste into the Clinch River: catch a fish — you don't have to do anything but eat it, it's already cooked.
At last I found myself heading up the Little Tennessee River, on Tellico Lake. This part of the journey had many mixed emotions for me. Tellico is a beautiful lake, and has very clean, clear water. However, it is also rather sterile. I saw few birds, fewer fish jumping up in the evenings, no lakeside homes or houseboats and little boat traffic.
I did see where once lay the ancient Cherokee town of Toqua, the old Indian village Echota, the drowned original site of Fort Loudon and the place where once an island sat in the middle of the river that I camped on many times. To me the Little Tom Tellico Lake is a lake of ghosts, my own included.
If Tellico Lake was clear, Lake Calderwood can best be described as crystalline. The water was so pure you could see bottom at six feet. The scenery was really something, too, as the lake is completely encircled by mountains on all sides. I paddled up the mouth of Slickrock Creek, tumbling down out of Joyce Kilmer-Slickrock Wilderness. The water was even clearer than on the lake. Where the creek drops into the lake over a falls, a plunge basin has formed that is at least a 10- or 12-foot drop, and the bottom looks like it's only inches away from you.
Tribulations
I began my upstream journey on the Little Tennessee River on September 25, which was supposed to be a rest day, but I couldn't really relax with the Little T facing me. I actually made four miles on Fontana Lake, portaged a quarter-mile around the Narrows and made over three additional miles by six p.m. Although I was out of the boat, wading the riverbed and dragging the boat behind me two-thirds of the time, I was encouraged by the fact that the most difficult stretch had gone so quickly.
The next day I learned the folly of my optimistic thinking. I woke up to a cold foggy morning — too cold to be in the water and I couldn't see the bottom well enough without sunshine. I waited at camp until 11:30 a.m., when the sun finally burned off the fog, then began, hoping to reach civilization by the end of the day.
Around the first bend my heart dropped. The longest, meanest, rockiest looking shoal I had seen yet, including the Narrows. Out of the canoe and away we go. The shoal seemed to last forever, and utterly exhausted me. When I finally got to the pool at the top, the pool turned out to be every bit of 100-feet long, followed by another series of shoals and ledges for another half-mile.
And so it went. Each day I tired a little sooner as the river began to take its toll. The first two days I made three-and-a-half miles each day; the third, two-and-a-half miles; the fourth, two miles. I had ascended the river from Tennessee almost as far upstream as one could go, but I was too physically wrecked to bask in this glory for long. The rope burn on my shoulder, the cuts and skinned places on my legs and arms, the fact that my wet suit was coming apart — all told me I was not winning this battle with the river. I guess I should have realized that it is nature's way that things go downstream, not up.
What I had feared for days finally happened late one day as I was tiring. I slipped on a loose rock, went all the way under in fairly deep water, and lost control of my precious cargo. Walt Disney could have made a nice animated cartoon out of my wild tripping, stumbling chase back downstream to catch my runaway canoe. Fortunately, it lodged on a gravel bar instead of a sharp rock, taking on a little water but not overturning. It was the hardest 150 feet I have ever traveled, trudging back upstream over those same ledges I had so painfully negotiated just 30 minutes before.
I finally took leave of the Little Tennessee River at mile 107, the last 20 miles being upstream from the lake. I was fortunate and found an 80-year-old black man, Charlie Chavis, who gave me a lift to Mountain City, Georgia, only three miles from where I'm to begin the whitewater run on the Chattahoochee River to Atlanta.
I hear from folks here that the Chattahoochee is very low right now — lots of shale and rocks. I simply smile when told that, knowing that going downhill in a riverbed has to be better than going up, whether I'm paddling, wading or crawling.
The Chattahoocheee River
On Friday, October 8, my whitewater guide, Whitey Hitchock, showed up at Clayton and after stopping for supplies, we headed down to Helen, Georgia, and the Chattahoochee River, my next home for over a week.
The upper stretches were relatively calm, banks lined with laurel and rhododendron, the river fast but with few rapids and shoals. It reminded me of the flat sections of the Clear Fork River or Daddy's Creek back on the Cumberland Plateau. We camped for the night after a short day, covering about six miles.
The next day included the most serious whitewater I expect to see on this entire trip. Smith Island Rapid was the first, a technical Class II-III rapid which we both did okay after portaging some of the heavier gear to lighten the boats. After a quick stop for ice and water at the Wildewood Shop, we headed on down to Buck-Shoals, a very long class II-III rapid with many rocks. This was too long to carry gear around so I ran it fully loaded — a mistake. I hit many rocks, including one that put a nasty dent in the front of the canoe. I felt lucky to get through the rapid without turning over. The next major rapid, Three Ledges, was a piece of cake — we were able to portage gear around the Second and Third Ledges and run with a light load. The final major rapid, the Horseshoe, required a long, sweeping turn as if you were paddling around the closed end of a horseshoe. I cut a little too sharply and met head-on at the end of the rapid with what Whitey named "Slug Rock" for its snail-like appearance. The rock slugged me and dented the brass frontpiece of my canoe, but I made it through upright. We camped at the base of the rapid on a sand bar — a beautiful campsite straight out of Field and Stream.
On Past Atlanta
After a refreshing, if somewhat shocking, reunion with civilization in Atlanta, I embarked on October 18 on the Yellow River at Milstead, southeast of the city. The upper stretches of this little river were similar to parts of the Chattahoochee, often flowing swiftly over rocky bottom with several sets of shoals. An old mill dam at Porterdale, a mill "company town" south of Covington, had to be portaged. After Porterdale, the Yellow settled down to a flat lowland stream running along between mud banks.
Just about the time I was beginning to like the intimacy of this little stream, it flowed into the backwaters of Lake Jackson. Instead of water skiers and huge houseboats and lakeside homes, this lake is dominated by fishing boats, run-down shanties and modest cabins. It's a poor person's lake, the banks lined with black people fishing in the afternoons. Even the boat docks were low-key: no restaurants and gift shops, just ice, bait, tackle and gasoline — the basics.
Darien
The vast, swampy flood plain of the Ocmulgee keeps most development away from its banks. With the exception of Hawkinsville, the towns along the river were merely wide spots in the road, and were all 40 miles or so apart. In between these small towns, no bridges, no communities, no factories. Nothing but miles and miles of swamp and river with the only other humans being an occasional hunter or fisher.
On November 9, I rounded a bend, struggling against an incoming tide (who says water cannot run uphill?) and saw the bluffs of Darien with the tall net booms of shrimp boats tied
up at the docks. Coming down this river like an old-time rafter heightened my imagination, and I could almost envision, there below the Darien bluffs, the masts of ocean-going schooners lying off the wharves for their turn to load up lumber from the Georgia swamps.
As I tied up at a shrimp boat dock and walked up the hill, I knew how it must have felt for back-woods river runners to finally pull their logs into the boom and take off for the sin-filled alleyways of this old-time seaport. Today, however, the taverns and bawdy houses of old Darien are all gone, and the town is merely another quiet, small town with a few stores, a motel or two, a goodly supply of churches, and a city hall. An old fort, a few Victorian houses, one or two beaten-down foundations and some huge live oaks are all that remain of this proud old town; once the economic hub of Georgia, it was destroyed in 1863 by Union soldiers and in 1898 by a hurricane and rebuilt even stronger both times. What finally led to the decline of Darien was the depletion of its lifeblood, those gigantic swamp cypress trees that supplied ship timbers for half the sailing ships of the world.
The Intracoastal Waterway
I had seen no dry land at all since leaving Darien — just miles and miles of sound, sea and tidal marsh. My first dry land turned out to be Fort Frederica National Monument, which allows no camping. So I pushed on, heading for a marked landing a few miles up a creek. By this time, the tide was coming out, and on this creek, it was coming out very strongly. Two hours later and after dark, I realized that I had made only half the distance to the landing. I gave up and made the return trip to Frederica in less than 35 minutes without paddling. I had been attempting to ascend an up-tide in the dark.
Now, I am not in the habit of breaking rules, but this was serious — no dry land for miles, me in a canoe on a waterway after dark with no running lights, and it was getting windy, chilly and damp. Fort Frederica looked awfully good. It was low tide, so the point below the fort was covered by a 10-foot high steep wall covered with slick mud, impossible to climb with gear. I stood at the bottom on some oysters and, after several misses, managed to hook my throw rope bag around a sign post at the top of the bank and pull myself up. The sign said, "No landing." I proceeded to tie off the canoe to the no-landing sign, work myself back down and up again with a sleeping bag and blanket. After pausing to proclaim Fort Frederica officially stormed and occupied by the Appalachian Navy, I bedded down on the 400-year-old dust of the powder magazine in the fort.
I was later told that this fort is supposed to be haunted, but I was unmolested throughout the night. I rose with the sun and pushed off before James Watt, our Secretary of the Interior, could mount a counter-attack.
The Flying Dutchman
The little town of St. Marys was definitely a port in a storm for me. The town is one of those places where time stands still — old houses everywhere, shrimp trawlers and sailboats docked along the waterfront, which is still the center of town, and Segle's Bar filled with rowdy sailors from nearby Kings Bay Naval Base. An old town made somewhat famous by the "Gasoline Alley" comic strips and the Toonerville Trolley — I couldn't resist the temptation to slow up my pace for a look around.
My stay in St. Marys was made more pleasant by running into the "Flying Dutchman," Hasse Timp. Now Hasse is somewhat of a throwback, even in a throwback town like St. Marys. He lives down by the pier on a 40-foot sailboat, drives a beatup clunker around town and appears to be considered somewhat of a flake and ne'er-do-well by the more sophisticated citizenry. Except for those of the citizenry who happen to own sailboats or make a living from the sea — Hasse can sail anything with a mast and a sheet of sail-cloth under any conditions. When he holds forth at the dock or among the sailors down at Segle's, people listen. My insane canoe trip down the Waterway caught the Dutchman's fancy, so I ended up landing a free berth aboard the "Zephyros," his schooner/home.
Suwannee River
At Big Shores on the Suwanee River, I met the first other canoeists I have seen since northern Georgia, a group from the Outward Bound program. The group consisted of a husband and wife counselor team escorting 10 young women from Florida juvenile detention programs on a special course to learn cooperation and self-sufficiency. The kids, some from very rocky home lives, all seemed worth the trouble.
I ate supper with this group a couple of days later when we met again, and shared my precious pumpkin bread with these dangerous criminals. The kids inhaled this treat with gusto. I believe someone even ate the tinfoil.
At White Springs I resupplied. This town was a mineral springs resort before the Civil War and still retains much of this ante-bellum flavor. Right below town is the Stephen Foster Memorial. The Suwanee, you remember, is Stephen Foster's river, even if he never set eyes upon it. The state of Florida has shown its appreciation at this lovely memorial, which features spacious grounds, various exhibits and the world's largest tubular bells in a tower chiming Foster melodies all day long. It was sort of nice, I must admit, to paddle the three miles below White Springs with "My Old Kentucky Home," "Jeannie With The Light Brown Hair" and "Way Down Upon the Suwanee River" ringing in my ears.
The Suwanee region is cursed and blessed much like the Cumberland Mountains. Only the wealth in the ground here is phosphate instead of coal. While in White Springs, I noticed an article which brought me back home in a hurry. AMAX Phosphate, Inc., has received a federal grant to determine the feasibility of mining under and through streams for phosphate. It seems the only thing in their way is the Florida state laws which forbid mining in streams. AMAX is currently attempting to get the state to waive or change the law for this special environmental project, which will be further south, near the Peace River. Maybe it's time for a Florida SOCM. They could call it "Save Our Coastal Marshes."
Manatee Springs State Park has the largest spring on the Suwanee, pouring a sizable river out of the ground to join the main stream. The park, which is one of the nicest I've seen, is overrun with hundreds of red squirrels and various birds, but the gentle manatee seldom appears there anymore.
This fascinating sea mammal, which spends its days floating around on the surface of the rivers munching the water weeds which grow all over Florida, is fast becoming extinct. The irony of the manatee is that its greatest value has been in eating the troublesome water hyacinth and other weeds which make motorboating and even canoeing impossible in some areas of Florida, while it is the motorboat that is speeding the animal to extinction. The slow-moving "sea cow" is often run over and injured by propeller's. I hope to see some manatees even if I have to change my route somewhat.
I had planned to paddle out in the Gulf and down to the mouth of the Withlachoochee River, where I would catch a ride over to Daytona Beach for a short Christmas break. But another front blew in from the west, bringing chill northerly winds. Now, the problem with paddling a canoe on the west coast of Florida when the wind is blowing from the west should be obvious. There just ain't no place to hide! The wind pushes up good-sized swells which break across the shallow mud flats. I remembered the experiences on the fairly well-sheltered Atlantic Intracoastal Waterway, confirmed that the forecast was for several more days of heavy northwest winds, and chose discretion over valor.
Ed Bendure, my friend from Daytona Beach, responded eagerly, making the 150-mile drive over to pick me and my noble craft up and take us over to Daytona Beach a few days early for a nice Christmas rest.
The river beckons onward, but I've got to admit, it's nice to be under a roof, surrounded by good friends, Santa Clauses, packages and Christmas cookies. The river will still be there on December 26.
Peace River
After a week in touristy Daytona, I was itching to get started. The day after Christmas, Ed, Karen, their friend Roger and I were back on the river again. This time it is called the Peace. And at times this river has been everything but peaceful. In the 1800s this was Seminole Country and witnessed bloodshed between Indian and white. Today the upper part of the Peace River Valley is being torn apart by phosphate mines, some of which put our little ole strip pits to shame.
Because southern Florida seldom gets all that cold, the lower Peace River belongs to reptiles — alligators by the dozen, although not as large as the ones I saw in Georgia; and mud turtles and cooters [terrapins] seemed to be holding sunbathing conventions on every log. There was also an abundance of something else I've not seen much of: snakes. Every willow tree or deadfall along the bank seemed to hold a snake. One logjam held seven snakes, four of which were the dangerous cottonmouth moccasin.
We paddled a mile or so up Charley Apopka Creek to spend the evening and part of the next morning digging for fossils. This creek is famous for fossil shark's teeth, and we found them numerous. We also found fossil fragments of a prehistoric turtle shell which must have been 10 feet in length, as well as teeth belonging to the extinct three-toed ancestor of the horse. My training in geology got the better of me for awhile, and the rest of the group had to practically drag me out of the creek to head on downstream.
Finally we reached the end of the Peace River and the head of Charlotte Harbor, a huge bay opening out into the Gulf of Mexico. As I learned earlier, saltwater paddling is hard work and not a little unnerving. Ocean canoeing has its rewards, however. At one point, we were treated to a porpoise show. One did a "Flipper" act and leaped completely out of the water and began tailwalking in front of our canoes.
One of the most positive notes of this part of the trip was the people we met along the way. On our first night on salt water, among the mangroves, campsites were hard to find. We were invited to camp in the back yard of a couple originally from Jackson, Tennessee — Danny and Maude Lewis. The next night we were again invited to pitch tents in a back yard by a retired couple, who insisted upon cooking breakfast the next morning. The following night, when we were wet and cold from an all-day downpour, some mullet fishers invited us into their camp, shared their ice and provisions, and overwhelmed us with generosity, in spite of the fact that fishing is poor and they are all struggling to pay their bills.
1,904 Miles
From Sanibell Island I paddled through the heart of the southern Florida tourist mecca at Fort Myers and Naples. The best way to describe the area is overpopulated and over-expensive, but it is endowed with great natural beauty. I saw the rare, endangered manatee, received an escort of playful porpoises across Naples Bay, camped on deserted beaches and wandered through the maze of Ten Thousand Islands and the mangrove wilderness of the Everglades National Park. Ironically, the worst weather I encountered on the entire trip was the final week in the Everglades Wilderness, where I couldn't check into a convenient motel.
My reception at Flamingo was small and intimate, as I wanted it. I paddled alone down that final canal and had just checked in at the Ranger station when my friends from SOCM pulled up in their car. We popped some champagne, ate some lunch and then loaded up the car and headed for the Keys for a couple days of rest.
Now that the trip is over, I am beginning to look back upon my experiences and take stock. I paddled through 1,705 miles of the South along rivers, lakes, oceans and bays; I portaged, walked and hiked another 199 miles. I had been trying to discover something — both internally and externally — and though I didn't find answers to the major questions of life, I was able to think a lot, to ask more questions and to make some decisions.
When we travel these days, zipping along interstates in our little cars, eating at Howard Johnson's and staying at Holiday Inns, we lose touch with what travel should be all about. Throughout this journey, the scenic beauty, the fascinating wildlife and our abuse of these treasures were widespread and unforgettable. But the one thing I'll remember above all is the people I met — the people who live and work along this waterway were almost to a person kind, hospitable and encouraging. The experiences I will treasure longest are of these new friends and of the people back home who helped me along the way with their support and their prayers. A truly unforgettable experience.