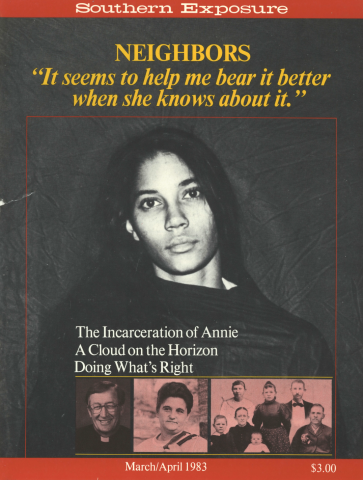 This article originally appeared in Southern Exposure Vol. 11 No. 2, "Neighbors." Find more from that issue here.
During the summer of 1982, after spending 15 years trying to understand slavery through written records, I got my first chance to share in literally uncovering a segment of black history.
Working with archaeologists from North Carolina's Department of Cultural Resources, I served as Historical Coordinator for a field school in Pettigrew State Park south of Albemarle Sound. We recruited a dozen students from Duke University and Durham Technical Institute and worked for six weeks on the state-owned Somerset Place Plantation near Creswell.
When we arrived in July, Route 64l eading to Roanoke Island was being resurfaced to prepare for the four-hundredth anniversary of "the Lost Colony" in 1984. Migrant workers and men from the local prison farm were beginning to harvest truckloads of vegetables from the huge agribusiness operations which cover the flat, rich land of Washington County. At nearby First Colony Farms, engineers and businesspeople were laying plans for the world's largest peat-methanol conversion plant (see page 66). And at Somerset Place, site manager Bill Edwards and his staff were explaining the plantation to a steady flow of summer tourists.
As at other plantations throughout the South, the buildings, artifacts and stories of Somerset's white proprietors have been attentively preserved, while the historical presence of a large black community has long been overlooked or minimized. Where a small sign proclaims "slave quarters," there is only vacant space. Yet when Edmund Ruffin visited the plantation at its height in 1839 and described it as a model of Southern agriculture for the readers of his Farmer's Register, it was built around a community of over 200 workers, more than 40 of whom had specific manufacturing skills. (In addition, there were over 60 black children and more than a dozen elderly blacks.) According to the Washington County census of the following year, out of 299 persons living at Somerset Place, 281 — 94 percent of the inhabitants — were slaves.
The descendants of several of these families still return to Somerset for reunions. Scores of relatives from as far away as Chicago and Philadelphia gather at the public campsite where their ancestors once lived. They park their cars within feet of the buried hearths where slaves once cooked and ate, and they play softball in abroad field their forebears cleared by hand.
But for years the physical links between past and present have been almost invisible. The last three houses in what was once a long row of cabins were destroyed in 1929. Several years later a WPA work crew graded a road over the long line of foundations. Only the outlines of the slave "chapel" and "hospital" near the Big House have been preserved for tourists. Here we unloaded the equipment for our dig. We spent our first week reviewing everything we knew about the site, in order to decide exactly where to start our excavation.
The broad peninsula between Albemarle and Pamlico Sound hasn't always been open farm land. Four hundred years ago, when Raleigh's English colony reached the Outer Banks, a dense swamp forest of cypress and white cedar covered the region. The Roanoke Indians had a settlement called Tramaskecoc at the head of the Alligator River, and artifacts suggest they visited the huge, elliptical "bay lake" at the center of the swamp to spear fish along its 17-mile shoreline. When European colonization forced coastal tribes inland, knowledge of the lake disappeared until it was rediscovered in the 1750s by a hunter named Phelps. He gave his name to the lake and laid claim to the adjacent shore, but 30 years later the so-called East Dismal Swamp still remained undisturbed.
In the 1780s, as in the 1980s,America's aggressive business elites were looking for ways to expand and consolidate their wealth. Up and down the eastern seaboard they established new industries, extended overseas trade and speculated in western land. And as property near the coastal ports increased in value, these investors looked again at remaining pockets of uncleared land for "development." Engineers in England were demonstrating that well-placed canals could drain valuable swamplands while providing steady irrigation and cheap transportation. Why not do the same thing in America by exploiting enslaved labor?
The trade bringing African workers to the new Southern states reopened on a large scale after the Revolution, and planters from the Potomac to the Ashley River near Charleston sought tax exemptions for putting their slaves to work on canals that would be "public improvements." In South Carolina's low country, planters had their workers extend the system of dikes and ditches used to cultivate rice. In Virginia, George Washington returned to his scheme of surveying a canal through the Great Dismal Swamp to connect North Carolina's landlocked Albemarle district to the port of Norfolk. And in Edenton, North Carolina, Josiah Collins joined with two other investors to form the Lake Company, hoping to develop the swampland around Lake Phelps. The key to the Lake Company's plan would be a six-mile drainage canal, and the key to the canal scheme would be importing African labor before North Carolina acted to close the slave trade.
Collins promptly outfitted the 80-ton brig Camden for a voyage to Africa under Captain Richard Grinald, and according to North Carolina port records the vessel arrived in Edenton on June 10, 1786. Authorities valued the 80 Africans aboard — mostly young men between the ages of 20 and 25 — at nearly £3,000. Once Collins paid the import duty on these slaves, he transported them 35 miles south into the swamp beside Lake Phelps. For the next three years, under the supervision of Scottish engineer Thomas Trotter, they labored to dig a huge canal some 30 feet wide and 20 feet deep. It would carry freshwater from Lake Phelps six miles north to the Scuppernong River; heavy locks would harness the waterpower of the 16-foot drop to sea level.
The working conditions in the isolated, insect-ridden swamp are hard to imagine. According to Collins family lore, the workers were confined in huge cages while they dug, passing the dirt out through the bars. Malaria was common, so the white investors stayed away from the area; they realized that the Africans had a comparative resistance to the disease. We now know that the sickle-shaped cells found in the bloodstreams of people indigenous to a malarious climate limit their susceptibility to this mosquito-borne illness.
Though planters did not understand the cause, they exploited this genetic advantage among the Africans mercilessly. Ebenezer Pettigrew, the son of a minister who controlled land on the lake, wrote: "Negroes are a troublesome property, and unless well managed, an expensive one, but they are indispensable in this unhealthy and laborious country, for these long canals, that are all important in rendering our swamplands valuable, must be dug by them or not at all."
Africans who survived the three-year canal digging ordeal were then set to work clearing the rich swamp, cutting huge cypress trees that were centuries old and eight or 10 feet thick at the base. Logs were dragged to the canal, where workers had built a sawmill run by waterpower. By 1790 Collins and his associates were shipping large quantities of cypress planks from the mouth of the Scuppernong, and by 1795 so much sawdust had accumulated in the canal that the slaves were obliged to shovel it out so the barges could move freely.
Cleared swampland was planted in rice and then in corn; a gristmill was constructed beside the canal; and latera huge four-story barn was erected for storing grain and loading barges. By 1803 there were 125 workers living beside the lake. They had carved a plantation from the swampy wilderness, and for the next six decades their children and grandchildren would continue to extend drainage canals, clear fields and cultivate crops.
The story of the plantation's owners has been well documented. Josiah Collins bought out his partners and named the. estate Somerset Place before his death in 1819. His son reaped the profits of the 65,000-acre farm for two decades, and by the time he died in 1839 a handsome house was under construction overlooking the lake and the original "Collins Canal." This became the countryresidence of Josiah Collins III and his family, until the presence of Union troops in the area prompted him to march half his slave force west to Hillsborough during the Civil War.
Local whites, some sympathetic to the Union and others resentful of grinding their corn at the Collins Mill, ransacked the Big House before the war's end. But after 1865 many worked the Collins land as sharecroppers, along with blacks, living in surviving slave cabins. During the New Deal the estate was acquired by the Resettlement Administration as Scuppernong Farms and parcelled out as homesteads to poor whites from the mountains. The Big House became a recreation center, but later it was acquired by the state, declared an historic site by the National Trust and then carefully restored at public expense.
West of the big house, where the row of slave cabins once stood along the lake shore, we saw only a smooth lawn and a field of weeds extending to the public campsite in the distance. Here was the haystack in which we would be searching for telltale needles from the black past. There would be no refreshing view of Lake Phelps beside us. In the past decade it had receded several hundred yards behind a thick screen of new foliage.
Using a surveyor's transit, we divided the site into rows of 40-feetby-60-feet operational units, each subdivided into 24 10-feet-by-10-feetsquares, that could be used to chart our work. With this grid of nails and string established westward from the Collins Canal, the question remained: where to dig? An earlier field school had excavated several structures very close to the lake. One had a large hearth of the sort used for cooking and may well have served as an early commissary. (An 1839 inventory lists three separate kitchens as well as a tailor shop.) Were there slave dwellings nearby?
To begin answering this question we used three very different documents. An 1821 surveyor's map depicted a neat row of five buildings along the edge of a compound facing the lake. A turn-of-the-century photograph of the Big House and lake front showed the location of several trees and structures that have long since disappeared. And a recent aerial photo revealed a faint rectangle of discolored grass in the line where one of the compound buildings could have stood in 1821. That was the place to sink our shovels.
Positive results came within hours. Modern landscaping had systematically scraped away the last century of artifactual evidence, but this meant that the remains from slavery times were just below the surface. Scarcely six inches down we hit the expanse of laid brick that had been sapping moisture from the grass above. Careful digging with trowels revealed it to be a large chimney base, more than six feet wide. This hearth faced west and apparently dated from the early nineteenth century; we had found the east end of a compound building. But which one? And how large was it? Who had used this hearth, and for what? Could other structures in the row be found, and would they be similar?
Opening several new excavations quares uncovered the brick support piers around the edge of the building and gave us its overall size and shape. It had been a 20-feet-by-20-feet structure with a second chimney on the west end. The size of these chimney bases and the extent of the brick rubble outside the building where these chimneys had collapsed suggested a two-level dwelling with fireplaces above and below at each end. Here was the outline of a traditional "I-house" — a two-story dwelling at least two rooms long, but only one room deep, with the front entrance on the long side facing Lake Phelps. Such houses have their roots in English folk culture, and I-houses, many of them 20-feet-by-40-feet with opposing double-shoulder (or two-story) chimneys, have been commonplace in North Carolina since the late eighteenth century.
With long metal probes we explored the adjacent ground systematically for similar configurations. Whenever we struck brick we plotted it on a graph-paper map and marked each spot with a yellow margarine cup (high technology!) until a pattern began to emerge. Then we opened oblong trenches, stripping off the earth layer by layer, recording all the features, retrieving and cataloguing all the artifacts for later study. Within a month we had unearthed the foundations for two more identical I-houses of the same dimensions with a chimney at each end.
The six hearths varied slightly in detail, but they could all have been laid by the same bricklayer. Perhaps it was Joe Welcome, Josiah Collins's slave mason who built similar chimneys for the Edenton Academy in 1800 and later lived at Somerset. Under each hearth we discovered a layer of long-lastingcy press planks, laid to give the heavy chimney a solid footing in the deep mud. Clearly we had found three of the buildings on the 1821 map, and the cypress planking suggested they might well have been built several decades earlier when the lake front was still wet and swampy.
Would there be more of these substantial buildings as we moved west down the row? The seventh hearth faced west, but so did the next and the next, indicating that we had reached the smaller, single-hearthed dwellings built after 1821. These houses had been roughly 18-feet-by-l8-feet with a fireplace on the east end. The chimney bases had been well protected by the WPA road, so once we had gauged the 38-foot distance from one hearth to the next, it took only one exciting afternoon to proceed down the row with a tape measure and a probe, locating the bricks for two dozen successive dwellings!
We had to pinpoint at least one building and had located 27. But each discovery only whetted our curiosity about who lived in these homes and what their lives were like. Some answers will come from the careful analysis of artifacts now underway, but we quickly learned that written records of the plantation could also be highly suggestive. For example, an early overseer passed on a recollection of the original African slaves:
At night they would begin to sing their native songs, and in a short while would become so wrought up that, utterly oblivious to the danger involved, they would grasp their bundles of personal effects, swing them on their shoulders, and setting their faces toward Africa, would march down into the water [of the lake] singing as they marched till recalled to their senses only by the drowning of some of the party. The owners lost a number of them in this way, and finally had to stop the evening singing.
Written documents varied from extensive published sources, such as the detailed article about the plantation which Edmund Ruffin printed in his Farmer's Register in 1839, to mere slips of paper. An 1827purchase order, for example, lists among "Things wanted at Lake Phelps" a 100-pound bar of iron, five inches wide and three-eights of an inch thick, "to be used for spades." Some of the rusted metal links and hinges we found were no doubt hammered from such a bar by Fed, the Somerset blacksmith.
One written document proved uniquely valuable in giving meaning and substance to our work in the field. It was a "List of Famileys, taken1843," dividing up more than 280 slaves by dwelling unit. The first group lived in "No. 1 Big Cabbin," the second in "2 Above," the third in "3 Below," the next in "4 Above," and so on through "12 Above." But the thirteenth group was listed in a "Single Cabbin," and so were the remaining 22 units.
Here was a possible solution to our puzzle. Apparently the three two-story structures we had located were known as "big cabbins," and each had been divided into four separate one-room apartments, two "Below" and two "Above." Beyond them stretched the row of smaller, newer "single cabbins," numbering 23 by 1843.
Our initial excavations suggested that construction probably varied little from building to building (row housing for slaves set the pattern for the region's later mill villages). But the list made clear that occupancy was far from uniform, since families varied in size. The single cabins averaged 8.6 inhabitants, but one contained only four persons while another housed 15. In the three big cabins,36 people lived in the six downstairs units, while 47 people lived in the six slightly larger rooms above.
Using the 1843 list and others which give ages and family relationships, it is possible to piece together a surprisingly clear picture of exactly who was living in the three excavated big cabins in January, 1843. For example, the first downstairs room was occupied by Polly Trotter, age 45, and seven numbers of her family. Her mother was Old Sucky (71) who lived upstairs in 2A with six other people. Thomas Trotter, the white engineer who supervised the canal work, may have been Polly's father, her husband's father or their initial owner. With Polly lived her three sons, Luke (19), Armistead (17) and Cyrus (16). Polly's daughter Lydia (21) and her husband Providance (22) also lived in the small room with their young children, Sophronia and Ary.
All these people once sat around the first hearth that we uncovered. With painstaking genealogy, other household units can be described and linked, as whole family trees take root and grow again inside the foundations we began to uncover with our trowels. For the first time we now have access to numerous slave house sites and to specific names of residents, building by building, on the same plantation. Four students from the dig are already at work on related research projects, and site manager Bill Edwards has applied for funds to begin interpreting early findings to visitors.
Hopefully, work will go on again at Somerset in some future year, and additional plantation sites elsewhere will be excavated. Analysis of material artifacts and written records from separate locations will allow us to compare and contrast different slavery experiences in greater detail. Already such projects have helped archaeologist Leland Ferguson prove that blacks often made their own pottery, using modified African techniques, and our work at Somerset helps confirm this hypothesis.
Similar insights may be just beneath the surface for careful teams of researchers. As I sifted through dirt for artifacts, I was reminded that the Wolof word dega, pronounced like "digger" in English, means "to understand" in West Africa. Slaves brought to Somerset and elsewhere gave the similar-sounding English verb, to dig, a meaning of their own. Among African-Americans, "dig" has always meant "comprehend" or "appreciate," and last summer we learned for ourselves that to start to dig is to begin to understand.
Tags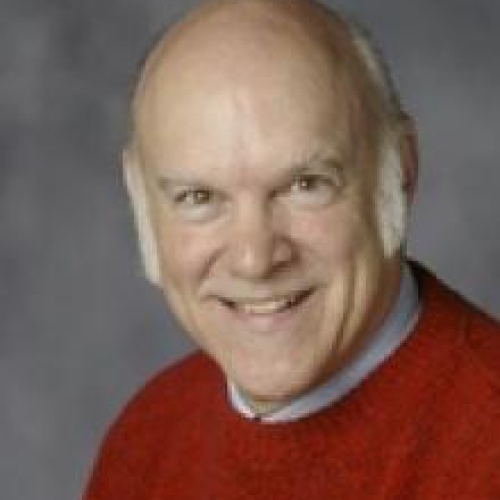 Peter H. Wood is an emeritus professor of history at Duke University in Durham, North Carolina. He is co-author of the U.S. history survey text, "Created Equal," now in its fifth edition.