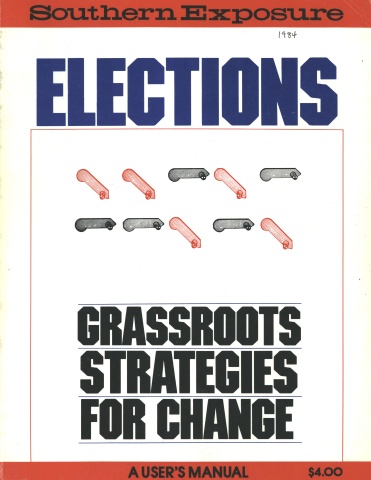 This article originally appeared in Southern Exposure Vol. 12 No. 1, "Elections: Grassroots Strategies for Change." Find more from that issue here.
Halifax County, VA — Cora Lee Mosley Tucker was born to poor parents here during the early 1940s. Her father died when she was three, leaving her mother to raise nine children alone. "My mother was a strong, independent woman. She did all kinds of work to take care of us, even sharecropping. And she never received welfare help," she says.
At age 17, Cora Lee married Clarence Tucker. They sharecropped for a while, then moved to the city for Clarence to work a municipal job. Cora, a mother of seven by then, remained a fulltime homemaker, exhibiting the same traits she admired in her own mother.
Life as a sharecropper left Tucker ill-prepared for the segregation and discrimination she met in town. "I'd see blacks walking down the street eating food purchased from white restaurants where they could not sit down," she recalls bitterly.
While working as a sewing machine operator for several years at Sales Knitting in nearby South Boston, Tucker met resistance when she tried to bring in a workers' union. "The people were afraid," she says. "The bosses even paid a woman to trail me to the bathroom to prevent me from discussing the union." This negative experience helped awaken her politically.
Then, when she quit because of three different back operations, Tucker found that the company illegally did not provide worker's compensation for its employees. After confronting the administrators, they gave her forms to complete and told her not to tell the other workers. Tucker knew this was wrong. "I took my compensation stubs down to the plant and showed all the girls," she says.
After that, Tucker became active in local politics. In fact, she hasn't missed a county commission board meeting in 14 years. She met Congressman Parren Mitchell in 1975, and complained to him about the lack of progress in Halifax County. He urged her to survey her neighbors about their economic needs. To do this, Tucker required an organization's assistance. The local NAACP wasn't interested, so she founded the Citizens for a Better America (CBA), and became its president. The first members were mostly young people, blacks and whites, from Tucker's neighborhood.
Completing the survey in 1977, CBA then launched a voter registration campaign. "The young people were really involved," Tucker recalls. "We registered 1,400 people in two weeks. All but 12 went to the polls."
In 1981, Tucker was a write-in candidate for governor under the auspices of the Fifth District Voters League. Both black and white politicians attacked and chastised her. On election day, she suffered a damaging blow. Tucker explains: "There were no pencils at the polls until 10 a.m. Once a person left a booth, he wasn't allowed back in.
"I don't know exactly how many votes I received statewide, but the 200 votes I received in Halifax represented the same number by which the governor lost our county. That's exciting," she states, then adds emphatically that she would do it again. "Yes. Blacks are important to this state. If we cannot win, we can determine who loses. So let them start losing!"
Since that election, Tucker has suffered such harassments as slashed car tires and bomb threats for her political activities. The worst, a chemical dousing of her bed, sent Tucker to the hospital with a bout of nerves and shock, but she is back in the political arena.
Last year, CBA, whose organizing efforts have brought many positive changes to Halifax County, became one of about 100 civil and human rights groups who united to form Virginia Action. Throughout some early problems, Tucker, its president, remained optimistic about the statewide coalition's future: "This is really an unprecedented coalition. . . . Now our organizations will be coordinating efforts to secure our fundamental rights as citizens."
That optimism has paid off: the coalition has successfully lobbied for voting, workers', and property rights, and against toxic wastes and discrimination in the public schools.
Black Virginians can be optimistic, too. Cora Lee Tucker is committed to working for their civil rights. Her membership in dozens of social change organizations reflects her commitment: "I will keep on fighting for what I believe is right."
Tags
Calvin Miller is a professor of political science at Virginia State University, Petersburg, VA. (1984)