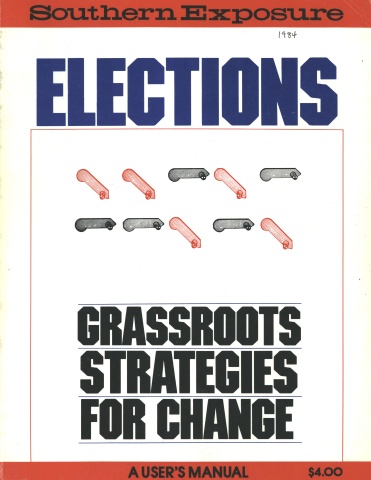 This article originally appeared in Southern Exposure Vol. 12 No. 1, "Elections: Grassroots Strategies for Change." Find more from that issue here.
West Virginia's progressives have had remarkable success at the ballot box, but coalitions are active in other states as well. Since 1980, a significant change has been taking place in Florida politics.
When Richard Stone ran for the U.S. Senate in 1974, he courted the senior citizen and labor vote and barely won. Six years later, both groups claimed they had been betrayed. According to Max Serchunk, president of the Florida Council of Senior Citizens, "Senior citizens, who often cannot afford the astronomical costs of health care, counted on Senator Stone to represent us on national health insurance, but Stone double-crossed us."
Meanwhile, in 1978, progressive activists in Palm Beach County had founded the Florida Consumers Federation (FCF), and that organization began to build a broad-based coalition to increase citizen participation in economic and political decision-making. Stone's votes against emergency fuel assistance, his attacks on social security and other programs important to senior citizens, and his Big Oil backing made him a natural target for labor, senior, and low-income constituencies; he was also the catalyst needed to fuse the new organization's coalition together.
Consumers Federation affiliates came together and formed the Committee for the Early Retirement of Senator Stone. The campaign theme was Stone's insensitivity to his constituents and his image as a puppet of corporate interests. Hundreds of thousands of leaflets exposing his votes were printed. At the bottom of each was the slogan, "Florida Needs a Senator With Heart . . . Not Stone."
Flying squadrons of pickets showed up wherever Stone spoke. Eventually, he stopped releasing his schedule publicly, but the coalition to stop Stone discovered that the senator was holding a $100 per person fundraiser at the plush Diplomat Hotel in Hollywood on June 8, 1980. The committee called for a demonstration nearby, and more than 3,000 union members, senior citizens, civil-rights activists, and consumer activists responded. Busloads arrived from as far as 300 miles away to oppose Stone's re-election. A film made of the demonstration was soon shown to over 100,000 voters at all the major condominiums in Palm Beach and Broward Counties and at union and retiree meetings across Florida.
Stone was narrowly defeated in Florida's 1980 Democratic primary; coalition politics seemed to work.
After the victory of the Heart Not Stone campaign, the Florida Consumers Federation explored the possibility of creating an ongoing political action committee to elect progressives to public office. FCF was a natural organization to initiate such a program. It had 57 affiliates, representing industrial and building trades unions, feminist groups, senior citizen organizations, civil-rights groups, large condominium and mobile home associations, and community groups. By 1981, FCF had an active door-to-door canvass on issues such as utility rates in many parts of Florida: every evening, dozens of professionally trained canvassers took FCF's message into neighborhoods across the state.
FCF board member and Palm Beach County AFL-CIO president Jerry Millican successfully argued that instead of going statewide immediately, the organization should target Palm Beach County as a pilot project area. Palm Beach was notorious for electing Republicans and other right-wing candidates.
Other board members liked Millican's plans, and also felt that targeting races in one county would allow FCF to concentrate its resources more effectively. They created a coalition-based political action committee (PAC) named Citizens Coalition for Responsible Government (CCRG) and registered it with both state and federal election officials. The new PAC recruited and ran candidates who represented the interests of the FCF coalition on a wide variety of progressive issues.
Karen Clarke, executive director of FCF, explains: "Too many times we find too few sympathetic ears when we lobby our issues before the state legislature and county and municipal commissions. This pilot project will allow us to elect our own kind to office."
CCRG's first step was to hire a nationally recognized campaign consultant to direct all the campaigns, selecting Gary Nordlinger on the basis of his successful underdog campaigns for progressives in Oregon, Wyoming, Colorado, Maryland, Virginia, and West Virginia. CCRG felt it was important that their consultant have experience working with the labor movement and other progressive organizations. It was also very important that the consultant train the coalition's leadership in campaign skills so that CCRG would be less dependent on outside experts in the future.
The second important step for CCRG was to organize training for Consumers Federation affiliates. The Midwest Academy of Chicago, a center of the Citizen Action network of which FCF is a part, conducted a three-day training workshop in Palm Beach County, at which affiliates improved their skills in linking issues and electoral projects.
After Nordlinger's first official meeting with the coalition in March of 1982, CCRG recruited and interviewed possible candidates. Five candidates were selected, and after an initial review, Nordlinger gave the coalition candidates a 30 percent chance of winning any of the races. CCRG members decided then that even if the coalition lost all five races in Palm Beach County, but made a good showing, it would begin to gain the attention of elected officials.
Nordlinger trained all the candidates and their CCRG-provided managers in fundraising and other fundamental campaign techniques. CCRG made it very clear to all the candidates that it would run the campaigns and make the decisions.
CCRG raised $20,000 in seed money through contributions from the political action funds of local building trades unions. A fundraising committee raised $10,000 more within two weeks and later developed a full funding plan using techniques such as targeted direct mail to FCF affiliates, volunteer condominium canvassing, and various grassroots money-raising events.
The emphasis of the coalition's strategy was on a grassroots campaign: up to seven personal contacts were made with each voter. Additionally, each campaign delivered up to five pieces of literature to each voter in the county. Two of these leafletting activities, done the last two Saturdays before the election, took 300 and 600 volunteers, respectively. Other coalition activities included a phone bank with a paid staff of 30, a 25,000-piece mailing to all black registered voters, and a 70,000-piece mailing to all Democrats and independents over the age of 65.
FCF ran its regular door-to-door issues canvass in 38 targeted precincts. After having homeowners sign petitions on utility rates and "right-to-know" legislation, the canvassers gave a pitch for the CCRG candidate in that precinct. Canvassers also noted how voters were leaning in the campaign. A 7,000-piece mailing to all who appeared undecided arrived just before the election.
Overall, the coalition used more than a thousand volunteers and distributed more than 250,000 pieces of literature. FCF canvass director Jan Santere remembers, "It was great. Most voters said this was the first time they were able to identify candidates with issues that had important meaning."
CCRG had felt that one or two victories and a good showing in the other races would be fantastic. In fact, it won all but one of the races!
Coalition candidate Steve Press, a former Legal Services attorney, won a state House seat with 60 percent of the vote. Coalition candidate Ed Healey won another House seat by defeating an incumbent who had strong backing from real estate developers, the American Medical Association, and other special interests. Both hired FCF staffers as legislative aides.
Nancy Pullam, running for state House, was the only coalition candidate who didn't win. Facing a 10-year incumbent who was also chairperson of the Palm Beach County Legislative Delegation, she was outspent seven to one.
For county commission, coalition candidate Ken Spillias beat long-time incumbent Frank Foster in two heated primaries, and then went on to beat the Republican candidate in the general election, in all cases by overwhelming margins. Foster had raised over $100,000 for his campaign, more than six times the amount available to Spillias.
For U.S. Congress, the coalition supported Brad Culverson in both the primary and the general election. Palm Beach County amounts to half of the Twelfth District, and CCRG limited its efforts to that area. Culverson won in the primary, but lost in the general election. However, in the targeted area he outran his opponent by 5,000 votes, pointing both to the success of the CCRG work and to the need to expand the coalition's work into other areas.
The Florida Consumers Federation does plan to expand its program statewide. It has opened offices with full-time staff and canvass operations in Tampa, Fort Lauderdale, and the greater Miami region. Together with environmentalists and the labor movement, FCF (and its political arm, the Citizens Coalition) is currently planning for a statewide ballot initiative set for the November 1984 election. The initiative would establish an Environmental Bill of Rights. Collecting more than 400,000 signatures to get on the ballot and then beating the corporate campaign will certainly be a major test for Citizen Action's Florida coalition, the Florida Consumers Federation.
Tags
Andrew R. Banks is a labor educator at Florida International University, assistant to the president of the South Florida AFL-CIO, and a director of the Florida Consumers Federation. (1984)