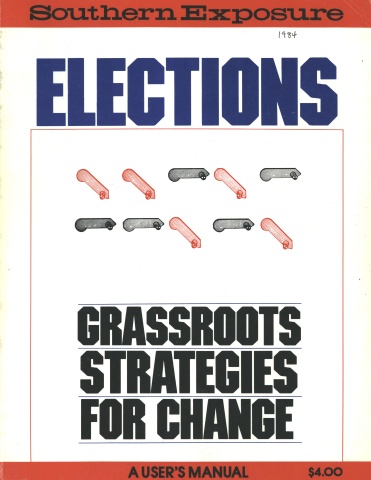 This article originally appeared in Southern Exposure Vol. 12 No. 1, "Elections: Grassroots Strategies for Change." Find more from that issue here.
Midwifery in Arkansas was not a controversial issue until the summer of 1982 when Carolyn Vogler, a young lay midwife, opened the Delta Maternity Center in Dermott. Perhaps it was Vogler's training in Texas that offended the state's medical community — for her work in razorback country precipitated one of the most unusual legislative battles in the state's history.
Dermott, 115 miles southeast of the state capital at Little Rock, is poor and mostly black. It is a dusty farm town located deep in delta country, a region known for its poverty and Southern traditions as well as for its rich crops of rice and soybeans. Driving through this part of Arkansas one gets the feeling that time has stood still: there are no shopping centers, movie theaters, or fancy restaurants. Tractors meander along a two-lane highway. Spreading out from the road are wide expanses of farmland; only an occasional gas station, grocery store, or hamburger stand punctuates the countryside.
The roots of lay midwifery are planted deep in this soil. Here poor people have long looked to elderly black and white women, the "grannies," to deliver their babies. Indeed, the grannies are the backbone of lay midwifery in Arkansas. During the 1920s the state's health department, realizing the lack of doctors in rural Arkansas, began fostering an organized midwifery program in which "upstanding women" in the local communities would be recognized as midwives by the department. Because of this program, lay midwifery "granny style" was not only popularly accepted in rural Arkansas — it was also sanctioned by law.
In 1947 the health department continued its support of midwives by upgrading their training and supervision. A manual was written, classroom training was made available, and, most significantly, the grannies were required to work under the supervision of physicians. Under this requirement midwives could not see a patient unless a physician had stamped the patient's "blue card."
These rules prevailed until January 1979, when a new regime in the health department, convinced that midwifery was unsafe and incompatible with modern medical practices, phased out the program. The midwives received a form letter telling them that their services were no longer needed and informing them that their practice was now illegal. While many of the grannies were intimidated enough by this official edict to stop practicing, some continued to deliver babies. But those midwives were not viewed as a threat by the Arkansas Health Department because the few that remained active were localized, unorganized, and secretive.
At about the time of the 1979 clamp-down, Carolyn Vogler returned home to Arkansas from El Paso, Texas, where she had trained at the Bethlehem Childbirth Center. In Arkansas, she practiced midwifery quietly for several years until, in a calculated push for legalization, she decided to go public and opened the Delta Maternity Center in July 1982.
This challenge to the medical establishment brought a quick response. The director of the health department, Ben Saltzman, charged that Vogler was violating the state's Medical Practice Act by practicing medicine without a license.
However, no action could be taken against Vogler until the state medical board received a complaint, and nobody in Dermott, which has an extreme shortage of health care for the poor, was complaining, at least not publicly. Despite grumblings from those who viewed the maternity center as providing inferior care, the opening of the clinic was warmly received by most of the community. After meeting Vogler, residents were impressed with her intelligence and personality. And the idea of good maternity care for the remarkable sum of $300 appealed to the general population.
Two days after the center opened, members of the state medical board announced that a complaint had been filed against Vogler by physicians outside of Dermott. Immediately following the filing of the complaint and accompanying lawsuit, two Dermott physicians who had initially agreed to provide Vogler with medical back-up declined even to assist in giving orders for a simple blood test to be performed for her patients at the local hospital. This fueled speculation that the suit was encouraged by the medical establishment in order to get a court injunction and shut Vogler down.
Vogler's situation looked bad. Not only were the state's physicians mobilizing against her, but she had no political connections, no money, and not even a state organization of midwives to lend her support. The fight to legitimize midwifery looked as if it would be over before it had even started. But Vogler knew how to make the best of a bad situation. The idea that midwifery filled an important need in Arkansas was good and she was not afraid to fight for it, nor were a handful of her supporters.
While midwifery is an old tradition in Arkansas, many still associate it with the delivery of children under substandard conditions. Vogler projected a positive image, and impressed people with her intelligence, warmth, and knowledge about midwifery. Contact with Carolyn Vogler dispelled the image that lay midwives were incompetent or irresponsible people. State senator Jack Gibson, who later became closely involved in her cause, described her affectionately as "full of spunk and charm."
Arkansas is poor, ranking forty-eighth in the nation in per capita income and forty-sixth in the number of physicians per 100,000 people. The state has several good medical facilities, but they are concentrated in the urban areas — Little Rock, Hot Springs, Fort Smith. Doctors do not like to practice in the rural portions of the state where there is little money and few educational, social, and cultural opportunities. While health care is accessible in places like Dermott, it is expensive. Maternity care in Arkansas, including doctor's fees and hospital stay, costs between $1,500 and $2,000. Carolyn Vogler was offering this care for a fraction of the usual cost in a region where the infant mortality rate — 33 per 1,000 live births — was three times the national average.
Vogler knew that to make midwifery legal again she would have to back her arguments with facts and put them before the Arkansas General Assembly. She rejected a solution through the courts as being too risky, too long, and too costly. Winning in the courts might help her and the Delta Maternity Center, but it would not advance the status of other midwives.
A good legislative idea and strong personal assets are not enough, however, to turn an idea into law: an effective legislative advocate and a well-planned strategy are also necessary.
Legislators are most likely to respond to pressure from people whom they know and trust. Vogler was fortunate to have the support of Charles S. Gibson, an attorney practicing in Dermott whose father had been a highly respected senator in the legislature, as well as the support of his wife, Sherry, an activist in the community. The Gibsons were already fond of Vogler and convinced of her cause. They encouraged her to "come out of the closet" and let the public judge the merits of her cause; and they were outraged when she was sued by the medical board. Charles Gibson supported her with unlimited free legal service and, more importantly, the Gibsons provided Vogler with the legislative connection she needed: Gibson's cousin, a state legislator who agreed to introduce a bill to legalize midwifery.
Senator Jack Gibson met Vogler on a tour of the Delta Maternity Center. He recalls, "What she said sounded good to me and I was impressed with her. I did a little research on my own and found that we had one of the highest infant mortality rates in the country along with one of the lowest ratios of physicians to population. That convinced me."
With legislative help now a reality, Vogler and the Gibsons concentrated on developing a strategy to legalize midwifery in Arkansas by pursuing a campaign to influence the Arkansas General Assembly. A two-part legislative strategy was devised. Jack Gibson would introduce a bill, with little fanfare, to exempt midwifery from the state's Medical Practices Act. Vogler would act as the chief spokesperson for the campaign, and deal exclusively with the media; the Gibsons would provide legal and logistical support.
All agreed that favorable media coverage was needed to legitimize the issue for Arkansas's politically cautious legislators and to publicize the story of how powerful doctors were picking on a woman who helps poor women. The tactics during this part of the campaign worked well. Vogler was open to the press and never critical of her tormentors in the medical community, emphasizing often that she would like to work under a doctor's supervision. She was quick to answer any charges leveled against her. When the medical board stated that midwifery was unsafe, she pointed out the high mortality rate in the state, comparing it to the lower rates in countries where midwifery was common. When she was assailed as incompetent, Vogler cited the number of babies she had delivered and cared for. When doctors said they could do better, she noted that there were few physicians in the delta region and that maternity care was expensive.
The campaign's media strategy was so effective that Bryon Hawkes, associate director of the Maternal Division of the Arkansas Health Department, wrote Vogler a public letter of apology for remarks he had made before the state medical board:
There comes a time in everyone's life and professional career, when arrogance comes face-to-face with humility. . . . I cannot condone out-of- hospital obstetrical delivery of mother and the newborn but I am realistic enough to recognize that segments of today's society wish this experience . . . because of the economic roadblock that now truly exists in Arkansas and in all states. Mrs. Vogler wishes to meet this need and has placed herself into a fighting pose. I admire her stance.
Hawkes went on to apologize for the "intemperate statements I have made against her" and concluded with an endorsement of her general aims: "Her position, and that of others in this state, must be legalized in a formal manner and status be given to the goals this ancient movement deserves." Hawkes's letter of apology marked a turning point in the campaign. Vogler and her supporters knew then they had a chance to win, but they still had to deal with the Arkansas General Assembly. That body appeared extremely foreboding to the group which had a generally unpopular image and was under attack by one of the most powerful and established political forces in the state, the Arkansas Medical Association (AMA).
The basic structure and ideological orientation of the legislature also proved a substantial roadblock. The Arkansas General Assembly is a part-time institution which meets for only 60 legislative days every two years. Like most other Southern legislatures, its membership is senior, heavily Democratic, overwhelmingly male (four females out of 135) and largely conservative. The Arkansas legislature has looked unkindly upon women's issues including the ERA, which it refused to ratify. In 1981 it enhanced its conservative reputation by passing a creation science bill which was quickly found unconstitutional in federal district court. However, because of the part-time nature of the legislative job in Arkansas, representatives spend a large amount of time in their home districts handling constituents' problems. Though the Arkansas legislature is conservative, it is also sensitive to citizen demands and pressure from the right quarters.
The effects of the strategy devised by Vogler and the Gibsons were not unnoticed by members of the legislature. One of their senior colleagues was pushing the bill in the Senate. And, more important, the midwifery issue was no longer being viewed as special interest legislation but as legislation which would benefit all poor people in Arkansas. Vogler said in her press statements, "Midwifery is a feminist issue, a rich person's issue, a right to life issue, a religious issue, a survivalist issue, and a poor people's issue. It cuts across all classes of people. It's everybody's issue."
With the base of support broadening, and the medical establishment complacent, the midwifery forces lobbied the legislators directly by organizing a network of supporters, friends, and clients. For his part, Senator Gibson practiced American pluralistic politics by the book: "I got me my midwife, a doctor, a Catholic priest and went to work." Heavily represented by the clergy and the liberal medical community in Arkansas, the coalition convinced the Senate to pass the bill even before the medical establishment had organized for a legislative fight. The bill (SB 203) to exempt midwives from the state's Medical Practices Act streaked through the Senate by a vote of 25 to 7.
In the House the going was much more difficult. The bill got an early "do pass" from the House Public Health Committee, but by the time it hit the floor the doctors were ready for it. Despite an unusual suspension of the rules which allowed Vogler, Father Joe Blitz (director of the Office of Justice and Peace in the Catholic Diocese of Little Rock), and Dr. John Wolverton to address the entire House, a campaign by the AMA to have local doctors call their legislators culminated in a 33 to 43 defeat for the bill.
Compromise is the essence of legislative politics. It means that if you can't get a full loaf, get half, and if you can't get half, get something. With too few votes, Vogler's forces were compelled to compromise. Under the rules of the Arkansas General Assembly, a vote can be expunged and the bill brought up again. This was done to allow a compromise bill to be put before the House. The new bill legalized midwifery in only those counties where 32.5 percent or more of the population lives below the poverty level. This version passed 52 to 20 and was signed into law as Act 838 by Governor Bill Clinton. Thus midwifery was legalized in six of Arkansas's 75 counties, including the county in which Dermott is located.
The partial victory of the midwives in Arkansas is surely the exception rather than the rule, but it does suggest that legislators may listen to good ideas when they are carefully and strategically presented. Second, the midwifery struggle in Arkansas seems to belie the axiom that many Americans hold about our political system — that little can be done to influence it. The midwifery issue was put on the legislative agenda and passed by a midwife who had never been active in politics before, an activist priest, several Delta legislators, one of whom had never sponsored a bill before, and two dedicated Dermott activists. A member of the Arkansas Medical Board summed up the situation when he heard the midwifery bill had passed by saying, "Three thousand doctors got beat by one midwife and a country lawyer."
Tags
Arthur English teaches at the University of Arkansas at Little Rock. John Carroll teaches at Southeastern Massachusetts University. They are the co-authors of Citizens Manual to the Arkansas General Assembly.
Arthur English teaches at the University of Arkansas at Little Rock. John Carroll teaches at Southeastern Massachusetts University. They are the co-authors of Citizens Manual to the Arkansas General Assembly.