Money Business: PACs in the South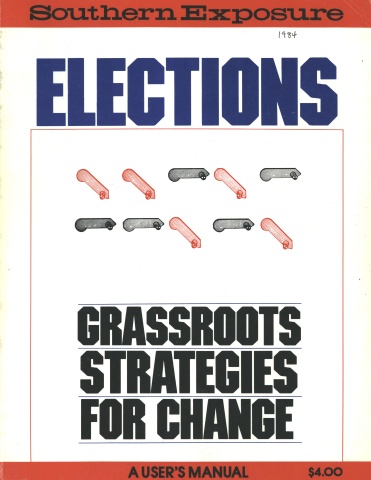 This article originally appeared in Southern Exposure Vol. 12 No. 1, "Elections: Grassroots Strategies for Change." Find more from that issue here.
The Jury is still out on how Ronald Reagan is faring with the 98th Congress, but one thing about this congressional class is clear: its members owe more to the nation's corporations, trade associations, and labor unions than to the president himself.
After collectively investing upwards of $190 million in the 1982 elections, these groups have shown little reluctance to call in their congressional chits for key House and Senate votes in 1983. And there's little doubt they'll be upping the ante for the 1984 elections. PACs now account for more than a third of all money raised by congressional incumbents, and they give three times as much money to candidates as the nation's political parties.
On one side of the political poker table are the nation's 3,400 political action committees — PACs, as almost everyone calls them — which seek to buy access, and votes, with congressional campaign contributions. Corporations and trade associations from the South, late to deal themselves into the PAC game, today are among its highest-stakes players.
Even Southern members of Congress have joined the ranks of the nation's PACs. The very biggest one, in fact — the National Congressional Club — is the brainchild of Republican Senator Jesse Helms of North Carolina; it spent more than $10.4 million during the mid-term elections to generate support for conservative causes and candidates. Republican Senator Jeremiah Denton of Alabama has his own PAC, the National Forum, as does Democratic Representative Andy Ireland of Florida, who says his champions the cause of small businesses.
But the powerhouse PACs in the South are run, for the most part, by major corporations like Coca-Cola, Winn-Dixie, Federal Express, and South Central Bell. Others are sponsored by big trade associations: the Alabama Farm Bureau Federation, the National Cotton Council, and the American Sugar Cane League, to name just a few. Bakers (Georgia's Flowers Industries) and bankers (Trust Company of Georgia) have PACs, as do a grab bag of other enterprises, including Vidalia, Georgia-based Piggly-Wiggly Southern; Jitney-Jungle of Jackson, Mississippi; and the Tennessee Walking Horse Breeders and Exhibitors Association.
Under federal campaign law, PACs can give a candidate up to $5,000 for both the primary and general elections, while an individual contributor can give only $1,000 for each. This gives PACs considerable clout, because an allied group of them tends to be drawn to the same batch of congressional incumbents. Textile and tobacco companies, for example, frequently focus on members of the House and Senate agriculture committees and on the appropriations subcommittees that help decide how much Congress spends on agricultural price supports.
Republican John Napier of South Carolina raked in $230,494 in PAC money in his 1982 campaign, owing much of it to his seat on the House Agriculture Committee. (The money, however, didn't help Napier enough: he was defeated for re-election.) Democrat Richard Shelby of Alabama took in $169,526, greased largely by his desirable assignments on the House Energy and Commerce Committee. Most of this money came from business PACs. "We have a kindred philosophy," Shelby says. "You don't support your enemies, you support your friends. And who are your friends? Those with the same philosophical bent."
What do companies and associations with PACs really want? Some seek nothing more than access — an open door and an open ear on Capitol Hill — while others try to reward friends for their votes or punish enemies at election time. Still others claim PAC money has no effect whatever. "When we do go to the Hill," says Pete West, Washington legislative affairs manager for Delta Airlines, "it's usually of more interest for them to hear us than for us to go to them. They look at us as the experts and the leaders."
But there is more to most PACs than good corporate citizenship. Of the 20 Fortune 500 companies headquartered in the Southeast, 16 have PACs, usually bankrolled by voluntary contributions from the uppermost echelons of management. These PACs rarely act solely to promote ideological stances. They're interested in the business before Congress, which often happens to be their own.
The PAC run by Coca-Cola, for example, leans heavily toward Democrats, who got two out of every three dollars from Coke's campaign chest. The PAC's largest contribution ($4,000) went to Edward Kennedy of Massachusetts, perhaps the nation's most liberal senator. But one of the Senate's leading conservatives, Republican Orrin Hatch of Utah, got a check from the Coca-Cola PAC, too. The contribution to Hatch had to do with his sponsorship of a bill designed to strip from the Food and Drug Administration the power to produce its own safety findings on food products and chemicals. That issue is of such importance to Coca-Cola that company vice president Earl T. Leonard, Jr., was dispatched with some regularity to Washington to lobby for the legislation.
There was a time when the Deep South didn't need a lot of help on Capitol Hill. From 1921 to 1966, Southerners routinely chaired more than half of all committees in Democratic Congresses. Those on the top rung of the seniority ladder, like South Carolina's Mendel Rivers and Louisiana's F. Edward Hebert, helped engineer the tilting of the federal pork barrel southward.
Today, however, Southerners have no iron grip on congressional seniority, nor can they always speak with a single voice, largely because of the erosion of the Democratic Party's power in the region. So Southern corporations and trade associations — and what few unions there are—turned to PACs to win friends and influence legislators in the nation's capital.
Southern agricultural interests have parlayed PACs into affluent adjuncts of their Capitol Hill lobbying operations. For nearly a decade, the dairy industry has funneled the most money into congressional campaigns nationwide, and the South has its share of PACs sponsored by state dairy cooperatives. Dairymen, Inc., for example, has PAC affiliates in Georgia, Kentucky, Louisiana, Mississippi, North Carolina, Tennessee, and Virginia. But sugar, cotton, tobacco, and citrus are the big-money crops in the South, and PACs representing these industries have emerged as among the most powerful.
The New Orleans-based American Sugar Cane League spent $134,576 on congressional elections, much of it channeled to members of House and Senate subcommittees with jurisdiction over the sugar price-support system. In the House, by mid-1972 all 17 members of the Cotton, Rice, and Sugar Subcommittee had received PAC money from the League — $14,350 in all, in amounts ranging from $200 to $3,000. Another $9,700 went to 13 members of the House and Senate subcommittees overseeing agricultural appropriations and taxation.
How the American Sugar Cane League gets its congressional ducks in a row is illustrated by two key Senate votes in 1981 involving price supports for sugar. When Jesse Helms moved to kill an amendment eliminating price supports entirely, none of the 21 senators who received contributions from the League's PAC opposed the Helms position. And when Democrat Daniel Inouye of Hawaii acted to squelch an amendment to reduce the price supports, the League scored nearly as well — suffering only a single defection.
Price supports for tobacco are also a hard-fought issue on Capitol Hill, and seven out of the 10 members of the House Subcommittee on Tobacco and Peanuts picked up campaign contributions from the PAC of R.J. Reynolds Industries of North Carolina. (An R.J. Reynolds subsidiary, San Francisco-based Del Monte foods, has its own PAC.) In the Senate, $2,100 went to three members of the Agriculture Committee, $2,500 went to two members of the agriculture appropriations subcommittee, and $ 1,000 went to Republican Malcolm Wallop of Wyoming, chairman of the finance subcommittee on energy and agricultural taxation.
Another agricultural heavyweight is the National Council for the Advancement of Cotton, whose PAC pumped $123,575 into 1982 congressional races. The Council's money went overwhelmingly to incumbents ($119,325). By mid-1982 28 Senate candidates and 123 House candidates received support, with emphasis on incumbents holding choice committee assignments. In the House, 32 members of the Agriculture Committee collected $26,975, seven members of the agriculture appropriations subcommittee got $7,800, and six members of the water and power resources subcommittee — which has jurisdiction over federally subsidized irrigation projects — got $6,950. In the Senate, 10 members of the Agriculture Committee collected $8,150, four members of the agriculture appropriations subcommittee got $6,500, and two members of the finance subcommittee on agricultural taxation got $4,075.
"This industry goes to these people over a period of years and asks for their help," says Macon Edwards, the Council's vice president for Washington operations. "I think it's probably natural that when they get into their race and need help, we reciprocate."
These three agricultural PACs are far outstripped in total spending by the Alabama Farm Bureau Federation. It spent over a half-million dollars, but only a small portion of it went to congressional candidates. It helped to be from Alabama: Republican Senator Jeremiah Denton got $5,000, but candidates from elsewhere qualified if they sat on congressional committees dealing with agricultural issues. Democrat Jamie Whitten of Mississippi, who chairs the House appropriations subcommittee on agriculture, got $1,000. So did Democrat Thomas Foley of Washington, who chaired the House Agriculture Committee until he was appointed to serve as Democratic Whip.
"When I came to this town 12 years ago we had mostly committee chairmen from the Cotton Belt, and Congress operated differently," says the Cotton Council's Edwards. "It was a topside-down operation at that time; it's a bottom-side-up operation now. You don't have the committee chairmen dictating policies and decisions as you did 12 and 15 years ago. These days we have to broaden our base and put together as large a coalition as we can."
The biggest gun among all Southern political action committees, and in the nation as well, is the National Congressional Club, the Jesse Helms money-making machine. But despite its mammoth fund-raising efforts, few candidates actually receive money from this PAC. Of the $10.4 million raised in 1981 and 1982, the National Congressional Club contributed only $135,263 to federal candidates, some of whom, including Republican Senator John Warner of Virginia, and Alabama's Jeremiah Denton, have no shortage of campaign funds.
Public records show that the Congressional Club spends gargantuan sums on postage, telephone, salaries, and other kinds of overhead. In one typical month (April 1982), the PAC's expenditures included: $211,660 for advertising and fund-raising; $46,380 in salaries for 50 employees (five of them in Washington); $32,025 for taxes; $28,171 for consulting and contract labor; $25,769 for rent, utilities, and telephone; $21,922 for postage; and $9,929 for the rental and purchase of equipment. Printing accounted for another $7,105, and there was $7,641 in miscellaneous reimbursements; $6,725 in office expenses; $4,737 in airline travel; and $3,442 in media production. The rest of the PAC's itemized expenditures — $6,708 worth — went for film and photographs, food and entertainment, security and computer services, and insurance. That all adds up to $412,214.
During the same month, the National Congressional Club doled out a grand total of $1,000 in contributions to candidates. But even if the club isn't particularly generous when it comes to writing checks to politicians, it has made its political presence felt nonetheless.
Through massive direct-mail campaigns, the PAC has compiled a mailing list of a half-million regular supporters of conservative causes. Significant amounts of money are spent promoting those causes which offer, through a kind of trickle-down theory, indirect exposure to candidates who agree with the PAC on such issues as school prayer and a constitutional amendment to ban abortion. President Reagan's budget-cutting campaign in 1981 was a prime example: the club reportedly helped generate more than three million calls and letters to Congress in support of his tax and spending cuts.
Helms himself will be facing reelection in 1984, and he has a most formidable opponent in James Hunt, the popular Democratic governor of North Carolina. Even with its swollen war chest, the Congressional Club compiled a dismal record in 1982: only three of the 15 candidates it endorsed won, and all five house candidates the Club backed in Helms's home state were defeated.
Some critics of the explosive growth and Power of PACs, like Common Cause president Fred Wertheimer, contend that they fragment and distort the democratic process by making candidates beholden to narrow interests rather than to their own constituents. "PACs are a key factor," Wertheimer says, "in the growth of the special-interest state." While quid pro quos are rare, he adds, "the process does provide access and influence and it does affect decisions."
More than three years ago, Harvard University's Campaign Finance Study Group found that "PAC money is interested money." Little has changed since. Here's a rundown of the issues in which major PACs from the South are interested:
Medical professionals. Doctors and dentists have been lobbying for a law that would take them out from under the regulatory thumb of the Federal Trade Commission and allow them to fix prices. The American Medical Association, which runs one of the largest PACs in the nation, invested $2.5 million or so in the 1982 elections, but even that figure understates the clout of doctors in the political marketplace. The AMA's state affiliates have their own PACs, which concentrate largely on state and local races.
The Texas Medical Association PAC spent $1,061,845 in the 1982 elections (making it one of the largest PACs in the South), but only $71,240 of that went to congressional candidates. It played both sides of the political fence — freshman Senator Paula Hawkins, a Republican, got $5,000; her challenger in 1980, Democrat Bill Gunter, got $3,500 — and even gave $1,100 to Democrat Andy Ireland, who had no opposition last time out. For the eight other AMA-connected PACs in the Southeast, the pattern was similar.
The American Dental Association, which spent roughly $700,000 in the 1982 elections, has a similar set-up. The Florida Dental PAC spent $190,742, with only $10,629 of that amount going to congressional candidates. Unlike many other PACs, most of its money went to challengers — the one exception was a $200 contribution to Republican Representative Bill Young, who ran for re-election unopposed.
Bankers. Bankers represent another powerful force in the world of PACs, and several of the 25 largest PACs in the Southeast are operated by banks or savings and loan associations. One of the biggest of these is Virginia BankPAC, which spent $133,507. Less than one-fourth of the amount, however, went to congressional candidates. The Virginia bankers heavily supported Republicans; Representative Dan Daniel, a seven-term incumbent, was the only Democrat to receive a contribution.
Most other banking PACs — including ones operated by the Trust Company of Georgia and First Atlanta Corporation — also concentrate on state and local races. The notable exception is "Barnett People for Better Government," a PAC run by Barnett Banks of Florida, which contributed to members of the Senate and House Banking Committees. Much of the PAC's $72,750 in contributions to congressional candidates stayed in Florida.
The American Bankers Association spent over $1 million total, and its members are pushing for a law that would require individuals (but not businesses) declaring bankruptcy to eventually repay their debts. The bill had 255 co-sponsors in the last session, a sign that the banking and credit PACs just may see their investment pay off.
Shippers. In September 1982 the House of Representatives passed a bill euphemistically described as "maritime regulation reform." Debate was limited to 40 minutes, and only after the bill had passed, 303 to 33, did many members of the House learn that the maritime bill would relax price-fixing rules for shipping cartels and eliminate criminal penalties and triple damages for antitrust violations.
The shipping bill was backed by the maritime unions and giant shippers, including LTV Corporation, whose New Orleans subsidiary, Lykes Bros. Steamship Company, has its own PAC. Its "Active Citizenship Campaign" played a major role in spreading contributions among members of the House Merchant Marine Committee; $6,650 went to 18 of them, including $1,500 to Democrat Walter Jones of North Carolina, who chairs the committee. In the Senate, $3,250 in PAC money went to members of merchant marine and ocean policy subcommittees.
Insurers. Nashville's NLT Corporation is principally an insurance holding company, but until 1982 it also owned WSM (the nation's largest clear-channel radio station), the Grand Ole Opry, and the Opryland Hotel. Its PAC — "NLT Employees Good Government Committee" — sticks, for the most part, to insurance. It also focuses largely on incumbents: of the PAC's 32 contributions through mid-1982, only two went to congressional challengers.
In early 1982, Congress began an extensive overhaul of the tax laws that apply to insurance companies, and PAC money flowed to members of the congressional committees in charge. The NLT PAC was no exception: it sent $5,500 each to seven members of the Senate Finance Committee and $4,500 to each of eight members of the House Ways and Means Committee.
The list of PACs from the South reads very much like a corporate "who's who in America," and more than threequarters of the region's Fortune 500 companies have dealt themselves into the PAC game. Here are past performance charts for some of the biggest:
Coca-Cola. The Coca-Cola Company calls its PAC the "Nonpartisan Committee for Good Government," and nonpartisan it is. Through August of 1982, it gave contributions to 48 Democratic and 41 Republican congressional candidates. There is, however, one partisan catch: the PAC's contributions to Democrats were, on average, twice as large.
And more than one-third of the PAC's money — $17,300 in contributions out of $45,775 through mid-1982 — stayed right at home in Georgia. This PAC doesn't mind hedging its bets now and then; in Georgia's First Congressional District, for example, it gave money to three Democrats and one Republican.
The Coke money also covers the entire political spectrum of two-party politics. Democrat Paul Simon of Illinois, one of the leading liberals in the House, got a check; so did Republican John Rousselot of California, a former member of the John Birch Society.
Beyond its interest in the Food and Drug Administration, the Coca-Cola PAC contributed money to members of the House and Senate agriculture committees and subcommittees that deal with migrant labor issues (Coke owns Minute Maid orange juice). Another Coke concern is a national bottle bill, which would require consumers to pay deposits on soft-drink containers.
Federal Express. The PAC run by the Memphis-based Federal Express Corporation puts almost all of its money into congressional races, and little wonder: virtually every facet of its business — from aviation to trucking — is regulated by the federal government and shaped on Capitol Hill. In the House, the Federal Express PAC sent contributions to 34 members of the Public Works and Transportation Committee through mid-1982 — $15,385 in all. Sixteen members of the Post Office Committee also got contributions, as did seven members of the appropriations subcommittees that act on the Postal Service budget and transportation matters. The pattern has been much the same in the Senate.
"Access," says Mary Harvey Jones of Federal Express's government affairs office, "that is the biggest key — to sit down and get them to listen." But Federal Express doesn't leave door-opening to its PAC contributions. It also spent more than $53,000 through mid-1982 to lobby members of Congress directly.
At the time Congress was grappling with the issue of airline deregulation, Federal Express had no PAC — a situation that soon changed. But, says Jones, there are limits to a PAC's influence on Capitol Hill. "Buying a vote? I just don't think that can happen."
Delta Airlines. While most PACs methodically search for sympathetic candidates, Delta's smallish PAC has found too many politicians knocking on its door. "Phone calls, letters, you name it," says Pete West, Delta's Washington legislative affairs manager. "We were in a position where we were just saying to them, 'Our PAC is depleted — maybe next time.'"
Delta's PAC spent $33,150 on the '82 races, channeling $ 11,900 of it to House and Senate candidates. The largest PAC contribution went to Atlanta Democrat Elliot Levitas, a member of the House Aviation Committee. In 1981, Levitas engineered a congressional compromise that withstood pressure from other airlines seeking to weaken federal airport noise standards. Delta, which already had purchased $7 billion worth of quiet Boeing 767s, supported Levitas.
Outside Georgia, Delta aimed all of its PAC money at incumbents with choice committee assignments. Among the recipients: Howard Cannon, the Nevada Democrat who was a ranking member of the Senate Aviation Committee until he lost his bid for reelection; the late Adam Benjamin of Indiana, who chaired the House transportation appropriations subcommittee; and James Florio of New Jersey, chairman of the subcommittee on commerce, transportation, and tourism.
Winn-Dixie. The king of the corporate PACs in the Southeast is run by the Winn-Dixie Stores chain, based in Jacksonville. In 1982, its "Sunbelt Good Government Committee" had contributed $319,863 to over 150 congressional candidates, virtually all of them incumbents.
Much of this PAC's money was doled out to members of congressional committees that oversee agricultural legislation or write the nation's tax laws: $24,225 to 19 members of the House Agriculture Committee;
$24,000 to 19 members of the House Ways and Means Committee: $14,600 to six members of the Senate Agriculture Committee; $12,500 to seven members of the Senate Finance Committee; and $12,000 to members of the House and Senate appropriations subcommittees with jurisdiction over agricultural programs. The Winn-Dixie PAC also sent contributions to four members of the Joint Economic Committee's panel on agriculture and taxation.
Jim Walter. The Jim Walter Corporation's PAC, based in Tampa, concentrates on congressional contests, and tends to favor Floridians and Democrats — in that order. As the nation's third largest supplier of building materials, its two principal interests concern tax laws and safety
standards for construction materials. Through mid-1982 it gave $4,000 to three members of the Senate Finance Committee and $7,500 to ten members of the House Ways and Means Committee. The House Subcommittee on Health and Safety was fertile ground: five of its seven members received contributions from the PAC. In all, the PAC spent $109,242, of which $91,300 went to candidates ($84,300 to incumbents).
Days Inns of America. The PAC of this Atlanta-based, 33-state motel chain is called the "Civic Responsibility Group," reflecting its desire to "have a part in trying to elect good folks to office," says assistant to the president A.B. Albritton. The PAC started small in the last election: it contributed $1,000 to Atlanta Democrat Wyche Fowler, who sits on the House Ways and Means Commit tee, and $100 to Democrat Richard Ray, who was newly elected to the House from Georgia's Third Congressional District.
"If there's a piece of tax legislation that will cost this company, we'd say 'Wyche, please take a look at this — we don't want to raise our room rates,'" Albritton says. "He's a good friend of the company and has listened when we have concerns about legislation. But he's not always voted
how we'd like him to vote.
"I don't think the country should worry about PAC spending. Big PACs can give all they want but they can't vote any more than anyone else. And that's what decides elections."
Over the course of the last election, PACs served congressional incumbents quite well: incumbents received roughly 78 cents of every PAC dollar contributed to House and Senate candidates. And despite the attention focused on the switch of two dozen or so seats in the House, the real lesson of congressional elections is that more than nine out of 10 incumbents are re-elected, many of them without serious opposition. In 1982, 70 percent of PAC contributions went to congressional winners.
So what does all this PAC money buy? There are, of course, the traditional trappings of a re-election campaign: buttons and bumper stickers, travel and lodging, television and radio time. But plenty of incumbents use PAC-provided campaign windfalls for less-than-traditional purposes, paying for items of personal convenience.
A prime case in point is the state of Louisiana, where all eight incumbents comfortably won re-election in 1982 and where the average total of cash on hand at the end of 1982 was a staggering $181,185. Four members of the delegation — Republicans W. Henson Moore and Robert Livingston, Jr., and Democrats Jerry Huckaby and Gillis Long — had more than $200,000 on hand in their campaign coffers. Long, who chairs the House Democratic Caucus, led all House incumbents with more than $500,000 set aside for his re-election bid.
A look at Long's spending habits may leave people wondering whether he was really running for office or merely using PAC contributions to replenish his personal cash dispensary. Long's largest expense during 1981 — a non-election year that followed an uncontested race in 1980 — was $11,405 for a new car, plus $5,195 for automobile insurance, maintenance, and gasoline. In all, Long spent more than $95,000 of his campaign funds in 1981, including these expenditures: $13,378 in contributions to organizations ranging from the Salvation Army to the Department of Music at the University of Arkansas at Monticello; $7,455 for printing; $1,192 for soft drinks in his Washington congressional office; $2,722 for various tickets, including $320 worth of the Super Bowl variety; $3,982 for postage; $4,974 for airfare; and $317 for "equipment" at Murrell's Television in Washington, D.C. The campaign committee also spent $ 111 for a "staff function" in the clubhouse of a West Virginia racetrack, an expenditure that outstripped its total media budget of $100.
PAC money often flows to powerful incumbents like Long whether they need it or not, a clear sign that many PACs are interested in something other than influencing elections — they are not so much participating as investing. In 1984 the flood of PAC money threatens to become a tidal wave. In 1979 there were 2,551 PACs registered with the Federal Election Commission; by the end of 1981, there were 3,149; by the end of 1983
there were more than 3,400. While many of them are inactive or anemic, the collective clout of the nation's PACs is on the rise.
There is a certain attraction to the civics-book justification for PACs: that small contributors, by banding together, can make a big difference. PACs, it is argued, increase participation in the political process by involving people who once felt they could have no impact on their own. But despite these claims, most PAC money — at least in the case of corporate committees — comes from the uppermost echelons of management.
Consider the Coca-Cola Company's PAC contributor list, in which an employee's spot on the corporate totem pole can almost be determined by the size of his or her annual contributions to the Nonpartisan Committee for Good Government. Through the first eight months of 1982 the heftiest donations came from chairman of the board Robert Goizueta ($3,075) and president Donald Meough ($2,125). Others on down the line — division president, executive vice presidents, senior vice presidents, and vice presidents — kicked in contributions of decreasing scale. But in few respects could Coke's PAC be construed as representative of anything but upper management.
At the PAC run by the Georgia Railroad Bank and Trust Company in Augusta, a contribution went out to only a single candidate, Democrat Doug Barnard, Jr. Barnard's 28-year career at the bank was interrupted when he was elected to the House in 1976. He was re-elected last year with 100 percent of the vote. And the largest contribution of the Broyhill Furniture Industries, Inc. PAC ($2,000) went to Republican Representative James T. Broyhill of North Carolina, who before his election to Congress was associated with the family business. He was re-elected with 93 percent of the vote. Barnard and Broyhill attracted plenty of other PAC money, too, because many PACs don't mind betting on a one-horse race.
Some worry that the increasing clout of PACs in the electoral arena will crowd out individual contributors, making them something of an endangered species. "It does concern me," says Democrat Wyche Fowler, "that with the growth of PACs there has begun to be a diminishment of individual contributions." Democrat Elliot Levitas goes one step further. "As a matter of precaution," he says, "there ought to be some outside limit that any candidate may receive from PACs just so that they are not the only participants in the electoral process."
That limit, however, is not likely to be imposed. Congress has a vested interest in the current system, and most incumbents don't want to vote for anything that removes their own built-in edge. Proposals for placing a ceiling on a candidate's total contributions from PACs have been defeated in the past, and plans for public financing of congressional elections have fared even worse.
As PACs proliferate — and proliferate they surely will — they are not likely to create better government . . . just more expensive government.
Tags
Bill Hogan and Diane Kiesel are free-lance writers and members of "The City Desk" writers group in Washington, D.C. A version of the article appeared previously in Atlanta magazine. (1984)
Bill Hogan and Diane Kiesel are free-lance writers and members of "The City Desk" writers group in Washington, D.C. A version of the article appeared previously in Atlanta magazine.