Richard Arrington: Birmingham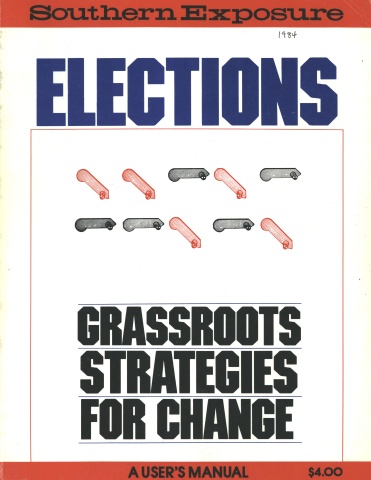 This article originally appeared in Southern Exposure Vol. 12 No. 1, "Elections: Grassroots Strategies for Change." Find more from that issue here.
Birmingham, Alabama, was once known to many as the "Johannesburg of America." It was the place where pictures of fire hoses and police dogs made their way into living rooms around the globe, and where virulent racists shocked millions when they bombed a black church, killing four little girls. On October 11, 1983, 20 years after the church bombing and 20 years after Police Commissioner Bull Connor's well-publicized brutality to black demonstrators, the city's voters turned out in record numbers to re-elect their first black mayor. Richard Arrington, Jr., the son of a sharecropper, won with 60 percent of the vote, the largest mayoral victory margin in city history.
The remarkable thing about the 1983 Birmingham election, which came just four years after Arrington won a vitriolic mayoral contest infused with racial divisions, was the absence of race as an overt campaign issue. Arrington and his only serious opponent, City Council President John Katopodis, signed pledges rebuffing all campaign appeals to racism. The electoral contest took place under the watchful eye of two civic committees demanding a clean campaign. And all the city's political organizations endorsing slates of city council candidates put forth biracial lists.
On a rainy election day, 70 percent of the city's registered voters went to the polls. Turnout among black voters, who make up 51 percent of the city electorate, was an unprecedented 77 percent, with most of it going to Arrington. White support for Arrington, still low at 20 percent, was twice what he had received four years earlier.
What does this say about the city once characterized by the Reverend Martin Luther King, Jr., as "the most thoroughly segregated city in America." It does not say the city is a picture of racial unity. The city's 285,000 residents, divided almost evenly by color, remain segregated in their living patterns. The city's neighborhoods are largely segregated, as are its churches and civic clubs. Many social institutions, such as the most prestigious country clubs and dining clubs remain entirely white. City schools, now 80 percent black, lose nearly 1,000 pupils every year, many of them whites fleeing to mostly white schools in the suburbs.
What the Birmingham city election of 1983 seems to say is that, regardless of the prejudices of individual city residents, the old "lowest common denominator" brand of thinking (whereby whites did not vote for black candidates) will no longer dictate the city's official course. Birmingham residents seem to have decided that a united city — or at least the appearance of one — is the way to move forward. There is widespread recognition of the city's difficulty in attracting new business with its old racist image; accompanying this awareness is the dissipation, after four years, of many whites' fears of being governed by a black mayor, and the emergence for the first time of a black voting majority.
The First Term
In the summer of 1979, Richard Arrington, then a city council member and a director of a consortium of the black colleges in Alabama, was catapulted into a mayoral election he did not intend to enter. But his friend, white liberal incumbent David Vann, fell from grace among blacks after an incident involving the troubled police department which was still 90 percent white in a 52 percent black city. Blacks were outraged when a white policeman shot in the back and killed an unarmed black woman, Bonita Carter, outside a convenience store. When Vann failed to overrule the police chief and fire the officer, Arrington heeded the call by blacks to enter the mayoral race. The campaign attracted national attention and was characterized almost exclusively by heated racial division. Arrington won a spot in the runoff and defeated Frank Parsons, a white lawyer and travel agency owner. Voting patterns showed a nearly complete split between white and black voters, and Arrington won by a small 2,000 vote margin.
Arrington had his work cut out for him. He faced white flight to the suburbs, a $2 million-plus city budget deficit, an all-time high in the city crime rate, a sagging downtown business district, increasing unemployment (as basic area industries such as U.S. Steel and Pullman Standard shut down), and insufficient low- and middle-income housing in the city. Another challenge lay in the strife-torn police department, whose police chief resigned during Arrington's first year. There was also the dilemma of bridging two distinct constituencies: the black majority which put Arrington into office, and the whites whose faith he wished to gain to keep the city running.
Whether he liked it or not, when Arrington entered office he was known first and foremost as "the black mayor." "In my travels," Arrington says now, "people don't ask me, 'How's downtown Birmingham growing?' They immediately ask me something about race. But I understand that. There are very few people in this country who don't assign race either directly or indirectly to everything you can assign it to. And I think it is very significant that Birmingham has a black mayor.
"But you know," he says, "sometimes I'm tired of people saying, 'You're the black mayor . . .'"
It was an idea many people in Birmingham had trouble getting used to. Arrington's personal style didn't help matters at first. Reserved and cool in manner, he was perceived by many as stand-offish. He lacked both the creativity of outgoing Mayor Vann and the exuberance of Vann's conservative predecessor George Seibels. When Arrington failed to make overtures to white civic groups or to ask to address their gatherings, their members faulted him and predicted a crumbling of the relationship between white leaders and city government.
Instead, under Arrington the city made positive strides toward solving many problems. During his first term, figures for commercial construction projects surpassed those of any other administration in memory, resulting in an estimated $965 million in completed or announced projects. These included some $87 million in contracts at the University of Alabama in Birmingham, plus three new downtown office complexes and a federal courthouse building. More than $2 million in the red when Arrington took office, the city ended every fiscal year with a surplus during his first term. This was accomplished with minimal layoffs and cuts in city services such as garbage pickup and street maintenance.
During the same first term the crime rate dropped 10.4 percent and the percentage of black officers in the police department increased from less than 10 percent to about 22 percent of the force. The number of black officers above the rank of patrolman rose from three sergeants to 12 sergeants and three lieutenants. Citizen complaints of police brutality, says Arrington, have dropped 80 percent, and police reports of assaults on officers and citizens resisting arrest have dropped 48 and 45 percent respectively. This improvement stands in marked contrast to the situation in neighboring cities like Montgomery, where strife between the police department and black citizens is escalating and where black-white relations in general have deteriorated noticeably.
Birmingham's housing assistance programs have helped in the construction of some 1,300 family units for black and white residents by providing low-interest loans. These programs have also helped improve 6,000 owner-occupied and rental units, and the city is completing a $17 million renovation of Central City, a 900-unit public housing project. Demonstrating tenacity and patience, Arrington earned public confidence as an administrator and the respect of city business leaders. Wallace Malone, president of SouthTrust Bank and a partner in business with the city on several occasions, says, "Considering the economic, political, and unemployment problems of Birmingham, Dick Arrington has done a good job. While I may not agree with every decision he makes, I have found him to be very conscientious, straightforward, and honest."
Arrington did experience a few set-backs during his first term. For example, a 1981 city contract with Metropolitan Properties, Inc. — to build a $125 million hotel, office, and residential complex downtown — fell apart in January 1983, when Metropolitan could not purchase the entire area it needed. Arrington's 1983 opponent John Katopodis was critical of the project during that campaign, and Arrington lays part of the blame for its failure on the lack of cooperation by Katopodis and two other city council members.
During Arrington's re-election campaign his opponents focused on his endorsement of an all-black slate during city council elections in 1981. Just before the 1981 city election a group called the Citizens Coalition, which Arrington had founded earlier, endorsed a slate of five black candidates to fill the open council positions. White residents were enraged. They felt Arrington was neglecting his obligation to serve them and betraying incumbent white council members who were known for their evenhandedness. A large voter turnout, about twice the normal number for an off-year election, resoundingly defeated four of the candidates supported by the Citizens Coalition. Arrington's endorsement of the black slate became the basis of "machine politics" charges leveled by Katopodis. Katopodis also accused the coalition of exploiting the poor, ignoring women, and pushing aside any elected official who stood in their way.
In a magazine interview before the 1983 election, Arrington defended his actions, but after the election he said that he had erred in making those endorsements. "You're in a dual role in a city like Birmingham," he said. "You need to be the mayor for the entire city; but in the black community you're a civil rights leader. And you have a responsibility to be a civil rights leader.
"But you also have to respond to the fears of the white community. It was my responsibility in those situations to mediate rather than take sides, I think perhaps I should have moved earlier to try to depolarize the situation."
The Second Term
Ugliness did not develop in the 1983 election partly because of the tone set by Katopodis. With black voters almost guaranteed to support Arrington, Katopodis's obvious targets were the city's conservative white voters, and in the absence of another compelling issue, a campaign built on racist fears seemed made to order. Katopodis leveled charges at Arrington of using "machine politics," and he accused the mayor of creating a racially inspired morale problem in the police department. But as the campaign developed, and polls showed Arrington to be in the lead, Katopodis cooled his remarks. Outright appeals to racial fears, which would have run counter to Katopodis's personal philosophy, never materialized.
Now the dust has settled, and the mayor and Katopodis (who has two years left on the city council) have taken opposite sides of the fence once again. But their disagreements now take place within the context of a city government bumping along as usual. The city faces the same chronic urban problems as many others in America: decreasing population, a smaller percentage of white residents, businesses following the affluent population to the suburbs, and chronic unemployment. Arrington now hopes to ease the city into a transition from a heavy manufacturing base to a base in high technology, especially medical science, and to aid the emergence of a black professional middle class.
These goals call for gargantuan efforts, and Arrington rarely ends the working day before 9:30 or 10 p.m. Recently, at the end of a long day, he sat wearily in his office and talked about his approach to dealing with race relations in Birmingham.
"The key," he said, "is not to try to obliterate the fact that there are blacks and there are whites, or that we have had problems. The solution is accepting that fact, first of all. Because until you accept it, you can't deal with it. You know, when I was first elected, a reporter said to me, 'Do you have any racial bias?' And I said, 'Well, I'm sure I do. I'm a product of this society.'"
Few deny that Birmingham has made progress in political and racial relations since the days of "Bull" Connor. But Arrington's impact will also have to be measured in terms of his policies. In the 1983 election, although race was not an overt issue, most blacks and whites still voted for different candidates. Moreover, in early 1983, CBS reporters found Arrington's strongest white support came from the downtown business community instead of from the white liberals who helped to elect him the first time around. And, while community-police relations are better, and a great deal of city assistance has gone toward housing for low- and moderate-income families, even more attention has been paid to traditional, business-promoted solutions: the ill-fated downtown complex, high technology manufacturing, commercial construction, and budget balancing.
Arrington expresses the hope that Birmingham citizens will think optimistically about the city's future during his administration: "I expect people to criticize me as they would any other mayor. I expect to be the butt of jokes the same as any other mayor would be. You can say, 'He doesn't have leadership ability.' You can say, 'He doesn't know how to inspire confidence.' But don't say, 'Birmingham can't progress with Richard Arrington because he's black.' You would then condemn the entire city."
Tags
Kelly Dowe is a free-lance writer living in Birmingham. (1984)