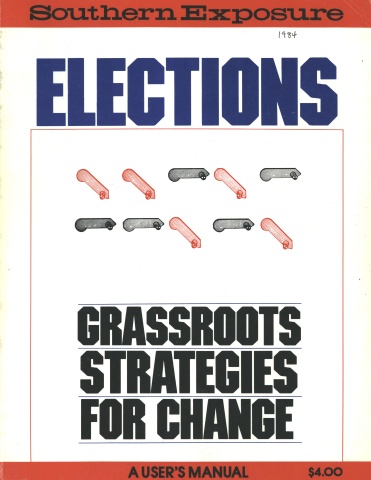 This article originally appeared in Southern Exposure Vol. 12 No. 1, "Elections: Grassroots Strategies for Change." Find more from that issue here.
Politically speaking, south Texas has been a forgotten region. But in 1984 it could figure dramatically in the outcome of the presidential election. Thanks to a recent revolution in voter registration among Mexican-American citizens there, Hispanic voters could very well determine who carries Texas in the race for the White House. And Ronald Reagan's campaign strategists are taking note of that fact.
This has not always been the case. Juan Maldonado, chair of the Mexican-American Democrats (MAD), a statewide political organization, remembers when few Mexican-Americans voted, let alone ran for office: "I don't think the power elites 10 years ago were very interested in having all these people voting. It wasn't that good an idea. You had the poll tax for a time and people got the impression it was going to cost either money or time or something to participate. Gradually, people decided they didn't want to vote. All you had to do was listen to the boss-man."
Sitting in his office at Stephen F. Austin Junior High School in San Juan, in the southern tip of Texas, Maldonado recalls the old days in south Texas politics. He knows the situation well. He was among the first Mexican-Americans to serve on the San Juan City Commission — elected in 1971 — and was elected mayor in 1977.
"I think it was the old patron system that kept people from voting," Maldonado says. The patrones, he explains, were:
the few Mexican-American people who had a business, the ones who owned a trucking company or the ones who were close to a certain Anglo person with money. The big businessman would pick a couple of people whom he wanted to be the "pushers." El Puche is the guy who pushes the people to produce for the man, and the man would say, "If you behave — a few of you are real smart and know how to read — and if you stay in line, then maybe one of you might be a pusher in the future." They decided who would vote, who would run for office, and who would win.
When I first decided to run, we approached some business people, white and brown. They said, "You need to talk to Mr. So-and-So and Mr. So-and-So. They can give you the green light and you will win. If you don't, you'll lose." Most people didn't vote because it didn't make any difference. A few people called all the shots.
Maldonado is not the only one with memories like these. In McAllen, the area's largest city (15 miles west of San Juan), City Commissioner Ricardo Salinas, now mayor pro tem, recalls that many Mexican-Americans used to ask, "'Why should we vote? It doesn't matter who wins. I'm still not going to get anything out of it.'" That attitude comes from never having any of their own elected."
Fear was also a big factor, Salinas adds. "Fear of the machine. Fear of intimidation. Fear of lawsuits. Fear of being seen and fear of being photographed [at the polls or political rallies].We [Mexican-Americans] don't want to be in the news. We don't want people to talk to us [about our political feelings]. Anglos, they have power, and the newspapers cater to all their feelings and, psychologically, they have the advantage over us."
Rodolfo Rocha, assistant professor of history at nearby Pan American University and director of the Lower Rio Grande Valley Archives, says that part of this fear was a legacy of the early twentieth century: "In 1915, in the Chicano revolution, in which Mexican-Americans were trying to determine their own political future, between 3,000 and 5,000 were killed. Many fled to Mexico. It was the same thing that was happening to blacks in the Deep South at the same time."
Rocha recalls that his grandfather would say — in Spanish, of course — "Never fight with the gringos, you'll never win." He continues, "My father was afraid to vote the wrong way for fear someone would find out and he'd lose his job with the city of Brownsville."
And then there was the poll tax.
Until the mid-1960s anyone wishing to vote in Texas had to pay a small tax. In poor Mexican-American communities, where a family's income was typically no more than a few hundred dollars a year, voting could take food off the dinner table. Even after a constitutional amendment and the Voting Rights Act abolished the tax, many Mexican-Americans still did not vote. "It was tradition," says Juan Maldonado. "People still had the impression that it was going to cost them something to vote."
In the early '70s Maldonado, Salinas, and others began challenging tradition. "I knew that we could not win the way it was," says Salinas. "But then I started to study [voter] registration. I'm probably the first person here who really studied it in depth, and I said, 'We can't win unless we change the registration route.'"
Maldonado was a student at Pan American University at the time. He and some classmates began voter registration drives in the predominantly Mexican-American communities lying just north of the U.S.-Mexican border in the lower Rio Grande Valley. At least 80 percent of the population was, and still is, Hispanic, but there were few Mexican-American voters and only a handful of Hispanic office holders.
"The Voting Rights Act helped us a lot," recalls Maldonado. "It encouraged people to work at improving the system. It gave us a feeling of security that what we did would make a difference." Adds Salinas, "It put some federal teeth into registration."
But how do you register people who traditionally do not vote? Maldonado has an answer:
The best approach is door-to-door canvassing, because you have a list and a map and you can record all the information. You record whether the people who live at a certain address are residents but not registered, how many are at home, what political affiliation they are, what their economic status is, whether they are likely to vote conservative or progressive. All of these factors you can document. So you get those people registered.
At the same time you are also taking a survey of what's out there so that, come election time, you can come back and you know pretty much where everybody is and where to go and what to avoid. You just take people and tell them, "Okay, these two blocks or these four blocks are yours." You assign them each with a responsibility. Every home is a square. You can even note, "Brick or frame, family of four, family of 10, six can vote. Father or mother, one son, one daughter." Take down the names and register them if they aren't already registered. All of the information you can keep and submit a copy to the [county Democratic Party headquarters] and when election time comes around, you will be able to walk those same streets.
Because of efforts such as these, the last five years have seen a dramatic increase in the number of Mexican-American voters in Texas. From 1978 to 1982, for example, the number voting in the gubernatorial election almost doubled. In the same period non-Mexican-American voters increased their numbers by only 31 percent. Registration was the key: there were 41 percent more registered Mexican-Americans in 1982 than in 1978.
In the two counties at the tip of south Texas, these statistics have a special meaning. Hidalgo County, where Maldonado and Salinas live, and neighboring Cameron County are both predominantly Mexican-American. In Cameron 92,000 of the 130,000 residents of voting age are Hispanic; in Hidalgo the figures are 130,000 of 171,000.
Most of these people are poor. Indeed, Cameron and Hidalgo counties are only two of four poverty-ridden border counties in the lower Rio Grande Valley with a population of nearly half a million. This is one of the few areas in the country where Hispanics are the overwhelming majority — 82 percent — and Spanish is often the primary language. The Valley is also the winter home of more than 100,000 migrant and seasonal farmworkers and another 100,000 elderly people who come here from their Northern homes to escape the cold winter months.
Agricultural communities dominate the area, and they harbor some of the deepest, most extensive poverty in the country. The nation's two poorest standard metropolitan statistical areas (SMSAs) are McAllen and Brownsville, both in the Valley. In 1977 over 50 percent of the people there lived below the official poverty level, and the same is true of neighboring Starr County. Current unemployment rates in the area are the highest in Texas.
Yet enormous wealth can also be found amid this poverty. The warm climate and rich soil support huge agribusinesses of vegetable farming and a major citrus belt. Enormous cattle ranches dotted with oil and gas wells fringe the northern edge of the Valley. A major tourist industry exploits the region's proximity to Mexico and the Gulf of Mexico, and has produced a boom town of luxury resorts and condominiums on South Padre Island off the mainland of Cameron County. With few exceptions, non-Hispanics have reaped the profits of these enterprises.
Statistics on family income clearly reveal the economic gap between the Mexican-American and white communities. In 1979 the average income for Hispanic families in Cameron County trailed that of Anglo families by more than $4,000. In Hidalgo County the difference was more than $3,000 per family. Nearly half of all Hispanic families earned less than $10,000 a year.
But the Mexican-American community has begun to stir politically. By late 1982 more than 100,000 Hispanics were registered to vote in Hidalgo and Cameron counties; and Maldonado, Salinas, and their allies have benefited enormously. In the small towns across the area, Mexican-Americans began winning control of city governments and school boards in the early 1970s. By the late '70s they were winning county offices.
One major prize seemed always beyond reach: elective office in McAllen, the largest and most economically important city in Hidalgo County. Hispanics are in the majority there as well, but, says Salinas, "it is a different story here in McAllen. All of the people in the surrounding areas who did not want to have Mexican-American leaders moved to the city of McAllen. They were afraid of the new leadership [in the small towns]." Salinas says that these people were well-organized, lived largely in the same part of town, and had considerable political savvy. For 10 years after Juan Maldonado won office in San Juan, the Anglo leadership of McAllen benefited from low Mexican-American voter turnouts.
"It made it harder for us," Salinas says, "because we were now dealing with the hard-core Anglo." Maldonado agrees: "We beat them [in San Juan] and they go to McAllen."
In 1981 a coalition of Mexican-American leaders finally made a concerted challenge to the traditional leadership of McAllen. Ramiro Casso (a local physician), George Gonzales (a professor at Pan American University), and Ricardo Salinas (an engineer and University of Texas graduate) ran as a slate for mayor and two city commission seats. A major scandal over alleged police brutality had attracted national publicity in the period before the elections, and national attention turned also to this contest between Casso and the incumbent mayor, a prominent agribusinessman named Othal Brand. For weeks before the election Mexican-American businesspeople, farm laborers, and some Anglo sympathizers canvassed neighborhoods, held political rallies, and prepared for the showdown with the establishment.
When it came in early April, Salinas won his seat easily. Casso and Gonzales were not so lucky. Both polled more votes than any of their opponents, but both were in three-way races and were forced into run-offs. For the next four weeks the challengers and their supporters continued to organize.
In the early May run-off election, Casso ran ahead of Brand in the precinct voting but the mayor won anyway with most of the absentee votes — nearly 5,000 of them. Among these absentees, "winter Texans" predominated — the retirees who live in local trailer parks during the winter months and return to their Northern homes in the spring.
One of Casso's political advisers says, "When we looked at the precinct-by- precinct returns after the election and at our own telephone surveys, we discovered how important the 'winter Texan' vote had really been. Even a count of out-of-state license plates at the polling place during the absentee voting gave us an early indication that the tourist vote would be substantial."
For two years Salinas — now the sole Mexican-American on the McAllen city commission — prepared for the next election. Coordinating efforts with the Southwest Voter Registration and Education Project (SVREP) headquartered in San Antonio, Salinas and his aides registered nearly 6,000 new voters. SVREP had been encouraging Mexican-Americans across the Southwest to register and vote since the early 1970s (see the description of SVREP by its director Willie Velasquez on page 46).
Velasquez and SVREP first became involved in McAllen politics in the winter of 1980-81 when they provided the leadership and financial backing for a campaign that signed up 14,000 Hispanic voters in Hidalgo County. The organization also investigated charges of intimidation in the 1981 election, finding widespread irregularities that often discouraged Mexican-Americans from voting. But Velasquez and his associates could do little more than denounce such practices.
Salinas and the SVREP leadership learned that future success would depend on three key ingredients: a voter education program to help Mexican-Americans feel less intimidated at the polls, a drive to register more Hispanic voters, and, for 1983, a low-key campaign designed to avoid arousing the opposition. (The highly visible 1981 campaign had stirred conservative Anglo voters so that they turned out in large numbers and even organized the "winter Texan" community.)
As the city elections approached in the spring of 1983, there were few indications that a quiet revolution was taking place. While the Anglo candidates spent large sums on their campaigns, plastering yards with billboards and filling television screens with snappy commercials, the Mexican- American candidates on Salinas's slate unobtrusively organized their neighborhoods. They avoided notoriety in the Anglo community. And their strategy paid off as two more Mexican-Americans won seats on the McAllen city commission.
Salinas is quick to emphasize that he and his allies were not seeking an ethnic takeover. "It has more to do with philosophy," he says, explaining that he supports any candidates — Anglo or Mexican-American — who are sympathetic to the needs of the people. "I would rather have an Anglo with whom we stand together philosophically. It doesn't have anything to do with race."
Salinas does want qualified Mexican- Americans to be treated fairly in the electoral process. Currently, he says, "we have to find a super, super Mexican" to run for office with any chance of winning. Salinas's running mate Ramiro Casso, for example, often faced charges of being unqualified despite his long record of service and leadership in the community and a degree in mechanical engineering from Texas A&M, a master's degree in chemistry from Baylor, and a doctorate from the University of Texas School of Medicine.
Despite the successes of recent years, the Mexican-American community in south Texas still lags behind its non-Hispanic counterparts in voter registration and participation. In 1982 only 40 percent of the Mexican-Americans in Hidalgo County cast ballots in the gubernatorial race, while 57 percent of non-Hispanics voted. In Cameron County the figures were 37 percent and 49 percent, respectively. In the two counties, more than 100,000 Mexican-Americans of voting age are still not registered, while only 17,000 non-Hispanics remain unregistered.
It remains difficult for poor people to be involved in the voting process, says Juan Maldonado. "It was very hard for my dad, working at a packing shed or as a custodian, to have the same opportunity to vote. You can't tell the boss-man, 'Hey, stop the conveyor belt! I'm going to vote.' We ought to make it easier for the factory people to vote." Salinas also notes that only about 10 to 15 percent of 18- and 19-year-old Mexican- Americans bother to register or vote.
Language is also a barrier. Many Mexican-Americans, especially older people, do not speak English. The fact that Texas ballots are printed in both English and Spanish does not eliminate the trouble. Maldonado says, for example, "My dad votes by the number because he doesn't know how to read or write."
Despite these difficulties, the Mexican-American community in south Texas is part of the political process now, and holds considerable hope for the future. Its potential power reaches beyond the lower Rio Grande Valley. Using the community's potential remains the focus of efforts to register Mexican-Americans across the Southwest. In the 542 campaigns in five states that Willie Velasquez and SVREP conducted since 1974, 80 to 90 percent of the campaign resources have been focused on predominantly Mexican-American communities (with the balance among Indians, Asians, and blacks).
Richard Martinez, SVREP's field director, reports that the organization has budgeted $2 million (of which $1.6 million has already been raised) for a voter registration campaign in 200 communities between now and October 1984. As Jesse Jackson told a predominantly Mexican-American audience at Pan American University in October 1983, nearly half of the six million Hispanics in the U.S. eligible to vote have not yet registered. When they do, politics in the United States may never be the same.
Tags
Kenneth Bain is the author of March to Zion: United States Policy and the Founding of Israel and the forthcoming America and the Arab World. He is director of the Honors Studies Program at Pan American University in Edinburg, Texas. (1984)
Paul Travis is associate professor of history at Pan American University and directs the History Teaching Center. (1984)