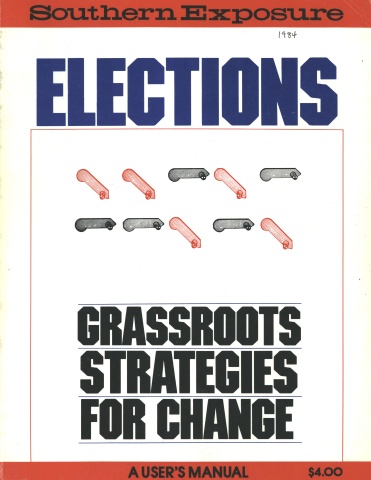 This article originally appeared in Southern Exposure Vol. 12 No. 1, "Elections: Grassroots Strategies for Change." Find more from that issue here.
On August 22, 1973, Bennie G. Thompson became the first black mayor of Bolton, Mississippi. Twenty miles west of the capital at Jackson, Bolton is a small town with about 700 residents, two-thirds of whom are black.
Prior to the Voting Rights Act of 1965, not a single black resident of Bolton was registered to vote. Registration drives produced three black aldermen in 1969, but this attempt at biracial government met with opposition from the white mayor and aldermen and failed. White resistance prompted more organizing in the black community, paving the way for Thompson's victory in 1973.
Since then, blacks have retained political control of Bolton. The town now has its second black mayor, Lawrence Butler, and for the past decade, at least four of the five aldermen have been black.
Black control of the Board of Aldermen was institutionalized in 1976, when Bolton became the first town in the state to voluntarily change from at-large elections to elections by ward. There is now one white-majority ward, three black-majority wards, and one at-large slot for aldermen.
The success of black rule can be seen in the confidence, pride, and self-respect of Bolton's people. The town was the first in the state to adopt a human relations ordinance outlawing discrimination in housing and in the use of public accommodations and establishing a commission to oversee its implementation. Perhaps most symbolic of the changes in Bolton are the local police uniforms: the department's uniform must be the only one in the country displaying a red, black, and green flag, symbolizing black liberation, in place of the traditional red, white, and blue.
Electoral victories by Bolton's black majority have transformed what was a marginal government entity into a service-oriented, active municipal body. Before Thompson took office, the town hall was usually open only three hours a week, mostly to collect water bills. In contrast, since 1973 town hall has stayed open from 8 a.m. to 6 p.m., five days a week, plus Saturday mornings. These days, it's not unusual to see a black person in the mayor's office complaining about a water bill, trash pick-up, or some other municipal concern. As Thompson puts it, "One of my campaign pledges was to open the doors of local government to all people. The doors have been opened and they are staying open."
To alleviate the most pressing problems of poverty and housing, Thompson went after outside funding. With varying degrees of success, he secured financial assistance from federal agencies, foundations, and various nonprofit groups. This may be the greatest accomplishment of black political control of Bolton.
Partly as a result of these outside resources, local people were able to secure jobs and income. Contractors on new city projects hired local laborers, social service programs provided jobs, as did the town's access to funding for youth programs. All this, and 80 CETA jobs, inspired a quip that Bolton was the only town in America with full employment.
The various federal funds secured for construction projects and social service programs brought further material improvements to Bolton. Streets were paved; houses rehabilitated and weatherized; a community center built to provide day-care for children, meals for the elderly, and other activities; and a fire station opened.
Perhaps the accomplishment Thompson takes most pride in is a 40-unit rental housing development. The duplex apartments are well constructed and air-conditioned, and the rents are subsidized. Spending months arguing with the Farmers Home Administration, Thompson made sure that the agency provided sufficient loan funds for quality construction. He then personally watched over the shoulder of the contractor. The location of this development — in a previously all-white residential area — has great symbolic meaning.
A black controlled nonprofit corporation, the Bolton Development Corporation, owns and operates the development. It is now the single largest source of municipal property taxes in Bolton, with about half of the town's black tenants living in the housing. Besides getting desperately needed high-quality shelter, the low-income families are "no longer dependent on white landlords and plantation owners for their housing. That is one less point of stress in their lives," according to Thompson, who is secretary of the development corporation.
The existence of the rental housing is a tribute to black control and power in a biracial setting. Today, Bolton's whites recognize, tolerate, and at times acquiesce to the power of the black majority. However, the first several years of Thompson's term as mayor saw frequent harassment and subversion by whites. Various challenges to the 1973 elections delayed the inauguration of the newly elected officials by almost two months. At least seven unsuccessful law suits were filed to stop or overturn the election results, leading Frank Parker of the Lawyers' Committee for Civil Rights Under Law to comment, "More lawsuits have grown out of the Bolton 1973 elections than any other election in the history of Mississippi."
Other post-election harassment included withdrawal of county services from the town, including the use of a garbage truck, and the hiring of an attorney by white leaders to attend every meeting of the town's Board of Aldermen for nearly a year after Thompson took office. The mayor and aldermen also received frequent crank calls at all hours of the night. And when Thompson ordered a property reassessment, virtually every white owner requested a hearing to protest the revised figures. It was determined that not a single assessment was calculated improperly or unfairly.
Only a few years later, white property owners accepted, with little more than a whimper, the town's first land-use ordinances, including a zoning ordinance. Thompson figures this turnaround took place when whites realized that "they couldn't break us. They ran out of options other than extreme violence. We proved to whites and blacks that a black person could do a good job as a chief elected official of a town." Nonetheless, Thompson does express regret that "whites in this area were not more receptive. We certainly could have accomplished more with support of the total community."
The success of black officials in Bolton has also pointed out some shortcomings. While controlling the political machinery, the black community has yet to break their economic dependence on white owners. This is symbolized by some white-owned businesses, including the town's only bank, that still refuse to hire blacks.
While the flow of funds and assistance to Bolton helped pay for correcting decades of neglect and deprivation, it also reinforced a sense of dependence. There seems to be a lingering sense that the federal government — even in the days of Reaganism — will somehow bail the town out of its bigger problems.
Over the past decade, there has been little new private investment in Bolton. The town's efforts to lure industry to the area have so far been unsuccessful, due in large part to insufficient utilities and, until recently, a lack of city-owned industrial land.
Even so, Bolton is far better off than many small, and in particular black-controlled, towns. Property taxes have been reassessed and modernized — the wealthy now pay their fair share — water rates occasionally adjusted, and building permit fees instituted. There has not been a major flight of capital either, while black land and home ownership has increased. In 1973 about one-half of the black families rented their homes, mostly from whites; today, about three-fourths of the black families are homeowners, due in large part to federally funded community development projects.
Coinciding with the need for economic independence is the need for management skills. For example, despite their new fire trucks, a new fire station, and extended water lines, the town's fire insurance premiums have not decreased. This is because the volunteer fire department is not well managed: regular meetings and training programs are not scheduled or held and records of fires and equipment maintenance are not kept.
Like many other municipalities, Bolton has fallen victim to building contractors, engineers, and architects who take advantage of the town's inexperience with construction projects. Lacking local funds to make up for contractor foul-ups, several projects have gone unfinished. The new fire station needed a paved driveway, and construction of a new library was halted when the contractor went bankrupt.
Officials attribute such management problems to the fact that there were no administrative procedures to be inherited by the black leadership from their white counterparts. Improvements in this area have been made. For instance, Bolton now has its water billing computerized and handled by a black-owned firm in Jackson — in contrast to the scribbled list kept by earlier administrations.
Thompson and his followers have also found that while they are able to come up with much needed innovative plans, it is a struggle getting officials to accept new ideas. To combat this, and to develop local leadership, Thompson organized black mayors into the Mississippi Conference of Black Mayors. The group serves as a forum for sharing information and ideas, and strives to develop strategies for dealing with state policy issues that affect small black-led communities. Heads of various federal and state agencies are frequently invited to explain their programs to the group.
Thompson feels that another important ingredient in helping elected officials develop progressive programs and agendas is a sustainable local community organization: "A process should take place where candidates are selected and not just elected. Getting someone elected is just the beginning. Officials must be kept accountable; this is a lot easier if there is an organized group attending meetings and making itself visible. Also an active group can back up a progressive official when he is politically isolated."
For former mayor Bennie Thompson, things continue to move ahead. During this year's elections in Mississippi, Bill Minor, a syndicated columnist covering Mississippi politics for 35 years, observed that "Thompson apparently has the potential of becoming the single most influential black figure to emerge [in Mississippi] since the heyday of Charles Evers's sway over the budding black political force in the late 1960s." Before the 1983 gubernatorial election, Minor wrote that Thompson spent a few hours on the phone talking to black leaders on behalf of candidate Bill Allain. The commitments nailed down by Thompson gave Allain a direct line to 25,000 votes and many people are attributing Allain's victory to support from these black voters.
Change for the better in Bolton has spilled across its boundaries into the rest of Hinds County, including Jackson. Black political achievements in and around Bolton have grown to include a successful suit against the state highway patrol to end harassment and the arbitrary stopping and searching of blacks in Hinds County. The action is believed to be the first where state highway patrolmen were convicted of brutality in federal court in Mississippi.
Another suit forced the county to redraw its five county supervisor districts. Without the new district lines, blacks — who make up over 40 percent of the county's population — could not get elected to office. In 1979, Thompson and another man were elected as the first black county supervisors in Hinds County since Reconstruction. At this time other blacks were elected to the county election commission, the school boards, and judgeships. And in 1983, for the first time, a black, Walter Robinson was elected to represent the area in the state's House of Representatives.
Tags
Frederic Cooper, a city planner, lived in Mississippi for nine years. He was community development director of the Mississippi Institute for Small Towns. Now head of planning with the National Demonstration Water Project in Washington, DC, he is a member of the Planners Network, a national organization of progressive planners. (1984)