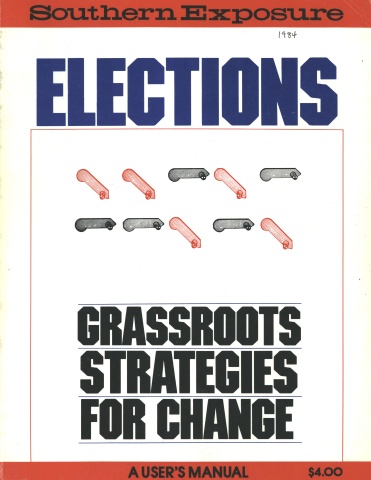 This article originally appeared in Southern Exposure Vol. 12 No. 1, "Elections: Grassroots Strategies for Change." Find more from that issue here.
If you ask Danny Corbett why he happened to run for the Alabama Senate, he'll tell you it's because "Dutch Higginbotham made me mad."
But Corbett is not an angry young man; he's more like the people to whom author Coleman McCarthy paid tribute in his book, Disturbers of Peace. As area vice-president of Communication Workers of America (CWA) Local 10908 in Montgomery, Alabama, Corbett is a "disturber of the peace." When he sees something wrong, he feels compelled to try to right it.
So it was in the case of Dutch Higginbotham, a conservative senator who served in the state legislature for 12 years without once casting a pro-labor vote. Three years ago, he sponsored a bill to prevent workers from suing their employers if they were injured on the job. "I'll get you for this, Dutch," said Corbett before he rallied the support of labor lobbyists in Montgomery to defeat Higginbotham's proposal.
Afterward, at the urging of the central labor council and the Trial Lawyers Association, the CWA leader decided to challenge Higginbotham for his Senate seat in the 1982 elections. Talking about his pro-labor campaign, Corbett says, "Working people — union people — get a short shrift in the South, and I wanted to try to do something about it."
Corbett was already well known as a friend of working people in his district. Shortly before the battle over Higginbotham's bill in the legislature, Corbett spearheaded a successful campaign to block South Central Bell from closing its business office in Phenix City, Alabama. Nineteen people faced layoffs if the office closed, and residents of the area would also be deprived of local access to the telephone company for services such as billing adjustments.
Taking off from work to fight the Bell decision, Corbett went on full-time with the union for three months. He succeeded in getting virtually every civic group in Phenix City and the adjoining communities to pass resolutions protesting the closing, as well as gathering 27,000 signatures on a petition objecting to the action. Using the petition and the resolutions to support his argument, Corbett filed a formal complaint with the Public Utilities Commission, which then issued a stay against South Central Bell.
A court later ruled that the company could transfer some services to its Montgomery office, but the Phenix City office would have to remain open. Although the office currently employs only five people, the original 19 got what they wanted — some transferring to other locations and jobs, and others opting for early retirement.
Corbett's first campaign move was to write a letter to the 4,000 members of his district's labor council telling them where he stood on the issues, and what his past achievements had been. He asked for their help — and got it.
He then established campaign committees in each of the three counties in his district. His campaign co-managers were Larry Wofford, president of CWA Local 3212 in Columbus, Georgia, and Mike Davis, secretary of the United Rubber Workers in Opelika, Alabama. "We'd call someone on a campaign committee in a town 30 or 40 miles away and tell them we needed 30 workers to spend all day on a Saturday at a rally or picnic — and instead of 30, we'd get 40 or 50. The people were just wonderful, and it made all the difference," Corbett recalls.
Throughout his campaign, Corbett told everyone, "I'm not just a working man's candidate — I am a working man." Wherever he went, his union card was his badge of honor. Even in the most hostile areas, he proudly identified himself as a union leader. "I went on television in an area that is almost solidly textile — non-union — and the first thing I said was, 'I'm Danny Corbett — area vice-president of CWA Local 10908 in Montgomery.' And it paid off. We got the big guy."
Noting that Higginbotham "spent a fortune" of the business community's money on his campaign, Corbett says proudly, "We beat him with $32,000 and a lot of legwork."
He attributes his victory to the all-out support of CWA and other unions in the district. The $32,000 came from CWA-COPE (Committee on Political Education) in Mobile, Birmingham, Selma, Montgomery, and Columbus, Georgia (a city on the state line whose CWA local represents members in both Georgia and Alabama).
Corbett also received financial help from District 10 and District 3 COPE treasuries, as well as contributions from the Steelworkers, Mine Workers, Textile Workers, Rubber Workers, and Laborers unions. The Trial Lawyers Association and the Alabama Education Association also made contributions.
"But it was more than the money," says Corbett. "They also gave their time. They made telephone calls to get out the vote. They knocked on doors for me. They distributed leaflets describing my stand on the various issues. They helped me produce radio and television ads and we did all the print advertising ourselves."
Corbett says he mobilized this support by carefully putting into practice skills he had gained at a CWA-sponsored leadership training program at the University of Alabama in Birmingham. "This program gave me everything I needed — both to be an effective union leader and to run a successful political campaign," he says. "They teach you public speaking, how to come across well on television, and some basic psychology, along with how to handle grievances and other union procedures. The way I look at it, there's not much difference between representing union members and representing a political constituency. In many cases, they're one and the same."
And so they are for Corbett, who still has his job as a residential service technician with South Central Bell. He's in his second term as area vice-president of CWA Local 10908, and in the Senate he's serving on six committees, including those for Business and Labor Relations, Finance and Taxation, Consumer Affairs, and Aging.
After a couple of terms in the Alabama Senate, Corbett would like to think about running for the U.S. Congress. "I guess that's the goal of anybody in state politics," he says. "You'd like to try to do some good at high places."
This article previously appeared in CWA News.