Drought conditions worsen across the Scorched South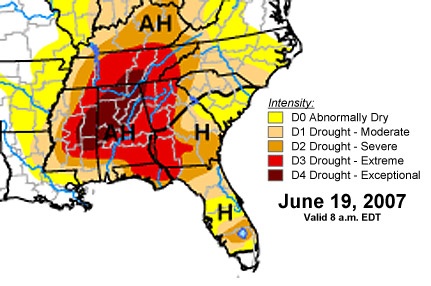 This year's "doubly whammy" of an April freeze and severe droughts are causing serious problems for farmers and others around the South.

The latest update (June 19th) from the U.S. Drought Monitor shows vast areas of the South experiencing severe to exceptional drought conditions:




From their National Weather Service summary of the situation:
The Southern and Eastern United States: Heavy rain fell on parts of the dry areas now extending from the Gulf Coast northward through the mid-Atlantic, the Ohio Valley, and upstate New York, but significant totals generally evaded the areas experiencing the most intense drought conditions, and even in areas where several stations reported multiple inches of precipitation for the week, those reports were interspersed with nearby reports of little or no rain. [..]

The rains were sufficient to eliminate D0 in western and southern Louisiana and adjacent Texas, southern Florida, and a few pockets in the mid-Atlantic, but conditions persisted or intensified elsewhere, with D0 expanding northward through much of Ohio, Indiana, western Pennsylvania, and upstate New York. The D1 through D4 areas all expanded somewhat, primarily to the north and south or southwest, in areas between the Mississippi River and the Appalachians, except along the immediate Gulf Coast. Many locations from the south-central sections of Mississippi and Alabama northward through southern Tennessee have recorded 7 to 12 inches less than normal precipitation during the last 90 days, with some of these areas more than 20 inches below normal since mid-June 2006.
In Mississippi, corn, soybean, and cotton crops are threatened. Experts say that Mississippi has endured droughts before, but possibly none as severe as this. There are also concerns about the timing of the drought and its effect on early-planted crops that are now at the point where they need water the most.

Farmers in Georgia are predicting severe crop damage, in addition to the damage caused by the Easter Freeze. May is normally a dry month in Georgia, but May of 2007 set new record lows, with no rain at all recorded in some areas of the state and only trace amounts in others. Peanut farmers were happy to see the rains from a recent tropical storm, calling it a "$100 million rain."

In Kentucky, the Bluegrass Region had the highest May rain deficit in recorded history. Experts say that the only comparable droughts occurred in 1930 and 1941, causing serious crop losses and forced livestock sales. The NOAA Climate Prediction Center says that drought conditions are expected to persist through August and spread northward into Illinois, Indiana, and Ohio.

The situation is even worse in Tennessee. Farmers say that if there isn't significant rain in the next two weeks, many of the state's corn crops will be a total loss. And some say that even if the rain started today they would only expect about 50% of normal yield. East Tennessee rainfall is 11.5 inches below normal for this time of year. Sen. Lamar Alexander visited the region, and said that this was the worst recorded drought in 118 years. He said he wasn't there to "make a lot of promises," but would report back to Congress and do whatever he could to get help for Tennessee farmers affected by the freeze and now the drought. The entire state had already been declared a disaster area from the freeze, triggering federal farm aid. The Knoxville paper reports that reduced hay and forage crops and drying ponds are resulting in beef and dairy herd sell offs, and produce prices are expected to be higher across the board.

The worst conditions, however, may be in Alabama. 38% of the state is experiencing "exceptional drought" conditions, and 78% of the state's pastures, 68% of its cotton crops, and 48% of its peanut crops are in "poor" or "very poor" condition. State climatologist and University of Alabama Huntsville professor John Christy called it a "really unprecedented situation."

TVA, the nation's largest utility, gets only about 10% of its power from hydroelectric generators at its dams, but it's their cheapest source of power. The drought has severely limited their hydro generating capacity. It's down 32% for the year, and runoff into TVA lakes is down 39%. TVA says drought-related losses could total $300 million for 2007.

With rainfall deficits in double digits all over the South and up to 20 inches in some areas, water conservation measures are being urged and some local governments are enforcing restrictions. Birmingham has set quotas with heavy surcharges for those who exceed them. Atlanta has banned weekday outdoor water use and in one suburban county violators can get a fine of up to $1000 and up to 60 days in jail. Columbia Co. Georgia is shutting off the water to repeat offenders. Neighbors are calling to report other neighbors caught watering their lawns and those with "suspiciously green" yards.

And if all that's not bad enough, there's this. Now it's getting serious.

With the freeze in April and now the drought, we're not quite sure what to expect next. A plague of locusts? Perhaps Kurt Vonnegut was on to something when he said "I think that the Earth's immune system is trying to get rid of us." Let's all hope Mother Nature takes pity on us and sends some rain our way soon.