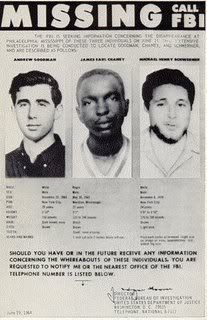 Over at DailyKos, MeteorBlades -- one of my favorite bloggers -- offers an insightful account of the murders of civil rights activists James Chaney, Andrew Goodman and Michael Schwerner, who were killed while registering voters in Mississippi, 43 years ago this week.

As someone involved in the movement's voting rights drives, MeteorBlades offers a level of insight and nuance in his telling of the story that one doesn't find in the sound-bite hagiographies that surround many movement martyrs. For example, he places the three men's deaths in the context of the movement's strategy and violence that ran throughout the region:
Like the bus strikes, and diner sit-ins and Freedom Rides that had begun 10 years before, the tactics of Freedom Summer had both a real and symbolic value. Our job was to register black voters in Mississippi. The presence of outsiders, especially white outsiders, was seen as a way to focus more attention from parts of the nation - and the media - where Jim Crow's consequences were more likely to be viewed with distaste, disgust or rage.

Long before our arrival, a number of blacks had been murdered in Mississippi for trying to do exactly what we were preparing to do. Herbert Lee was one of them. A farmer who was nearly 50 years old when SNCC tried unsuccessfully to register him, Lee was shot on September 25, 1961, in Liberty, Mississippi, by E.H. Hurst, a local white politician. At trial, he claimed self-defense, and the all-white jury agreed. Lewis Allen, another African-American, said later it wasn't self-defense. He, too, was murdered.

Before him, and before SNCC, there was the Rev. George Lee, no relation, a minister, grocer and printer, who started a local chapter of the NAACP. He persuaded nearly 100 blacks to register and got the feds to intervene so he could vote after he was refused that right in Belzoni, Mississippi. On May 7, 1955, Lee was driving home when someone shotgunned him from a passing car. The Humphreys County sheriff said Lee was killed in a traffic accident, and claimed the lead pellets in his face and head were probably dental fillings. The coroner ruled Lee had died from "unknown causes." No one was ever arrested in the case.
He also helps us understand how -- both symbolically and literally -- the Mississippi murder case isn't "old news" -- they're part of the struggle for racial justice today:
Two years ago today, [Edgar Ray] Killen was convicted of planning and orchestrating the killings of the three men. Circuit Judge Marcus Gordon sentenced him to 60 years in prison, 20 years for each of his manslaughter convictions in the case. The jury said there was reasonable doubt as to whether this Klan "kleagle" intended for the Klansmen to kill the three.

Some say justice delayed is justice denied, and while there's often truth in that, it can also be an excuse for letting bygones be bygones. But our legal system, whatever its flaws, doesn't take that view, which is why there is no statute of limitations on murder.

To back that up, however, often requires extra effort. The Killen case wouldn't have returned to the courts had it not been for a journalist [Jerry Mitchell of the Clarion-Ledger] hammering away. Which is why it's shameful that H.R. 923, the Emmett Till Unsolved Civil Rights Crime Act, has been placed on hold by Oklahoma Senator Tom Coburn. But then what's a little justice to someone with his record on civil rights?
As someone said: "The past isn't forgotten ... it's not even passed."