N.C. NAACP files formal vote-suppression complaint against Women's Voices, alerts U.S. DOJ of concerns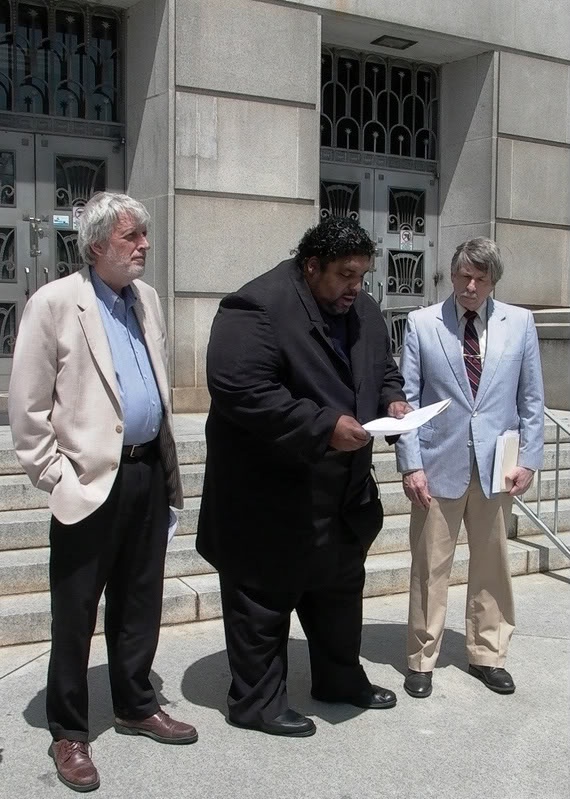 The North Carolina NAACP has filed a formal complaint of possible voter suppression against Women's Voices Women Vote, the D.C. nonprofit that as we revealed earlier this week was behind the deceptive and illegal robo-calls made to state residents. The N.C. NAACP hand-delivered its complaint today to state Attorney General Roy Cooper and State Board of Elections Executive Director Gary Bartlett. It's also alerted the U.S. Department of Justice that it's collecting more information from its national network and is contemplating filing a formal complaint with that agency.

N.C. NAACP President Rev. Dr. William J. Barber II (center in photo) announced the filing of the complaint at a press conference held this afternoon outside the N.C. Department of Justice. He was joined by his group's attorney, Al McSurely (left), and Bob Hall (right) of Democracy North Carolina. The state Attorney General's office is already investigating Women's Voices, but the N.C. NAACP and Democracy North Carolina want to be parties to that investigation.

"When you mess with the right to vote, you're messing with everything that is fundamental in our democracy," Barber said.

Here is the full text of the group's complaint, dated May 2. When it refers to "Ex. 1," that is the WVWV letter to Gary Bartlett available here [PDF]; "Ex. 2" directs readers to news reports at DailyKos, Facing South and NPR. "HKonJ" refers to Historic Thousands on Jones Street, a statewide coalition of some 70 social justice groups organized by the N.C. NAACP; Jones Street is where the state legislature is located in Raleigh.
RE: Voter Suppression Activity Targeting Black Voters in North Carolina

Dear General Cooper and Mr. Bartlett:

On behalf of the North Carolina Conference of over 100 NAACP Branches across North Carolina, I file this formal complaint against an organization out of Washington, D.C. called Women's Voices Women Votes (hereafter "WVWV") that has engaged in a pattern of massive robo-calls and mass mailings that appear to be designed to suppress and dilute voter participation, with a peculiar focus on African Americans.

One of our HKonJ Partners, Democracy North Carolina, made a request to both agencies earlier this week, to investigate automated telephone calls with misleading information about the voting process made to African Americans. We now know the source of the calls to be WVWV and we know from this group's own admission in a letter faxed to Mr. Bartlett on 28 April 2008 that it knew these messages would confuse voters. The Attorney General has taken initial action to stop the illegal calls, but there needs to be a much more aggressive investigation into WVWV's intentions and aims and the effects of its massive efforts to confuse voters.

Who was targeted? Why? How could a national organization be ignorant of the dates of one of most important primaries in the history of our State? How could a national organization give such wrong-headed directions to unregistered voters during the exact same period when they could easily register through our one-stop early voting procedure? Does the evidence show that WVWV violated NC General Statute 163-275(17),which makes it a felony crime to communicate misleading information about the voting process with the "intent and the effect" "to intimidate or discourage potential voters from exercising their lawful right to vote." Democracy North Carolina joins with us in requesting a much more aggressive investigation of the actions of the group. Here are some of the areas we urge you to look into:

1. The WVWV told Mr. Bartlett in its 28 April 2008 letter that it was about to mail voter registration information to 276,118 unmarried women in North Carolina and that it was sending similar mailings to "unmarried women not just in North Carolina, but around the country." (See Ex. 1) A comprehensive examination of the mailing list must be done to determine how many of these letters went to "unmarried women" as opposed to African Americans and other people of color, how many of each group were registered or not registered, and which misleading message each group received.

2. Although in this same letter the WVWV said it was only targeting unmarried women, three days later, on 1 May 2008, after Democracy North Carolina had raised the issue of possible targeting of African Americans, the WVWV denied it only targeted unmarried women. In a written answer it said: "While our focus is on unmarried women, we have worked to target other under-represented groups through our project, the Voter Participation Center." (Ex. 2) To what extent does the WVWV discriminate in how it communicates to African Americans in contrast to unmarried women? We cite as one example the contrast in the automated telephone messages sent to black versus white households in late April.

To speed your investigation (it is probably too late to prevent or remedy the damage done to voter turnout during early voting and on Tuesday, May 6th, but we trust a solid investigation will prevent similar misfeasance in future elections), permit us to share with you the information we have gathered since we first became aware of the confusing robo-calls and mailings a few days ago:


1. WVWV admitted it made thousands of automatic calls to North Carolina residents on 24 and 25 April 2008. (See Ex. 2) On calls, apparently to white women, a woman said: "Hi. Just a reminder. Your voter registration form is in the mail to you. Your voice counts and your vote [indecipherable]. Sign it, date it and send it in. Thanks!"

2. An African American man, who identified himself as Lamont Williams (hereafter "Lamont") gave the following message to other homes: "Hello. This is Lamont Williams. In the next few days, you will receive a voter-registration packet in the mail. All you need to do is fill it out, sign it, date and return your application. Then, you will be able to vote and make your voice heard. Please return your registration form when it arrives. Thank you." According to WVWV, "Mr. Williams is a professional voice talent," and his calls only went to men and a woman was used to contact women."

3. Lamont's calls tell people that are registered that they are not and that the only way they can vote is to wait a few days, get a form in the mail, fill it out and mail it back in. As one commentator said, "Whether the result of deliberate design or massive negligence on the part of WVWV and/or its vendors in terms of the timing of the calls and the determination of who would be called, the end result is something which rightly raised suspicions about the intent of this program."

4. Contrary to North Carolina law, there was no identification of the organization who had paid for the call, WVWV, or its "project" organization, Voter Participation Center, nor did Lamont provide any way for the receivers of his misleading message to check on it, if they had questions.

5. Mr. Kevin Farmer, in Durham, N.C. has an original tape of Lamont's message, which was apparently aimed at a young African American male voter who had registered to vote for the first time in 2004, and whose 2004 telephone number was reassigned to the store where Mr. Farmer now works.

6. Rev. and Mrs. Nelson Johnson received Lamont's message three times. Neither are unmarried women--they are African American civil rights activists in Greensboro.

7. When Lamont's messages were sent to hundreds of thousands of North Carolinians on April 24th and 25th the deadline to register for the May 6 primary had passed if you tried to register by mail. You could easily register--and Vote! by going to a one stop early voting place. WVWV focus has been on unmarried women. (See Ex. 1)

8. WVWV sent Mr. Bartlett its fax from the Institute of Women's Policy Research which has the same address, 1707 L Street NW, Suite 750, Washington, DC 20036 as the Women's Voices. The letter was dated April 24, but the fax was sent late in the afternoon of April 28, which was the same day the mailing was scheduled to leave the mail house for North Carolina.

9. In the letter to Mr. Bartlett, the WVWV explained its massive 276,118 mailing that was about to be sent, but did not mention Lamont's calls or any other calls, presumably to the same people, telling them to look for the mailer. (Ex. 1)

10. Copies of the mailing pieces were not sent to Mr. Bartlett for his review or even as a courtesy. Some of the messages on the mail pieces are misleading while others appear to misrepresent North Carolina law regarding the registration process. For example, some say, "The deadline for voter registration is approaching," but the mail-in deadline has ended two weeks earlier. Some say, "state law requires you to update your voter registration records," but voters who move within a county are allowed to vote without previously changing their registration.

11. WVWV has said they have tried to delay the 276,000 pieces of mail destined for North Carolina and that "a majority of the mail that was going to North Carolina will not be delivered, and our folks are continuing to try to make sure that as much of the NC mail as possible is held until a later date." (Ex. 2) Based on conversations with WVWV's vendors and postal officials on Friday, approximately 110,000 pieces are still being delivered this week, most heavily in Eastern North Carolina.

12. WVWV said it "was a mistake" for Lamont not to identify the sponsoring organization and "we regret the error and will ensure it does not happen again." WVWV has repeatedly been challenged on the inaccurate and misleading mass robo-calls and mass mailings in other states, and it merely apologizes, and says they will do better in the future. Months ago, we understand, WVWV pledged to identify the source of Lamont's calls. This promise was broken.

13. The robo-calls in N.C. were part of a massive set of calls and mailings in 24 states in late April 2008 that included Kentucky, West Virginia, North Carolina, and Oregon--all states where the voter registration deadline has passed and the primary is approaching. Two months earlier, on 6 and 7 February during other primary campaigns, Lamont, or someone acting for WVWV, made millions of calls in 22 states, including Virginia. At that time, the registration deadline had passed in Virginia and the primary was days away. The resulting chaos led to an investigation by the State Police and more promises from WVWV to change its deceptive practices.

14. WVWV says it was fully aware of the closing of the registration rolls in North Carolina, the availability of one-stop registration/voting, and other important voting factors that would influence the impact of its call/mailing operation. In its letter to Mr. Bartlett, WVWV apologized for the confusion its poor timing caused, but dismissed the timing as an "unfortunate coincidence."

15. Voters in Virginia, Oregon, Wisconsin, Kentucky and Michigan complained to the WVWV that the anonymous calls probably caused voter confusion and frustration. The Institute for Southern Studies found media or other reports about complaints regarding WVWV calls or mailings in at least 10 states in the past five months.


By copy of this letter we alert the U.S. Department of Justice that the NC NAACP is collecting more information through our national network in contemplation of filing a formal complaint about this issue. We also copy this letter to our National NAACP leadership, which has approved these complaints. Through our national organization, we will see information about how these confusing robo-calls and mailings affected minority voter participation in other states, such as West Virginia, Virginia and Kentucky, as we continue our discussions about our next steps to expose efforts to confuse and mislead voters in key primary states. We will also be consulting with two national Election Protection hotlines that are monitoring the primary election in North Carolina to evaluate whether their findings shed additional light on the actions of WVWV.
The letter is signed by Barber and copied to Julian Bond, chair of the NAACP's national board; NAACP Interim CEO Dennis Hayes; Angela Ciccolo, NAACP's interim general counsel; and Christopher Coates, acting chief of the U.S. DOJ's Voting Section.

To listen to WVWV's Lamont call, click here. For the call with the woman's voice, click here.
Tags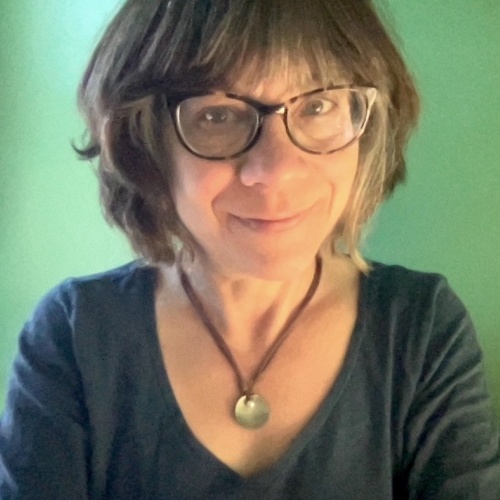 Sue is the editorial director of Facing South and the Institute for Southern Studies.