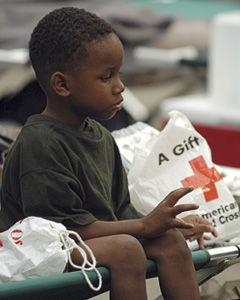 Hurricane Katrina's youngest survivors are now the sickest children in the United States, according to a
report released Monday
by the New York-based
Children's Health Fund
and Columbia University Mailman School of Public Health.
Many infants and toddlers living in a Louisiana's biggest FEMA trailer park have been found to be anemic because of poor diets, at a rate that health experts said was four times the national average, according to the report. The report reviewed medical records of 261 children who lived in a federally funded Baton Rouge trailer park called Renaissance Village. This is the first in-depth review of Katrina child survivors' medical and mental health since the 2005 hurricanes. An estimated 163,000 children were displaced after the Gulf Coast storms of 2005, according to the U.S. Census Bureau. More than half of the children were from Louisiana, mostly from New Orleans Parish, and they also were disproportionately black and poor,
reports
the New York Daily News.
Some other key findings from the study:
41% of children treated at the clinic who were younger than age four had iron deficiency anemia;
55% of elementary-school-aged children had a behavior or learning problem;
42% of children had hay fever, and/or upper respiratory infections;
24% had a cluster of upper respiratory, allergic and skin ailments;
One-third of the children had impaired hearing or vision;
55% of elementary-school-aged children had a behavior or learning problem;

Iron deficiency anemia can cause skin diseases, fatigue and attention-deficit disorder, and other learning problems. Severe deficiency in very young children can delay growth and development and even cause heart murmurs,
reports
the Associated Press.
 "The recovery from Katrina was actually handled far worse even than the initial response," study author Irwin Redlener, a professor at Columbia's School of Public Health
told
the New York Daily News. "It's just disappeared from public view with an assumption that whatever was done is over."
The "unending bureaucratic haggling" at federal and state levels over how to provide services and rebuild health centers for the Gulf's poor has made a bad situation much worse, Redlener
told
Newsweek.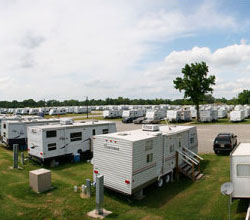 The children in the Children's Health Fund study are probably some of the sickest of the estimated 30,000 children living in trailers and temporary housing in the region, Redlener
told
USA Today. Redlener said that thousands of other displaced children could be experiencing the same health problems. "This is the first wave of data, and it's extremely alarming. Who knows what's happening to kids we're not seeing?" Redlener asked. Redlener said it was imperative that state leaders on the Gulf Coast realize there is a crisis and make fixing it a priority. He suggested creating a "child health task force" to track down the scattered Katrina kids, monitor their health and provide them with critical medical care.
According to the report, some kids may end up with permanent developmental and cognitive delays, but many can still be helped, but the first step will be finding them. FEMA was supposed to provide Louisiana with contact information for the families that moved out of the trailers; it has not done so. The agency's case-management program also "has yet to provide any services for thousands of families," according to the report.
As Facing South has
reported,
FEMA trailers were found to have high levels of formaldehyde. Many of the children's illnesses could be directly related to formaldehyde poisoning. The Centers for Disease Control and Prevention plans to initiate a long-term study focusing on children living in federal-funded trailers and mobile homes in Louisiana and Mississippi.