Gulf Watch: FEMA's sluggish response continues to frustrate officials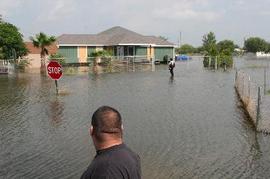 The Associate Press
reports
that a 30-mile scar of debris along the Texas coast stands as a festering testament to what state and local officials say is FEMA's sluggish response to the 2008 hurricane season.
Facing South has
reported
on the slow and inadequate response from FEMA in response to the 2008 hurricane season - a failed response that remains a major barrier to rebuilding in the region. For months high-ranking federal and state officials have been expressing the concern that FEMA is moving too slowly and has made too many missteps and suffered under too many bureaucratic glitches, all of which have combined to slow down recovery.
Along the Gulf coast, vast piles of hazardous garbage including shattered building materials, lawn furniture, trees, boats, tanks of butane and other dangerous substances, as well as thousands of animal carcasses and human corpses still bake in the heat, reports the AP. Texas officials complain that removal and cleanup work along the Coast has been held up due to FEMA red tape and bureaucracy.
In some areas along the coast, officials complain that FEMA has been slow to reimburse local governments for what they have already spent, putting the rural counties on the brink of financial collapse, reports the AP. Along the rest of the Gulf Coast, thousands of homeless families are still living in tents having yet to receive housing assistance from FEMA. Officials have accused FEMA of being too slow in providing mobile homes and other housing.
We
reported
last month that Texas Gov. Rick Perry announced the formation of the Disaster Recovery and Renewal Commission to help communities recover from a devastating storm season. "Two months after Ike's landfall, Texans are still sleeping in cars or tents outside of padlocked trailers," Perry said, criticizing FEMA's response. "Mounds of debris are piled up in coastal communities creating health hazards while Washington remains mum about whether it will provide the same level of resources it did for Louisiana after Hurricane Katrina. These situations clearly demonstrate that the federal government's recovery system is broken."
Some residents and communities groups are uniting to pressure FEMA to respond to their needs. Last month a farmworker rights organization and 14 low-income poor south Texas residents sued FEMA accusing the agency of refusing to help thousands of poor families repair their homes after Hurricane Dolly.
According to the AP
, the lawsuit was filed in federal court in Brownsville by Texas RioGrande Legal Aid on behalf of the residents and La Union del Pueblo Entero (LUPE), who says FEMA denied requests for money to cover home repairs to 10,000 to 15,000 residents in the Rio Grande Valley since the July 23 hurricane.
(Photo: Eight days following HurricaneDolly's landfall, residents of Hildalgo County were still cut off by flood waters and hadto wade through water to reach passable roads. Photo by Patricia Brach/FEMA)