Is HUD locking the poor out of New Orleans?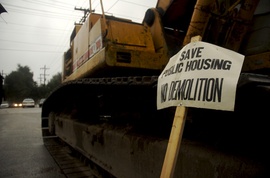 In New Orleans this week, the U.S. Department of Housing and Urban Development began breaking ground on the redevelopment of the former St. Bernard housing complex, one of the big four housing projects torn down by HUD since Hurricane Katrina. But housing advocates are questioning whether the redevelopment plans will include enough affordable housing, reports the Times-Picayune. 
Public housing has been a major battleground in post-Katrina New Orleans. In 2006, federal housing officials first announced the plan to raze the four large public housing developments -- the St. Bernard, B.W. Cooper, C.J. Peete and Lafitte projects -- and replace them with privately developed mixed-income housing. In response, community members, former residents and advocates sued and staged several marches and protests, arguing that the plan to demolish much of the city's public housing developments was discriminatory. 
But the city demolished the developments and in the process eliminated some 4,500 public housing units in New Orleans at a time when thousands of residents are still displaced and thousands of others are on a waiting list for low-income housing in the city. The decision to tear down the complexes while thousands of people are still searching for affordable housing in the city led many housing advocates to speculate that the real motive is gentrification. HUD argues that the city will be creating "mixed-income" housing. But advocates point out that more often than not these sort of redevelopments only shut out the poor. 
Housing advocates have underscored that instead of supplying affordable housing, in essence HUD has prevented many of New Orleans' displaced public housing residents from being able to return to the city. Before Katrina, federally subsidized apartments and public housing were a key strategy for housing the poor. Pre-Katrina New Orleans had 5,100 families living in public housing. Today, New Orleans public housing shelters only 1,800 families. 
The Shrinking of Public Housing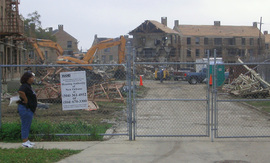 Following Hurricane Katrina, residents were barred from returning to the housing projects, leaving displaced public housing residents without homes in a city where affordable rentals were nearly impossible to find. With rents soaring in the years following the storm and with no affordable units being opened, it seemed that federal and city policy was being set that barred low-income residents from returning to the city. 
Facing South has reported on the severe affordable housing crisis facing many New Orleans residents. Hurricane Katrina damaged or destroyed nearly 52,000 rental units in the city and the homeless population has doubled to about 12,000 since the hurricane. The bureaucratic delays and the lack of progress on providing affordable housing has been a major barrier to rebuilding and providing housing for thousands of low-income people in need. 
Federal policy has also led to a violation of the human rights of these former residents. Under international human rights law, the United States must "recognize the human right of displaced people to return home." The law also says "internally displaced people must be given a say" in the planning of their return. 
Today, displaced persons trying to exercise their right of return still face major obstacles to finding affordable rental housing. In New Orleans, rents have risen as much as 40 to 200 percent since the storms. Programs to facilitate the rebuilding of rental units have been largely unsuccessful. 
The end result is that HUD is spending millions of dollars to end up with less affordable housing in the city of New Orleans. 
What's clear is that the politically polarizing redevelopments of the Big Four complexes -- the St. Bernard, B.W. Cooper, C.J. Peete and Lafitte -- will include far fewer public housing units than the massive complexes they are replacing. 
... 
...Housing advocates accuse HUD of running the poor out of the complexes without offering enough replacement subsidized housing, either within the redevelopments or elsewhere, to supply a city in the grips of an affordable housing shortage. Furthermore, in previous redevelopments, the agency has a shoddy record of fulfilling promises of adequate replacement housing for the poor, opponents of the redevelopment say. 

"HUD doesn't want poor residents to return," said Bill Quigley, the Loyola University law professor who represented public housing tenants after Hurricane Katrina in an unsuccessful anti-demolition lawsuit against HUD.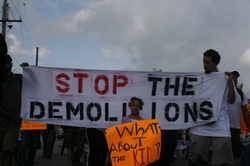 The spiraling costs of private housing and rental units, and in particular the demolition of public housing, puts these communities in further distress, increasing poverty and homelessness. 
... 
The right to an adequate standard of living enshrined in the Universal Declaration of Human Rights includes the right to adequate housing. The international community has made it clear that those displaced from their place of residence, whether by conflict or natural disaster, should have their rights particularly protected in reconstruction efforts. The inability of former residents of public housing to return to the homes they occupied prior to Hurricane Katrina would in practice amount to an eviction for those who returned or wish to return. International human rights law prohibits evictions from taking place without due process, including the right of those evicted to be given due notice and opportunity to appeal eviction decisions. It also requires the authorities to ensure that large-scale evictions do not result in massive homelessness and to consult those affected on relocation or alternative housing solutions.

International human rights law, including relevant provisions of the International Convention on the Elimination of Racial Discrimination, also clearly prohibits actions that result in a discriminatory impact denying individuals or group's equal enjoyment of human rights because of their race, ethnicity, social or other status. 

We therefore call on the Federal Government and State and local authorities to immediately halt the demolitions of public housing in New Orleans. This measure should be accompanied by all measures ensuring genuine consultation and participation of current residents - or former residents wishing to return - in all relevant decisions. We also call on the authorities to ensure that redevelopment plans do not discriminate against former residents and that every effort is made to consider alternatives to demolition or redevelopment proposals, so as to protect the rights of the poorer and predominantly African-American communities displaced by Hurricane Katrina. 
As the world marks the 60th anniversary today of the adoption of the Universal Declaration of Human Rights (UDHR) lets not forget the violations of human rights here in the United States. The world and the United States still have far to go in fulfilling their duties.