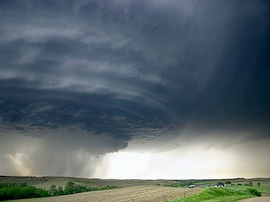 A new
study
released Wednesday found that the South, especially along the Atlantic and Gulf coasts, leads the nation in its natural disaster death rate.
The study, published by the
International Journal of Health Geographic
, maps deaths from natural hazards -- including heat waves, wildfires, earthquakes, hurricanes, and floods -- around the U.S. from 1970 to 2004. The authors say their work seeks to guide emergency planners over how to allocate resources to areas and people most at risk.
Besides the coastal areas of the South, Arkansas, southwestern Texas, the northern Plains, and the West's mountains also had high death rates. Heat and drought accounted for the most deaths at 19.6 percent, followed by severe summer weather, where hail, lightning and thunderstorms, accounted for 18.8 percent of deaths.
"Significant clusters" of high mortality occurred in the lower Mississippi Valley, upper Great Plains and Mountain West, with additional areas in west Texas and the Florida panhandle. The safest place, in terms of protection against the forces of nature, are parts of the Midwest or cities in the Northeast.
The period under study did not include 2005, the year of Hurricane Katrina, which claimed more than 1,800 lives.