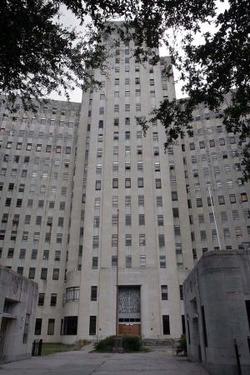 FRI 12/5/08 -- Residents of the historic Mid-City neighborhood in New Orleans saw their homes flooded by Hurricane Katrina. Since then they've been working to rebuild their homes and neighborhood. But now it looks like they will see those very homes and neighborhood flattened by bulldozers.
Last week the U.S. Department of Veterans Affairs and Louisiana State University announced the selection of a lower Mid-City neighborhood in New Orleans as the site of their new hospitals. The decision is a controversial move that has left many community members reeling. Opponents of the proposal argue that the plan would displace hundreds of homeowners and destroy some 70 acres of the neighborhood, including more than 200 historic buildings and homes in the historic, African-American neighborhood. 
The Mayor and fellow city leaders described the 27-block area as a center "of blight", worthy of destruction. However as author Jennifer Farewell has noted, "Despite the perception by many that the area is filled with largely blighted homes and run-down commercial structures, residents say it just isn't so. In fact, they say their neighborhood is better since Katrina than ever before, and they're mystified as to why the complex couldn't have been built somewhere else."
Residents and housing advocates have protested that residents had no voice in the new site selection and that alternate sites were prematurely discarded. Community groups and preservation groups such as the National Trust for Historic Preservation also encouraged LSU to restore the iconic Charity Hospital in lieu of tearing down the historic neighborhood. Community groups point out renovating and modernizing Charity Hospital would take much less time and be significantly less expensive than building the proposed new $2 billion complex. 
In fact, a report released this pass August by Philadelphia-based RMJM Hillier, an independent consulting firm, confirmed that Charity Hospital is structurally sound. The firm concluded that a $484 million investment could transform the one-million-square-foot building into a state-of-the art, modern medical facility for local residents.
Preservationists also point out that Charity Hospital is one of the premier examples of Art Deco architecture in America, and its rehabilitation would provide the most sustainable way to create a contemporary hospital while preserving a key part of the city's history. The National Trust for Historic Preservation listed Charity Hospital and the Lower Mid-City neighborhood on its 2008 list of America's
11 Most Endangered Historic Places
. 
Moreover, from a social justice perspective, advocates point out that renovating Charity would also be the quickest way to bring back an important health-care safety net to New Orleans, a city desperately lacking in affordable options for its most marginalized. The decision to not rebuild Charity, New Orleans' only public and local healthcare provider, has been a huge obstacle for low-income residents trying to rebuild their homes and lives in a post-Katrina New Orleans. 
Yet, despite calls from preservation groups and residents to save Charity, city officials appear unmoved by arguments that they can rebuild Charity Hospital for a fraction of the cost and prevent people from loosing their homes. Community members have been struggling for the past three years to get the city to reopen the hospital.

Before it was closed, the 270-year-old hospital was considered the oldest continuously running public hospital in the country. For generations it was the safety net for the city's poorest. Immediately after the storm, Charity was fixed up to accommodate contractors and relief workers -- but after they left, the city condemned the building and announced Charity would be closed.

Those most affected by its closure were children, the elderly, and low-income residents unable to benefit from the public health care system. Two-thirds of the city's uninsured population went to Charity. Half of the African-American population in New Orleans relied on Charity for most of their medical needs.  
Tearing down hundreds of historic houses (many of which date back to the 1800s) and displacing residents who were already struggling to rebuild their homes and their lives following Katrina is as controversial a decision as the one the city made when it demolished 4,500 historic public housing units in New Orleans this past spring. They share many things in common, including the lack of public voices in the decision and a disregard for what happens to low-income people and people of color already struggling to rebuild.