Oh, Freedom: Saying goodbye to the siren voice of the Civil Rights Movement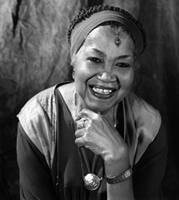 WED 12/3/08 - Known as one of the greatest legends in American folk music, Odetta, 77, died Tuesday at Lenox Hill Hospital in Manhattan. The cause of death was heart disease.
Odetta was one of the most widely known and beloved folk-music artists of the 1950s and 1960s. Her blues, folk, gospel and ballad recordings would go on to influence some of the most celebrated musicians of our time, including artists such as Harry Belafonte, Bob Dylan, Janis Joplin and Joan Baez.
She was born Odetta Holmes in Birmingham, Ala. in 1930. The music of the Deep South - Negro spirituals, slave songs, and other traditional African-American folk songs - would shape her life and her career. "As I did those songs, I could work on my hate and fury without being antisocial," Odetta once
told
The New York Times. "Through those songs, I learned things about the history of black people in this country that the historians in school had not been willing to tell us about or had lied about."
Starting with her 1954 debut album, she would go on to tour the world, championing civil rights issues, African-American music, and sharing stories of the Southern experience through her songs. A classically trained singer and self-taught guitarist, her deep sense of history and social consciousness resonated through her music. Calling herself a musical historian, Odetta gave voice to a people often forgotten.
As SeeingBlack.com
described
:
For more than fifty years, Odetta, the phenomenal singer, guitarist, historian, researcher, storyteller and musicologist, has stirred audiences worldwide with passionate, caring songs about the lives of everyday working folk who might otherwise be forgotten or ignored. She honors the downtrodden, the homeless, the struggling, the not-so-powerful. She shares stories of common folk's joy and pain, suffering and hopefulness, fighting spirit and ability to overcome. Hers are stories told in a uniquely powerful voice and varied genres--blues, jazz, and spirituals, prison work songs, field hollers, sea shanties, western campfire and Appalachian mountain songs. And she was able to make them all fit into her embrace of the style commonly referred to as "American folk."

"It has been the folk music that has informed me, educated me, got me to feeling good and better about myself and I have a need to propagandize and to continue putting out the stories of how strong a group of people we came from, how we got over, under, through in spite of all the feet that were holding us down. So I'm a propagandist really," she once
told
Tavis Smiley.
Known not only for her music but her activism, Odetta's soulful, deep voice would be the soundtrack for the quest for racial justice during the many freedom marches of the Civil Rights era. Odetta sang at the March on Washington in 1963, marched with Dr. Martin Luther King, Jr. in Selma, Ala., and protested against U.S. involvement in the Vietnam War.
In 1999, she was awarded a National Medal of Arts by President Clinton. In 2004, she was a Kennedy Center honoree. In 2003, the Library of Congress honored the Grammy-nominated artist with its rare "Living Legend Award."