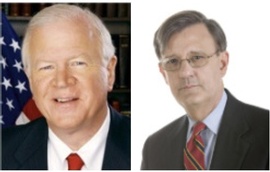 Georgia will be on the minds of many this week as its citizens prepare to vote in Tuesday's runoff election between incumbent Republican U.S. Sen. Saxby Chambliss (left photo) and his Democratic challenger, longtime state lawmaker Jim Martin (right).
The outcome of the contest will help determine whether Senate Democrats get the filibuster-proof super majority they need to move legislation over Republican objections. They are now just two seats shy of the 60 required, with a recount still underway in the close Minnesota race between incumbent Republican Sen. Norm Coleman and his Democratic challenger, comedian Al Franken.
Consequently, Georgia's Senate race has drawn political powerhouses to the state for campaigning. Sen. John McCain and his former running mate, Alaska Gov. Sarah Palin,
hit the trail for Chambliss
, while former President Bill Clinton and Nobel Peace Prize winner Al Gore
made the case for Martin
. Though President-elect Barack Obama reportedly has no plans to visit the state where McCain took 52 percent of the vote, he took time out from his transition work
to record a radio ad and robo-call
for his party mate.
Also weighing in on the race: former U.S. Sen. Zell Miller of Georgia. The conservative Democrat crossed party lines to endorse Chambliss,
saying
he "could well be the last man standing between a far-left liberal agenda sailing through the United States Senate." Chambliss also got the endorsements of former Republican presidential candidates Mike Huckabee, Mitt Romney and Rudy Giuliani.
But the race still remains too close to call. A recent
poll conducted for Politico.com
shows Chambliss with a narrow 3-point lead over Martin -- with a 4-point margin of error.
Giuliani Visit Underscores Chambliss's Big Energy Connections
Giuliani's
visit to Georgia
last week on Chambliss's behalf spotlighted another kind of power politics operating in the Georgia Senate contest but largely behind the scenes: the campaign giving of the big energy companies. Those companies have a great deal at stake under the new leadership in Washington, with both Democratic lawmakers and the Obama administration promising to craft new policies on climate and energy.
The former New York mayor's lobbying firm -- the Texas-based Bracewell & Giuliani -- is
considered
one of the most powerful energy law firms in the nation, representing the legal and lobbying interests of energy giants including Houston-based Dynegy and the Southern Company, an Atlanta-based public utility holding company whose electricity-producing subsidiaries -- fueled mostly by coal -- serve 4.3 million customers in Alabama, Georgia, Florida and Mississippi.
The Southern Company also happens to be Chambliss's top campaign contributor, giving the Senator a total of $125,200 over the course of his career -- $75,700 of that in the latest election cycle alone,
according to OpenSecrets.org
.
Meanwhile, Chambliss has pursued
policies that have benefited The Southern Co. and other coal-based electricity producers
. For example, he voted against addressing U.S. carbon emissions without first considering India's and China's, against implementing the Kyoto climate treaty, and against providing tax incentives for energy conservation. He also voted for the Bush energy policy, which among other things kept the question of global warming away from the Environmental Protection Agency to avoid regulation of greenhouse gas pollution.
In fact, Chambliss's environmental voting record has
earned him a lifetime score
from the League of Conservation Voters of just 5 percent. The LCV and the Sierra Club have instead endorsed Martin, who has called for dramatic reductions in greenhouse gas emissions, stricter energy-efficiency standards, and requiring public utilities to generate more energy from renewable sources.