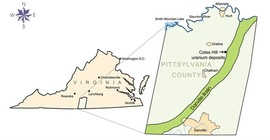 A company that wants to mine radioactive uranium in rural Virginia successfully lobbied a state commission for a study of the matter after the legislature refused over public health concerns.
Members of the Virginia Coal and Energy Commission unanimously approved a
motion
[pdf] last month asking the Virginia Center for Coal and Energy Research at Virginia Tech to join with the National Academy of Sciences "or other comparable scientific or academic institutions" to study the impact of uranium mining in the state. The motion also calls for public hearings on the practice, which Virginia has banned for the past 25 years.
The study was requested by Virginia Uranium, a privately held company seeking to overturn the state ban so it can mine and mill uranium for nuclear power plants on a 200-acre site near the farming community of Coles Hill in Virginia's Pittsylvania County. The site lies just north of the City of Danville, Va. and near the border with North Carolina's Rockingham and Caswell counties.
Formed two years ago, Virginia Uranium belongs mostly -- 78% -- to the Coles and Bowen families that own the farmland where the uranium was found three decades ago. Private investors hold another 12% of the company, while employees, managers and directors own 10%.
The Pittsylvania County site is believed to represent the largest undeveloped uranium deposit in the United States and the seventh largest in the world. It holds an estimated 60,000 tons -- enough uranium to power all the commercial nuclear power plants in the country for about two years.
The company estimates the ore's long-term value at about $10 billion.
COMPANY CONTRIBUTED TO COMMISSION MEMBERS WHO OK'D STUDY
Democratic Gov. Tim Kaine supports a uranium mining study, which also won the approval of the state's Democratic-controlled Senate. But the Republican-led House defeated the proposal after hearing the concerns of a GOP delegate who represents constituents that get their drinking water from the targeted area.
As the Washington Post
observes
, Virginia lawmakers' comfort with uranium mining seems to increase with their distance from it:
The issue divided legislators along geographic lines rather than partisan ones. Many who represent areas where uranium has been found or whose drinking water could be affected voted against it, and many from other regions, including Northern Virginia, voted for it. The Coles Hill area supplies drinking water locally and to parts of Hampton Roads and North Carolina.

Virginia Uranium has vigorously lobbied state legislators to support the study. During the last legislative session, the company paid almost $100,000 to 15 lobbyists to try to get the uranium mining study approved,
according to the Virginia Public Access Project
. When those efforts didn't work, the company pursued the study through the Coal and Energy Commission, whose members are appointed by the state House and Senate leadership and the governor.
Several members of the commission that approved the study also received campaign contributions from Virginia Uranium,
VPAP data shows
. The Commission's vice chair, state Sen. John Watkins of Richmond, got $1,000 on June 11. Other commission members who took contributions from the company were state Senate President Pro Tem Charles Colgan of Manassas ($1,000 on June 30), Sen. Frank Wagner of Virginia Beach ($2,000 on June 10), and Delegate Timothy Hugo of Fairfax County (two $500 installments on Jan. 4 and Jan. 8).
In all, Virginia Uranium contributed almost $30,000 to Virginia state legislators this year.
A LEGACY OF DISEASE AND DEATH
Company officials say they believe the Pittsylvania County uranium can be mined safely. Other proponents of the plan have gone so far as to dismiss worries about uranium mining as exaggerated. They include Max Schulz, a senior fellow with the free-market Manhattan Institute and a former speechwriter for U.S. Energy Secretaries Samuel Bodman and Spencer Abraham, who penned an
opinion piece for the Wall Street Journal
in which he called uranium mining "relatively harmless":
Handled properly, the yellowcake that is extracted is no more hazardous than regular household chemicals (and unlike coal, it won't smolder and combust).

James Kelly, who directed the nuclear engineering program at the University of Virginia for many years, says that fears about uranium mining are wildly overblown. "It's an aesthetic nightmare, but otherwise safe in terms of releasing any significant radioactivity or pollution," he told me. "It would be ugly to look at, but from the perspective of any hazard I wouldn't mind if they mined across the street from me."

But the record shows that uranium mining is not as environmentally benign as Schulz would have us believe. While it's true that the yellowcake ore is not as radioactive as processed uranium, the way in which it's extracted from the earth and turned into a useable product has a record of creating serious health problems
for miners
as well as nearby communities, including:
*
Chromosome abnormalities
in residents of Karnes County, Texas, where uranium was mined commercially starting in the 1950s;
* An
increase in birth defects
in babies born to mothers who lived near a uranium mine waste dump in New Mexico;
*
Excess risk of cancer mortality
in communities near uranium mills in Spain; and
* An
increase in lung cancer risk for residents
living near uranium mines in Germany.
Uranium mining also presents a serious threat to drinking water, as illustrated by
the disaster that took place at Church Rock, N.M.
in 1979, just 14 weeks after the Three Mile Island nuclear accident.
On July 16 of that year, at a uranium mining and milling complex owned by the Virginia-based United Nuclear Corporation, a state-of-the-art dam holding uranium mining waste burst, sending more than 1,100 tons of the toxic discards known as "tailings" and 90 million gallons of contaminated liquid into the Rio Puerco River. Once an important drinking water source for nearby Navajo communities, the river remains dangerously contaminated today.
Uranium mining's impact on drinking water is a concern for Virginia as well -- especially given a climate far wetter than the desert Southwest. In Virginia Beach, for example, officials recently
announced
their opposition to the mining plan over concerns that a tropical storm or hurricane could breach the mine waste impoundments, polluting downstream waterways including Lake Gaston, the city's drinking water source.
Environmental groups also oppose the uranium mining plans for Virginia. They include the Southern Environmental Law Center, Piedmont Environmental Council, Southside Concerned Citizens, the Virginia Conservation Network and the Sierra Club.
(Map showing location of proposed uranium mine from Virginia Uranium's website)