Workers at North Carolina's notorious Smithfield plant vote on union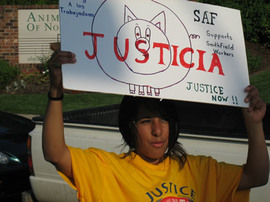 Wednesday and Thursday labor rights' advocates will be turning their eyes to North Carolina. About 4,600 workers at the Smithfield Packing Co. slaughterhouse and packing plant in Bladen County will vote on whether the United Food and Commercial Workers (UFCW) should negotiate for them with the plant's owners, Smithfield, Va.-based Smithfield Foods Inc.
Over the years Facing South has
reported
on the ongoing struggle to unionize Smithfield Foods' meat-processing plant in Tar Heel, N.C. Tar Heel meatpackers, the majority of whom are Black and Latino, have been trying to organize a union with the UFCW for 16 years.
Last month Smithfield Foods and the UFCW finally reached a settlement. Smithfield agreed to allow a union election and to drop racketeering charges against the UFCW. (Smithfield filed suit against UFCW when the union launched an aggressive campaign in June 2006 that included calls for boycotts and other actions Smithfield deemed extortion.)
Smithfield has a notorious history of labor rights abuses at its Tar Heel plant and is known for using fear and intimidation to keep workers in line. Workers labor under poor conditions and at unsafe production line speeds, leading to scores of injuries. Workers are routinely denied worker's comp for job-related injuries. Smithfield has also pulled out its heavy union-busting arsenal over the past decade. In this hostile climate, Tar Heel plant workers tried twice in the 1990s to organize. Smithfield responded with illegal union-busting tactics to intimidate workers and to interfere with the vote -- including worker surveillance, deportation threats, sexual harassment, intimidation and violence.