Coal's ticking timebomb: Could disaster strike a coal ash dump near you?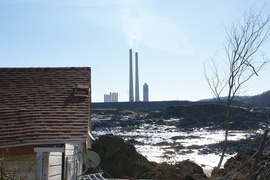 When an earthen dam collapsed on Dec. 22 at the U.S. Tennessee Valley Authority's Kingston power plant in Eastern Tennessee, a billion gallons of coal ash sludge gushed out, burying half a square mile of the nearby community in gray muck, damaging homes, wiping out trees, contaminating the Emory River, and leaving residents worried about long-term health effects.

The tragedy has focused the nation's attention on an aspect of coal that's been largely overlooked amid the industry's "clean coal" P.R. campaign: the enormous amount of toxic waste left behind after coal is burned.

Coal combustion waste -- or CCW -- represents the nation's second-largest waste stream after municipal solid waste, with an estimated 129 million tons per year produced at U.S. power plants. Containing potentially dangerous levels of heavy metals as well as radiation, CCW is a known public health threat even when it isn't inundating communities. A 2007 draft assessment [pdf] by the U.S. Environmental Protection Agency found high risks to human health from toxins leaching into groundwater near coal ash lagoons, and an associated 2007 EPA report titled "Coal Combustion Waste Damage Case Assessments" documented 24 places nationwide where environmental damages from CCW have already been proven, along with 61 other potential damage cases.

Given the known hazards coal waste presents, you might think the federal government would subject it to strict oversight. But as we have reported, the federal government still does not regulate CCW as hazardous waste, nor does it regulate CCW surface impoundments. This lack of federal oversight and the patchwork of state regulations creates difficulties for citizens seeking useful information about CCW disposal sites in their communities.

"There is no listing of CCW impoundments nationwide," reports Lisa Evans, an attorney and CCW specialist with the nonprofit law firm Earthjustice. "The federal government and many states do not regulate the impoundments, so there is no list. Many do not need waste permits and are not permitted."

But there is a way to piece together some basic information about CCW dumping at the nation's coal-burning power plants: by using EPA's Toxics Release Inventory to check each electric utility's annual TRI report for reported releases into lagoons like the one at Kingston -- structures referred to officially as "surface impoundments."

There are limits to the TRI data, though. For one thing, it doesn't include information on the condition of the impoundment -- whether the structure experienced leaks or was stacked unusually high, as at the Kingston facility. TRI data is also self-reported by companies without independent verification, and reports are required on only a select list of toxic substances. But in the absence of a centralized federal database detailing CCW disposal sites, the TRI offers access to some basic information.

Facing South used that TRI data to compile the following chart, which shows total releases to surface impoundments by the 100 top-polluting electric utilities in the United States in 2006 (the most recent year available on the EPA's TRI Explorer website) along with each plant's location and corporate owner. The facilities located in the South are in bold text, and owners headquartered in the region are denoted with an asterisk (*).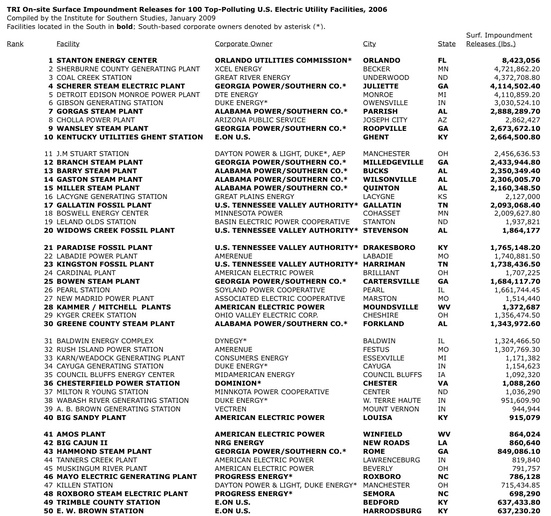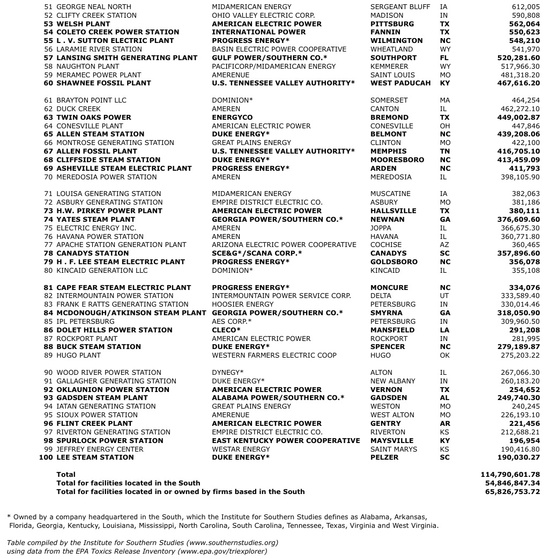 Looking over this list, a few things jump out:

* The South has a disproportionate share of heavily polluting power plants and related environmental threats. Of the nation's 100 most polluting plants, 48 of them are in the South. Of the more than 114 million pounds of toxic chemicals reportedly dumped to surface impoundments by the top 100 polluters in 2006, more than 54 million pounds -- over 47 percent -- were dumped in the South. North Carolina and Indiana are tied for the greatest number of power-plant surface impoundments on the list, with nine each.

* Surface impoundments are a concern nationwide. While the South is heavily represented on the list, there are also surface impoundments at power plants in the North, West, Midwest and New England. That means no region is immune from the kind of toxic threat now facing Tennessee.

* The biggest releases to surface impoundments were not from TVA's Kingston plant. In fact, that facility doesn't even appear on the list until #23. In all, there are 12 power plants in the South that are dumping more waste in surface impoundments than Kingston. The U.S. power plant dumping the most to surface impoundments -- almost five times as much as Kingston -- is Orlando Utilities' Stanton Energy Center in Orange County, Fla.

* The South is home to power companies heavily invested in surface impoundments. Among the total surface impoundment releases on the above list, plants owned by the Atlanta-based Southern Co. account for more than 17 million pounds, those owned by North Carolina-based Duke Energy for more than 9.9 million pounds, and those belonging to Knoxville-based TVA, a federal corporation, more than 8 million pounds.

Given those companies' considerable political clout, we can expect resistance to efforts to impose tough regulations on dumping coal waste into surface impoundments. The question is whether the American people have been sufficiently moved by the still-unfolding tragedy in Tennessee to join together and press for change hard enough to overcome that resistance.

(Photo of sludge spill in Harriman, Tenn. courtesy of United Mountain Defense)
Tags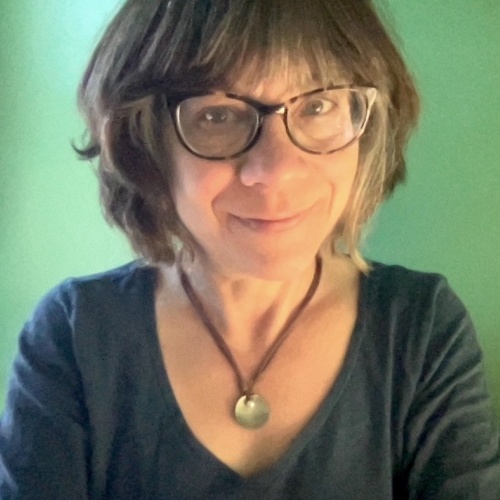 Sue is the editorial director of Facing South and the Institute for Southern Studies.