Detainee deaths in Va. raise questions about immigration detention practices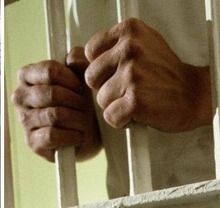 Immigration advocates say the second death of an illegal immigrant being held in a Farmville, Va. jail underscores a lack accountability in U.S. detainee practices. Immigrant detainees at the Piedmont Regional Jail in Farmville, Va. have recently come forward to expose conditions of medical neglect that contributed to the November 2008 death of immigration detainee Guido Newbrough. Autopsy reports show that he died from a virulent staph infection.
But as the New York Times
reports
:
[Newbrough]'s family and fellow detainees say the infection went untreated, despite his mounting pleas for medical care in the 10 days before his death. Instead, after his calls for help grew insistent, detainees said, guards at the Piedmont Regional Jail in Farmville, Va., threw him to the floor, dragged him away as he cried out in pain, and locked him in an isolation cell.

Newbrough's death is just the latest questionable death in immigration custody. A U.S. Immigration and Customs Enforcement report obtained by the American Civil Liberties Union through the Freedom of Information Act found that another detainee died at the same jail in 2006 under similar conditions of alleged neglect. "This facility has failed on multiple levels to perform basic supervision and provide for the safety and welfare of ICE detainees," the six-page ICE report concluded. "The medical health care unit does not meet minimum ICE standards."
Critics maintain that these cases raise questions about medical practices in the jails and private prisons under contract to hold immigrant detainees awaiting deportation rulings, as well as underscore the lack of overall accountability in immigration detention nationwide.
Jeff Winder, an organizer with the Virginia-based advocacy group the
People United
, was contacted by several inmates at Piedmont for help in getting the truth out. "They were outraged when they saw the statement from ICE in the local newspaper," Winder said in a
press release
. "They are afraid of repercussions by ICE or by the jail guards because they are speaking out, but were so moved by Guido Newborough's death that they felt compelled to take the risk and expose the conditions that exist in Piedmont."
Advocacy groups including the People United have also been working in opposition to plans by Farmville city officials and the private company Immigration Centers of America (ICA) to construct a new 1,000 bed, for-profit immigrant detention center in Farmville. Farmville's new facility would be a huge boon for private investors capitalizing on the massive influx of detainees into the ICE system over the past year.
Facing South has
reported
on the large amounts of immigrations raids sweeping the country during the last couple of years. These changing immigration enforcement policy has left federal authorities struggling to cope with rapidly rising numbers of detainees.
Arrests have overwhelmed detention systems
and local jails, as well as disrupted families and communities. But advocates argue that the new for-profit facilities being built to house the overflow would become just as problem-riddled and lacking in enforcement as the Piedmont Regional Jail.
As Jeff Winder
wrote in a guest column
last year for Facing South:
Privately-run immigrant detention centers of this type have been plagued by scandal, lawsuits and controversy. The private-prison watchdog group Grassroots Leadership has documented a pattern of abuses. They cite examples including a center in Elizabeth, N.J. that was shut down temporarily when immigrants were awarded $2.5 million in damages after an investigation showed that poorly trained guards served rotting food and physically and mentally abused prisoners. ICE turned the facility over to Correctional Corporation of America (CCA), despite this group also having a documented history of abuses in its facilities. In March of last year, nearly 1,000 immigrant prisoners in the 1,500-bed facility run by CCA in Lumpkin, Ga. went on a hunger strike protesting conditions including lack of medical care.

Private companies like ICA profit from inefficiency in the immigrant detention system. A recent article by the Washington Post documents immigrants languishing in ICE custody for months even after signing a voluntary deportation order. This means more days of space "purchased" from companies like ICA at taxpayer expense.