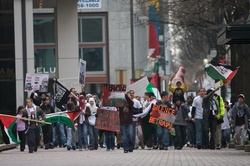 This past week tens of thousands of people took to the streets in several U.S. cities to protest against the controversial Israeli military offensive in Gaza. They have joined in the several hundred thousands of people from around the globe who have rallied in front of embassies and politicians' offices, marched in the streets and held candlelight vigils. 
The Southern United States hasn't been left out of the mobilization. In the past week alone, rallies have been held in cities across Arkansas, Florida, Georgia, Kentucky, Louisiana, North Carolina, Tennessee, Texas and Virginia. Students at universities and colleges throughout the South have also rallied their campuses for peace in Gaza, joining an international array of activists calling for coordinated boycott, divestment and sanctions against Israel and Israeli corporations.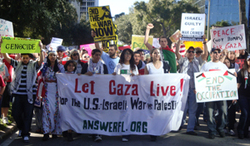 Since it was launched on Dec. 27, the Israeli offensive into the the densely populated Gaza Strip has killed almost 1,000 Palestinians, according to Palestinian health officials. The United Nations has estimated that about one-fourth of those killed were civilians. The U.N. has called the Israeli airstrikes on the Gaza Strip a severe and massive violation of international humanitarian and human rights law. 
Around the South residents have joined together to protest the rising death toll with growing demonstrations. Here's just a few examples from across the region: 
More than 500 people gathered in downtown Charlotte, N.C., for a rally and march where protesters, with Palestinian and Muslim youth at the forefront, took over downtown Charlotte with a sea of Palestinian flags and energetic chants. 
More than 1,000 people gathered at the federal building in Dallas on Jan. 2 to express their outrage and to pray for peace, demanding that Israel stop its bombing of targets in Gaza.
In Houston more than 1,000 came out to the Israeli Consulate on Jan. 2.
In San Antonio hundreds gathered at the federal building and again in front of the Alamo on Jan. 3, when ground troops entered Gaza. 
A crowd of more than 2,000 demonstrators confronted a heavy police presence in downtown Orlando for the "Let Gaza Live: Florida Statewide March for Palestine" on Jan. 10. The demonstration is said to be the largest anti-war demonstration in Florida in more than a decade. 
On Jan. 2 more than 60 people turned out in Richmond, Va., to protest the ongoing Israeli attacks on the Palestinian people of Gaza. Activists in Norfolk and Blacksburg, Va., also organized demonstrations. 
In Atlanta on Jan. 3 more than 500 people massed in front of CNN, took to the streets in a spirited march and rallied at Woodruff Park with two black caskets draped with Palestinian flags and more than 100 signs with the names of people who have died in the assault.
Even in smaller Southern cities, such as Fayetteville, Ark., people showed up despite the freezing weather on Jan. 10 to participate in a vigil for the loss of life and to protest Israel's aggression. On Jan. 5 more than 400 people converged at North Carolina State University in Raleigh, N.C. 
Inside Higher Ed
reports
that "Israeli attacks on Hamas forces in Gaza have stirred sleeping campuses, and rallies and petition drives are gaining momentum as more colleges resume full operation." Vigils at college campuses across the South drew hundreds of people, such as the
one held at Duke University
this weekend. This week approximately 100 students on the University of Louisville, Ky. campus came out to protest Israeli aggression.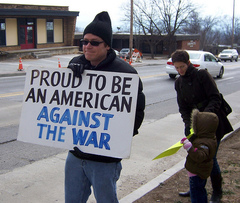 [Photos from top to bottom: More than 500 people march in Charlotte, N.C. (Photo by Henk Jonker); More than 2,000 gather in Orlando; Some 50 people braved strong winds to participate in a vigil at the intersection of 7th St. and Hawthorne Ln. in Charlotte, N.C. (Photo by Abby Whisenant).; In the last two photos: several dozen Fayetteville, Ark. residents gathered in front of the Federal Building to participate in a vigil for peace (Photo by tsweden).]