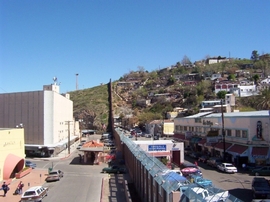 Members of the
Texas Border Coalition
are asking the U.S. Supreme Court to hear an appeal challenging the constitutionality of Homeland Security Secretary Michael Chertoff's waiver of more than three dozen laws in the building of the U.S.-Mexico border wall.
In a friend-of-the-court brief filed yesterday, members of the group -- which includes mayors, county judges and economic development officials from the Texas-Mexico border region -- asked the court to address whether the broad waiver authority that Congress granted Chertoff is permissible under the U.S. Constitution.
In April of last year, Chertoff issued waivers of 37 federal laws and all related regulations in an effort to speed construction of the 670-mile wall along the border. The laws waived included environmental acts, historic preservation acts and the entire Administrative Procedures Act. Chertoff cited his authority to do so under Section 102(c) of the Illegal Immigration Reform and Immigrant Responsibility Act.
Chertoff also waived all state and local laws relating to the areas covered by the waived federal laws but hasn't specified exactly which state and local laws have been waived or for how long. The signers of the brief -- the cities of Eagle Pass, Brownsville and McAllen, and Cameron County Commissioner John Wood -- say that makes it impossible for them to enforce laws effectively.
The brief notes that no appellate court has ever upheld such a broad transfer of legislative power to the executive branch without judicial review.
"I hope the justices will seize this opportunity to restore the balance of sovereignty among federal, state and local governments that our nation's founders guaranteed to the people and eloquently expressed in the Constitution and in the writings of James Madison," says Eagle Pass Mayor and Coalition Chair Chad Foster.
The justices are expected to decide whether to hear the case by summer. For a copy of the coalition's brief, click
here
.
(Photo of border wall from notexasborderwall.com)