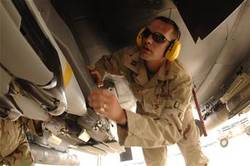 Israel's military campaign in Gaza -- which has led to
a death toll of 595 civilians, including 130 children under age 16
-- may seem a world away to many Southerners. But in reality, people in Southern states -- especially Florida and Texas -- have a very direct link to the bloody conflict, since many of the weapons being used by Israel are made there.
It's no secret that the U.S. is the largest provider of military aid to Israel. As
a December 2008 report by the New America Foundation documented
, Israel has been the largest recipient of U.S. security assistance since the 1970s, a trend that will continue:
[D]uring [the Bush administration] Israel has received over $21 billion in security assistance funding, an average of more than $2.7 billion a year (see table 15. Beginning with the FY2010 budget, to be introduced in February 2009, Israel is slated to receive an increase in security assistance of up to $3 billion a year over a ten-year period.

Much of this money comes back to the U.S., because Israel turns around and uses it to buy arms from U.S companies. And a number of the weapons being used by Israel in its latest offensive can be traced back to the South, especially Florida and Texas:
"BUNKER-BUSTER" BOMBS:
According to The Jerusalem Post,
Israel received its first shipment of GBU-39 missiles in December
, a guided "small-diameter" bomb capable of penetrating 90 cm of concrete. Congress authorized the sale of 1,000 GBU-39's last September. The
GBU-39 came out of the Air Armament Center at Eglin Air Force Base in Florida
, which continues to oversee its use in the Air Force's Global Strike Task Force.
After a bidding battle with Lockheed,
Boeing won the contract to manufacture the GBU-39
at a plant in St. Louis, Missouri; Israel reportedly paid $77 million for the missiles.
The "bunker-buster" bombs receive glowing reviews in the military press for their accuracy, although
CNN Pentagon correspondent Barbara Starr recently noted
that these capabilities are likely moot when the missile is used in heavily-populated areas:
"Precision guided bombs are only precision in that they hit the target they are aimed at," Starr explained. "We're getting these civilian casualties. These weapons are supposed to be used for a country's self-defense. Israel, obviously, believes this is its self-defense against Hamas, but you see these civilian casualties. That's not why the US sells weapons abroad -- for the killing of innocent civilians."

F-16 FIGHTER JETS:
Last October,
Washington approved the sale of 75 F-16 fighter jets to Israel
, produced by
Lockheed Martin at a plant near Fort Worth, Texas
. According to CNN,
F-16s led the Israeli attack in Gaza
on December 27, and were
directly responsible for the deaths of 160 people
on that day. More recently, an F-16 attack
claimed the life of the father of a Palestinian journalist
.
Lockheed's Texas facility will also supply a next-generation fighter, the F-35, which was first rolled out in Fort Worth in 2006.
Israel has promised to buy 100 F-35's
, and through a special arrangement will start receiving the planes as early as 2012, making it one of the first countries to receive the aircraft.
COBRA AND APACHE HELICOPTERS:
Also key to Israel's military operations have been
the use of U.S.-made helicopters
, including the
AH-1 "Cobra
." The prime military contractor behind the Cobra is
Bell Helicopter, based in Amarillo, Texas
. Another leading helicopter used by Israel, the Apache Longbow, is manufactured by Boeing but
includes components made by Lockheed in Florida
.
U.S. arms sales to Israel are regulated by the Arms Export Control Act of 1976, which prohibits U.S. weapons from being used for uses other than "internal security" or "legitimate self-defense." An
internal U.S. report concluded that Israel violated those terms
of the Act in its use of U.S. weapons in South Lebanon in 2006.
Earlier this week, Rep. Dennis Kucinich (D-OH)
wrote a letter to Sec. of State Condoleeza Rice
asking for "an examination of Israel's compliance with the provisions of the Arms Export Control Act of 1976":
I believe that Israel's use of defense articles provided by the U.S in the current Gaza military attacks may constitute a violation of the AECA. At a minimum, the conflict is sufficient to warrant an immediate report to Congress as required by 22 U.S.C. ß2753.

Kucinich asked Rice to contact his office by the end of business today, January 7.