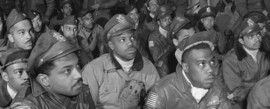 Some of the nation's first black fighter pilots will have a chance witness the first black President take his oath. On Jan. 20, the Joint Congressional Committee on Inaugural Ceremonies will welcome an estimated 250 surviving Tuskegee Airmen, all in their 80s and 90s, to Barack Obama's historic Inauguration.

It will be the second time in their history that the famed and ground-breaking all-black World War II air squad participated in Inaugural events. But 60 years ago, 12 airmen from the unit were limited to a flyby over the parade, and they were not allowed to set foot in the still-segregated capital.

But things have changed significantly, and Tuskegee Airmen were a part of and a cause of that change, holding a valued place in African American history. Nearly 1,000 black pilots were trained at Tuskegee Institute in Alabama, an Army airfield near Tuskegee, Ala., from 1941 to 1946. These men battled on two fronts - against the Nazis in Europe and against segregation. They flew missions over Germany, Austria, Italy and North Africa, and had an impressive record of protecting bombers, although for many years the Black airmen's efforts went unrecognized. But it was their efforts during WWII, including shooting down 12 Nazi planes over Italy in two days, that inspired President Truman to desegregate the U.S. military in 1948.