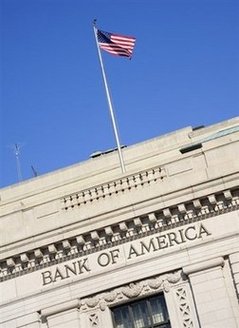 What did executives at Bank of America know about nearly $4 billion in early bonuses paid out to Merrill Lynch last December -- and what did they do to try and stop them?
These questions are at the heart of an ongoing investigation by New York Attorney General Andrew Cuomo into compensation for CEO's receiving billions in taxpayer bailout funds. Bank of America, which merged with Merrill in January, has received $35 billion from the Treasury's Troubled Assets Relief Program and another $20 billion in loans.
Yesterday,
Cuomo issued a letter to Rep. Barney Frank (D-MA)
[pdf] -- chair of the House Financial Services Committee, which
just concluded a grilling of bank CEO's receiving bailout money
-- revealing that Merrill likely sped-up payout of bonuses before being taken over by Bank of America.
As Cuomo
notes in the letter
:
Merrill Lynch had never before awarded bonuses at such an early date and this timetable allowed Merrill to dole out huge bonuses ahead of their awful fourth quarter earnings announcement and before the planned takeover of Merrill by Bank of America.

Merrill Lynch's decision to secretly and prematurely award approximately $3.6 billion in bonuses, and Bank of America's apparent complicity in it, raise serious and disturbing questions. By December 8, 2008, Merrill and presumably Bank of America must have been aware that the fourth quarter and yearly earnings results were disastrous. Indeed, on January 16,2009, the companies announced that in the fourth quarter alone Merrill Lynch has lost $15.31 billion, and more than $27 billion for the year.

Cuomo goes on to say that although some 39,000 Merrill employees received bonuses, most of the money went to those at the top -- including 700 who received $1 million or more. Four top Merrill executives
took $121 million of the total bonuses
.
At
today's House hearing
, Bank of America CEO Ken Lewis -- who stated he receives an annual salary of $1.5 million a year, the highest of all the bank leaders testifying -- said he was aware of Merrill's bonus plan, but that it was a "contractual obligation" between Merrill  and its employees beyond his control.
Lewis told the committee that
he knew about -- and opposed -- Merrill's bonus plan but had no authority to prevent them
:
"My personal involvement was very limited. We urged Merrill Lynch execs involved in this compensation issue to reduce the bonuses substantially particularly at the top," Lewis, of Bank of America, said. "They were a public company until the