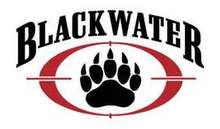 Blackwater Worldwide, the controversial private-security firm based in North Carolina, is changing its tarnished name in an effort to rebrand a battered reputation.
The parent company, Blackwater Worldwide, has been renamed Xe. Blackwater Lodge & Training Center -- the subsidiary that conducts much of the company's overseas operations and domestic training -- has been renamed U.S. Training Center Inc.,
reports
the Associated Pres.
Blackwater president Gary Jackson said in a memo to employees the new name reflects the change in company focus away from the business of providing private security.
...
In his memo, Jackson indicated the company was not interested in actively pursuing new private security contracts. Jackson and other Blackwater executives told The Associated Press last year it was shifting its focus away from such work to focus on training and providing logistics.


"This company will continue to provide personnel protective services for high-threat environments when needed by the U.S. government, but its primary mission will be operating our training facilities around the world, including the flagship campus in North Carolina," Jackson said.
Last month, Iraq announced it would not allow Blackwater to provide security protection for U.S. diplomats. This followed the mercenary firm's involvement in a series of troubling scandals, including the Nisoor Square tragedy, the 2007 Baghdad shooting that killed 17 Iraqi civilians.
The incident in Nisoor Square sparked outrage in Iraq and led to the temporary suspension of Blackwater's right to work in the country. Iraqi Prime Minister Nuri al-Maliki called on the U.S. government to end its contract with the company, while the U.S. House passed a bill -- sponsored by Congressman David Price of North Carolina -- to make private contractors working in Iraq and other combat zones subject to prosecution by U.S. courts.
Blackwater received more than $1 billion in government contracts under the Bush Administration, mostly for security work in Iraq.