Going another round with FEMA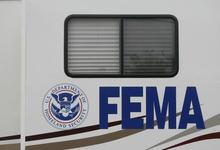 The Federal Emergency Management Agency can't seem to stay out of the headlines this week. FEMA continues to face fierce criticism over delays in the rebuilding effort from local and state officials.

Earlier this week lawmakers blasted FEMA over the slow-pace of Gulf Coast recovery; critics argue that FEMA's red-tape and bureaucracy has stalled critical projects needed to rebuild the region. As of this week, nearly $4 billion of the $6 billion in aid promised by FEMA to rebuild the Gulf Coast remains unspent. That means thousands of projects aimed at repairing or replacing public works destroyed by the storms are incomplete three and a half years after hurricanes Katrina and Rita devastated the region.

Paul Rainwater, who heads the Louisiana Recovery Authority, told the Associated Press that FEMA is overwhelmed by the massive scale of the disaster and its cumbersome bureaucracy simply cannot handle the thousands of projects awaiting decisions.

Scandal at FEMA's New Orleans office

Today Sen. Mary Landrieu, D-La., called for the resignation of the chief of staff of FEMA's Louisiana Transitional Recovery Office in New Orleans, Doug Whitmer, following disturbing allegations of widespread misconduct in the New Orleans office, including charges of discrimination, sexual harassment, ethics violations, nepotism and cronyism. The New Orleans office is charged with overseeing efforts to rebuild the hurricane-battered Gulf Coast and redistributing needed recovery funds, but lawmakers believe management misconduct has compromised this mission.

According to a CBS News report, workers at the New Orleans FEMA office accuse their bosses of intentionally holding up Katrina aid and slowing down recovery. There had been nearly 80 employment-related complaints at the office in the past year, and more than 30 complaints filed against Whitmer himself, including sexual harassment, CBS reports.

Landrieu told the Times-Picayune that it's not only the charges of misconduct, but the performance of the agency that should lead to immediate management changes. Rep. Joseph Cao, R-New Orleans, and his staff are also investigating the complaints. Cao told James Stark, who leads FEMA's New Orleans office, that "after speaking to some of your employees, they have conveyed to me that the FEMA office has lost its focus on rebuilding, that senior staff members are just out for themselves."

As the Times-Picayune reports:
Cao specifically cited talks he had with two New Orleans FEMA office employees who "alluded to the fact that the atmosphere is almost crushing at times where people are working out of fear and they are no longer focused on the recovery issues, they are just focusing on: 'How can I preserve my job' by doing possibly what the senior staff members want them to do."
FEMA failed to meet critical post-Katrina housing needs

A report is expected to be released today by the Senate Ad Hoc Subcommittee on Disaster Recovery that concludes that the federal housing response to Hurricanes Katrina and Rita was inadequate and, as a result, the needs of "hundreds of thousands of citizens were not met." The report looks at both FEMA and the U.S. Department of Housing and Urban Development's national disaster housing policies.

According to the Times-Picayune:
Lawyers for the Federal Emergency Management Agency offered narrow decisions after Hurricane Katrina that made it harder for the government to provide adequate housing for those displaced by the storm, according to a Senate report to be released today.

For example, FEMA officials in late 2005 and early 2006 wanted to begin a repair program to increase rental stock in New Orleans and other communities affected by Hurricane Katrina. But FEMA lawyers said that such a rental repair project wasn't permitted under the Stafford Act, which sets disaster response policies. The program was never implemented.

The report says that wasn't the only time that intervention by FEMA lawyers blocked a program that might have helped desperate New Orleans-area residents find alternatives to living in trailers that were later linked to health problems for some occupants.
...
Immediately after the hurricane, the same FEMA legal team determined that subsidized leases for as long as 12 months, as proposed as a solution to the New Orleans post-Katrina housing shortage, had to be limited for six months.
...
Sen. Mary Landrieu, D-La., the subcommittee chairwoman, said one of the most disturbing findings is that FEMA lawyers, when pressed to decide between rules and whether to help people in desperate need of housing, "made the most narrow and strict interpretations of the law to prevent something from happening." Some of the housing options rejected by the FEMA lawyers, Landrieu said, not only would have provided better housing options for Louisiana residents but would have allowed for a much faster recovery of devastated neighborhoods.
The report cites that a court-ordered review of FEMA housing eligibility errors found that over 1,000 of the 5,000 applicants who applied were incorrectly denied assistance.

The report is also critical of HUD, who took over the disaster housing aspects of the hurricane recovery in 2007. The report said that HUD wasn't even able to find housing for its limited number of agency clients displaced by the 2005 hurricanes. "Due to insufficient funding, inadequate planning, or both, HUD has been unable to return more than 14 percent of availability for its off-line multifamily units to this area in the three years since Hurricane Katrina," the report said. According to the report, out of 6,735 HUD multi-family housing units in the Gulf Coast region that were out of use as a result of the hurricanes, only 940 units are expected to be available by March 1. By August 2006, FEMA did process 719,000 applicants with primary housing requests. The report raised questions of whether HUD has the capacity to handle future housing needs for catastrophes.

According to the Times-Picayune:
In the report, the subcommittee found "eight fundamental problems" with FEMA's post-Katrina housing response: "FEMA had no operational catastrophic disaster plan, FEMA's programs were insufficient to meet housing needs in post-catastrophic events, FEMA decisions to reject other options resulted in heavy reliance on costly trailers and mobile homes, legal interpretations eliminated housing options, FEMA's programs were marked by frequent changes and errors, FEMA had insufficient and poorly trained staff, the needs of renters were not met and flawed FEMA public assistance programs blocked state and local governments from restoring public services needed for housing recovery."
What next for FEMA?

When it comes to the scandal at its New Orleans office, FEMA officials said they sent a team of investigators down to the office. The agency expects to release a report on findings in the coming days.

As for the $4 billion in funding that remains unspent, Homeland Security Secretary Janet Napolitano has dived in, promising a "fresh look" at FEMA's handling of recovery funds and a thorough examination of the disputes between FEMA, state and local governments. Napolitano said she would be visiting New Orleans and the Gulf Coast next week to see with her "own eyes what needs to be done."