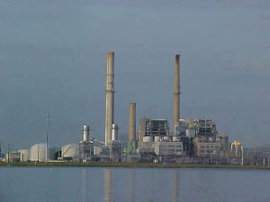 High arsenic levels have been discovered in water and sediment samples collected downstream from a coal-fired power plant and coal ash storage facility in western North Carolina, raising concerns about whether contamination from the unlined ash pond is seeping into the environment.

Researchers with the University of North Carolina at Asheville's Environmental Quality Institute recently tested water and sediment samples from an unnamed tributary of the French Broad River near Progress Energy's power plant in Skyland, N.C., Mountain Xpress reports.

The water sample contained arsenic at levels that exceeded the legally permissible limits for surface waters and that were seven times higher than the U.S. Environmental Protection Agency's limit for drinking water. The sediment sample showed even more alarming levels of arsenic -- 258 parts per million. That's more than 15 times the "probable effect level," or the point at which a toxic element is known to have a negative effect on living things, according to the paper. Most U.S. soils contain arsenic at about 5 ppm.

Ash from the two-unit power plant is stored wet in an unlined 42-acre pond that was built in 1982, the paper reports:
Water from it drains into a second, smaller collection pond that allows more coal ash to settle out. After that, the water flows out through a culvert that travels under Interstate 26 before emptying into the French Broad.
The worrisome news from North Carolina comes the same week that a U.S. House subcommittee held a hearing on legislation to better regulate the structural integrity of coal ash ponds. Sponsored by Rep. Nick Rahall (D-W.V.), H.R. 493 is a response to the massive December 2008 coal ash spill at the Tennessee Valley Authority's Kingston power plant in eastern Tennessee.

At the TVA board meeting held yesterday -- the first since the December disaster -- President and CEO Tom Kilgore said he expected cleanup costs could run as high as $825 million, depending on the number of times waste will have to be moved and how fast the Emory River can be dredged, the Associated Press reports. The company still has not decided how to pay for the cleanup but has said it would not stick taxpayers with the bill.

At Thursday's hearing, Rahall referred to coal ash impoundments nationwide as a "ticking time bomb" and called for the Interior Department to regulate them under the federal Surface Mining Control and Reclamation Act, as it does for the impoundments that hold the coal slurry waste created during the processing of coal. His bill instructs Interior's Office of Surface Mining to establish design, engineering and performance standards for coal combustion waste ponds and to thoroughly inventory existing facilities.

While environmental groups praised Rahall for his attention to the issue, they warned that more sweeping action is necessary to adequately address the problem. They have called for a phase-out of coal ash ponds in favor of safer alternatives such as dry disposal in regulated landfills and certain types of recycling.

"If we're going to keep people safe, we need to altogether ban the practice of dumping this toxic mixture into ponds where it can easily seep into drinking water supplies," said Earthjustice Associate Legislative Counsel Ben Dunham. "There are safer alternatives. Those are the ones we should be considering."

Environmental advocates also question the wisdom of having the Office of Surface Mining regulate the disposal of toxic coal combustion waste. They want that responsibility to rest with the U.S. Environmental Protection Agency.

"Putting OSM in charge of regulating toxic coal combustion waste is like having a fox guard the hen house," said Mary Anne Hitt with the Sierra Club's Move Beyond Coal Campaign. "Already on OSM's watch, dozens of coal waste impoundments have failed. EPA on the other hand has studied the issue for 30 years and has the expertise to quickly and effectively regulate coal combustion waste in a way that takes into account the impact to human health and the environment."

(Photo of Asheville coal-fired power plant at Skyland, N.C. from Progress Energy)