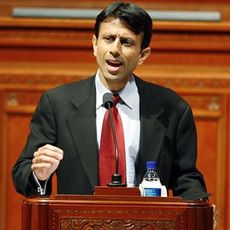 Louisiana is getting ready to kick off Mardi Gras this weekend, but the celebration comes amidst lingering evidence of Hurricane Katrina's devastation -- and more recently Ike and Gustav's: miles of abandoned lots, broken buildings and pock-marked highways, and thousands of families struggling to find homes.
Given this bleak picture -- made worse by the state's projected $2 billion budget shortfall -- one would think that Gov. Bobby Jindal would welcome all the help he could get.
But Jindal, a rising political star who's been picked to offer the Republican rebuttal to President Obama's State of the Union address, announced this week that
Louisiana "may not be interested in" taking all of the $3.8 billion
coming to the state in the recently-passed federal stimulus package.
As Jindal
told a group on Monday in Jefferson Parrish
, where t
he number of blighted or vacant residences has grown by 1,113 over the last year
[pdf]:
We'll have to review each program, each new dollar to make sure that we understand what are the conditions, what are the strings and see whether it's beneficial for Louisiana to use those dollars.
It's enough to make New Orleanians jump off their Carnival floats and ask Jindal: Are you serious?
To get a sense of how "beneficial" federal funds could be, take a look at
the latest New Orleans Index
[pdf] published by the Brookings Institution and Greater New Orleans Data Center. Despite many signs of recovery, the report documents daunting challenges that remain. A small sampling:
[T]he massive destruction from Hurricane Katrina remains widespread, dwarfing the rebuilding that is underway. Hundreds of streets are still in disrepair. Tens of thousands of residential, commercial, and institutional buildings remain damaged and unoccupied. [...]

Massive blight and significant flood risk remain the area's major challenges. In Orleans and St. Bernard parishes, 69,727 and 15,188 residential addresses respectively were unoccupied as of September 2008. [...]

New data indicates that rents increased 4 percent across the metro area from 2008 to 2009, and are now 52 percent higher than pre-Katrina ... [S]ome 31,000 families nationwide are receiving Disaster Housing Assistance Program vouchers, which are scheduled to expire in March 2009.

The state's $3.8 billion share of the federal stimulus -- while a far cry from the
full-scale Gulf Civic Works program many advocated
-- would still be a welcome boost to many. It includes:
* $1.7 billion for the state's troubled Medicaid program

* $587 million for public education -- especially important in places like New Orleans, where school enrollment is still down 23% since Katrina [pdf]

* $455 million for road and bridge repair

* $130 million in flexible dollars to help offset budget cuts

Gov. Jindal has been
one of a small handful of Southern governors
who have vocally opposed to the stimulus package. Hi is also reluctant to seem out of step with Congressional Republicans -- who overwhelmingly voted against the stimulus package -- when he appears on national TV February 24 to deliver the GOP's rebuttal to the presidential State of the Union.
But many don't agree with Jindal,
including state representatives from New Orleans
:
"He needs to take this $4 billion," said Rep. Walker Hines, D-New Orleans. "He needs to put it in our economy. This will improve the quality of life for many in Louisiana. It will create jobs. It will do some really great things that cannot be done without that money."

As for Mayor Ray Nagin of New Orleans, he has publicly stated he will take whatever Jindal turns down:
"There's many aspects of this from transportation to light rail systems to energy efficiency grants to CDGB money," said Nagin. "It should benefit the city of New Orleans significantly."

Meanwhile, a coalition of ministers in Louisiana's 2nd Congressional district have filed a petition to recall Rep. Anh Cao (R) for his opposition to the stimulus. Rep. Cao made history last November as
the first Vietnamese-American elected to Congress
. But the grassroots coalition stated in a press release this week that Cao's spurning of federal stimulus dollars posed a grave threat to the district and state:
Citizens are both concerned and upset about Cao's two votes last week in opposition to President Barack Obama's Economic Stimulus legislation. In addition, citizens are concerned that Representative Cao has irreparably harmed the ability of this District to seek continued assistance from the federal government for the many programs and resources that can assist with the continued rebuilding of this region.