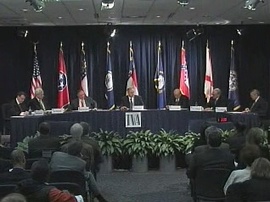 The Tennessee Valley Authority's board of directors met earlier this month, its first gathering since last December's catastrophic spill of a billion gallons of toxic coal ash from the company's Kingston power plant in eastern Tennessee. Board members discussed the cleanup from that disaster, including costs that are expected to run as high as $825 million.

The board didn't dwell only on past problems, though: It also took a big step into the federal corporation's future by electing a new chairman who will take office in May.

But its choice -- Mike Duncan, who recently lost his re-election bid to remain chair of the Republican National Committee -- has proven controversial.

"Overly partisan and tone deaf" was how Southern Alliance for Clean Energy Executive Director Stephen Smith described the choice.

"While I have nothing personally against Mr. Duncan, this move sends all wrong signals at the wrong time," said Smith, whose organization has filed notice that it intends to sue the company over the ash spill. "It is not the time for partisanship in leadership at TVA."

The Feb. 12 vote was 4-to-3, a rare show of dissension by TVA board members who usually act unanimously. Opposing Duncan were board member William Graves, finance committee chair Denny Bottorff, and current board chair Bill Sansom.

Expressing concerns that Duncan, a Kentucky banker, was "the standard bearer for the Republican Party" and a potential "lightning rod," Sansom asked that the vote be delayed for public input, the Tennessean reported. But Duncan and his supporters -- fellow board members Don DePriest of Mississippi, Howard Thrailkill of Alabama and Tom Gilliland of Georgia -- pressed ahead anyway.

The Tennessean described the board members who backed Duncan as  "an insurgent group" -- echoing comments made by National Republican Congressional Committee Chair Pete Sessions (R-Texas) in a recent interview with The Hotline in which he compared his party's fight against President Obama's economic stimulus plan to the Taliban insurgency.

But Duncan defended himself from charges of excessive partisanship:
"I'm more than a partisan animal," Duncan said. "I was on this board before I was chairman of the national committee. I don't think you've ever heard me inject politics into this during my two years as chairman of the committee."
Outside the TVA board room, though, Duncan has spent the past two years focusing on nothing but politics as RNC chair -- including a failed effort to defeat Obama, who will play a critical role in shaping TVA's board.

Some of Duncan's political tactics have raised eyebrows -- and not only Democrats'. For example, an RNC video that attempted to link Obama to since-impeached Illinois Gov. Rod Blagojevich was denounced as a "destructive distraction" -- by none other than former House Speaker Newt Gingrich (R-Ga.), himself a politically polarizing figure as the architect of 1994's so-called "Republican Revolution."

Duncan's election to chair comes five years after TVA's governing structure was revamped under the leadership of former Senate Majority Leader Bill Frist (R-Tenn.) in an effort to "get politics out of the system." Frist has expressed hope that the board would become more nonpartisan over time, with the seats held by well-qualified people rather than political patrons.

But politics -- more specifically, Republican politics -- remain a powerful force on the TVA board.

All seven current board members are Republicans, and all donate generously to Republican political candidates and causes. According to the Center for Responsive Politics' OpenSecrets.org database, TVA board members donated a total of $48,200 to political candidates and party organizations during the 2008 election cycle alone -- all but $2,000 of that going to Republicans.

The top donor was Thrailkill, a Huntsville, Ala. businessman who recently retired as president and CEO of a telecommunications equipment company. He contributed a total of $19,200, all of it to GOP candidates and causes. The second biggest donor was Bottorff, a Nashville, Tenn. venture capitalist who contributed $14,900, all but $2,000 to Republican candidates and party organizations.

DePriest, a venture capitalist based in Columbus, Miss., and Sansom, a Knoxville, Tenn. resident who heads a company involved in wholesale grocery, gas and oil, and furniture manufacturing, both contributed $5,300 to GOP causes. Gilliland, a retired banker from Blairsville, Ga., contributed $3,000, while Graves, bishop of the Christian Methodist Episcopal Church in Memphis, contributed $500, all of that to Republicans.

Before the changes instituted by Frist, TVA was managed by three equal directors. The board now has nine seats, two of them vacant after the appointments were blocked last year by Senate Majority Leader Harry Reid, who objected to two more Republican appointees. Two more seats will open up this May when Sansom's and DePriest's terms end.

Historically, the senior senator of the president's party gets to make appointments to the board. But since 1994, Tennessee has been represented in the U.S. Senate by Republicans only. That means the decision on appointees will rest with President Obama, who owes nothing to Tennessee Democrats since he had no operation in that state -- or in Alabama and Mississippi, the two other big TVA states.

"This is a chance for Obama to make significant appointments," said SACE's Smith, a Democrat who himself is interested in an appointment. "If we get the right people on the board, it could completely change TVA's direction. It could become a phenomenal laboratory modeling a clean energy future."