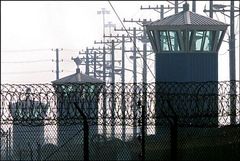 More than 2,000 inmates rioted at the Reeves County Detention Center in Pecos, Texas on Saturday, the second disturbance at the prison facility in the less than two months,
reports
CNN. Rioting inmates were brought under control late Sunday, authorities said.
The privately-run federal prison about 430 miles west of Dallas holds more than 2,400 inmates. The GEO Group, based in Boca Raton, Fla., has run the prison through contracts with Reeves County and the Federal Bureau of Prisons since 2003. The prison holds more than 2,400 inmates.
Officials
told
CNN that they do not know what prompted the riots. In December, rioting inmates took two workers hostage and set fire to the recreation area at the prison. Among the prisoners demands were for better medical treatment and more humane conditions.
The riots have also shed a new light on the continued problems with private prisons. Private prisons have always had a troubled history and high rates of prisoner maltreatment. For years, the GEO Group (formerly Wackenhut Corrections Corp.) has been at the center of scandal in its private prisons and detention centers in places such as Louisiana, Pennsylvania, Idaho, and Texas. Charged with squalid conditions, prison abuse, ill treatment of prisoners and even prisoner deaths, the corporation has faced several lawsuits by prisoner family members who say the facility did not provide adequate medical care or proper supervision for inmates.
As the
DailyKos reports
:
[The GEO Group] operates prisons around the country and is frequently in the news for its abuse of prisoners in its care resulting in many preventable deaths. At least eight people died at the Geo Group-operated George W. Hill Correctional Facility in Pennsylvania, the state's only privately run jail. Several of those deaths resulted in lawsuits by family members who say the facility did not provide adequate medical care or proper supervision for inmates.

GEO, based in Florida, also has been under fire in Texas, where it operates more than a dozen correctional facilities. Last fall, the Texas Youth Commission abruptly canceled its $8 million contract with GEO after investigators found unsanitary living conditions at its juvenile facility. Several of the teens said they were sexually assaulted by a guard who was a convicted sex offender, according to lawsuits. GEO lost its contract at an adult facility in west Texas last year after an inspector reportedly characterized the prison as "the worst correctional facility I have ever visited." The inspection was sparked by an inmate's suicide.

Texas legislators have called for a review of all of GEO's contracts with state and local agencies.