By Kieran Taylor
Special to Facing South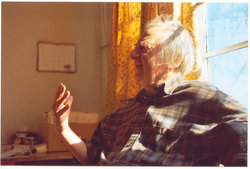 Archie Green wore many hats during an academic and activist career that spanned eight decades. The Berkeley student organizer turned waterfront worker and trade unionist, turned librarian, folklorist, lobbyist, and historic preservationist died on March 22 at his San Francisco home. He was 91.

A listing of a few of his achievements reveals something of the breadth of Green's work and values:
* Collected and recorded hundreds of traditional songs by Appalachian balladeers, Carolina millhands, and Kentucky coal miners.

* Served among the leadership of the American Veterans' Committee, a left-wing alternative to the American Legion.

* Led lobbying efforts for the American Folklife Preservation Act of 1976, which established the American Folklife Center at the Library of Congress.

* Defined the field of laborlore--or the study of workers' expressive culture--their occupational language, stories, customs, and rituals.

* Was a member of the United Brotherhood of Carpenters for nearly seventy years.

* Coedited the Big Red Songbook--the most complete collection of the songs of the Industrial Workers of the World.
As his physical health slipped in recent years, Green transformed the front room of his Caselli Avenue home into his classroom, think tank, and union hall. There he encouraged, entertained, and sometimes enraged a steady stream of visiting students, scholars, and activists.

In the final weeks of his life, Green devoted his remaining energy to the creation of a "cultural unit" to accompany the economic stimulus plan. Green urged house speaker Nancy Pelosi to adopt a plan that would employ writers, artists, historians, and photographers to document the work of stimulus-sponsored projects and to present that documentation to the public.

Green's major articles are included in the edited collection Torching the Fink Books and Other Essays on Vernacular Culture (Chapel Hill: University of North Carolina Press, 2001). See especially Robert Cantwell's introduction and Green's afterword.

The Southern Historical Collection at UNC at Chapel Hill holds a large collection of Green papers, as well as two extensive oral histories (from 1985 and 2005) that are part of the Southern Oral History Program Collection.

See also The Big Red Songbook, coedited with David Roediger, Franklin Rosemont, and Salvatore Salerno (Chicago: Charles H. Kerr, 2007), and Kieran Taylor, "Shipwrights and Salmonbellies: How Archie Green Discovered Laborlore," Labor: Studies in Working-Class History of the Americas, Vol. 4, No. 3, Fall 2007.

Kieran Taylor is an Assistant Professor of History at The Citadel in South Carolina and a member of the board of the Institute for Southern Studies, publisher of Facing South. Photo of Archie Green courtesy Adam Machado.